Andrew Carlson, violin          Nelson Harper, piano
Clapp Recital Hall
Sunday, September 24, 2000, 3:00 pm
Guests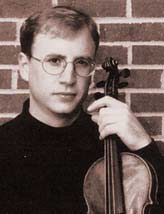 Andrew Carlson has performed as a soloist and as a chamber musician throughout the United States. Of his 1998 Merkin Hall performance the New York Times wrote "Mr. Carlson is a demon fiddler and his performance here was serious and concentrated." He has earned both a MM and BMUS from the University of Georgia and a DMA in Performance and Pedagogy from the University of Iowa. While earning his DMA, he was the recipient of the Iowa Performance Fellowship and the Pelzer Competition Fellowship. Dedicated to the performance of new music, Mr. Carlson was a regular performer with the Iowa Center for New Music and the University of Georgia Contemporary Chamber Ensemble. He is featured on the Contemporary Chamber Ensemble's ACA Digital CD "The Voice and the Virtuoso" (includes Pierrot Lunaire). Andrew has studied with Leopold La Fosse and Thomas Joiner.
An active teacher, Andrew has served a faculty member at Morehead State University and the Preucil School of Music. Currently at Denison University in Granville, Ohio, he teaches violin, music history, and directs the orchestra.
In addition to his experience as a classical violinist, Andy began learning traditional fiddle music from his grandfather at age 5. He has won numerous fiddle contests and has twice been named the Georgia State Champion Fiddler. His book entitled Fiddling for Classical Violinists is being released by Mel Bay Publishers in the fall of 2000. As a studio musician and string arranger he has recorded for companies including Warner Bros., Atlantic, Elektra, Geffen, Polydor, and Capricorn. His most recent major label appearance is with the band "R.E.M."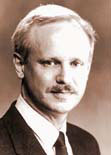 Pianist Nelson Harper is known for his versatility as both soloist and chamber musician. He has appeared in several summer music festivals, including the prestigious Grand Teton Music Festival, and for many years has been heard in both solo and chamber music performances at least twice yearly in live broadcasts on Chicago's Fine Arts Radio Station, WFMT. Among artists with whom he has performed in addition to his twenty-year duo with English violinist Michael Davis are the Chicago Symphony's principal flutist Donald Peck, the New York Philharmonic's principal flutist Jeanne Baxtresser, the Atlanta Symphony's principal trumpeter James Thompson, violinists Yfrah Neaman and Max Rostal, and numerous other singers and instrumentalists.
Nelson Harper made his London debut in December of 1989 at the Wigmore Hall in a program of British duo sonatas of the 20th century with violinist Michael Davis. That recital included the world premiere of the Third Sonata for violin and piano by Wilfred Josephs.
Dr. Harper is currently a member of the piano faculty at Denison University, and frequently gives master classes and recitals at other institutions including an annual week-long residency.
Program
Wire Variations (1999)
John M. Allemeier (b. 1970)
Five Aphorisms (1991)
Gardner Read (b. 1913)

I. "Whom the gods would destroy they first make mad."
Publilus Syros (First Century B.C.)
II. "Pains of love be sweeter far than all other pleasures are."
John Dryden (1631-1700)
III. "He that plants thorns must never expect to gather roses."
Anonymous (ca. 500 A.D.)
IV. "All that we see or seem is but a dream within a dream."
Edgar Allen Poe (1809-1849)
V. "Thou canst not stir a flower without troubling of a star."
Francis Thompson (1859-1907)

 
 Intermission
For Andy Carlson (1999)
Richard Hervig (b. 1917)
White Vision--
The Horizon Divides (1991)
Lewis Nielson (b. 1950)
Finnegan's Wake (1997)
David Gompper (b. 1954)
Notes & Bios
JOHN M. ALLEMEIER
Wire Variations
The title Wire Variations refers to formal aspects of the piece as well as the method of sound production for each of the instruments. "Wire" is used as a synonym for the strings of the violin and piano and "variations" refers to the variety of ways in which each instrument initiates the vibration of the string. The piece is based on two themes of contrasting character. The first theme is slow and lyrical, while the second is syncopated and dance-like. The technically challenging development sections are distinguished by streams of sextuplets in the violin. The cadenza combines all of the thematic material from the other sections into a single melodic line.
John M. Allemeier received his PhD in Composition from the University of Iowa, his Master of Music in Composition from Northwestern University and his Bachelor of Music in Performance from Augustana College. His composition teachers include David K. Gompper, D. Martin Jenni, M. William Karlins, Michael Pisaro and Barbara Monk Feldman. His music has been performed by the University of Iowa Graduate Chamber Orchestra and Percussion Ensemble, the Oberlin Percussion Group, the Texas Christian University Percussion Ensemble, the University of Illinois Contemporary Chamber Singers, and by the Kronos Quartet in a reading session. Mr. Allemeier's music has been programmed on national conferences of the Society of Composers and the Society for Electro Acoustic Music in the United States, and regional conferences of the College Music Society and the Society of Composers. His music has been recognized by ASCAP with honorable mention in the ASCAP Foundation/Rudolf Nissim Composers Competition and ASCAP Standard Awards. Mr. Allemeier recently left his position as Assistant Professor of Composition, Music Theory and Electronic Music at Marshall University to move to Heidelberg, Germany.
---
GARDNER READ
Five Aphorisms (1991)
Five Aphorisms was composed in 1991 on commission from Janet Packer. In order to provide an essential contrast to the formalism and relatively conservative tonal and rhythmical structures of the work following, Schubert's  Fantasie, D. 934, these brief aphorisitic interpretations are mainly pantonal as well as being rhythmically complex. They also freely exploit the varied coloristic capabilities of the two instruments; their style just as freely veers between the domains of expressionism and impressionism.
Aphorism 1:  Molto vivo e feroce assai (very fast and with great ferocity) is the tempo directive to the performers. The music's unrelenting drive and notable storminess are meant to suggest the ancient Greek gods' implacable bestowal of madness on the mortals they wish to destroy.
Aphorism 2:  Moderator assai, con molto calore (in a moderate tempo, with great warmth); the music is rhapsodic and lyrical, expressing the bittersweet emotions of love evoked by Dryden's familiar words.
Aphorism 3:  Allegretto scherzoso (lightly and scherzo-like); this movement is a tour-de-force of varied violin pizzicato techniques; the strings are alternatively plucked with the player's fingertip, fingernail, and thumb, and violently snapped against the instrument fingerboard. These highly percussive effects are imitated by equally spiky outbursts from the piano.
Aphorism 4:  Lento e lontano (slowly, as from far-off) is the directive: the music is intended to reflect the dreamlike visions that fill the poet's musings.
Aphorism 5:  Andantino, anzi flessibile (moderately slow and quite flexible). This final aphoristic interpretation attempts to mirror the philosophical thoughts of Thompson as he contemplates the interaction between terrestrial flower and galactic star.
Born in Evanston, Illinois in 1913, Gardner Read has enjoyed a prolific and varied career as composer, conductor, teacher, and author. He is a graduate of the Eastman School of Music, where his principal teachers were Bernard Rogers and Howard Hanson.
In 1938, on a Cromwell Traveling Fellowship, he studied with Ildebrando Pizzetti in Rome and with Jan Sibelius in Finland. A 1941 fellowship to the Berkshire Music Center at Tanglewood enabled him to study with Aaron Copland. From 1941 to 1948, Read headed the composition departments of the St. Louis Institute of Music, the Kansas City Conservatory of Music, and the Cleveland Institute of Music. In 1948, he was appointed composer-in-residence and professor of composition at the School of Music, Boston University. He retired as Professor Emeritus in 1978.
Read has held resident fellowships at both the MacDowell Colony and the Huntington Hartford Foundation. In 1964 he was awarded an honorary doctorate in music by Doane College. As a conductor, he served two seasons with the St. Louis Philharmonic Orchestra as principal conductor, and led the Boston, Philadelphia, Cincinnati, and Pittsburgh symphony orchestras in his own works.
Major awards include first prize in the 1937 New York Philharmonic Symphony Society's American Composers Contest for his Symphony No. 1, Op. 30, premiered by the orchestra and Sir John Barbirolli; first prize in the 1943 Paderewski Fund Competition for his Symphony No. 2, Op. 45, premiered by the Boston Symphony Orchestra, conducted by the composer; the Eastman School's 1982 Alumni Achievement Award; and first prize in the 1986 NATS Art Song Competition for Nocturnal Visions, Op. 145, for baritone and piano.
Read is author of eight books dealing with the subject of music notation and orchestral writing and devices:  Compendium of Modern Instrumental Techniques (1993),  20th-Century Microtonal Notation (1990),  Source Book of Proposed Music Notation Reforms (1987),  Style and Orchestration (1979), Modern Rhythmic Notation (1978),  Contemporary Instrumental Techniques (1976),  Music Notation: A Manual of Modern Practice (1964), and  Thesaurus of Orchestral Devices (1953).
---
RICHARD HERVIG
For Andy Carlson (1999)
Although he has composed three symphonies and two concertos, most of his music has been chamber music. The composition we heard today was written especially for Andy Carlson - hopefully it will do justice to his remarkable abilities.
Richard Hervig was born in Iowa in 1917 and raised in South Dakota, where he received a B.A. in English. Following some high school teaching, he enrolled in the graduate program at the University, studying composition under the late Philip Breeley Clapp. One wife, one child and one war later he received the PhD in composition.
Except for three years at Long Beach State College, and one semester at Luther College, his teaching career was at the University of Iowa, where he was head of Composition and Theory. In 1966, with the aid of a Rockefeller Foundation grant, he co-founded (with the late Bill Hibbard) the Center for New Music
In 1980 he retired from Iowa and accepted a position at The Juilliard School, retiring from there in 1999.
---
LEWIS NIELSON
White Vision - The Horizon Divides (1991)
Two levels. At the more mundane, a filtering process flowing from the pitch implications of all of the different materials juxtaposed in the opening, resulting in the eventual, inevitable arrival on the focal pitch D at the end. A large web that traces down to a solitary central tone. Less tangibly, abstractions abound in this type of thing. Mine involved the parting of earth and sky at the edge of the horizon; a time when the seams don't meet and what moves beyond and between comes into view. That, too, carries inevitability.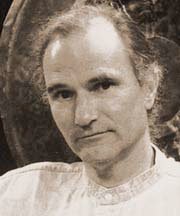 Lewis Nielson (b. 1950) studied music at the Royal Academy of Music in London, England, Clark University in Massachusetts and the University of Iowa, receiving a Ph.D. in Music Theory and Composition in 1977. He is a member of the American Composers Alliance and his works, over ninety in number, are published by Seesaw Music Corp. and through American Composers Edition. He has received numerous grants and awards for his works, including the National Endowment for the Arts, the Delius Foundation, Meet the Composer, the Georgia Council for the Arts, the Groupe de Music Expèrimentale de Bourges in France, and the Ibla Foundation, Sicily. He has received many commissions, including ones from the Lake Placid Sinfonietta, the University of Georgia Bicentennial Commission and from many important chamber ensembles and solo performers. His works have been performed throughout the United States and Europe. Among the more notable performances of his large works he has received have been performances by the Lake Placid Sinfonietta, the American Composer's Orchestra, the Fresno (CA) Philharmonic; and recent CD recording/performance projects with the Slovak Radio Symphony Orchestra of Bratislava, the Czech Radio Symphony Orchestra, and the Tchaikovsky Symphony of Moscow Radio. His chamber music and electronic compositions are equally widely performed and recorded. He served as Professor of Music Theory and Composition at the University of Georgia, where he directed the nationally recognized University of Georgia Contemporary Chamber Ensemble, for 21 years. He is currently on the composition faculty of Oberlin Conservatory of Music.
---
DAVID GOMPPER
Finnegan's Wake (1997)
The composition is based on two Irish fiddle tunes, The Green Groves of Erin and The Flowers of Red Hill and made popular by the Bothy Band, and more recently, the string trio of Edgar Meyer, Mark O'Connor and Yo-Yo Ma. While its four-sectioned, one movement form presents Irish / Appalachia / Texas fiddle music embedded within the context of art music (history has shown that much of art music relies on folk music for its inspiration), my intention was to transform the music as feet-stomping dance music through a labyrinth of rhythmic manipulations into a series of playful excursions for both instruments.
This work, premiered in Thessaloniki, Greece in May 1997, was performed by Eva Delfinopoyloy, violin and the composer on the piano. The initial inspiration for this piece came from working with the violinist and fiddler Andrew Carlson, who was crucial in shaping the final version. The piece is dedicated to my friends, Erin Irish and Gene Szymkowiak.
David Karl Gompper (b. 1954), an Associate Professor of Composition and Director of the Center for New Music at the University of Iowa, studied at the Royal College of Music in London, (MMus, Composition, 1978, ARCM, 1980) and at the University of Michigan (DMA, Composition, 1988). He taught for two years at the University of Nigeria, Nsukka. His principal teachers of composition were William Albright, Leslie Bassett, Jeremy Dale Roberts and Humphrey Searle. He also studied piano with Phyllis Sellick (RCM), and received an BM degree in piano performance from San Diego State University.
Gompper is the President of the Society of Composers, Inc, a national membership organization for composers in the US. He recently returned from a Double Bass convention in Goiania, Brazil, where he premiered two new songs for double bass, mezzo-soprano and piano on poems by Marvin Bell. He has also received a commission from Arizona State University to write a work for bassoon, ensemble and electronic tape.