Guest Performer
Wolfgang Panhofer, 'cellist

Wednesday, May 31, 2000, 8:00 p.m. at Clapp Recital Hall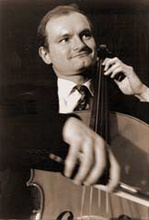 Wolfgang Panhofer was born in Vienna and studied at the Vienna Academy for Music with Wolfgang Herzer and at the Royal Northern College of Music in England with Ralph Kirshbaum. At the age of seventeen Mr. Panhofer became the youngest member to play with the Vienna Philharmonic Orchestra. He has won several prizes and competitions, among them the Sir John Barbirolli Prize and the Austrian Broadcasting Competition. He attended master classes with Paul Tortelier, William Pleeth, Ralph Kirshbaum, Boris Pergamenschikow, and Steven Isserlis and has played chamber music with András Schiff. Wolfgang Panhofer has been invited to prestigious festivals such as the Vienna Festival, the Wien Modern Festival, the Schleswig Holstein Festival in Germany, and the Vivaldi Festival in Poland.
He played numerous concerts in Europe, Japan, Korea, and the United States with renowned orchestras such as the Vienna Symphony Orchestra, the Vienna Chamber Orchestra, the Niederösterreichische Tonkünstler Orchestra, the Lodz Philharmonic, the Baltic Philharmonic, the Kattowitz Philharmonic, and the chamber music ensemble of the BBC Symphony Orchestra.
download poster || download program
Program
| | |
| --- | --- |
| Ricercar No. 6 | Domenico GABRIELLI (1659-1690) |
| | |
| --- | --- |
| Lord Chesterfield to His Son (Selections) | Richard WILSON (b. 1941) |
Suite No. 5, BWV 1011


   Preludium
   Allemande
   Courante
   Sarabande
   Gavotte 1 and 2
   Gigue

Johann Sebastian BACH (1685-1750)
Suite op. 84


   Andante affettuoso
   Adagio
   Allegretto
   Andantino scherzando
   Andante

Ernst KRENEK (1900-1991)
| | |
| --- | --- |
| Mutationen op. 41 | Rainer BISCHOF (b. 1947) |
| | |
| --- | --- |
| Sonata op. 31 | Egon WELLESZ (1885-1974) |
| | |
| --- | --- |
| Toccata Carpicciosa op. 3 | Miklos ROSZA (1907-1995) |
In Memoriam Gregor Piatigorsky
Notes & Bios
DOMENICO GABRIELLI
       
Ricercar No. 6
The 7 Ricercars for solo violoncello (dated 15th January 1689) by Domenico Gabrielli are among the first compositions for unaccompanied cello which have come down to us. There was a strong upsurge of interest in instrumental playing in the musical life of Bologna towards the end of the 17th century. The art of cello playing also began to develop. Gabrielli was not only a famous composer but also a highly esteemed cello player. Consideration is given for the first time to the soloistic functions of the cello in his compositions.
    There are many different interpretations of the term Ricercar. It can be applied to such movement types as an Improvisation, a solo piece, an exercise, and a Prelude, and may also be used in the sense of Fantasia, Intrada and Sinfonia. What is normally implied by the term is the imitative ricercar, a polyphonic instrumental composition in several sections, each section having its own theme of figure that is subjected to motivic treatment.

Domenico Gabrielli
(1659-1690) was a composition pupil of Giovanni Legrenzi in Venice and taught the cello by Petronio Francheschini in Bologna. From 1680 until his death he was cellist at the Cathedral of San Petronio in Bologna. His activities took him to various Italian courts, particularly Modena. He left numerous opera and oratorios as well as various instrumental and vocal compositions.
---
RICHARD WILSON
       
Lord Chesterfield to His Son
Lord Chesterfield to his Son is my second extended work for solo cello. The first, Music for Solo Cello, was written in 1971, the year of my marriage, at the request of Fred Sherry. Lord Chesterfield was intended for my son, James, who at age 12, was a budding cellist. Knowing that he may doubt my counsel, I arranged that he receive an abundance of solemn advice from an 18th-century gentleman.
    Lord Chesterfield to his Son was premiered by Fred Sherry at the Greenwich House Music School, New York City, on November 14, 1991.

In 1986, Richard Wilson received the Walter Hinrichsen Award from the American Academy and Institute of Arts and Letters. He was commissioned by the San Francisco Symphony to write Articulations, which was premiered in May 1989. In 1992-93, Richard Wilson became Composer-in-Residence with the American Symphony Orchestra. In the same year he was awarded a Guggenheim Fellowship, under which he composed his first opera - Æthelred the Unready.
    Recent commissions have come from Chamber Music America, the Chicago String Quartet, the Mae and Irving Jurow Fund of the Library of Congress, and the A.N.L. Foundation.
---
ERNST KRENEK
       
Suite for Violoncello op. 84


Ernst Krenek composed his five-movement Suite for Violoncello op.84 in 1939. Its second movement, marked Adagio, exemplifies the modern cantabile style of the day, while the central movement Allegretto represents his own personal way of coming to terms with principles of linear counterpoint put forward by Ernst Kurth, a theoretician who had exerted a strong influence on him. Within the highly restricted compass of the Suite the listener encounters the apparently polyphonic effect which Kurth had pointed out to his pupil in the solo suites of Bach. It is an impressive work, bringing molto liberamente to a close by an almost aggressive waltz (Andantino scherzando) and a seemingly improvised Andantino which harks back to the opening movement, thus 'squaring the circle' created by the composer through the synthesis of an arc-shaped layout and a sequence of loosely-connected movements. (Written by EvH. and translated by Celia Skrine)

Ernst Krenek
(born 1900 in Vienna, Austria) has been declared a one-man history of 20th century music. His compositions come to terms with virtually all idioms and techniques of this century. In the early twenties he wrote works in the atonal idiom, such as the 2nd Symphony and the first three quartets. These were followed by a variant of tonal thinking modeled on Schubert, such as Journey through the Austrian Alps, Jonny spielt auf, O Lacrymosa (to Rilke texts written especially for him). In the early thirties he wrote the first full length 12-tone opera, Karl V, which was also his first 12-tone work. The premiere of the opera, due to Nazi intrigue, was cancelled by the Vienna State Opera, which commissioned it. His music was labeled by the Nazis as Entartete (degenerate) music. He immigrated to America in 1938. In supplication for Austria, his war-torn homeland, he wrote in 1942 his most important choral work, Lamentatio Jeremiae prophetae - a work which he thought, at that time, would never be performed and which foreshadowed the concept of serialism in music. The highpoint of his serial endeavor was reached in 1957 with a work using his own text, for voice and ensemble, Sestina, juxtaposing pre-determination and chance. From the sixties through the eighties his works are "late works". His "system" here was to avoid all systems. He selected from each of them and whatever else he envisioned as propelled by his imagination and inclination. His multifaceted lifespan was fulfilled. Krenek's unique intellectual and artistic capacity, his insatiable curiosity for exploring new horizons forced him to find new means in order to express his ever more comprehensive musical vision. His personal style, however, permeates all his works from opus 1 to 242. –Gladys N. Krenek, September 29, 1998
---
RAINER BISCHOF
       
Mutationen op. 41
The typical Viennese tone is so difficult to express in words, but it is real, and for me it is a specific expression of a musical idea and world. Melancholy and rebellion against melancholy; despair of the world and of oneself-that is an important part of my musical sensibility. I utter this with the same materials that the European tradition has been using without interruption since the rise of polyphony-counterpoint, motifs, logical deduction from a meaningful seed, formal structure, by all of these in the service of the expression I am seeking to achieve. (From Zeitgenossen live, 1995)

Rainer Bischof
(born 1947) is one of the most many-sided composers of today's Austria. After his first years of study at the Musikhochschule in Vienna, he became a private student of Hans Erich Apostel in 1967. Of all his studies at the University of Vienna, philosophy was of the greatest importance to him; he received the doctorate in 1973. Bischof has been associated with an international shipping firm and held positions as an officer in a travel company, as director of the artistic operations office of the Wiener Konzerthausgesellschaft, as director of the Theater and Music Section of the Cultural Affairs Office of the City of Vienna, President of the Austrian Composers' Alliance and manager of the Wiener Musiksommer (Viennese Summer Music Festival). Since 1988, he has been General Secretary of the Vienna Symphony.
    Bischof has taught in adult evening schools in Vienna and at the European Forum Alpbach. Since 1987, he has been lecturing on musical esthetics at the Musikhochschule in Vienna. Since fall of 1996, he has taught composition at the Conservatory of the City of Vienna. His scholarly work is in philosophy and the esthetics of music. His compositions number over 40 works, scored for various combinations of instruments, and are greeted with favorable criticism worldwide.
---
EGON WELLESZ
       
Sonata op. 31
This tension-laden piece, composed in one movement with several sections, was written in only two days, August 26 and 27, 1920. Although it is laid out as a work in one movement, the head motif in 4/4 in a slow tempo, full of pathos, appears several times, bracketing the various sections; it persists until the C-major closing.


This is followed by a lyrical theme written in thirds, and a folk song-like third theme, written in a 5/4 measure. The fourth theme skips forward like a gigue. After a short development of the first and second theme s comes an allegro moderato with characteristic repetitions of tones and an abrupt change in meter and style:

 

This is followed by the return of the first theme and the 5/4 meter (allegretto grazioso). The piece is rounded out by the entry of the main theme and resolves itself into a serene coda. Thus, we have a composition rich in tension that only resembles the classical sonata form in having the rounded quality that comes from repetition of the initial motif at the end.
Egon Wellesz
(1885-1974), an Austrian composer and musicologist, studied with Schoenberg at the same time as Berg and Webern. His early compositions show the influence of Mahler, but the clarity and articulation that characterize his later works are already evident. He is the author of studies of Byzantine and Arabic music, including Eastern Elements in Western Chant (1947) and A History of Byzantine Music and Hymnology (1948). From 1939 he lived in England; there he taught at Oxford and composed operas, ballets, chamber music, liturgical works, and symphonies.
---
MIKLOS ROSZA
| | |
| --- | --- |
|         | Toccata Carpicciosa op. 3 |
Miklos Rosza
(b. 1907 Budapest, Hungary, d. 1995 Los Angeles, California) studied at the Leipzig Conservatory. He was a symphonic and chamber composer who began scoring films for Alexander Korda in England in the 1930s and went with him to Hollywood to make The Thief of Bagdad (1940). When he arrived at M-G-M in 1948, Rosza was already a film music professor at USC and an Academy Award winner. At M-G-M and as an independent, Rozsa composed scores for nearly 40 pictures spanning more than 20 years. A prolific and versatile figure, Rozsa's work ranges from the intimate, disturbing accompaniment for Spellbound (1945) to the epic, sweeping scores of Ben-Hur (1959) and El Cid (1961).
---