Anglo-American Fiddle Music of
the 20th and 21st Centuries
Wolfgang Sengstschmid, violin  &  Daniel Grimwood, piano
Clapp Recital Hall, Wednesday, October 3, 2001, 8:00 pm
Guests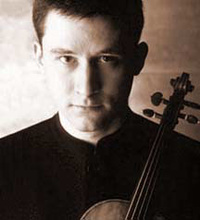 After Wolfgang Sengstschmid gave his New York recital in March 1999, the producer of the late Horowitz recordings and currently Senior Executive Producer at SONY Classical, Thomas Frost, made the written comment: "Mr. Wolfgang Sengstschmid deserves to have a significant international concert and recording career." Six months later Wolfgang Sengstschmid played Vivaldi's Four Seasons with The New York Virtuosi Chamber Symphony conducted by Kenneth Klein in the Great Assembly Hall at the United Nations, New York.
At the age of eight he was admitted to the Musikhochschule Vienna. There he studied for many years with Rainer Kuechl, the leader of the Vienna Philharmonic Orchestra. During that time he won the Competition of the University of Music Vienna "Foundation Stefanie Hohl" as well as prizes at the "Kulenkampff" International Violin Competition Cologne, Germany and at the International Music Competition Pretoria, South Africa. Later he continued his studies at the Conservatory Berne with Igor Ozim and at the Guildhall School of Music in London with Yfrah Neaman.
Since 1998 Wolfgang Sengstschmid plays a violin from Joseph Guarneri del Gesu, Cremona 1731, given as a loan by the Austrian National Bank. In 1991 he performed with the Vienna Chamber Orchestra in The Musikverein Hall Vienna and after that he gave concerts in all major halls of Austria such as Musikverein Hall Vienna, Konzerthaus Vienna, Stefanien Hall Graz, Konzerthaus Klagenfurt, Brucknerhaus Linz and at the festivals Klangbogen Vienna and Carinthian Summer as well as in the United States, South Korea, India, Turkey, Egypt, Israel, and many countries of Europe. He performed as a guest soloist with the Tonkuenstler Orchestra Vienna, the Vienna Chamber Orchestra, the Berne Symphony Orchestra, the Brno Philharmonic Orchestra, the Sofia Opera Orchestra and the Kiev Chamber Orchestra.
Since 1998 Wolfgang Sengstschmid is teaching at the University of Music, Vienna.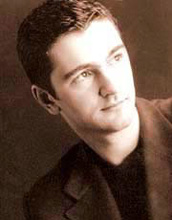 Daniel Grimwood (b. 1976) was awarded a scholarship to The Purcell School in London in 1987, studying piano under Graham Fitch; violin and viola under Sybil Copland and Elspeth Iliff; and composition under the late Tim Stevenson. In his final year he was Head Boy at the school. In 1994 he studied piano under Vladimir Ovchinnikov, and has subsequently been awarded scholarships to Masterclasses with Gunther Reinhold, Nina Svetlanova and Peter Feuchtwanger, under whom he currently studies.
Daniel was Best Accompanist at the 1996 TWIYCA Competition and was a featured artist in the 1995 BBC Radio 3 Young Artists' Forum.
During the last 18 months Daniel has given recitals at Hurstwood Farm alongside Ovchinnikov, at London's Wigmore Hall for the Maisie Lewis Foundation, and at the Symphony Hall, Birmingham and the Bridgewater Hall, Manchester. He has recently given concerts at The British Council, Amsterdam, and the British Embassy, Den Haag under the auspices of the Anglo-Dutch Piano Platform.
Other venues at which Daniel has performed include The Queen Elizabeth Hall, The Bishopsgate Hall and The Purcell Room (all in London); The Rachmaninoff and Gnessin Halls (Moscow); and various venues in Germany, France, Switzerland, Austria, Italy, Lebanon, Russia and Estonia.
Program
Sonata for violin and pianoforte
Aaron COPLAND
Riconoscenza per Goffredo Petrassi for solo violin
Elliot CARTER
Dream Thou
Luke BEDFORD
Hommage à W. A. for solo piano
David GOMPPER
Capriccio for violin and piano
Jeremy DALE ROBERTS
Intermission
Violin Sonata No. 2, Op. 10
Howard FERGUSON
Wieglied (solo violin)
Jeremy DALE ROBERTS
Passions for violin and piano
Ching-chu HU
Finnegan's Wake for violin and piano
David GOMPPER
Notes & Bios
AARON COPLAND
Sonata for Violin and Pianoforte (1943)
Copland writes: "I had carried sketches for a violin and piano piece with me to California. During the frequent periods when I had to wait for the studio to move ahead on The North Star, I played through the piano parts of violin sonatas from various periods. My idea was for the piano to complement the violin rather than merely accompany it; thus the title: Sonata for Violin and Piano.
"For whatever reason, at that time I had little desire to compose a dissonant or virtuosic work, or one that incorporated folk materials. Nevertheless, certain qualities of the American folk tune had become part of my natural style of composing, and they are echoed in the Sonata. It is composed in the usual three movements, with the last two to be played without pause. The first movement, based on an eight-note phrase with the interval of a fourth prominent, alternates in mood between a tender lyricism and a more rapidly paced section. Changes in the timing occur throughout; in fact, the strong feeling of contrasting moods in the composition is achieved mainly through rhythmic changes. The second movement, in a simple ABA form with two-part counterpoint between the instruments, is calm and bare in outline. The scherzo-like third movement is characterized by irregular rhythms and a strong penetrating melody. The Sonata ends with a short coda that refers back to the theme of the opening movement.
"I had just completed it when I heard that a friend had died while on active duty in the South Pacific. The  Sonata for Violin and Piano is dedicated to Lt. Larry H. Dunham (1910-1943)."
The work was premiered at a concert of contemporary American and English music at Times Hall (17 January 1944). Yfrah Neaman and Howard Ferguson gave the European premiere of the Sonata in a recital on the 3rd Programme of the BBC in 1948.  D.K.G.
Aaron Copland (1900-1990) is the best-known 'serious' American composer of the 20th century, and his distinctive voice remains familiar and salient to this day. Born in Brooklyn, New York, he began theory and composition lessons with Rubin Goldmark. From 1921-4 he studied at the American Conservatory, Fontainebleau with Nadia Boulanger (composition), by far his most important teacher. He eschewed a full-time university position, hoping that he and his American colleagues might earn decent livings from composition. To this end, he was involved in many composers' organizations. As well as writing for journals and magazines, he co-founded the American Music Center in 1939. Throughout the 1950s and beyond, Copland continued to lecture, teach and write as vigorously as ever. He composed very little after 1972. "It was exactly as if someone had simply turned off a faucet", he said.  D.K.G.
---
ELLIOT CARTER
Riconoscenza per Goffredo Petrassi (1984)
Carter wrote his  Riconoscenza per Goffredo Petrassi to celebrate the Italian master's 80th birthday, and the work was first performed in 15 June 1984, at the Festival de Pontino in Sermoneta by G. Monch.
Although marked  Quasi improvisando, it is written out in meticulous detail, a typical Carter creative contradiction. There are three different areas of musical character which are best described by Carter's own directions:  dolce, legatissimo, scorrevole for the first,  giocosamente, furioso, martellato for the second, and tranquillo, ben legato for the third.  D.K.G.
Elliott Carter, (b. 1908, New York) one of the most influential composers of his generation, was educated at the Horace Mann School in New York City, at Harvard, at the Ecole Normale de Musique in Paris and in the studio of Nadia Boulanger; an early association with Charles Ives was also important in his early development. Carter's growth as a composer was gradual but since 1950, the year of his  String Quartet No. 1, his reputation and influence have grown enormously. Major works include several large concerted and orchestral pieces, five fine string quartets and a variety of chamber ensemble pieces. Carter's trademark is the differentiation of instruments and sections, giving each player or each group a characteristic mode of music speech generating a complex polyphony of rhythm and tempo.  D.K.G.
---
LUKE BEDFORD
Dream Thou (2001)
In many ways this is actually two pieces fitted into one. The music begins with an extended idea with a low violin melody and higher piano part. As this music builds to a climax half way through the piece, it is interrupted by another idea - initally just four chords. This second idea gradually takes over in importance as the first becomes dissipated. The title is taken from a poem by Shelley.  L.B.
Luke Bedford was born in 1978. He studied at the Royal College of Music with Edwin Roxburgh and Simon Bainbridge. He is now studying for a masters degree at the Royal Academy of Music with Simon Bainbridge, with funds provided by the RVW Trust, the Countess of Munster musical trust, and the 2000 Mendelssohn Scholarship. Other prizes include the 2000 Royal Philharmonic Society prize for composition, who commissioned his 'Five Abstracts' for the London Sinfonietta, and second prize in the 2001 Toru Takemitsu competition. Other groups who have performed his music include the Tokyo Philharmonic orchestra, members of the Philharmonia orchestra, and the BBC singers. Future projects include pieces for North German Radio, the Royal Academy of Music Symphony orchestra, and the young pianist Sarah Nichols.
---
DAVID GOMPPER
Hommage à W. A. (2001)
This piano work was written in homage to my teacher at the University of Michigan, William Albright, who died prematurely on 17 September 1998. He and William Bolcom were among those who, in the 1960s and 70s, initiated and supported the revival of ragtime music in the U. S. He was also a brilliant organist and pianist, and a dedicated and talented composer.
All of the musical material was generated from the letters in his last name.
While the work is in three main sections, the middle contains my dream of the type of rag Albright was fond of composing and performing.  D.K.G.
Finnegan's Wake (1997)
Finnegan's Wake is based on two Irish fiddle tunes, The Green Groves of Erin/The Flowers of Red Hill, and made popular by the Bothy Band, and more recently, the string trio of Edgar Meyer, Mark O'Connor and Yo-Yo Ma. While its four-sectioned, one movement form presents Irish-Appalachia-Texas fiddle music embedded within the context of art music, my intention was to transform the music as feet-stomping dance music through a labyrinth of rhythmic manipulations into a series of playful excursions for both instruments.
This work, premiered in Thessaloniki, Greece in May 1997, was performed by Eva Delfinopoyloy, violin and the composer on piano. The initial inspiration for this piece came from working with the violinist and fiddler Andrew Carlson, who was crucial in shaping the final version. The piece is dedicated to my friends, Erin Irish and Gene Szymkowiak.  D.K.G.
David Gompper (b. 1954), who grew up in New York and San Diego, lived in London (where he studied with Jeremy Dale Roberts, Humphrey Searle and Phyllis Sellick) , Nigeria, Michigan, Texas and is currently Professor of Composition at the University of Iowa. His works are performed throughout the U.S., and he continues to travel extensively. His new work, based on a Yaqui Indian tune  Kuta Muela (Old Stick), is due to premiered later this month in Arizona, and will be featured in a festival of American music at the Moscow Conservatory of Music. Future works include a string quartet and a large ensemble work for  Studio New Music in Moscow.
---
JEREMY DALE ROBERTS
Capriccio for violin and piano (1965)
Dedicated to Howard Ferguson, the Capriccio marked a moment of expressive and stylistic emancipation from which I was able to go forward. A compact 'Konzertstuck' in roughly two parts with a coda, it is quite colourfully virtuosic for both instruments. I took as my models the Capricci of Paganini, the duo sonatas of Bartok and (as will be obvious) certain traits in the music of Szymanovsky. My intention was covertly to harness fantasy and reverie within quite strictly disciplined procedures. Thus all the thematic material is engendered in the opening bars, a challenging flourish for the violin, echoed later in the work in its own terms by the piano: from these gestures is launched all that ensues.  J.D.R.
Wieglied (1999)
'Wieglied' is the Yiddish word for lullaby. Originally written for solo viola, this short piece was composed to form part of a concert given by the Center for New Music in the University of Iowa to celebrate the work of the Argentinian artist Mauricio Lasansky. Specifically, and inescapably, the 'Nazi Drawings', many of which are hung in the Art Museum there, provided a thematic spur for the composers who contributed to the event. Among the most harrowing of these are those images in which young children figure: so the lullaby is also a lament and a Pieta - but inadequate and faltering, and ultimately cut off.  J.D.R.
Jeremy Dale Roberts (1934 - ), having retired from the Royal College of Music in 1999, was appointed Visiting Professor in Composition at the University of Iowa. He studied with William Alwyn and Priaulx Rainier at the Royal Academy of Music, where also he was befriended by Howard Ferguson who became one of his most respected and beloved mentors. His compositions, often written for close friends and associates, have been widely performed: they include the  Tombeau for piano, written for Stephen Kovacevich;  Croquis for string trio, a BBC commission, first performed by members of the Arditti Quartet at the Venice Biennale; and the  Cello Concerto - 'Deathwatch', written for Rohan de Saram. Recent compositions include a number of works for solo piano;  Hamadryad for alto flute, viola and guitar; and  Casidas y Sonetos - del amor oscuro for solo guitar. Future projects will embrace a scena for voice and viols based on the witches' scene in Macbeth and a work for gamelan.
---
HOWARD FURGUSON
Violin Sonata No. 2, Op.10
Completed in December 1946, the Second Violin Sonata is one of Ferguson's most cogent compositions - despite the fact that the movements were written in reverse order. The tension that prevails in all three arises from the contrast between an effusive, passionate lyricism and a restlessness, darker-hued, which is at last fully unleashed in the headlong momentum of the finale. Underpinning the narrative is a carefully plotted cyclic structure. The seemingly rhapsodic declamation of the opening Andante, with its supple phrasing and yearning semitones, is recalled more than once and provides the source for most of the sonata's material.
The first performance was given at the Hague, 10th January 1947, by Yfrah Neaman and Howard Ferguson.
Howard Ferguson (1908-1999) was one of the most distinguished musicians of his generation. A fine pianist, a former pupil of Harold Samuel, he excelled in collaboration with others, notably his four-handed partnership with Denis Matthews and the duo he formed with the violinist Yfrah Neaman. He was also an outstanding scholar, bringing, like Charles Rosen, a performer's insight to his editorial work. As a teacher of composition at the RAM, he was much sought after, numbering among his pupils Richard Rodney Bennett and Cornelius Cardew. His legacy as a composer, though not copious, is distinguished for its fastidious craftsmanship: it reflects a passionate nature braced and balanced by an equally characteristic sense for form.
---
CHING-CHU HU
Passions (2001)
Passions deals with the intermingling of influences in my life as an Asian American: the folk tunes that have surrounded me since my childhood and the western-based education of classical music and twentieth-century techniques. For  Passions, I composed music in which the violin's lines recall the idioms of the er hu (Chinese fiddle) and sheng (chinese aerophone). In contrast, the music for the piano alternates between various pentatonic textures and neo-romantic, neo-tonal influences.  C-C.H.
Ching-chu Hu, (b. 1969, Iowa) studied at Yale University, Freiburg Musikhochschule, the University of Iowa, and the University of Michigan. He has been a composition fellow at the Bowdoin Summer Music Festival, May in Miami Festival, June in Buffalo, and the Aspen Music Festival. He won the 2000 SCI/ASCAP composition award. Ching-chu, who is active as a pianist and conductor, wrote the score for  The Life and Times of Jimmy B., a film by Alison McDonald, which recently received a Director's Guild of America Award. Ching-chu is currently an assistant professor at Denison University in Granville, Ohio.