A performance of Violin and Piano Music by
Duo Er-Gene Kahng, violin
Nathan Carterette, piano
 
Sunday, February 3, 2019 at 7:30p in the Recital Hall
Three Spirituals 
Florence PRICE (1887–1953)
  I. O Holy Lord
 II. Sometimes I feel like a motherless child
III. Lord, I want to be a Christian
Fantasy for Violin and Piano (1940)
Based on the folksong "I'm Working on my Building"
Fantasy for Violin and Piano (1933)
Concerto no. 2 for Violin and Orchestra (1952)
with the composer's own reduction for piano
Sonata for Violin and Piano (1947)
Irene BRITTON-SMITH (1907–1999)
  I. Allegro cantabile
 II. Andante con sentiment
III. Vivace
Dreamscape (2011)
Quentin KIM (*1976)
    I. Misterioso in g# minor
   II. Con spirito in E
  III. Marcato con fuoco in c# minor
  IV. Andantino nostalgico in A
   V. Agitato in f# minor
  VI. Espressivo in D
 VII. Moderato sempre legato in b minor
VIII. Leggiero in G
  IX. Malinconico in e minor
   X. Maestoso affetuoso in C
  XI. Semplice in a minor
 XII. Brillante in F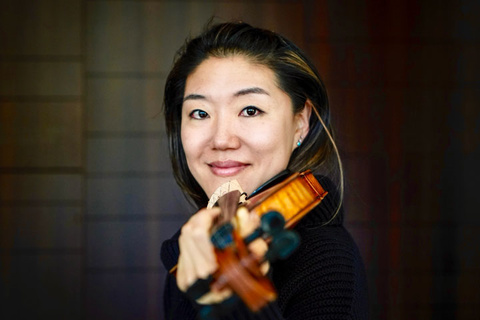 Er-Gene Kahng
Er-Gene Kahng is Associate Professor of Violin and Director of Graduate Studies at the University of Arkansas in Fayetteville. She also serves as Concertmaster of Arkansas Philharmonic Orchestra, and Fort Smith Symphony. Her work centers around the music of African-American composer, Florence Price (1887-1953). She has recorded Florence Price's Violin Concerto no. 1 and no. 2 with the Janacek Philharmonic (Albany Records, 2018) and Price's Symphonies no. 1 and no. 4 (world premiere recording) with the Fort Smith Symphony Orchestra (Naxos), which will be available early next year, 2019. She is a former Visiting Fellow of Cambridge University in Cambridge, UK. For more information, please visit www.ergenekahng.com.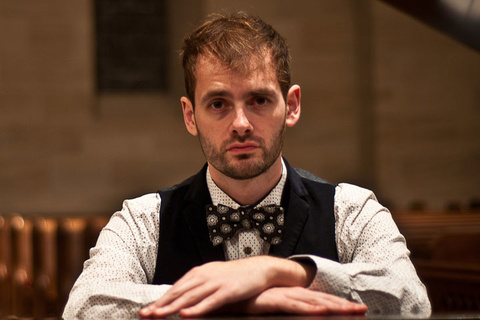 Nathan Carterette
Hailed as "wonderfully poetic," (Westfalen Post) and "very compelling in his power and presence" (International Composer), Nathan Carterette has distinguished himself in the concert world by performing a huge range of works from Elizabethan keyboard music to music written today. His innovative programming has inspired audiences to approach unfamiliar music with open ears, and familiar music with new appreciation.
Nathan has worked closely with many composers, most notably the Welsh pianist-composer Dafydd Llywelyn, with whom he also studied in Munich; and Korean pianist-composer Quentin Kim, whose complete works for solo piano he recorded in 2013 in Korea.
Most recently, Nathan completed a 25-city tour of his series, 'Poets of the Piano,' lecture-recitals of a wide range of piano music organized around narrative themes. He also recorded Bach's Goldberg Variations at Carnegie-Mellon University, which will be released in January 2019. For more information, please visit www.nathancarterette.com.
In 1892, Antonin Dvořák, Czech composer and most famous student of Brahms, accepted an invitation to New York City to become Director of the National Conservatory of Music. Hearing that a large Czech population had emigrated to Iowa, in the summer of 1893 he took an extended vacation to Spillville, where he completed his masterpiece, Symphony no.9 'From the New World.'
Dvořák was entranced by the rich body of African-American music, and considered it to be the true folk music of America. He commented in 1893, "The future music of this country must be founded upon what are called Negro melodies. This must be the real foundation of any serious and original school of composition to be developed in the United States."
While his prophecy turned out to be more true in the realm of blues, jazz, and rock & roll, some composers were inspired to incorporate this music into the European formal tradition. Florence Price (1887 – 1953) was one of the most accomplished. Born in Arkansas, she spent most of her career in Chicago, where she composed symphonies, violin and piano concertos, chamber music, songs, and music for the church, including a number of spiritual arrangements that were performed by the legendary Marian Anderson.
Price fully embraced the European tradition, but individualized her works through her deep connection to the Negro Spiritual. Her most famous work was her Symphony in e minor, premiered by the Chicago Symphony Orchestra in 1933. It featured melodies and rhythms inspired by the spiritual, in addition to the 'juba,' a dance brought from Africa by the enslaved. In place of the traditional menuet or scherzo, she found a way to join two traditions together.
Her life story shows some success at breaking through to the larger audience, but also the many obstacles in front of African-Americans at the time. History took a dramatic turn in 2009 when a number of her unpublished manuscripts were discovered in a dilapidated house in 2009. These included two violin concertos, which were subsequently recorded by Er-Gene Kahng.
Even though Price had much to show in terms of performances and output, her accomplishment also showed in her influence of a younger generation of artists. Irene Britton Smith (1907 – 1999) heard Price speak in 1936, and wrote to her; Price invited Smith to send on her compositions for review, but apparently she was too shy to do so.
But she was inspired to continue on to higher education in music, studying with Leo Sowerby (one of Price's former teachers), at Juilliard, and eventually with Nadia Boulanger in Paris. Her Sonata for Violin and Piano was written while she was a graduate student at Juilliard.
Overall, Smith composed a smaller body of work, as she spent her career as a teacher in the Chicago Public Schools. She showed less interest in the African-American musical heritage of spirituals and dances, and sought expression of her own inner inspiration.
Along those lines, Quentin Kim (born 1976) is a composer whose work also was inspired by his heritage in his works. He has written Korean art songs as well as sets of variations on traditional Korean folk tunes. Educated in America at Juilliard and Yale, he is now Professor of Piano at Pusan National University in Korea.
'Dreamscape' is a set of miniatures for violin and piano composed in 2009. Quentin writes,
"'Dreamscape' is essentially twelve preludes for violin and piano. From the initial g# minor, each prelude descends by alternating major- and minor-third intervals, ending in F major. Composed near the end of 2009 through some atmospheric nights, this work has the personality of character pieces. I wrote down certain scenic moments looking at the snow-covered street outside my (then) Brooklyn apartment window, feeling somewhat strange and inspired in a half-dreamy state."