CONCERT XIII
Saturday, February 25, 2012, 2:00 p.m.
Old Capitol Museum Senate Chamber (map)
Guest violinist Wolfgang David (Vienna)
Guest 'cellist Timothy Gill (London)
|| download program ||
Program
Nomina sunt Omina
        for violin and cello (2009)
 
Joseph DANGERFIELD
(b. 1977)
Toccatina
        study for violin (1986)
 
Helmut LACHENMANN
(b. 1935)
Nuance
        for violin solo (2012) -premiere
 
David GOMPPER
(b. 1954)
Curve with Plateaux
        for solo cello (1982)
 
Jonathan HARVEY
(1939-2012)
 
— Brief Intermission —
 
Duo for violin and violoncello, op. 7 (1914)
        I. Allegro serioso
       II. Adagio
      III. Maestoso e largamente
 
Zoltán KODÁLY
(1882-1967)
Performers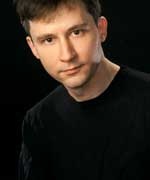 In the space of a few short years, Wolfgang David has ensconced himself on the international stage, both as a recitalist, and as a guest soloist with many leading orchestras such as the Royal Philharmonic Orchestra, Vienna Radio Symphony Orchestra, Johannesburg Philharmonic Orchestra, Berne Symphony Orchestra, New York Virtuosi etc.
He has been well received by the press — the Washington Post wrote that he "scaled the heights of musicmaking" and The Strad described his playing "as emotionally wide-ranging as one could hope for".
Admitted to the University for Music in Vienna at the age of eight, David studied there for many years with Rainer Küchl, the concertmaster of the Vienna Philharmonic Orchestra. Later he continued his studies at the Musikhochschule in Cologne with Igor Ozim and with Yfrah Neaman at the Guildhall School of Music in London.
The winner of many competitions and prizes, David has performed in major halls such as Konzerthaus and Musikverein Hall in Vienna, Carnegie Hall in New York, Cerritos Center in Los Angeles, the Wigmore Hall in London, Victoria Hall in Geneva, and Philharmonie in Cologne.
Highlights of his career included concerts at the Great Assembly Hall of the United Nations in New York in the presence of Secretary General Kofi Annan, and a concert in Bangkok, given for the Queen of Thailand.
Besides focusing on the traditional main repertoire, Wolfgang David also enjoys collaborating with a number of living composers, such as David Gompper, Noel Zahler, Ching-chu Hu, Joseph Dangerfield, Rainer Bischof, Jeremy Dale Roberts, John Allemeier, etc. He has commissioned, premiered, and recorded works specially written for him.
Wolfgang David performs on a violin built in 1715 by Carlo Bergonzi, Cremona, on exclusive loan to him from the Austrian National Bank.
Wolfgang David has recorded a CD with the Royal Philharmonic Orchestra under the baton of Emmanuel Siffert and three albums with the American pianist David Gompper. Another CD with the Royal Philharmonic Orchestra was released on the NAXOS label in April 2011.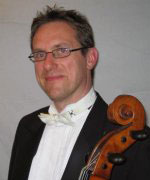 Tim Gill began to play the cello at the age of eight, subsequently studying with Dimitry Markevitch in Paris, Christopher Bunting at Cambridge and David Strange at the Royal Academy. In 1989-90 Tim was resident artist at the Banff Centre, Canada, where, as a result of winning the Banff concerto competition, he was invited to play the Elgar concerto with the Calgary Philharmonic and later to tour Canada as a recitalist.
His Purcell Room debut in 1990 was met with critical acclaim and resulted in an invitation from the Park Lane Group to give the Priaulx Rainier recital the following year. Tim has since given recitals and played concertos throughout the UK, Europe and India. In 1995 he recorded Beethoven's complete works for cello and piano for Dutch radio with Marietta Petkova, and in 1996 he gave his Wigmore Hall debut and released two CDs on the Guild label with pianist Fali Pavri.
Tim is currently principal cellist with the Royal Philharmonic Orchestra and the London Sinfonietta. He is also much in demand as a soloist and chamber musician.
'Timothy Gill and Fali Pavri elicit a searing lyricism bringing tremendous sense of direction to the melodic invention which can so easily meander in lesser hands'. Classic CD
Tim Gill became principal cellist of the London Sinfonietta in June 2005.
Program Notes
Joseph DANGERFIELD
Nomina sunt Omina
Nomina sunt Omina (Names are Omens) (2009) is the title of the Catholic naming ceremony. The piece uses the seven-part observance as a formal outline. I created a line of faux-chant, which I then split into seven parts and created a series of fourths bisected by seconds. These sets serve as the melodic and harmonic basis of the work.
Joseph Dangerfield's (b. 1977) music has been performed across the United States and in Europe at such venues as Harvard University, the Eastman School of Music, Florida State University, San Francisco State University, and the Vienna Konzerthaus. He has lived and worked professionally in Germany, Holland, Moscow, and New York, and was a Fulbright Scholar. Recent awards include the Aaron Copland Award and the Indianapolis Chamber Symphony's Composition Prize, and he was named the 2011 National Endowment for the Arts Resident at the Yaddo Artist Colony. Dangerfield earned the PhD in music composition from the University of Iowa, where he studied with David Gompper. His works are available on the Albany Records label, and through European American Music (SCI), and Pip Press Publications. Dangerfield is currently Associate Professor of Music at Coe College.
---
Helmut LACHENMANN
Toccatina
Lachenmann refers to his compositions as musique concrète instrumentale, a way in which the acoustic sound-world is accessed through unconventional playing techniques. According to the composer, this is music "in which the sound events are chosen and organized so that the manner in which they are generated is at least as important as the resultant acoustic qualities themselves. Consequently those qualities, such as timbre, volume, etc., do not produce sounds for their own sake, but describe or denote the concrete situation: listening, you hear the conditions under which a sound- or noise-action is carried out, you hear what materials and energies are involved and what resistance is encountered." Toccatina is a short 5-minute study in which the violinist taps the metal screw at the end of the bow directly onto the strings.
Helmut Lachenmann studied composition and music theory with Johann Nepomuk David and piano with Jürgen Uhde at the Musikhochschule Stuttgart from 1955-58 and was the first private student of Luigi Nono in Venice from 1958-60. His music has been featured at festivals throughout the world, including numerous occasions at Darmstadt, the Venice Biennale, the Wien Modern, and the Wittener Tage für Neue Kammermusik, as well as five portrait concerts and a symposium at the Salzburg Festival (2002). He lectures regularily at Darmstadt (since 1978), and has taught at the Musikhochschule Stuttgart from 1981-99.
---
David GOMPPER
Nuance
Based on a simple tune heard at the outset and its development into dual lines, the work is a short study that explores sustained sound that is almost completely muted and covered. Used are several basic bowing techniques: fast bow-speed that heightens spectral properties; bowing "on the node" to achieve a "baroque" flute sound; very short and quiet playing "on the string" for a deadened wooden timbre, and a more typical rubbing on the bridge to extend pitch into its non-pitched counterpart. This was written in London on January 20, 2012 for Wolfgang David.
David Gompper (b. 1954) has lived and worked professionally as a pianist, a conductor, and a composer in New York, San Diego, London, Nigeria, Michigan, Texas and Iowa. He studied at the Royal College of Music in London with Jeremy Dale Roberts, Humphrey Searle and Phyllis Sellick. After teaching in Nigeria, he received his doctorate at the University of Michigan, taught at the University of Texas, Arlington, and since 1991 has been Professor of Composition and Director of the Center for New Music at the University of Iowa. In 2002 - 2003 Gompper was in Russia as a Fulbright Scholar, teaching, performing and conducting at the Moscow Conservatory. In 2009 he received an Academy Award from the American Academy of Arts and Letters in New York City.
Gompper's compositions have been performed in such venues as Carnegie and Merkin Halls (New York), Wigmore Hall (London), Konzerthaus (Vienna) and the Bolshoi Hall (Moscow). Wolfgang David and the Royal Philharmonic Orchestra recently recorded his Violin Concerto for a Naxos CD. His song cycle The Animals, based on the poetry of Marvin Bell, will be released on an Albany disc. His Double Concerto will be premiered in February 2012.
---
Jonathan HARVEY
Curve with Plateaux
takes as its starting inspiration a model of human personality. At the bottom of the cello register is the "physical" – arms, legs, muscles, etc. Next in the tenor register is the passionate level. Above that lies the level of thought, which becomes even more refined and delicate as it rises to the top of the cello where the level of transcendence is suggested. The line then curves back to its starting point and finishes with suggestions of mortality.
Jonathan Harvey, born in Warwickshire in 1939, was a chorister at St Michael's College, Tenbury and later a major music scholar at St John's College, Cambridge. He gained doctorates from the universities of Glasgow and Cambridge and (on the advice of Benjamin Britten) also studied privately with Erwin Stein and Hans Keller. He was a Harkness Fellow at Princeton (1969-70). An invitation from Boulez to work at IRCAM in the early 1980s has so far resulted in eight realizations at the Institute, and two for the Ensemble Intercontemporain, including the celebrated tape piece Mortuos Plango, Vivos Voco, Bhakti for ensemble and electronics, and String Quartet No. 4, with live electronics. Harvey has also composed for most other genres: orchestra (Tranquil Abiding, White as Jasmine and Madonna of Winter and Spring - the latter performed by the Berliner Philharmoniker and Simon Rattle in 2006), chamber (four string quartets, Soleil Noir/Chitra, and Death of Light, Light of Death, for instance) as well as works for solo instruments. He has written many widely performed unaccompanied works for choir, as well as the large-scale cantata for the BBC Proms Millennium, Mothers shall not Cry (2000). His church opera Passion and Resurrection (l981) was the subject of a BBC television film, and has received seventeen subsequent performances. His opera Inquest of Love, commissioned by ENO, was premiered under the baton of Mark Elder in 1993 and repeated at Theatre de la Monnaie, Brussels in 1994. His third opera, Wagner Dream, commissioned by Nederlandse Oper and realized at IRCAM was premiered to great acclaim in 2007. 2008 saw the premiere of Messages (for the Rundfunkchor Berlin and the Berlin Philharmoniker) and Speakings (co-commission with BBC Scottish Symphony Orchestra, IRCAM and Radio France); Speakings was the culmination of his residency (2005-08) with the BBC Scottish Symphony Orchestra from which Body Mandala and …towards a pure land have also emerged. All three works featured on the Gramophone Award-winning NMC disc released in the same year.
Harvey is now in constant demand from a host of international organizations, attracting commissions far into the future, and his music is extensively played and toured by the major ensembles of our time (Musikfabrik, Ensemble Modern, Ensemble Intercontemporain, London Sinfonietta, ASKO, Nieuw Ensemble of Amsterdam and Ictus Ensemble, to name but a few). His music has been showcased at most centres and festivals for contemporary music. Some 150-200 performances are given or broadcast each year and about 100 recordings of his music are issued on CD. He has honorary doctorates from the universities of Southampton, Sussex, Bristol, Birmingham and Huddersfield, is a Member of Academia Europaea, and in 1993 was awarded the prestigious Britten Award for composition. In 2007 he was awarded the Giga-Hertz Prize for a lifetime's work in electronic music. He published two books in 1999, on inspiration and spirituality respectively. Arnold Whittall's study of his music appeared in 1999, published by Faber & Faber (and in French by IRCAM) in the same year. Two years later John Palmer published a substantial study: " Jonathan Harvey's Bhakti" Edwin Mellen Press. Michael Downes published a penetrating book on two works in 2009 with Ashgate. Harvey was Professor of Music at Sussex University between 1977 and 1993 where he is currently an Honorary Professor. He was Professor of Music at Stanford University (US) between 1995 and 2000, is an Honorary Fellow of St. John's College, Cambridge and was a Fellow at the Institute of Advanced Study in Berlin in 2009.
Harvey's standing in the international musical community is celebrated between May 2009 - May 2010 with many dedicated concerts, new recordings, festival focuses and composer portraits.
---
Zoltán KODÁLY
Duo for violin and violoncello, op. 7
In 1914, thirty-two years after Tchaikovsky completed the a minor Trio, Zoltán Kodály composed his Duo for Violin and Violoncello, Op. 7, a work which displays not only the similarities in the technical capabilities of both instruments but also highlights their contrasting expressive and tonal qualities as well. This highly original piece may very well be one of the first scored specifically for these two instruments and probably served as an inspiration and precedent for Maurice Ravel's Sonata for Violin and Violoncello completed eight years later in 1922. Actually, one could make a case here for "mutual" influences, since there are several passages throughout the Kodály work (especially in the first and second movements) which are reminiscent of the music of Debussy and Ravel — especially their string quartets, written in 1893 and 1902 respectively. In fact, one of the most significant experiences in Kodály's life was his encounter with the works of Debussy when he spent time in Paris in the spring of 1907; and Kodály's later development was clearly influenced by Debussy's music, as well as by the Hungarian folksongs which he collected throughout his life. As his fellow countryman and colleague, Béla Bartók wrote: "Kodály's compositions are characterized by rich melodic invention and a perfect sense of form… His music is based on the principle of tonal balance. His idiom is new: he says things that have never been uttered before… and possesses striking individuality." The Duo for Violin and Violoncello, Op. 7 reflects these very qualities: Kodály's melodic gifts, his sense of balance and proportion, and his ability to achieve striking new effects through relatively simple musical means.
From the outset, Kodály — who played violin, viola and cello himself — uses three techniques to achieve a variety of possibilities from the violin and cello: imitation, question-and-answer, and unison. The thematic exchanges between the two instruments, which open the work, lead into impressionistic octave passages. One hears reminiscences of Debussy and Ravel throughout the first movement, which ends in a somewhat melancholy, introspective manner.