In cooperation with the UI String Quartet Residency Program, CNM presents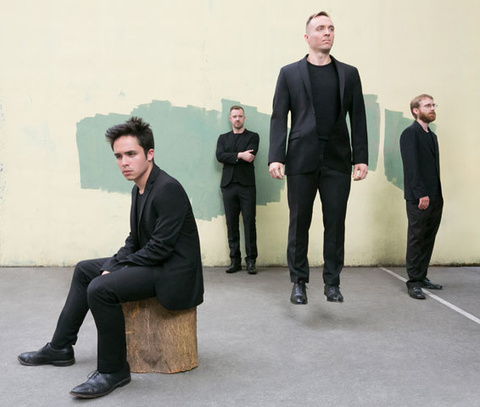 Performing arrangements of works by
Rodericus, Thomas Morley and Solage
together with
Sky Macklay, Luca Francesconi and Helmut Lachenmann
The JACK Quartet
Violinists Christopher Otto and Austin Wulliman
Violist John Pickford Richards, and Cellist Jay Campbell
Friday, December 6, 2019 at 7:30p in the Concert Hall
Program
Angelorum Psalat (ca. 1390)

RODERICUS

arranged by Christopher Otto
(fl. 1400)
Many, Many Cadences (2015)

Sky MACKLAY

(b. 1988)
String quartet no. 4: "I voli di Niccolò" (2004)

Luca FRANCESCONI

(b. 1956)
Intermission
Christes Crosse (1597)

Thomas MORLEY

(1557/58-1602)
Fumeux fume par fumee

SOLAGE

(ca. 1350-1403)
String Quartet No. III "Grido"  (2001)

Helmut LACHENMANN

(b. 1936)
Performers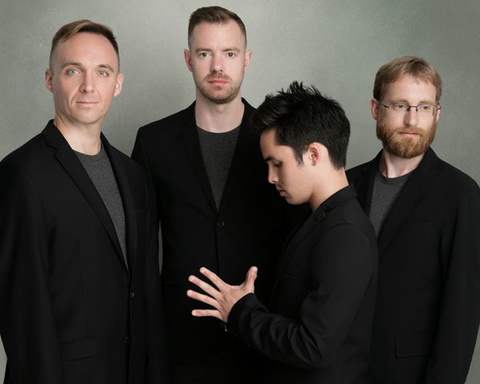 The JACK Quartet
Hailed by The New York Times as the "nation's most important quartet", the JACK Quartet is one of the most acclaimed, renowned, and respected groups performing today. JACK has maintained an unwavering commitment to their mission of performing and commissioning new works, giving voice to underheard composers, and cultivating an ever-greater sense of openness toward contemporary classical music. Over the past season, they have been selected as Musical America's 2018 "Ensemble of the Year", named to WQXR's "19 for 19 Artists to Watch", and awarded an Avery Fisher Career Grant.
     Through intimate relationships with today's most creative voices, JACK embraces close collaboration with the composers they perform, leading to a radical embodiment of the technical, musical, and emotional aspects of their work. The quartet has worked with artists such as Julia Wolfe, George Lewis, Chaya Czernowin, Helmut Lachenmann, Caroline Shaw, and Simon Steen-Andersen, with upcoming and recent premieres including works by Tyshawn Sorey, Sabrina Schroeder, John Luther Adams, Clara Iannotta, Philip Glass, Catherine Lamb, Lester St. Louis, and John Zorn. JACK also recently announced JACK Studio, an all-access initiative to commission six artists each year, who will receive money, workshop time, mentorship, and resources to develop new work to be performed and recorded by the quartet.
     JACK has been covered by all major news outlets, with the Boston Globe calling them "superheroes of the new music world", the Washington Post heralding them as "the go-to quartet for contemporary music, tying impeccable musicianship to intellectual ferocity and a take-no-prisoners sense of commitment", and NPR stating "no one today has the command of [contemporary] music like the young JACK quartet."
     JACK has performed to critical acclaim at Carnegie Hall (USA), Lincoln Center (USA), Berlin Philharmonie (Germany), Wigmore Hall (United Kingdom), Muziekgebouw aan 't IJ (Netherlands), The Louvre (France), Kölner Philharmonie (Germany), the Lucerne Festival (Switzerland), La Biennale di Venezia (Italy), Suntory Hall (Japan), Bali Arts Festival (Indonesia), Festival Internacional Cervatino (Mexico), and Teatro Colón (Argentina). Additional awards include Lincoln Center's Martin E. Segal Award, New Music USA's Trailblazer Award, and the CMA/ASCAP Award for Adventurous Programming.
     According to Musical America, "many of their recordings are must-haves, for anyone interested in new music." Among their dozens of releases, the most recent Cold Blue Music album of John Luther Adams' Everything That Rises was praised as a "a wise and eloquent performance" by the San Francisco Chronicle, their concept album Imaginist with the Le Boeuf Brothers was nominated for a GRAMMY award in 2018, and their complete Xenakis: String Quartets was named one of TimeOut New York's "Top Recordings of the Year." Other albums include music by Helmut Lachenmann, Amy Williams, Elliott Sharp, Hannah Lash, Horatiu Radulescu, and more.
     Committed to education, JACK is the Quartet in Residence at the Mannes School of Music, who will host JACK's new Frontiers Festival, a multi-faceted festival of contemporary music for string quartet. They also teach each summer at New Music on the Point, a contemporary chamber music festival in Vermont for young performers and composers, and at the Banff Centre for Arts and Creativity. JACK has long-standing relationships with the University of Iowa String Quartet Residency Program, where they teach and collaborate with students each fall and spring, as well as with the Lucerne Festival Academy, of which the four members are all alumni. Additionally, the quartet makes regular visits to schools, including Columbia University, Harvard University, New York University, Princeton University, and Stanford University.
     Comprising violinists Christopher Otto and Austin Wulliman, violist John Pickford Richards, and cellist Jay Campbell, JACK operates as a nonprofit organization dedicated to the performance, commissioning, and appreciation of new string quartet music.
Program Notes
Rodericus
Angelorum Psalat
Angelorum Psalat is a strikingly original two-part Latin ballade from the Chantilly Codex, a collection of music from the Ars Subtilior style. It is the only surviving work of Rodericus, known in the codex as S. Uciredor. Many works of the Ars Subtilior (more subtle art) experiment with rhythmic and notational complexity, and Angelorum Psalat is one of the most extreme examples, using no fewer than twenty different varicolored note shapes. For my arrangement I have relied on the transcription of Nors S. Josephson, in whose interpretation the note shapes signify a radical expansion of rhythmic possibility, specifying a much richer variety of speeds and durations than most Western music before the twentieth century. I have given the first violin and viola the original two parts and added the second violin and cello parts to clarify the underlying grid of these complex rhythms. –Christopher Otto
Sky Macklay
Many, Many Cadences
"In this piece I stretch the listeners' perception of cadences by recontextualizing these predictable chord progressions in very fast cells that are constantly changing key and register. These lonely, disjunct ends-of-phrases eventually congeal and transform into new kinds of phrases and sound objects." – Sky Macklay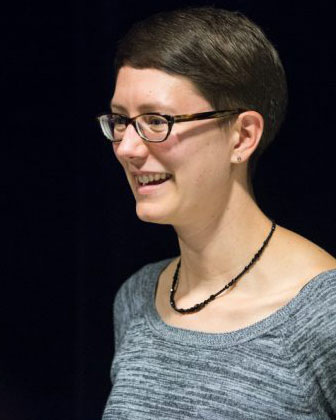 The music of composer, oboist, and installation artist Sky Macklay (b. 1988) explores bold contrasts, audible processes, humor, and the physicality of sound. Her works have been performed by ensembles such as ICE, Splinter Reeds, Wet Ink Ensemble, Mivos Quartet, Ensemble Dal Niente, The Da Capo Chamber Players, The New York Virtuoso Singers, and Le Nouvel Ensemble Moderne. Her piece for the Lexington Symphony was the winner of the 2013 Leo Kaplan award, the top prize in the ASCAP Morton Gould Young Composer Awards. In 2015 her sonic and kinetic installation of inflatable harmonica-playing robots, Harmonibots, received the Ruth Anderson Prize from The International Alliance for Women in Music. She has been commissioned by the Fromm Foundation at Harvard University, Chamber Music America, Gaudeamus Muziekweek, and the Jerome Fund for New Music. Her string quartet Many Many Cadences, recorded on Spektral Quartet's Grammy-nominated album, also received an ASCAP award. She was a 2015-17 Composers and the Voice Fellow with American Opera Projects and her one-act opera The Surrogate (with librettist Emily Roller) recently premiered at the University of Illinois. As an oboist, she has performed at the MATA and SPLICE Festivals and is a core member of the New York-based Ghost Ensemble.
     Originally from Minnesota, Sky completed her DMA in composition at Columbia University where she studied with Georg Friedrich Haas, George Lewis, and Fred Lerdahl. She also holds degrees from The University of Memphis (MM) and Luther College (BA). An enthusiastic practitioner of creative music education, Sky has been a composition and musicianship faculty member at The Walden School Young Musicians Program for nine summers. She is Assistant Professor of Music at Valparaiso University in northwest Indiana.
Luca Francesconi
String quartet no. 4: "I voli di Niccolò"
The composer says that it is "unpredictable, like Paganini himself. Because it is acrobatic, yet at the same time very serious. Soaring, but complex. Rooted in the quartet tradition (and violinistic in particular), but also embedded in the Dionysiac energy of folk music. Harsh at times, to be sure, but always with a story to tell. Also with a hint of irony (the second movement is subtitled Folk Dance, the last movement Dyonisian)". It is based on certain fragments of Paganini and built on intervals of a perfect fifth. Just one other curious detail: it is the first time he is presenting a work divided into movements. –Roberta Milanaccio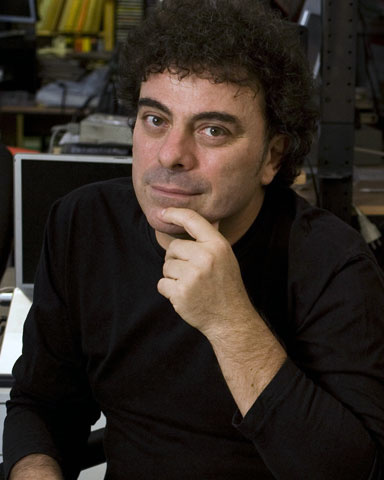 Luca Francesconi, born in Milan, on March 17th 1956, is an Italian composer.
     To date he has written over a hundred works, from solo pieces to operas to symphonic works, frequently integrating electronic and multimedia means, and commissioned by major music and broadcasting organisations all over the world.
     In 1990 Francesconi founded AGON, that has been for many years one of the most active musical centres in Italy for acoustic and digital research and production. He has been teaching composition in music conservatories and masterclasses for thirtyfive years and he is also very active as a conductor. He directed the Ultima Festival in Oslo in 2011 and the Venice Music Biennale for four years (2008 – 2011).
Thomas Morley
Christes Crosse
In 1597, Morley published his guide to novice musicians, A Plain and Easie Introduction to Practicall Musicke, which includes instruction in music theory and composition. Included in this collection is his composition Christes crosse, an exploration to the edge of the practical limits of the potentially infinite rhythmic proportions.
     A steady, repeated vocal line (with text that mostly consists of the alphabet) supplies the constant pulse against which two florid lines (without text) articulate increasingly complex rhythmic subdivisions, creating an impression of changing tempos. The piece starts with familiar divisions of the beat into 2, 4, or 8 parts, and proceeds to introduce subdivisions of 3, 5, 7, and 9 parts, as well as various simultaneous combinations of them, which are known as polyrhythms. Many of these polyrhythms would not be seen in Western classical music again for nearly 300 years.
     Despite the extreme complexity of the rhythms relative to the norms of the time, Morley evidently considered the piece to have pedagogical value, as he recommends, "Take this song, peruse it, and sing it perfectly; and I doubt not but you may sing any reasonable hard pricke-song that may come to your sight." But far from a mere rhythmic exercise, the song is delightfully mercurial, by turns elegant and mischievous.
 
Christes crosse be my speede,
in all vertue to proceede,
A, b, c, d, e, f, g,
h, i, k, l, m, n, o, p, q, r, s & t,
double w, v, x, with y,
ezod & per se, con per se,
title, title, est Amen,
When you have done begin againe begin againe.
Thomas Morley was a widely influential composer, publisher, theorist, and performer of music in late 16th century England, living in London at the same time as Shakespeare. As a publisher and a composer, he is often seen as a leading voice in the introduction of Italian contrapuntal style into the native style of British vocal music, leading to a flowering of the madrigal in English composition of the time.
Solage
Fumeux fume par fumee
In Fumeux fume par fumée (approximately translated as "The smoker smokes through smoke") Solage offers what seems to be a lampoon of an ostentatious group of poets who named their clique after the poet Jean Fumeux. They are known for their outrageous dress and bohemian lifestyle. Interpreting their name and work is up for debate: is the smoke of the Fumeurs simply the "smoke in the brain" (referring to a mental confusion or "vapours" that might be broken up by the morning drink) or are they referring to the literal smoking of hashish or opium (since tobacco was not known in Europe at that time)?
     Solage takes this haziness to the brink in this rondeau, using some of the most outré chromaticism and lowest vocal range of the period. Chris has adapted this piece to highlight its extremes. He has taken the major and minor thirds which run through the harmonies of the piece and re-tuned them, widening and compressing them by the "septimal" interval or seventh partial of the harmonic series. By the end of his microtonal adaptation, after winding through some perception-altering modulations, the refrain is presented in its original low range in the viola and cello. By now, the smoke has clouded our usual grasp of pitches and harmonies we imagined familiar. Where are we, exactly? Or when?
 
Fumeux fume par fumee,
Fumeuse speculacion.
Qu'antre fummet sa pensee,
Fumeux fume par fumee.
Quar fumer molt li agree'
Tant qu'il ait son entencion'.
Fumeux fume par fumee,
Fumeuse speculacion.
 
The smoker smokes through smoke,
A smoky speculation.
While others smoke in thought,
The smoker smokes through smoke,
Because smoke pleases him greatly
As he meditates.
The smoker smokes through smoke,
A smoky speculation.
Solage lived in the late 14th century in France, but this is little more than a name we have to put to a number of pieces retained in the Chantilly Codex (a collection of works that exemplify the style called Ars subtilior). Solage is likely a nom-du-plume, a variant spelling of solace meaning "joy", "entertainment" or "consolation".
Helmut Lachenmann
String Quartet No. III "Grido"
Introducing his Third Quartet (2001), Lachenmann recalled how he had at the start, like Robinson Crusoe, come upon a raw world (of instrumental noises in Gran Torso) and cultivated it. What should the castaway do next? Find another desert island? The question is left in the air. Yes, Lachenmann seems to suggest, every composition is a fresh start. And no, previous achievements cannot be gainsaid.¶∂His Third Quartet by no means denies the achievements – precarious achievements – of its predecessors. Sounds are still being discovered at the limits, in muted whisperings, in harmonics, in eighth-tones and other small intervals used to generate acoustic beats, in grating sonorities and even, on a couple of occasions (including the very end), in spoken phonemes. The music is still fine-spun and fragile, and yet also solidly compelling. (The paradoxical title, meaning "I shout" in Italian, is a homage to the members of the Arditti Quartet as it was at the time of the first performance: Graeme Jennings, Rohan de Saram, Irvine Arditti and DOv Scheindlin.)¶∂More particular to this work is the sense of hearing an immensely slow melody, which begins from a high E flat that shines through the scurrying texture of the opening, sustained by one or more of the players, and ends on a middle-register D flat, having passed through many other points where the music tentatively and impermanently stabilizes around a single note or, more rarely, a consonant chord. The slow progress – not essentially changed in the central part of the work, where movement is almost continuous in jittery fast notes – suggests the music is proceeding with great difficulty, against almost insuperable odds. We are, again, traversing a cliff-face. Danger – the danger, in particular, of repeating what has already been achieved and also the danger of incoherence – is everywhere. But that, of course, is what makes the moment-to-moment continuity of this quartet, as of its predecessors, so gripping. — Bruce Reader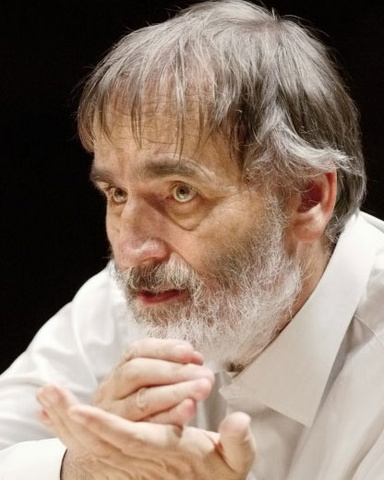 "Expression is created on the reverse face of that on which the composer is working...destruction, deflation, and disintegration. But during this process expressive energy radiates out in the first instance like a creative serenity -- freedom even." -- Helmut Lachenmann
     To scratch the grain of one's own voice, to perpetually resist and violate the habitual, to defy nature, only to retrieve, redeem, and reinvent it through that defiance: this strangely antithetical strategy has fueled German composer Helmut Lachenmann's imagination for more than 30 years now. Some have described Lachenmann as a great ironist, occupying opposite perspectives at once; others like Richard Toop have even found in Lachenmann a musical masochist, "denying [himself] what [he] innately loves without seeking to deny the love itself" -- though Lachenmann himself has confessed the desire to "deny denial" as well. But whatever his stance, Lachenmann's music has been a vital voice in later twentieth-century Europe, one tirelessly driven to reinvent musical sounds, meanings, and notational and performance techniques. The manner in which Lachenmann achieves his results, by working "on the reverse face of expression," is thoroughly individual, but has formidable literary and philosophical precedents -- such as Theodor Adorno's advice that "the splinter in your eye is your best defense," or Kafka's obsession with "that self-suiciding art." For Lachenmann, "composing is always deconstructing in a new way," a conflicted act of liberating and imprisoning sounds which ultimately seeks to purify and cast them anew.
     Helmut Friedrich Lachenmann was born in Stuttgart on November 27, 1935, into a family of evangelical ministers. His talent on the piano and his precocious ear were noticed early, and eventually he went on to study composition with Johann Nepomuk David in Stuttgart. In 1957 Lachenmann attended the Darmstadt Summer Music Course, the modern music mecca of the day. There he met the composer Luigi Nono, who would become a tremendous influence; it was Nono who laid in Lachenmann's work the seed of political and social protest, of "music with a message." At first Lachenmann's "message" and method still involved "structure as a means to expressive ends"; hence his Souvenir (1941) for 41 instruments, Wiegenmusik (1963) for piano, and the String Trio of 1965.
     But around this time, an inversion in Lachenmann's thinking took root: structure as a means to expressive ends became structure as an acute expressive device; sounds were no longer abstract expression or symbolic of ideals, but rather the results of physical effort. Lachenmann wanted "the manner in which [sounds] are generated [to be] at least as important as the resultant acoustic qualities themselves...hear the conditions under which a sound- or noise-action is carried out...hear what materials and energies are involved and what resistance is encountered."
     Hence a radical turn soon after: 1968's temA for flute, mezzo-soprano, and cello is a sublime, strange struggle with noise; sounds are not "expressive," or rather their "code for use" has been violated -- but in the process the means of making sound become terribly expressive, both dire and astonishingly intimate. Lachenmann pursued his "botanical experiments" with solo instruments (for example, in Pression for cello and Guiro for piano, in which the pianist plays not a single "note") and chamber groups (Trio fluido and Gran torso for String Quartet). But soon the composer began to play this tactic of radical re-hearing towards the very institution of classical music itself -- the "aesthetic apparatus" of ideologies controlling taste and investment. In works like Tanzsuite mit Deutschlandlied, Ausklang, and Staub, Lachenmann aggressively confronts not just the means of sound-production, but the foundations of musical history itself.
–Seth Brodsky