Contemporary Music from Israel
A festival of music by living Israeli composers
back to Provost Global Forum page
back to CNM Festival page
Concert 5
Saturday, April 22, 2023 at 3:30p, Concert Hall
The Meitar Ensemble
Pierre-André Valade, conductor
with electronic support from Jean-François Charles
Program
| | |
| --- | --- |
| Stitches that are meant to tear for amplified quintet, objects, and electronics (2019) | Uri KOCHAVI |
| | |
| --- | --- |
| multicounterspeechless for clarinet and electronics (2021) | Sivan COHEN ELIAS |
| | |
| --- | --- |
| Labyrinth for ensemble and electronics (2018) | Talia AMAR |
| | |
| --- | --- |
| Convergence for alto flute and electronics (2010) | Ofer PELZ |
| | |
| --- | --- |
| A Happy Song? for ensemble and video (2006) | Erel PAZ |
Meitar Ensemble
Hagar Shahal, flute
Jonathan Hadas, clarinet
Nadav Cohen, bassoon
Talia Herzlich, violin
Yoni Gotlibovich, violoncello
Amit Dolberg, piano
Pierre-André Valade, conductor
---
Program Notes & Bios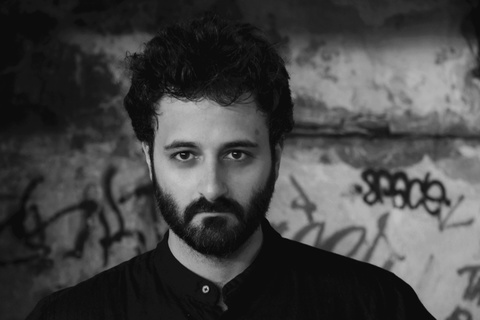 Stitches that are meant to tear is a work dedicated to the indivisibility of time, to the irreducible, always elusive, temporal flux. Nevertheless, it is a work that actively attempts to untether the temporal lattice by revealing its stitches, in their most raw form. The sonic creatures that inhabit this piece are not limited to the instrumental realm; they are in constant flux, transitioning from instruments to objects, from acoustic to electronic sound, and from the gestural to the disembodied.
     This piece was written for Meitar Ensemble and premiered on January 4, 2020, in Tel Aviv, Israel.
Uri Kochavi is an Israeli composer, guitar player, and improviser based in New York. He writes music for acoustic instruments, self-made objects, DIY instruments, electronic and electro-acoustic settings. His recent work seeks to challenge the (assumed) nature of every sound generator he writes for, at the meeting point of technology and acoustic sound. Kochavi is currently a Doctoral Fellow in composition at Columbia University, where he studies primarily with Georg Friedrich Haas and George Lewis. He has received his Master's degree in composition from McGill University studying under the guidance of Philippe Leroux, and his bachelor's degree from the Jerusalem Academy of Music, studying with Boaz Ben-Moshe. Between 2014-2016 he was a composition fellow in Meitar Ensemble's Tedarim project for contemporary music. Recent and upcoming collaborations include groups such as the International Contemporary Ensemble (ICE), JACK Quartet, String Noise, MIVOS Quartet, Handwerk, Meitar Ensemble, Divertimento Ensemble, TAK Ensemble, Wet Ink Ensemble, Ensemble NOISE, Ensemble Distractfold, The Israel Contemporary Players, and others. Kochavi has been recently nominated for the 2023 Gaudeamus Award.
---
Multicounterspeechless - Tension permanently exists in our surrounding. It is continuously moving and is ambiguous. When it is resolved, it turns to either another conflict or to an illusionary stable state, or somewhere in between. Either way it is a grain of a new tension.
     Multicounterspeechless resembles the many-voiced fragments of information, misinformation and disinformation as it is processed within a brain. Stuck in one physical place and surrounded by the noise of these voices reacting to each other, the brain seeks to maintain an accurate account of origin and meaning in a world simultaneously melting and freezing.
     The piece was Commissioned by the Ernst von Siemens Music Foundation for the album The New Unusual, produced and performed by ensemble Distractfold 2021.
Sivan Cohen Elias (Israel/United States) is an electroacoustic and mixed media composer. She has received numerous international awards, residencies, and commissions including Impuls, Akademie Schloss Solitude, Stuttgart, Ernst von Siemens commissions, Music Theatre Competitionprize Staatstheater, Darmstadt, and the Fromm Commission Award. Her works have been performed, and broadcast by ensembles and performers internationally, including Klangforum Wien, Musikfabrik, Dal Niente, Distractfold, Meitar, Jack Quartet, Mosaik, among many others. Festival appearances include Darmstadt Fereinkurse, Bludenz, Wien Modern, Witten, Klangspuren, Warsaw Autumn, Ultraschall.
     Between 2018-2021 she was a Visiting Assistant Professor, and the interim director of the electronic music studio at the University of Iowa. In 2019 she also taught composition at Harvard. In 2021 she taught electronic music performance at New York University and in 2022, she relocated to Minneapolis, Minnesota, where she has been appointed as Assistant Professor of composition/music technology at the University of Minnesota, and teaches composition, and electro-acoustic media courses. Her scores can be found on Babelscores.
---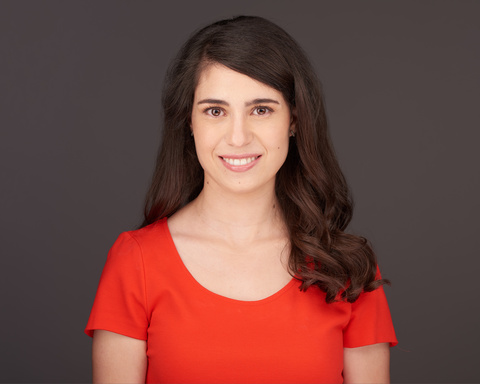 The title of Labyrinth (2022, for ensemble and electronics) describes the lack of directionality, the loss of bearings and orientation of being lost in a maze. The lack of directionality is represented by the idea of sound waves, which are cyclical and never reach a destination. The idea of waves is embodied in several layers.
     Waves determine the general form of the piece, which begins and ends with a high G introduced by the flute and piano. This G is also the climax in the middle section which generates a flow of glissendi. Repeating the same high note illustrates hitting the apex of the wave.
Different sizes of waves are represented by associating short durations with high acoustic frequencies, and long durations with low frequencies, just like waves naturally behave.
     Finally, the choice of pitches obeys to a natural model: The wind, violin and cello parts were composed from a spectral analysis of recordings of the piano part. Spectral analysis is itself the decomposition of sound into simple sound waves, giving expression to waves in the pitch materials.
Talia Amar is the recipient of many international awards including the Prime Minister prestigious award 2018, The Acum award 2019, the Rosenblum Prize for Promising Young Artist 2016 by the Tel Aviv Municipality, the Klon Award for young composers. Recently, she was selected by the famous violinist Renaud Capuçon to participate in the Festival New Horizons d'Aix en Provence 2022. In 2022 her piece "Labyrinth" was commissioned and performed at Festival Présences by Radio France in Paris. She was selected to represent Israel in different festivals such as ISCM World New Music in Vancouver, ECCO Festival in Brussels, and Asian Composers League Festival in Taiwan. Her compositions have been performed in France, Canada, Belgium, Norway, Australia, Philippines, Taiwan, Germany, USA, England, Greece, Italy, and Israel. Since 2017, Talia joined the composition faculty at the Jerusalem Academy of Music and Dance in Israel where she is also the Head of Technology and Innovation. She is also a council member of the Israeli Composers League and the performer of electronics music of Meitar Ensemble.
---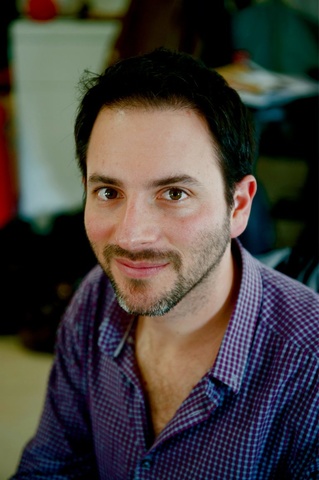 Convergence was written for the Cairn Ensemble and premiered in June of 2011 at CRD Blanc Mesnil. In this work, I explored the idea of a granulation (segmented sound) that becomes denser until a complete convergence – heard as a long note. This idea also derives from the metaphor of the natural bouncing of a rubber material that can be found in the macro – the general form of the piece, as well as at the micro level – the construction of an individual sound.
     The work was written in collaboration with Paolo Vignaroli who contributed to the electroacoustic part and premiered by Cedric Jullion from Cairn Ensemble.
Ofer Pelz composes music for diverse combinations of instruments and electro-acoustic media, he is also an active improviser. He has studied composition, music theory and music technology at Jerusalem, Paris and Montreal. The work of Ofer Pelz has been recognized by the reception of many international prizes including two ACUM awards and the Ernst Von Siemens Grant. His music is played regularly in Europe, USA, Canada and Israel at La Biennale di Venezia and Manifeste IRCAM/Pompidou among others.
---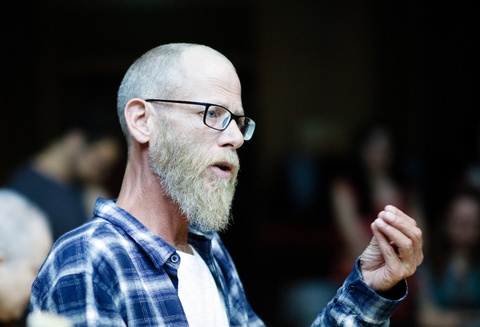 A Happy Song? (2006), written for the Meitar Ensemble, was inspired by a traditional Jewish Yiddish folk song from Eastern Europe that was transformed into an Israeli Hebrew folk song. Both versions of the song share the same melody but have different lyrics, with the original Yiddish song being sorrowful in nature, while the Hebrew version is joyful and funny.
     The composition explores the gap and the contrast between the two versions and the emotions they evoke. The melody of the original folk song isn't fully revealed throughout the piece, rather it is broken down into its distinct musical motives and then reconstructed and manipulated to create a new musical sequence.
Erel Paz (b. 1974, Israel), received his B.Mus. in composition from the Rubin Academy of Music & Dance in 2000, where he studied with Dr. Ari Ben-Shabetai and Prof. Mark Kopytman. Paz's works have earned him several awards, including two Israeli Prime Minister Awards (2006, 2017), first prize and audience prize at the first Seoul International competition for composers (2001), The Yoshiro Irino Memorial prize (2004), first prize at the Libershon Composition Competition (2000 & 2006) and three ACUM awards (2005, 2010, 2013 & 2019). Paz received scholarships from the America Israel Cultural Foundation, the Rubin Academy of Music in Jerusalem, the Abraham & Felicia Klon Foundation, and the Adele & John Gray Endowment. His works had also been performed in Korea, Japan, Taiwan, England, Denmark, Lithuania, Italy, Canada and the U.S. Since 2008 he has taught music in MUZOT Arts High School, an alternative school that supplies a safe home environment for youth who don't fit into other schools.
---