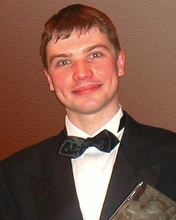 Guest Organist
Constantin Volostnov
Clapp Recital Hall
Friday, October 13, 2006
8:00 p.m.
Guest Performer
Organist, pianist and harpsichordist Constantin Volostnov, was born in Moscow in 1979. He began to study the organ at the age of 11 with Maria Potashnikova in the Prokofiev Music School. From 1994 to 1999 he studied in The Academic Music College of the Tchaikovsky Conservatory with Alexei Shmitov (organ and piano classes).
In 2004 Constantin Volostnov graduated from the Moscow Conservatory where he studied under the supervision of Yuriy Martynov (piano, harpsichord), Alexei Parshin (organ) and Alexei Lyubinov (chamber ensemble). He took part in workshops of Martin Haselbock, Michael Gailit (Austria 2001) and Christopher Stambridge (Italy 2002, Moscow 2003, 2004), Ludger Lohmann (St. Petersburg 2004), Winfrid Boenig and Johann Trummer (Moscow, 2005).
At present Constantin is attending a Postgraduate Course at the Moscow Conservatory, studying with Professor Natalia Gureeva and at the Hochschule fuer Musik in Stuttgart with Dr. Professor Ludger Lohmann.
Constantin Volostnov is a winner of the Second Prize and the prize "For the best performance of the work of a modern Czech composer" at the International Organ Competition in Opava, Czech Republic (2000). In 2003 he received the Douglas May Award at the St. Albans International Organ Festival (UK). He participated in the Festival of Contemporary Music "Moscow Autumn" (2000, 2003-2005), and the Moscow International Organ Festival (2001-2005).
Constantin is currently the artistic director of the Philharmonic society in the Caucasus Mineral Waters Region.
He has performed in concerts with Valery Polyansky (The Academic State Symphonic Chapel), Vladimir Minin (The Academic State Chamber Choir) and Kent Nagano (Russian National Orchestra). He performs recitals in Russia and abroad on a regular basis, has recorded a CD of Russian organ music, and has been featured as a soloist and ensemble member in many recordings for radio broadcast.
Program
Toccata & fugue F major (BWV 540)
 
J. S. BACH
Choral from Cantata no.147 (arr. M. Durufle)
 
 
Ich ruf zu Dir Herr Jesu Christ (aus Orgelbuchlein BWV 639)
 
 
Concerto A minor (after Vivaldi) BWV 662
 
 
 
 
 
Andante F major (KV 616)
 
MOZART
Fantasia F minor (KV 608)
 
 
 
pause
 
Three parts from "All-Night Vigil"
    "Praise the Lord, O my soul"
    "Lord, now lettest Thou"
    "Rejoice, O Virgin"
 
RACHMANINOFF
Passacaglia from opera "Katerina Izmailova"
 
SHOSTAKOVICH
Sonata (Psalm 94)
    1. Grave, Larghetto
    2. Allegro con fuoco
    3. Adagio
    4. Allegro (Fugue)
 
REUBKE