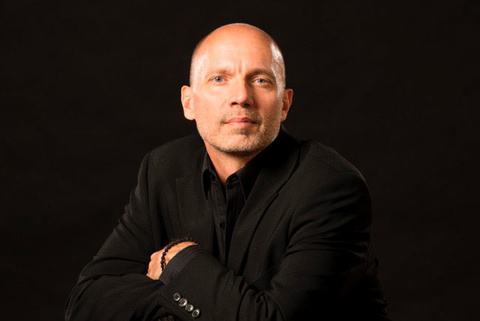 Concert XVII 
Pianist Paul Barnes presents New Generations
 
New Etudes of Philip Glass
and
Music of the Next Generation
Thursday, March 2, 2017, 7:30pm at the Concert Hall

|| download program ||
Program
From The Complete Piano Etudes (1991-2012)
Philip GLASS (b. 1937)
Etude 6
Etude 8
Etude 11
Ad infinitum (2013)
Jonah GALLAGHER (b. 1993)
From The Complete Piano Etudes (1991-2012)
Philip GLASS
Etude 16
— Intermission —
Scenic Route (2011)
Zack STANTON (b. 1983)
Monstre sacré (2011)
N. Lincoln HANKS (b. 1969)
Entrée et intrus
Jeux et théorie: connexion libre avec Bach
Amour parfait
Rondeau et sortie: le monstre danse
Program Notes
Philip Glass
To celebrate twenty years of collaboration with composer Philip Glass, I created a program and recording that offers a unique juxtaposition of Glass's newly published etudes with a new generation of younger composers. The recording, produced by Glass's label Orange Mountain Music, features a selection of Glass's etudes with works by N. Lincoln Hanks, Lucas Floyd, Jason Bahr, Ivan Moody, Zack Stanton, and Jonah Gallagher.   The sonic result is a breathtaking panorama of the energetic and expressive landscape that is twenty-first century piano music.
Etude No. 6
This etude features the expressive use of repeated notes throughout. As composers of etudes have been doing for centuries, Glass's contribution is more of an expressive and lyrical use of the repeated note featuring both repeated single notes and repeated octaves.
 
Etude No. 8
Glass's Etude No. 8 constitutes an expressive lyrical study on voicing, counterpoint, and harmonic shaping. Revealing Glass's innate sense of lyricism, the opening melody is animated by contrapuntal lines in the left hand similar to Chopin's emerging melody so often found in his left-hand accompaniments. The melody undergoes rhythmic variation with a section in the irregular meter of 7/8. The original melody returns in 4/4 with a beautiful coda with its concluding section returning to the 7/8 meter creating a harmonic and rhythmic synthesis of the entire etude.
 
Etude No. 11
Etude No. 11 explores the technical issues of broken chords both in oscillating chords in the right hand as well as Glass's trademark broken arpeggios in both hands. The dark, brooding key of C minor evokes distant images of Beethoven particularly in the 'pp' middle section where the parallel triplets in both hands resembles Beethoven's texture in the 3rd movement trio of his brilliant piano sonata in E-flat Major, Op.7. The coda, typical of Glass and Beethoven involves a synthesis of the two defining elements used throughout the etude with the triplets now appearing in the ¾ meter of the lyrical contrasting sections of the etude.
 
Etude No. 16
Glass's Etude No. 16 features his treatment of irregular meter and expressive layering of musical texture again reminiscent of Debussy's preludes. Each layer subsequently added throughout the work results in an expressive intensification culminating in the final section where espressivo octaves in the right hand serve to add closure to this study of musical texture.
 
---
Jonah Gallagher
Ad Infinitum
I chose to follow the etudes by the oldest composer on the program with a work by the youngest, Jonah Gallagher, a twenty-one year old composer I met last year at a new music festival at Biola University in Los Angeles. Gallagher's work Ad infinitum is also an expressive study on harmonic color featuring many additive techniques used throughout Glass's compositional career.
 
---
Zack Stanton
Scenic Route
I selected Zack Stanton's Scenic Route to perform on my opening recital of a new music festival in Los Angeles in October of 2014. What most attracted me to Stanton's work was the continuity of the sixteenth notes throughout that are gradually transformed culminating in a beautiful harmonic resolution to E-flat Major at the end of the work. Stanton described the inspiration for the work as "that of driving through a beautiful landscape and enjoying the subtle changes in scenery."
 
---
N. Lincoln Hanks
Monstre sacré
French artist, playwright, and filmmaker Jean Cocteau was a major influence in the compositional output of Philip Glass. My most popular set of Glass piano transcriptions The Orphee Suite for Piano was based on the Glass opera inspired by Cocteau's 1949 film Orpheus. N. Lincoln Hanks Monstre sacré is likewise based on Cocteau's special term for that eccentric, personally flawed artist without whose work we simply cannot live. Larger than life, the effervescent personality of the 'holy terror' completely dominates all social settings.
    The first movement Entrée et intrus introduces our artist in the musical form of the French overture. With pompous and regal opening chordal gestures, the monster's arrival is appropriately announced. In the established tradition of the French overture, a contrapuntal section in compound meter follows the introduction.
    Jeux et théorie: connexion libre avec Bach answers the musical question, "What would happen if Glenn Gould (the quintessential monstre sacré) were to improvise on themes of Bach at a party?" Although Gould's presence at a party would be highly unlikely, Hanks nevertheless utilizes multiple themes and textures from the gigues of Bach. The musical result is a perfect reflection of the imagination of the monster.
    The expressive slow movement, Amour parfait or 'perfect love' features Hanks' use of melodic palindromes that subtly suggest the monster looking at himself in the mirror and falling in love over and over again.
    The final movement, Rondeau et sortie: le monstre danse, celebrates the monster's energetic dance and final exit from the scene. The first movement's pompous chordal gestures return signaling a cyclic summation of the artist's charismatic presence.
Performer
  Praised by the New York Times for his "Lisztian thunder and deft fluidity," and the San Francisco Chronicle as "ferociously virtuosic," pianist Paul Barnes has electrified audiences with his intensely expressive playing and cutting-edge programming. He has been featured four times on APM's Performance Today and on the cover of Clavier Magazine and his recordings are broadcast worldwide. He has performed in England, China, Korea, Taiwan, Austria, Russia, Greece, Italy, Serbia, Hungary, and in all major cities throughout the US.
    Deeply inspired by the aesthetic vision of minimalism, Barnes commissioned and gave the world premiere of Philip Glass's Piano Concerto No. 2 (After Lewis and Clark). The Omaha World Herald praised Barnes playing for his "driving intensity and exhilaration." Nebraska Educational Telecommunications' production "The Lewis and Clark Concerto," a documentary/performance of the concerto featuring Barnes, won an Emmy for Best Performance Production. Additional performances included collaborations with conductor Marin Alsop at the prestigious Cabrillo Festival of Contemporary Music and also the Northwest Chamber Orchestra where the Seattle Times called Barnes' performance "an impressive feat." The world-premier recording with the NWCO was released by Orange Mountain Music. Gramophone Magazine remarked that this recording is "certainly one of the most enjoyable recent releases of Glass's music...Paul Barnes is a shining soloist."
    Orange Mountain Music also released Barnes' recording of his transcriptions from the operas of Philip Glass, including both the Trilogy Sonata and the Orphée Suite for Piano. Gramophone Magazine observed that "Barnes offers a surprisingly expressive reading…. Atmosphere and rhythmic vitality are important, and these qualities Barnes has in abundance." The American Record noted "Barnes is an expressive pianist with a lovely tone and a flair for the dramatic." New York critic Joseph Dalton described Barnes' playing of the Glass transcriptions as "atmospheric and elegant," while San Francisco critic Michael McDonagh hailed Barnes' performance as "remarkably effective, highly expressive." The Trilogy Sonata  and the Orphée Suite for Piano are published by Chester Music of London and are available at sheetmusicplus.com.  Barnes' eleventh CD The American Virtuoso featuring the music of Philip Glass, Samuel Barber, and Joan Tower was released on Orange Mountain Music to much critical acclaim. The American Record Guide wrote, "Another fine release from the amazing pianist Paul Barnes...with a pianist like this, new American music is in good hands."
    Barnes also serves as head chanter at Annunciation Greek Orthodox Church in Lincoln where his fascination with Byzantine chant led to a commissioned piano concerto Ancient Keys written by Victoria Bond based on a Greek chant. The world-premier recording of this concerto as well as Gershwin's Rhapsody in Blue was released on Albany Records.
    With performances throughout Europe, the Near East, the Far East, and the U.S., Barnes' unique lecture/recitals have received international acclaim. Liszt and the Cross: Music as Sacrament in the B Minor Sonata explores the fascinating relationship between music, theology, and the Orthodox icon. Barnes' live recording of this lecture recital was recently released on the Liszt Digital label. The British Society Newsletter reviewed the recording and wrote that Barnes was "a fine pianist and gives us a performance of resounding conviction." Clavier Magazine wrote "It is a majestic, reverential performance that elevates listeners to the sacred experience Barnes so eloquently describes in the lecture."
    Barnes is Marguerite Scribante Professor of Music at the University of Nebraska-Lincoln Glenn Korff School of Music. He teaches during the summer at the Vienna International Piano Academy and the Amalfi Coast Music Festival. In great demand as a pedagogue and clinician, Barnes has served as convention artist at several state MTNA conventions and was recently named 'Teacher of the Year" by the Nebraska Music Teachers Association.
    Barnes' twelfth CD New Generations: The New Etudes of Philip Glass and Music of the Next Generation has received rave reviews.  Gramophone Magazine wrote, "Pianists of Barnes's great technique and musicality are a boon to new music."  And American Record Guide commented,  "This disc provides further proof of Barnes's ability to communicate new music with flair and passion."   Produced by Glass's label Orange Mountain Music, the recording features a selection of Glass's etudes juxtaposed with works by N. Lincoln Hanks, Lucas Floyd, Jason Bahr, Zack Stanton, Ivan Moody, and Jonah Gallagher. The sonic result is a breathtaking panorama of the energetic and expressive landscape that is twenty-first century piano music.
    In celebration of twenty years of collaboration, Barnes has commissioned Philip Glass to write a piano quintet to be premiered with the Chiara Quartet on April 10, 2018 at the Lied Center for Performing Arts in Lincoln.  Entitled Piano Quintet No.1 Evangelismos (Annunciation) the quintet will be based on Greek Orthodox hymns for the Annunciation of the Theotokos.  Barnes' recordings are available on Pandora, ITunes, Apple Music, YouTube, and Amazon.