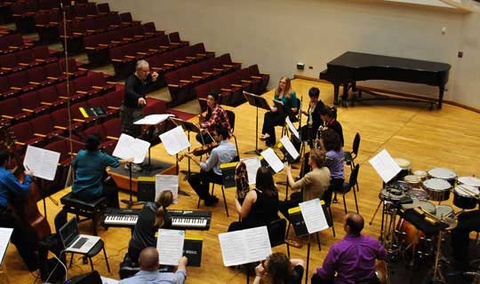 CNM Ensemble Spring 2014 Tour
University of Wisconsin, Madison
Mills Hall, Friday, April 11 at 8 p.m.
University of Minnesota, Minneapolis
Ultan Recital Hall, Saturday, April 12 at 7:30pm
University of Iowa
Riverside Recital Hall, Sunday, April 13 at 7:30pm
|| download poster || download program ||
Program
Sotto Voce
      for violin, violoncello and piano (2012)
 
Marilyn SHRUDE
(b. 1946)

"…through the open door"
"…half willing, half reluctant"
"…scarce knowing if we wish to go or stay"

 
 
 
Andrew Gentzsch, violin
Tom Maples, violoncello
Casey Rafn, piano
 
Misnomers
      for jazz sextet (2013)
 
Zack STANTON
(b. 1983)
 
James Skretta, tenor saxophone
Laura Saylor, trumpet
Peter Naughton, drum set
Andrew Thierauf, vibraphone
Casey Rafn, piano
Jessica Lu, double bass
David Gompper, conductor
 
Résurgences
      for saxophone solo and 8 instruments (1996)
 
Michael JARRELL
(b. 1958)
 
Emily Duncan, flute
Thiago Ancelmo de Souza, clarinet
Kristin Thelander, horn
Matthew Driscoll, trombone
Andrew Thierauf, percussion
Casey Rafn, piano
John Sampen, saxophone solo
Tom Maples, violoncello
Jessica Lu, double bass
David Gompper, conductor
 
 
— Intermission —
 
Four Dawns Over Bard's Isle (2012)
     Concerto for soprano saxophone and 15 players
 
Daniel S. GODFREY
(b. 1949)

red sky on glass
scud and spindrift
shrouds, whispers
brisk nor'wester

 
 
 
John Sampen, soprano saxophone
Emily Duncan, flute
Allison Offerman, oboe
Thiago Ancelmo de Souza, clarinet
Fabio Benites Felippe da Silba, bassoon
Kristin Thelander, horn
Laura Saylor, trumpet
Matthew Driscoll, trombone
Andrew Thierauf, percussion
Casey Rafn, piano
Andrew Gentzsch & Rebecca Malina, violins
Manuel Tabora Deras, viola
Tom Maples and Ghyas Zeidieh, violoncelli
Jessica Lu, double bass
David Gompper, conductor
 
Program Notes
Marilyn SHRUDE
Sotto Voce
is a reflection on the dramatic landscape of eastern Washington, the home of the Walla Walla Chamber Music Festival. The title captures the subtle and understated intensity of this region. The movement titles are lines from Henry Wadsworth Longfellow's late sonnet Nature (ca. 1878).
The music of composer Marilyn Shrude is characterized by its warmth and lyricism, rich timbre, multi-layered constructions, and complex blend of tonality and atonality. The result is a bright, shimmering and delicately wrought sound world that is at once both powerful and fragile. Her concentration on color and the natural resonance of spaces, as well as her strong background in Pre-Vatican II liturgical music, give the music its linear, spiritual, and quasi-improvisational qualities.
Shrude received degrees from Alverno College and Northwestern University, where she studied with Alan Stout and M. William Karlins. Among her more prestigious honors are those from the Guggenheim Foundation (2011 Fellow), American Academy of Arts and Letters, Rockefeller Foundation, Chamber Music America/ASCAP, Meet the Composer, Sorel Foundation (Medallion Winner for Choral Music 2011), and the National Endowment for the Arts. She was the first woman to receive the Kennedy Center Friedheim Award for Orchestral Music (1984) and the Cleveland Arts Prize for Music (1998). Her work for saxophone and piano, Renewing the Myth, was the required piece for the 150 participants of the 3rd International Adolphe Sax Concours in Belgium (2002).
Active as a composer, pianist, teacher, and contemporary music advocate, Shrude has consistently promoted American music through her many years as founder and director of the MidAmerican Center for Contemporary Music (1987-99) and as chair of the Department of Musicology/Composition/Theory at Bowling Green State University (1998-2011). She joined the faculty of BGSU in 1977, has served as Visiting Professor of Music at Indiana University, Oberlin Conservatory and Heidelberg College, and was a faculty member and chair of the Composition and Theory Department at the Interlochen Arts Camp (1990-97). She has received four Dean's Awards for Service and for the Promotion of Contemporary Music on the Campus of BGSU (1994, 1999, 2005, 2011) and a 2008 BGSU Chair/Director Leadership Award. In 2001 she was named a Distinguished Artist Professor of Music. Together with saxophonist, John Sampen, she has premiered, recorded and presented hundreds of works by living composers both in the United States and abroad.
---
Zack STANTON
Misnomers
was written for a commissioning project put together by trumpet player Jared Broussard. Jared asked several composers to write pieces for standard jazz ensembles, such as the jazz trio, or jazz quintet, but not write jazz music. We were free to use jazz idioms or chord structures if we liked, but everything had to be fully notated. The idea was to see what it would be like for an ensemble with strong associations to play music other than that with which it is associated. I was asked to write for sextet—trumpet, saxophone, piano, bass, drums, and auxiliary percussion (I chose vibraphone because of its strong ties to jazz). As I was writing the piece, I found it difficult to get away from jazz altogether, especially with a drum set that I had to find a way to use somehow, so the music grooves throughout, if not always in a very jazzy manner. As with most pieces I write, it is essentially based on two small motives that are heard at the beginning and manipulated throughout the piece: the first is a jagged melody that slowly unfolds in the lowest register of the piano, and the second is a fragment of a descending scale introduced by the vibraphone.
Zack Stanton is a composer and conductor from Conway, Arkansas. His music is often inspired by the vernacular styles he heard and played growing up in the rural South. He has written for orchestra, wind ensemble, choir, and chamber ensembles of various sizes, and his work has been increasingly performed throughout the United States. In 2012 his Concerto for Piano and Wind Ensemble received Honorable Mention in the ASCAP/CBDNA Frederick Fennell Competition.
Active as a performer, Zack served as a pianist and conductor for the University of Texas New Music Ensemble and for four years acted as the Assistant Director of the group.
Zack received his Doctor of Musical Arts in composition from the University of Texas at Austin, where he studied with Dan Welcher, Yevgeniy Sharlat, Donald Grantham, and Russell Pinkston. Prior to his appointment as Visiting Assistant Professor at the University of Iowa, Zack taught at Belmont University and the University of Texas at Austin.
---
Michael JARRELL
Résurgences
A resurgence is a reappearance in the form of a spring that emerges from the ground, such as the reappearance of an underground water table. It was not difficult to find a title, because when I set to work on this piece I had in my mind the idea of music lying below the surface, that would reappear from time to time but that would also be the source of all that came to the surface.
Michael Jarrell studied composition at the Geneva Conservatory with Eric Gaudibert and at various workshops in the United States (Tanglewood, 1979). He completed his training with Klaus Huber at the Freiburg Staatliche Hochschule für Musik im Brisgau.
Starting in 1982, his works have received numerous prizes: prix Acanthes (1983), Beethovenpreis from the city of Bonn (1986), Marescotti prize (1986), Gaudeamus (1988), Henriette Renié (1988), and Siemens-Förderungspreis (1990). Between 1986 and 1988, he was in residence at the Cité des Arts in Paris and took part in the computer music course at Ircam. He resided at the Villa Médicis in Rome during 1988/89, and then joined the Istituto Svizzero di Roma in 1989/90. He has received the Music Prize from the City of Vienna (Musikpreis der Stadt Wien 2010). From October 1991 to June 1993, he was composer in residence with the Lyon Orchestra.
Beginning in 1993, he became professor of composition at the University in Vienna. In 1996, he was "composer in residence" at the Lucerne festival, and then was heralded by the Musica Nova Helsinki Festival, which dedicated the festival to him in 2000. In 2001, the Salzburg Festival commissioned a concerto for piano and orchestra entitled Abschied. The same year, he was named "Chevalier des Arts et des Lettres". In 2004, he was named professor of composition at the Geneva Conservatory.
On the occasion of Pierre Boulez's 85th birthday in 2010, Michael Jarrell composed La Chambre aux échos for the Ensemble Intercontemporain, conducted by Susanna Mälkki. In 2012, his cello concerto Emergences (Nachlese VI) composed for Jean-Guihen Queyras, was premiered in Salt Lake City and Lyon. The same goes for Nachlese Vb - Liederzyklus for soprano and ensemble in Geneva and New York City.
—
As one of America's leading concert saxophonists, John Sampen is particularly recognized as a distinguished artist in contemporary literature. He has commissioned over one hundred twenty-five new works and has soloed with ensembles from all over the world. Sampen has recorded with Belgian and Swiss National Radio and is represented on the Orion, CRI, Albany and Capstone record labels.
A clinician for the Conn-Selmer Company, he has presented masterclasses at important universities and conservatories throughout Europe, Asia and North America. In addition to contemporary literature, Sampen performs traditional saxophone repertoire in recital with pianist/composer Marilyn Shrude. He is currently a Distinguished Artist Professor at Bowling Green State University and is Past President of the North American Saxophone Alliance.
---
Daniel S. GODFREY
Four Dawn's over Bard's Isle
a chamber concerto for soprano saxophone and large chamber ensemble, was written for John Sampen and the Bowling Green State University New Music Ensemble, though its first performances with all four movements are performed here by the Iowa Center for New Music. The name "Bard's Isle" is made up — the closest name I know of is "Bard Island" off the coast of Labrador — but represents for me a number of granite monoliths along the central Maine coast — off-shore islands of two or three square miles — that have haunted my imagination through the years, and that jut into the horizon, remote and forbidding. Viewed against the sky at dawn when looking out to sea, such an island will seem to change its character depending on the state of air, water and light; and yet it remains — as it has for millennia — fundamentally immutable, nature's theme with variations. The titles of the four movements (played without pause) suggest a path (for me as composer) toward an image of four such variations, visually and musically, since the state of wind, weather and sea alter the light and feel of the air that transforms everything one sees. I envision the role of the soloist as that of a lonely observer, one whose state of mind is captive to the mysteries observed.
Daniel S. Godfrey (b. 1949) received his graduate degrees in composition from Yale University and the University of Iowa. He is Professor of Music at Syracuse University's Setnor School of Music in upstate New York, and has also held visiting faculty appointments at the Eastman School of Music and the Indiana University School of Music.
Godfrey has earned awards and commissions from the J. S. Guggenheim Memorial Foundation, the American Academy of Arts and Letters, the Fromm Music Foundation, the Rockefeller Foundation (Bellagio Center), the Bogliasco Foundation (Liguria Study Center), the Koussevitzky Music Foundation, and the Barlow Endowment for Music Composition, among many others. He is founder and co-director of the Seal Bay Festival of American Chamber Music (on the Maine coast) and is co-author of Music Since 1945, published by Schirmer Books. Recent and upcoming projects include a commission from Chamber Music America for a string quintet (Cassatt String Quartet and cellist Marc Johnson) and from the Minnesota Orchestra for a piano concerto (with pianist Gloria Cheng).
Godfrey's works are recorded on Albany, CRI, GM, Innova, Klavier, Koch Classics, UK Light and Mark compact disks. His music is available through publishers Carl Fischer and G. Schirmer.