LECTURE I
Friday, February 18, 2011, 1:30 - 3:00 p.m.
University Capitol Center Recital Hall ()
Glenn Watkins (1927-2021)
musicologist
Notes
 Writing History: The Composer and the Musicologist
Taking a lead from his recent book, The Gesualdo Hex (W. W. Norton, 2010), which carries a Preface by Claudio Abbado, Watkins will argue the ways in which both composer and musicologist rely upon each other's review of the past. This Pastness of the Present surfaces as a constant which leads to a fascinating quid pro quo between composer and music historian. The latter, as antiquarian, frequently brings forgotten source materials to the attention of the composer for potential transformation, then later engages in an interpretation of this very act. Neglect and revival, remembering as well as mis-remembering surface as constants for both in their common task. The lecture will be highlighted by audio-visual presentations.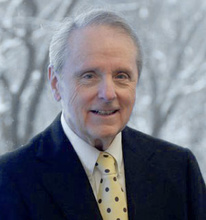 Glenn Watkins, Earl V. Moore Professor of Music History and Musicology, is a specialist in Renaissance and 20th-century studies. Recipient of a Fulbright Award (England), an American Council of Learned Societies Grant, and Senior Fellowships from the National Endowment for the Humanities and the University of Michigan Institute for the Humanities, he has published numerous articles, reviews and editions. He is co-editor of the complete works of Gesualdo, and his critical study of that composer which carries a Preface by Igor Stravinsky (Oxford University Press, 1973) was a 1974 National Book Award nominee. It was translated into Hungarian in 1980 and into German in 2000, and a second revised English edition was published in 1990.
Mr. Watkins's editions of the works of Sigismondo d'India and Carlo Gesualdo have been recorded by numerous international groups, including the Deller Consort, the Consort of Musicke, the Tallis Scholars, La Venexiana, and Les Arts Florissants. His comprehensive textSoundings (Schirmer Books, 1988) offers a synthetic overview of music in the 20th century, and his book Pyramids at the Louvre (Harvard University Press, 1994) argues the idea of collage as a foundation for musical Modernism and a catalyst for the rise of Postmodernism. His book, Proof Through the Night: Music and the Great War (Univ. of California Press, 2003) investigates the variable roles of music during World War I primarily from the angle of the Entente nations's perceived threat of German hegemony.
Mr. Watkins has lectured widely in America for universities, orchestras and art organizations, and his interest in both late Renaissance and 20th-century studies is reflected in numerous invited papers for international conferences as well as in projects for Columbia, Nonesuch, Pye, Oiseau Lyre, Harmonia Mundi, Glossa, and Deutsche Grammophon records and for BBC, German, and Italian television. In 2005 he was awarded the Premio Internazionale Carlo Gesualdo and was elected as an Honorary Member of the American Musicological Society.