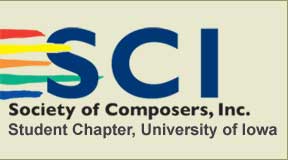 Concert V
The Society of Composers, Inc.
University of Iowa Student Chapter
24 + 24 Hour Concert
Sunday, October 12, 2014, 2:00pm
Old Capitol Museum Senate Chamber
|| download program ||
Program
 Distorted Evolution
 
 Nima HAMIDI
 
 James Naigus, horn
 
 Kypris Fragment 1
 
 Alexandros SPYROU
 
 Emily Climer & Kathryn Skinner, dancer/choreographers
 
Change
 
Bernard SHORT
 
 Emily Duncan, flute
 
 All I Have to Give
 
 Joseph Z. ADAMS
 
Ryan Oliveria, text
Lisa Neher, mezzo-soprano
Grethe Nothling, piano
 
Daddy
 
Christine BURKE
 
Sylvia Plath, text
Wannapha Yannavut & Andrew Veit, percussion
 
 

— Short Intermission —
 
 
 A Driving Figure
 
Jonathan WILSON
 
Victoria Lawrence, choreographer/videographer
 
 Forgotten Language
 
Joseph NORMAN
 
Shel Silverstein, text
Lisa Neher, Miriam Augsburger, Emily Guthe, Shannon Gravelle,
Nick Miguel, Kevin Blakeslee, Patrick Zubiate, Steve Smith
 
 Song of Blue
 
Leonid IOGANSEN
 
 Leonid Iogansen, violin
 
 Midnight River Solitude
 
Jacob SIMMONS
 
 Crystal Gillaspy, oboe
 
 …not without breaking it
 
Joshua MARQUEZ
 
Rebekah Chappell, dancer/choreographer
 
 Ancient Echoes
 
Jonah ELROD
 
Andrew Thierauf, percussion
 
 nothing important
 
Jason PALAMARA
 
LOUi:
Jonathan Wilson, Paul Duffy, Joseph Norman,
Justin Comer, Jonah Elrod, Jason Palamara
 
Notes
Nima HAMIDI
Distorted Evolution
The piece includes the idea of using a single note and rearticulating it in a developmental way. Written for solo French horn, this piece also features variety of extended techniques common in this instrument.
Nima Hamidi (b.1984) is a Persian composer, currently pursuing PhD in Music Composition at the University of Iowa. He studied the Setar, an Iranian traditional instrument, and Guitar before studying composition. After living as a composer in Tehran until 2011, he moved to USA to discover new elements in composition to enrich his compositional language. His music is an attempt to discover relation between Iranian traditional music and Western contemporary techniques.
---
Alexandros SPYROU
Kypris Fragment 1
Alexandros Spyrou is a Greek composer. His music has been performed in Greece, the United Kingdom and the United States by such ensembles as the London Sinfonietta, the JACK Quartet, the New York Miniaturist Ensemble, the Contemporary Directions Ensemble, Musica Nova Ensemble and DissonArt ensemble. He studied music theory and composition in Greece and the United Kingdom with Michael Finnissy, Evangelia Kikou, Georges Papoutsis and Athanasios Zervas. He is presently a PhD candidate at the University of Iowa studying composition with David Gompper.
---
Bernard SHORT
Change
is a piece that reflects the unsettling changes that has come about within the last two months of the Composer's life. The use of an Aggregate instead of a Key Signature is meant to provide a feeling of unstable, constant change. This reflects the feelings experienced by the composer going from being a Full-time Teacher to a Full-time Student, moving to a new city and state, and going from a son with a father on his feet, to a son with a father severely ill. Change comes in many shapes and sizes, just as this piece, will bring you through many different thought processes.
Who is Bernard Short? He is a man born in Harlem, NY and raised in Far Rockaway Queens, NY. He is a man who earned a BA in Music with a Composition focus at Morehouse College in 2007, and a Masters in Music Education at The University of Georgia in 2012. He is a selfless man who taught for 6 years with the motto: Saving Lives One Note At A Time. He is a man who is guided by his convictions; and firmly believes in pulling himself up by his own bootstraps. He is a man who has seen a lot and persevered through many treacherous situations. Who is Bernard Short? He is someone who used music to rise. "To me, music is the expression of the soul; an opportunity to communicate with someone without words messing up your message. The best way to describe me; is as a man who is driven by the thrust to refine his ability to express his soul."
---
Joseph Z. ADAMS
All I Have to Give
explores the thoughts of a woman contemplating suicide. Based on the poem by the same name, by Ryan Oliveria (MFA Playwriting, UI, 2015)
Joseph Z. Adams is a second year PhD student at the University of Iowa, where he studies with David Gompper, and is a Teaching Assistant in the Music Theory Department. He earned his Bachelor's Degree from New York University, his Masters Degree from the Hartt School at the University of Hartford, and since 2009, his music for orchestra and chamber ensembles, including commissioned works, have received dozens of performances throughout the Upper Midwest. His latest string quartet was recently premiered by the JACK String Quartet. His greatest influences include early to mid 20th Century composers such as Vaughan Williams, Ravel, Bernstein, as well as the Minimalists. http://www.josephzadams.com
---
Christine BURKE
Daddy
Christine Burke recently graduated with a B.M. from Duquesne University in Pittsburgh, where she enjoyed an active role in the city's new music scene. She is currently pursuing her Master's in Clarinet Performance under the tutelage of Dr. Maurita Mead Marx, and studies composition with Lawrence Fritts.
---
Jonathan WILSON
A Driving Figure
relates to the forward momentum of multiple things, including (but not limited to) a musical idea, a person arriving at a particular pose, and a vehicle in locomotion.
Jonathan Wilson is a 2nd-year Ph.D. student in composition at the University of Iowa. His compositional process tends to follow a concept-oriented approach, which generates the structural ideas for his works.
---
Joseph NORMAN
Forgotten Language
Joseph Barnett Norman is currently working towards his PhD in Composition at the University of Iowa under the guidance of Dr. Lawrence Fritts. Previously, Joseph received his M.M in Composition at University of Maryland while studying under Dr. Thomas Delio.
---
Leonid IOGANSEN
Song of Blue
---
Jacob SIMMONS
Midnight River Solitude
is an exploration of the wandering solitary mind. It reflects a tone of introspection, and contemplates the notion of paranoia in reaction to minute external stimuli. The musical ideas are based on a set of closely related tone rows, which are revealed slowly at first through additive development. As a variety of rhythmic possibilities are explored, the music accumulates energy reflecting a transformation from mild paranoia to near panic. These rhythmic gestures of paranoia eventually recede into a returned state of calm introspection.
Hailing from Lansing, MI, Jacob Simmons has composed for a wide variety of ensembles and soloists, in a number of styles, including most recently explorations polytonal and nontonal possibilities.He holds a M.M. in composition from Belmont University (Nashville, TN), and a B.M. in composition from Cornerstone University (Grand Rapids, MI). Recently, Jacob moved to Iowa City, IA with his wife and son, where he is currently pursuing a Ph.D. in composition at the University of Iowa.
---
Joshua MARQUEZ
…not without breaking it
We'll always have the obvious. It reminds us who and where we are, it lives like a heart shape, like a jar that we hand to others and ask, "Can you open this for me?" We always get the same answer: "Not without breaking it."
Joshua Marquez (b. 1990) is a Filipino-American composer pursuing a PhD in composition at the University of Iowa.
---
Jonah ELROD
Ancient Echoes
is a piece representing the places where civilizations once were, the spaces once occupied that now seem empty.
Jonah Elrod is a PhD student studying music composition at the University of Iowa. He holds a Bachelor of Music degree in music education from the University of Arizona, and a Master of Music degree in theory and composition from the University of New Mexico. Jonah is currently a teaching assistant for music theory, and is an associate director of the University of Iowa Electronic Music Studios. Recently, Jonah has been using algorithmic techniques to generate musical material, which he then manipulates to create his works. He is currently studying composition with David Gompper and Lawrence Fritts.
---
Jason PALAMARA
nothing important
was written for the Laptop Orchestra at the University of Iowa (LOUi). The piece makes use of a MAX/MSP software patch which gives instructions to the performers, then records them carrying out these instructions, then manipulates the resulting audio. Many thanks to the LOUi performers for their patience and artistry.
Jason Palamara is a fourth year PhD candidate in music composition at the University of Iowa. He is an active performer on the violin, guitar and laptop and was/is a founding member of the Bonecrusher Ensemble of Louisville, KY, the 24+24 Hour Composition Project in Iowa City, IA and the newly constructed Laptop Orchestra at the University of Iowa (LOUI).