Center For New Music Concert III
Sunday, February 13, 2022 at 7:30p, Concert Hall
Program
Dedalo Nero, for contralto clarinet (2022) *premiere

Davide IANNI

(b. 1978)
Jean-François Charles, clarinet
| | |
| --- | --- |
| Orme d'Ombre, for chamber ensemble (2014) | Davide IANNI |
Tâmila Freitas, flute 1
Joshua Paul Stine, bass flute 2
Lisa Lutgen, oboe 1
Alexis Doremus,

 

oboe 2
Alessandro Tenorio-Bucci, bass clarinet 1
Jean-François Charles, bass clarinet 2
Irene Tang, horn 1
Renee Thomas, horn 2
Keegan Hockett, bassoon 1
Carlos Manuel Lopez Soria, bassoon 2
Peter Grubisich, percussion 1
Ben Stone, percussion 2
Ghadeer Abaido, piano
Alexander Waters, double bass
David Gompper, conductor
Intermission
Chanted Rituals, for trumpet/flugelhorn and 2 percussion (2002)

     I. Dance (attacca)
     II. Prayer (attacca)
     III. Chase

Vivian FUNG

(b. 1975)
Amy Schendel, trumpet
Peter Grubisich & Ben Stone, percussion
Pour l'Image, for instrumental ensemble (1986/87)

Philippe HUREL

(b. 1955)
Tâmila Freitas, flute
Lisa Lutgen, oboe
Ana Maria Locke, clarinet
Eugene Ryoo, alto saxophone
Irene Tang, horn
Kevin Sells, trumpet
Benjamin Hahn, trombone
Peter Grubisich & Ben Stone, percussion
Junhong Zhou, violin I
ShengHo Wang, violin II
Fatima Gassama, viola
Adrian Gomez Hernandez, violoncello
Alexander Waters, double bass
David Gompper, conductor
Performer Biographies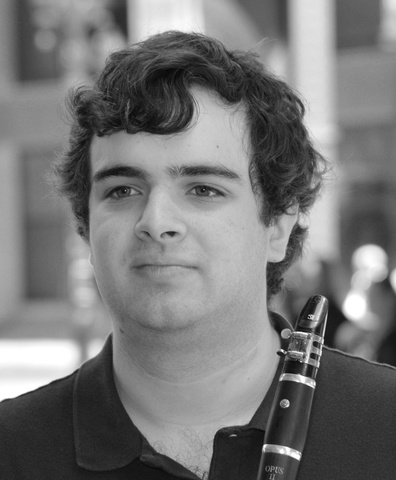 Alessandro Tenorio-Bucci holds a BM and MM in Clarinet Performance from DePaul University School of Music where he studied with Stephen Williamson, Larry Combs, Julie DeRoche, and Wagner Campos. Alessandro is passionate about new music. In addition to performing with the Chicago Composers' Orchestra, he performed at Ear Taxi with Ensemble 20+ under the direction of Michael Lewanski. Alessandro has also performed with groups such as the Civic Orchestra of Chicago, the Chicago Clarinet Ensemble, the Skokie Valley Symphony, and was recently added as a substitute musician with the Milwaukee Symphony after a successful audition. He teaches clarinet at the Midwest Music Academy, the Illinois Math and Science Academy, and his private studio.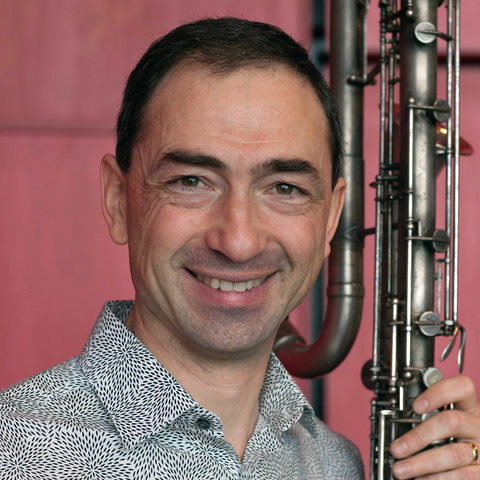 Composer and Assistant Professor at the University of Iowa, Jean-François Charles is also a clarinetist and electronic musician. He creates at the crossroads of music and technology, as in the soundtrack to Dziga Vertov's Kimo-Pravda No. 5 & 6 (with Nicolas Sidoroff and Krystian Sarrau, 2021) or in his musical chemistry work with Scientific Glassblower Benj Revis (Aqua ignis, 2018). His opera Grant Wood in Paris was commissioned by the Cedar Rapids Opera Theatre and premiered April 12-14, 2019.
As a clarinetist, he has performed with classical, jazz, and other sound artists, from Maurice Merle to Douglas Ewart or Gozo Yoshimasu. He worked with Karlheinz Stockhausen for the world première of Rechter Augenbrauentanz (Stockhausen-Verlag CD #59).
He studied at the National Institute for Applied Sciences (INSA) in Lyon, then at the Strasbourg Conservatory with Italian composer Ivan Fedele and clarinetist Armand Angster. He earned his Ph.D. in music composition at Harvard, where he studied with Hans Tutschku, Chaya Czernowin, Julian Anderson, Michael Gandolfi, Helmut Lachenmann, and Gunther Schuller. His article A Tutorial on Spectral Sound Processing using Max/MSP and Jitter published in the Computer Music Journal has helped many electronic musicians integrate spectral sound processing into live performances, compositions, or their own software creations.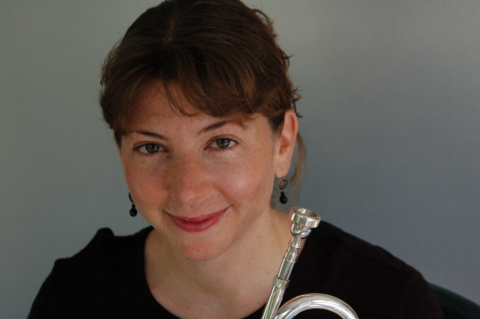 Amy Schendel currently holds the position of Associate Professor of Trumpet at the University of Iowa. As a featured guest soloist, Schendel has performed with the Oregon Symphonic Band, University of Iowa Orchestra and Band, Indiana University Wind Ensemble, and Texas Woman's University Wind Ensemble. Previous positions include Madison Symphony Orchestra, Wisconsin Brass Quintet, Tanglewood Music Festival, National Repertory Orchestra, Civic Orchestra of Chicago, and Spoleto Festival USA. She has also performed extensively with Minnesota Orchestra, Wisconsin Chamber Orchestra, Orchestra Iowa, Eugene (OR) Symphony, and Texas Winds. Schendel has presented and performed as a featured soloist at the Iowa BandMasters Association and the International Trumpet Guild Conference. Her performances with the Contrapunctus Brass Trio include the Iowa BandMasters Association, International Women's Brass Conference, International Horn Conference, and International Trumpet Guild Conference. In addition, Dr. Schendel has presented chamber concerts in Munich, Dachau, Augsburg, and Berlin. As a Fulbright scholar from 2003-2004, she studied with Uwe Kleindienst at the Leopold-Mozart-Zentrum der Universität Augsburg in Germany. She has two published solo and chamber CD's: Full Power, released in 2010, and Uncommon Ground: Contemporary Works for Trumpet with Horn, Trombone, Piano, and Organ, released in 2015 on MSR Classics. From 2020-2021, she served on the ITG Board of Directors and has enjoyed serving on the recently established ITG Diversity and Inclusion Committee.
---
Program Notes
Dedalo Nero - I thought of a solitary peregrination through a place; one such that in its insistent unfolding, returns onto its path never to regain it. A labyrinth of the mind, the possibility for the mixture of past and future, of memories and ideas. Dedalo Nero is dedicated to my dear friend and esteemed colleague Jean-Francois Charles, who's mastery and generosity of heart are an inspiration to me and to my work.
Orme d'Ombre is a work that deals with such considerations and is formally inspired by the interplay of opposing musical characters. The piece is characterized by the juxtaposition of musical materials that prompt two contrasting modes of perceiving time passing. In this piece I was interested in crossing the boundaries between goal driven music and sonic entities that exist independently of their time coordinates, opening up a dimension of 'sonic space' and the dissolution of perceived chronometric time. Orme d'Ombre explores the exchange between a musical time and a musical place and how these two entities permeate each other via the listener's expectations and memory of their reverberating appearances. --- Davide Ianni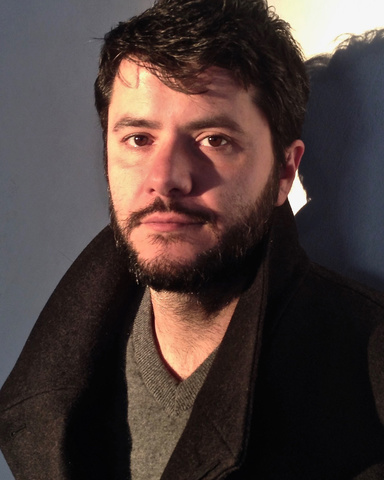 Davide Ianni is an Italian composer, he began his musical career as a classical and jazz guitarist eventually focusing on music composition and sonic arts. He graduated in Music Composition and Film Scoring at Berklee College of Music, and received his doctorate in Composition from Boston University. He has taught electronic music at Boston University and Brandeis University, and he is full-time faculty at New England Conservatory where he teaches Music Theory and Composition.
     Ianni's music spans from solo to orchestral works as well as pieces for fixed and live electronics. His works have been presented in festival and concert halls around the world, including La Biennale di Venezia, Darmstadt, BEAMS, Boston Cyber Arts, Boston Guitar Fest, Nicosia New Music Festival, Third Practice, Nuova Musica a Treviso. He has received commissions by ensembles such as: Callithumpian Consort, Sound Icon, Alea III, Moscow Contemporary Music Ensemble, L'arsenale ensemble, Boston University Symphony Orchestra. He has worked with soloists such as: Luca Piovesan, Marco Fusi and Maarten Stragier Dario Calderone, Philipp Steaudelin and Alexandre Lecarme.
     Few years ago, I had become more and more fascinated with simpler and apparently 'static' sonic constructs whose character elicits a musical dialectic that dwells in a 'space' more than over a period of time. These sound materials engage the listener through the inner tension and the transformations that occur in their fabric of sound rather than the direction that they may take over time.
---
Chanted Rituals is in three movements, played without pause. The essence of this piece relates to the act of chanting, whether in a dance, a prayer, or a chase. The trumpet in this work is the central instrument to deliver each chant, and the percussion provides rhythmic and melodic support for it. The first movement, "Dance," is inspired by jazz and rock. The second movement, "Prayer," uses Flugelhorn as the basis for stating the melody and is inspired by chants heard in Buddhist temples. The last movement, "Chase," drives the work to a fast and energetic close through use of constant repeated notes and changing meters.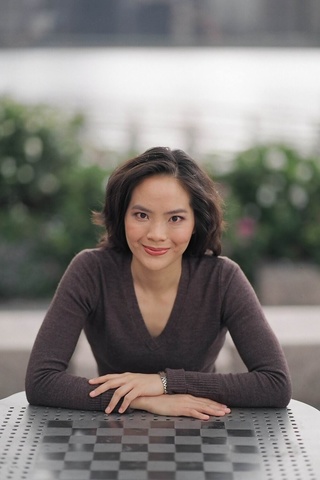 JUNO Award-winning composer Vivian Fung has a unique talent for combining idiosyncratic textures and styles into large-scale works, reflecting her multicultural background. NPR calls her "one of today's most eclectic composers."
     Highlights of upcoming performances include the world premiere of two operatic scenes with librettist Royce Vavrek, part of Edmonton Opera's The Wild Rose Opera Project; a UK tour of new work with the Tangram Collective; the premiere of Fung's fifth String Quartet in Canada; the French premiere of Earworms; and the UK premiere of String Sinfonietta. Mary Elizabeth Bowden tours her Trumpet Concerto and records it for future release on Çedille Records. Fung is currently at work on a new project about identity with soprano Andrea Nunez and Royce Vavrek, an expanded version of her Flute Concerto, and upcoming percussion works for Katie Rife and also for Ensemble for These Times.
     Recent season highlights include the world premiere of new flute concerto, Storm Within, by the Vancouver Symphony Orchestra and principal flutist Christie Reside; the UK premiere of Birdsong, performed by violinist Midori at Kings Place in London; the world premiere of a new trumpet concerto with trumpeter Mary Elizabeth Bowden and the Erie Philharmonic; and the world premiere of String Quartet No. 4 "Insects and Machines," performed by the American String Quartet. In July 2020, the CBC and Toronto Symphony's Virtual Orchestra gave the world premiere of Fung's Prayer, a work recorded in isolation during the pandemic for an online performance led by conductor Yannick Nézet-Séguin.
     With a deep interest in exploring different cultures, Fung has traveled to Cambodia, Southwest China, North Vietnam, Spain, and Bali to connect with her roots and collect research for her compositions. Passionate about fostering the talent of the next generation, Fung has mentored young composers in programs at the American Composers Forum, San Francisco Contemporary Chamber Players, San José Youth Chamber Orchestra, and Cabrillo Festival of Contemporary Music.
     Born in Edmonton, Canada, Fung received her doctorate from The Juilliard School. She currently lives in California and is on the faculty of Santa Clara University. Learn more at www.vivianfung.ca.
---
Pour l'image is the composition that determined the present orientation of Philippe Hurel, for it is in this work that he was able to reconcile the continuous transitions of spectral music with a principle of variation, carried out not on predetermined material but on what he calls "musical situations." This synthesis, a priori contradictory, leads to the "duration, pitches, and timbres being able to modify themselves from one variation to another without altering the global perception of the common process." If the piece remains faithful to the concept of spectral music, the listener also has the possibility to recognize previously perceived elements described by the composer in the following manner: "To follow a path upon which each stop is familiar."
Pour l'image is also decisive in the evolution of the composer because it is in the first section of this work that he formalized those recursive melodic structures that he calls "patterns:" Due to their configuration, these melodic patterns, containing their own augmentations, are virtual polyphony, capable of achieving transitions between texture and line and, consequently, between global and differentiated perception. In short, it is in Pour l'image that Hurel has for the first time organized transitions between a sound fabric fusing all the melodic lines and instrumental timbres into a unique mass and polyphony permitting these lines and timbres to find their individuality. ---Guy Lelong, translated by Mary Dibbern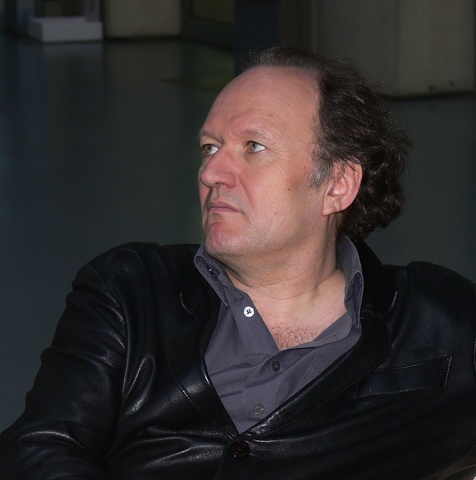 A violinist by training, French composer Philippe Hurel also learned to play the electric guitar. In 1981, after studying at the Conservatory and the University of Toulouse, he entered the Paris Conservatory and followed the teaching of Betsy Jolas, Ivo Malec and Tristan Murail. He then undertook two courses of musical research at Ircam, in 1985 and 1989, intercut with a residence at the Villa Medici (1986-1988).
     Hurel rethinks melodic and rhythmic functions, uses micro-intervals, complex rhythms and virtuoso traits in all registers. His music cultivates ambiguity and reposes on the coexistence of several languages: evolutions of tone-colour inherited from spectral music, passages treated in combinatory and contrapuntal manner, incisive rhythms and swing phraseology stemming from his taste for jazz and rock. Hurel composes works with multiple levels of reading and wishes above all that his music might be understood by everyone from a first hearing. He has written mainly instrumental music for all types of formation. His works include La célébration des invisibles, melodrama for percussion, chorus and shadow theatre, first performed by Les Percussions de Strasburg, the vocal ensemble Musicatreize and Amalgame, conducted by Roland Hayrabedian in Strasburg (1992); Tombeau in memoriam Gérard Grisey for piano and percussion, first performed by Hiromi Okada and Hikaru Matsukura in Shizuoka, Japan (1999); Hors-jeu for percussion and electronics, first performed by Daniel Ciampolini at the festival Agora of Ircam (2006); Tour à tour I for orchestra, first performed by the Oslo Philharmonic Orchestra conducted by Christian Eggen at the Ultima festival in Oslo (2008); Localized corrosion for saxophone, electric guitar, percussion and piano, first performed by the ensemble Nikel in Tel-Aviv, Israel (2009); Les pigeons d'argile for six voices, chorus and orchestra, first performed by the Orchestre National and the Choeur du Capitole de Toulouse conducted by Tito Ceccherini in Toulouse (2014); En Filigrane, third string quartet (2020).
     Co-founder with Pierre-André Valade of the ensemble Court-Circuit in 1991, Philippe Hurel has since then been its artistic director. He has also taught at Ircam (1997-2001), has been associate teacher at McGill University in Montreal and teacher of composition at the Lyons Conservatory (2013-2017).
---