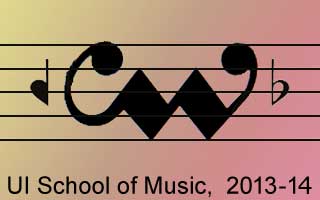 CONCERTS XIV - XV
Composers on Tour
Annual Exchange of Midwest Collegiate Composers
Friday & Saturday, April 25-26 at the University of Missouri, Kansas City
Composers Workshop
Sunday, April 27, 2014, 7:30 p.m.
Riverside Recital Hall (map)
Program
givea
 
Daniel FRANTZ
 
Will Huff & Daniel Frantz with laptops/Puredata
 
Clear Ebony Wax (2014)
 
Samuel LIFTON

Entry
Exchange
Reflection (Raga Marwa)

 
 
 
Samuel Lifton, Will Huff & Alex Kane
2 laptops, trombone, stirring xylophone and voice
 
String Quartet No. 1 (2014)
 
Barry SHARP
 
Andrew Gentzsch, violin
Rebecca Bressanelli, violin
Manuel Tábora Deras, viola
Tom Maples, violoncello
 
Unquiet Mind (2014)
 
Joseph Z. ADAMS
 
Andrew Gentzsch, violin
Rebecca Malina, violin
Manuel Tábora Deras, viola
Tom Maples, violoncello
Emily Duncan, flute
 
Chamber Sketch for 4 iPhones
 
Leonid IOGANSEN
 
4 performers with iPhones
 
MOTREB (2013)
 
Nima HAMIDI
 
Fabio Benites Felippe da Silba, bassoon
 
Concerto for iPhone and laptop orchestra (2014)
 
Alexandros SPYROU

Allegro ma non troppo
Andante grazioso
Vivace

 
 
 
Leonid Iogansen, solo iPhone
Nima Hamidi, Jonathan Wilson, Justin Comer,
Alexandros Spyrou, Joshua Marquez, laptops
Barry Sharp, conductor
 
eiad (2014)
 
Daniel FRANTZ
 
Emily Duncan, flute
Thiago Ancelmo de Souza, bass clarinet
Andrew Gentzsch, violin
 
past every exit (2014)
 
Jason PALAMARA
 
Justin Comer & Jason Palamara, laptops
 
Ex-Con for two marimbas (2014)
 
Justin COMER
 
Tyler Swick and Aaron Ziegler, marimbas
 
HarpMusic (2013)
 
Will HUFF
 
4-6 performers with laptops/Max/MSP
 
Program Notes
Daniel FRANTZ
givea
is a piece which uses physical modeling and video analysis to make the laptop into a musical instrument. The sound of the instrument is created by simulating the physics of a plucked string; different pitches are produced by strings of different lengths, densities, and tensions. The webcam of each laptop provides video input, which is analyzed to detect movement, which is translated into x-y coordinates and speed. When a certain x-coordinate is crossed, a certain string is plucked, applying the speed of the motion to a point on the string determined by the y-coordinate.
The audience is encouraged to play the instruments installed around the hall, and to experiment with varying performance practices on these simple instruments.
eiad
is an exploration of the use of genetic algorithms. Three organisms were imagined, in an abstract environment which determined how frequently each organism would occur (essentially their population sizes). Each organism was designed to initially create distinctive pitches and rhythms, and these initial conditions were treated as an organism's genome. The genome was then mutated for successive generations of material.
Daniel Frantz received his BM in music composition and electronic music from the University of South Florida. There he studied with Paul Reller and Michael Timpson. He was awarded the Patrick Keim Memorial scholarship for composition in 2007, and received a talent grant for clarinet performance.
He is currently pursuing his MA in composition at the University of Iowa. His recent projects involve using cellular automata and genetic algorithms for the creation of musical material.
---
Samuel LIFTON
Clear Ebony Wax
contains three movements that incorporate live, recorded and electronically manipulated sounds. The instruments used in the piece include regular and reversed piano, suspended cymbal, electric slide guitar, voice, Egyptian tambourine, swirling xylophone and noise, as well as subtractive and physical modeling synthesis techniques. Movement I consists of piano combined with physical modeling synthesis written using atonal and set methods played over a bed of aleatoric rhythms. Movement II includes live and manipulated performance elements that develop the theme of using music as a means to enable or encourage discourse in subjects inaccessible to standard modes of conversation.
Movement III closes the piece with a raga, in particular a raga marwa. Raga is a musical meditation used in both Hindi and Carnatic (South Indian) classical musical traditions. A raga is associated with a unique scale, and for this reason each raga has certain moods associated with it. The less a specific raga performance uses notes outside its scale, the more pure the mood it may evoke. Raga marwa is traditionally played in late afternoon and is considered a potentially disturbing or dangerous raga for both the performer and listener. For this reason it is rarely performed, and the raga marwa performances that do exist often deal with more difficult issues such as longing, suffering or ill intentions towards others. Raga marwa includes in its scale several chromatic notes, a tritone, but also a set of three whole tones. However, the raga does not contain a fifth of its primary tone (vadi), and for this reason never achieves the completeness associated with Western tonic/dominant interplay.
Samuel Lifton is a University of Iowa graduate student in the Department of Statistics and Actuarial Sciences. He has written and recorded electronic music and jazz for over ten years in the Iowa City and Minneapolis areas. His influences include traditional and modern jazz approaches, atonal and serial composition, and a diverse range of traditional ethnic styles such as Klezmer, raga, African Ewe drumming, and the South Indian rhythmic method solkattu.
---
Barry SHARP
String Quartet No. 1
This first string quartet uses a various set of gestures that seek to dominate each other throughout the piece; especially in the first and last formal sections. The most noticeable device is the swelling drone pitches on C in the opening section and the G# in the closing. The beginning and ending music breathes in a sense, while the interrupting gestures morph the long notes. The middle section acts as a calming release from its outlying counterparts and becomes dominant at first, but eventually it succumbs to the single note. The drone pitches and the familiar intervening gestures seep back into the texture and lead to the final section. Developments of the material race toward an intense climactic ending, but ultimately the "C" becomes sovereign over all.
An American composer from Shelbyville, Kentucky, Barry Sharp received his B.M. in composition from Murray State University where he also studied conducting, tuba performance, and music education. He is currently pursuing an M.A. in composition at the University of Iowa. Barry's music attempts to exploit the gravity of a single note or notes, bringing about ominous tensions and atmospheres that can arise therein. Current projects include a piece for soprano, cello, and piano with a text by Friedrich Nietzsche; a piece for tuba and electronics; and a second string quartet. Barry has studied composition with Mike D'Ambrosio, Brian Ciach, Lawrence Fritts, and David Gompper. More information about his work can be found at www.barrysharpmusic.com.
---
Joseph Z. ADAMS
Unquiet Mind
is a programmatic piece inspired by a the phrase, "an unquiet mind equals an unquiet body" - when the mind is in a state of unrest, due to stress, anxiety, and worry, physical symptoms begin to take shape, often in the form of insomnia and frequent illnesses. 'Unquiet Mind', using 12 tone Serialism, attempts to convey these emotional to physical transformations, and a person's attempt, and ultimate inability, to find inner peace.
Joseph Z. Adams is a first year PhD student at the University of Iowa, where he studies with David Gompper, and is a Teaching Assistant in the Music Theory Department. He earned his Bachelor's Degree from New York University, where he studied with contemporary, Brooklyn-based composer Mary Inwood, and his Masters Degree from the Hartt School/The University of Hartford, where he studied with band/orchestral composer Stephen Gryc. Since 2009, his music for orchestra has received over a dozen performances throughout his home state of Minnesota, as well as North Dakota. He was the recipient of an ASCAP PLUS Award in 2011, and was selected to participate in the American Composers Forum's inaugural 'Composer Teaching Artist Training Program'.
---
Leonid IOGANSEN
Chamber Sketch for 4 iPhones
is an experimental work featuring a special application I wrote for iPhone devices — iSonics. It is designed as a musical instrument for composers and performers of Electronic Music. It is an attempt to challenge the established practice of rendering an electroacoustic work with minimal participation of the performer (oftentimes being the composer himself/herself) and offer a greater connection between one's physical motion and sound production, thus extending the physical involvement of the performers in music-making. The performer is to tap/move his/her finger on the color-coded screen to produce and transform sounds, pre-recorded to the four buffers of the device. Chamber sketch 1 is written with a unique combination of graphic notation and a more-familiar note writing, indicating each finger motion of every player. Additionally, instructions only indicate what type of sounds are to be pre-recorded, rather that provide the sound files — this leaves room for performers' interpretation of the work as they find and record the sounds on their own.
Born in St. Petersburg Russia in 1981, Leonid Iogansen started playing violin at the age seven and started composing his first works shortly after. He has performed at numerous venues in the United States (where he moved at age twelve), as well as abroad and has won several competitions, including Young Virtuosos International Competition in 1999. As a composer, Leonid has received various commissions. In 2006, Shuang Yin International Music Festival has commissioned him to compose a number of humorous pieces for various chamber ensembles as well as for the Festival Orchestra, adding up in length to an hour of music.
As a teacher, Leonid taught at various music schools such as the Music Conservatory of Westchester in NY and at Biryukov Academy of Art and Music in NJ.
Leonid holds a Summa cum laude Bachelors of Music in violin performance and composition from Boston University, where he was a Trustee Scholar in 2001-2003, and a Masters degree with the same majors from Peabody Conservatory. Leonid currently is currently pursuing PhD in Composition at the University of Iowa as a student of Prof. David Gompper.
Leonid Iogansen is also an artist and has won many competitions for painting, local and national, both in Russia and the United States. In 1997, he received the Gold Key Award at the Boston Globe competition. Fifty of Leonid's works were accepted to the fund of the National Russian Museum in St. Petersburg, some of which were exhibited in the States.
---
Nima HAMIDI
MOTREB
In this work, I uncover features of the instrument by merging traditional Iranian music with Western aesthetics with a 21st century approach. The name MOTREB comes from a traditional song, which provides the source material used in the piece.
Motreb is one of many Arabic words that have been imported into the Persian language, causing deviation from its original Arabic meaning. In Arabic, it means someone who brings joy, a singer, or a performer; but in Iran, where Persian is the official language, motreb has a derogatory meaning, often used in literature as a character who lacks a moral compass, offering a vehicle to critique social and religious views in society.
The main theme evolves throughout the piece by being repeated in several moments of the music finally reaching the second climax, which relieves the main idea of the music. This formal structure of having two climaxes is the approach I've been following in my recent pieces. In MOTREB, the first climax occurs in the middle and functions as a rhythmic and density climax. The other happens closer to the end with the remaining music functioning as a coda. This second climax is also a conceptual climax in the way it clearly expresses the main musical idea.
Nima Hamidi (b.1984) is a Persian composer, currently pursuing PhD in Music Composition at the University of Iowa. He studied the Setar, an Iranian traditional instrument, and Guitar before studying composition. After living as a composer in Tehran until 2011, he moved to USA to discover new elements in composition to enrich his compositional language. His music is an attempt to discover relation between Iranian traditional music and Western contemporary techniques.
Nima Holds a BSc degree in Civil Engineering and MA in composition. He has studied composition with David Gompper, Lawrence Fritts, Shahin Farhat, Kambiz Roshanravan and Kiawasch Sahebnasagh. And also has participated in master class with Wolfgang von Schweinitz, Stephen David Beck , Hans Thomalla and Anthony Cheung.
Nima's music was honored to be performed by JACK Quartet, Center for New Music (New Music Ensemble at the University of Iowa) and to win the first prize at 24th International Fadjr Music Festival in 2009. He is currently a Teaching Assistant in Theory and composition area at University of Iowa besides studying composition with Dr. David Gompper
---
Alexandros SPYROU
Concerto for iPhone and laptop orchestra
was written for the newly found laptop orchestra of the University of Iowa and iPhone soloist Leonid Iogansen. The concerto follows the typical norms of a classical concerto with regard to form and material development. The artistic intention is to use the laptops and the iPhone as conventional instruments in order to perform actual musical gestures. The software was developed by audio engineer Daniele Salvati and composer/violinist Leonid Iogansen.
Alexandros Spyrou (b. 1989) is a Greek composer interested in exploring aspects of space and time, order and chaos embracing traditional and innovative forms. Further, he seeks to experiment toward multidisciplinary directions including opera, live electronics and improvisation. Alexandros studied music theory and composition in Greece and the U.K with Michael Finnissy, Evangelia Kikou and Athanasios Zervas. His music is performed in Greece, the U.K, Holland and the U.S by such ensembles as the London Sinfonietta, the JACK Quartet, Contemporary Directions Ensemble (UMichigan) and DissonArt ensemble. Alexandros has been a scholar of the Greek Ministry of Education, the State Scholarship Foundation of Greece, the Graduate College of the University of Iowa, Harry D. Triantafillu Foundation and currently the Fulbright Foundation. He holds artist diplomas in Harmony, Counterpoint and Fugue from the Conservatory of Ioannina (Greece), a B.Mus from the University of Macedonia (Greece), a M.Mus from the University of Southampton (UK) and an M.Phil from the University of Bristol (UK). He is presently a Ph.D student at the University of Iowa supervised by David Gompper.
---
Jason PALAMARA
past every exit
Imagine you are careening down a highway. Once you have passed every exit, is there any hope left to get back to where you began?
This piece is played on a Max/MSP patch that I have developed to aid in improvisation with a dance improvisation class taught by Jennifer Kayle. Jennifer's knowledge and improvisatory experience has greatly influenced the composition of this piece. I would also like to thank my semester long collaborator, Justin Comer, with whom I have produced hours of unrecorded music while having immense amounts of fun.
Jason Palamara is a third year PhD student in music composition at the University of Iowa. He is an active performer on the violin, guitar and laptop and was/is a founding member of the Bonecrusher Ensemble of Louisville, KY and the 24+24 Hour Composition Project in Iowa City, IA. Jason currently works as the in-house composer and audio engineer for the University Of Iowa Department Of Dance. Jason composes music for many dance department projects, specializing in electroacoustic music, collaboration, improvisation and audience engagement. His recent works have seen performances by the JACK Quartet and the Baker-Tarpaga Dance Project. In his spare time, he teaches songwriting and musicianship to the inmates at Oakdale Community Prison. You can find links to his music, events and more info at www.jasonpalamara.com.
---
Justin COMER
Ex-Con for two marimbas
requires performers to play at different speeds simultaneously. In the pre-compositional stage, I spent some time listening to click tracks at opposing tempos (for example, ♩=120 and ♩=121) and noticed that I was perceiving a gap between each pair of clicks, which was growing and shrinking over the course of the shared periodicity (a full minute in the case of the 120/121 example). This expanding and contracting drives a lot of the content of the piece.
Justin Comer graduated in 2012 from Coe College with a B.M. in Composition and Saxophone Performance. He is currently pursuing his M.A. at the University of Iowa. His composition teachers have included Joseph Dangerfield and David Gompper.
---
Will HUFF
HarpMusic
Written in Max/MSP, Harpmusic (2013) operates on an algorithm created by the composer, in ABA´ form. The word algorithm is loaded with polemic vantage points: on the positive side, it's a compositional tool to aid in stylistic and aesthetic preference; on the negative, it's an easy way out, leaving the computer to do all the "grunt work." In algorithmic composition, the composer decides on a set of rules that the musical output must obey. To me, there is very little difference between algorithmic compositions than, say, Stravinsky's so-called "process of selection" or, for that matter, the tradition of 18th century avoidance of parallel fifths. That is to say, in each case it is a matter of style or preference.
Harpmusic was originally conceived as an installation piece involving video projection and stereo playback. Using the newly constructed hemisphere speakers, I create a "sound garden" that members of the audience can explore on a purely sensual level. Instead of a single laptop "performing" the algorithm of Harpmusic, the audience experiences several simultaneous iterations of Harpmusic and should consider each laptop's performance a unique realization of the algorithm, enhanced by multiplicity. By performing the piece in this way, the audience gets to experience the variations and possible deviance of multiple laptops performing the same algorithm that is Harpmusic.
Will Huff's composition draws its inspiration from as divergent sources as American and European minimalism to gamelan and indie rock. Recent focus has been devoted to collaboration where he has enjoyed interdisciplinary work with choreographers, filmmakers, and playwrights. His music has been performed throughout the U.S., England, and Thailand by ensembles including the Fort Smith Symphony Orchestra and the JCFA Composer's Orchestra, along with readings by the JACK Quartet, the University of Arkansas Orchestra, the University of Iowa Kantorei, directed by Timothy Stalter, and the Center for New Music Ensemble, directed by David Gompper.
He is currently pursuing a doctorate at the University of Iowa where he holds a TA in Theory/Composition as well as associate director to the Electronic Music Studios directed by Lawrence Fritts. His composition teachers include Robert Mueller, Frank Felice, Michael Schelle, Lawrence Fritts, and David Gompper.
Will Huff's research interests focus on the liminal aspects of music, heuristic modeling, and algorithmic modeling.