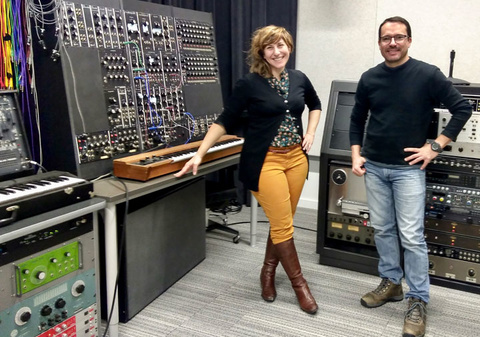 Presented by the Electronic Music Studio
Sivan Cohen Elias, director
 
The Electronic Music Studio Concert I

Saturday, December 14, 2019 at 7:30p in the Stark Opera Studio
| | |
| --- | --- |
| 500 Notes in 5 Dimensions | Dave MULLER |
500 Notes in 5 Dimensions is an algorithmic composition. 500 random notes are generated in 5-dimensional hyperspace. The notes are then sorted using a "Traveling Salesman Problem" computer program. The program finds the orders of the notes which yield the shortest and longest path lengths through the hyperspace. A brief mini lecture explains the algorithms in more detail before the sequences are played. Listeners are encouraged to follow the notes along their paths and experience the journey through 5 dimensions. The shortest path sequence provides a gentle, meandering, melodic journey through the hyperspace. The longest path sequence bounces back and forth across the hyperspace, resulting in a rough and tumble, syncopated feel.
          Dave Muller came to Iowa City in 1983 to work as an engineer for the Electronic Music Studios. While there, he developed the world's first PC-based CD-quality Digital Audio Workstation. Since then he has developed hardware and software for satellite instruments at the Physics Dept., instrumentation and projection systems at the Driving Simulator, and biotech manufacturing equipment at Integrated DNA Technologies. He is currently a freelance engineering consultant, and works on projects for various tech startups, artists and musicians, research scientists, and STEM educators.
Hallucination - The alternation of the real world and digital world. A mixture of truth and falsehood.
1943 uses three source materials: field recordings of bicycles, flute multiphonics, and vocalizations. The turning wheel of a bicycle can be heard through the entire piece, with the other materials contributing to the transformation of its texture via densification and accentuation. The bicycle wheel is gradually accelerated, and then allowed to spin until it slows to stillness.
For The Empress has a tragic story about the last queen of Korea in the late 19th century. The Queen Min lived in in the end of a century where there was a global conflict just before the outbreak of the World War. In the global turmoil, she tried to defend her homeland from foreign powers, but she ended up being murdered, and then even her body was burned by invaders. She vanished into thin air in a day. "For The Empress" describes her burning body, comforting her soul from diverse timbre changes of two materials, a voice and metal.
| | |
| --- | --- |
| The Space Between | Michael GAVIGAN |
The Space Between is the story of an old-fashioned soul who is thrust into a new, risky situation. It follows the journey of a lonely cowboy who becomes something he never expected: a galactic side of a situation. We often find that having an answer is easier on the mind than admitting to our own ignorance, whether the ignorance is intentional or not.
      Micheal Gavigan graduating from the University of Iowa this December with a bachelor's degree in Speech and Hearing Sciences and will be pursuing a master's degree in the coming years. Aside from classes, my time was spent hanging out with friends and roommates; most of which I met through the university's club water polo program. Music has taken many forms throughout the course of my life: from banging on pots and pans; playing the saxophone in concert bands; to lead singing in punk rock jams; music has always been evolving. My formal musical training began in elementary school where I began to play the piano and saxophone, and I stuck with the latter until college. More recently my focus has shifted towards the guitar and electronics. I began producing electronica during my years here at Iowa, which opened a whole new world of music production.
A Hymn for Self-Loathing - Who are the voices in your head? What do you do when they become overwhelming? Using the voices of my parents, Matt and Mary Mason, I have constructed a narrative journey that depicts one's innermost thoughts about self image as it evolves from poor to content (but never positive). Specifically, A Hymn for Self-Loathing, emphasizes the perspective of artists and their place in the job economy. The words, taken from interviews about their jobs and their thoughts on an artist's place in the world, highlight this perspective in both positive and negative ways. Not only does the work express this internal struggle, but it is also analogous to the journey of a young artist as he navigates towards his own identity. There are three parts to this piece: a landscape of voices, both discernible and not, a choir of sighs, the buzz of static that becomes beautiful.
| | |
| --- | --- |
| innocence and ignorance | Ethan FAGRE |
Ideas surrounding innocence and ignorance have been moved to the public's back burner since we gained the ability to communicate over large distances. This ability (to speak to those we aren't near) has pushed the individual's private life into the forefront of public life and the secrecy of large corporate and institutional corruption into the open; something that wasn't possible before the forms of mass communication we have access to now. Such major realizations coming into the public's view has shifted how we speak to one another about the institutions that keep us safe/put us in harm's way and whether we feel we're on the right
       Ethan Fagre is studying Art (B.A.) and Sound Design (Cert.) through the University's School of Art and Art History and School of Music. He focuses on themes of innocence, weakness, curiosity, and how these ideas affect one another.
The Thing in the Cave
Darkness— ut7er, and deep; flo0d at my feet like the ravenous beast that dances and leaps.
Water— trickl1ng ripples like iron and chain; prison that crushes b0th mem'ry and name.
Stone— maw of the pit; Temple and grave where 7he proud and unfit sit lordly 0n dolomite thrones.
Breath— mark1ng my passage through shadowy caverns.
| | |
| --- | --- |
| Jamshid Jamvar | Charles/Roshandel |
Jamshid was the 'inventor of music' as we read in Persian myths; "Jamshid Jam" is a tribute to the inventor of music, whether it was Jamshid or not! It is intended to happen at the point where two cultures from two different times have met. It explores the capabilities of setar (the Iranian instrument) along with a Max-based live electronics instrument allowing to scratch a delay line.
           Jean-François Charles joined in 2016 the School of Music at the University of Iowa as Assistant Professor in Composition and Digital Arts. His recent works include the album Electroclarinet, the opera Grant Wood in Paris premiered in 2019 by the Cedar Rapids Opera Theater, and a Scientific Concert presenting new pieces created in collaboration with geologists, a physicist, and a scientific glassblower.

          Ramin Roshandel has performed as a sétār soloist in the premiere of Jean-François Charles' opera, Grant Wood in Paris. Additionally, he was awarded a 2019 Digital Scholarship and Publishing Studio summer fellowship and is a New Music on the Point alumnus. He is currently a 3rd-year doctoral student in the Composition program at the University of Iowa, where he has studied under Josh Levine and Sivan Cohen-Elias and is currently working with David Gompper. He holds a Master of Arts degree in Music Composition from the University of Tehran and a Bachelor of Arts in Iranian Music Performance from Tehran University of Art.