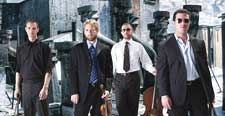 Sunday, November 15, 2009, 7:30 p.m.
at the Riverside Recital Hall
The JACK Quartet
|| download program ||
Program
Three Machaut Pieces
        Rose, Liz, Printemps, Verdure
        Dame, de Qui Toute Ma Joie Vient
        Inviolata Genitrix
 
Guillaume de MACHAUT
transcribed and arranged by Ari Streisfeld
The Boreal
 
Elliot SHARP
 
Intermission
 
String Quartet
 
Zack BROWNING
Tetras
 
Iannis XENAKIS
Performers
John Pickford Richards holds degrees from the Interlochen Arts Academy and Eastman School of Music where his primary teachers were David Holland and John Graham. He is a member of Alarm Will Sound, bringing him into close contact with such composers as John Adams, Wolfgang Rihm, Meredith Monk, and Steve Reich at venues including Carnegie Hall, Lincoln Center, and The Roxy. John has performed as soloist with the Pasadena Symphony Orchestra, Armenian Philharmonic Orchestra, Ossia New Music, and performed the solo part to Luciano Berio's Chemins II at the Lucerne Festival Academy under the direction of Pierre Boulez. He taught for three years at Dickinson College in Carlisle, Pennsylvania and is now living in New York.
Ari Streisfeld began playing the violin at age six and grew up studying with Philadelphia Orchestra members Paul Arnold and Yayoi Numazawa. He received his bachelors degree from the Eastman School of Music studying with Zvi Zeitlin and his masters degree from Northwestern University studying with Almita Vamos. He was a member of Dal Niente and has worked with composers Steven Mackey, Bernard Rands, Robert Morris, Carlos Sanchez-Gutierrez, Ricardo Zohn Muldoon, and David Liptak. Ari attended the Music Academy of the West, New York String Orchestra Seminar, Kent/Blossom Music Festival, and the Lucerne Festival Academy. He was a recipient of an ASCAP Morton Gould Young Composer Award and currently resides in Cambridge, MA while pursuing his Doctorate of Musical Arts at Boston University studying with Peter Zazofsky.
Christopher Otto studied composition at the Eastman School of Music with Martin Bresnick, David Liptak, and Robert Morris. As a violinist, Christopher has premiered many compositions and worked with such composers as Harrison Birtwistle, Pierre Boulez, Helmut Lachenmann, and Steve Reich. Christopher has participated as composer and performer in such contemporary music festivals as the Lucerne Festival Academy, Internationale Musikinstitut Darmstadt, Karlheinz Stockhausen Courses, Institute and Festival for Contemporary Performance at the Mannes College of Music, June in Buffalo, and Festival Internacional de Música Contemporánea de Michoacán.
Kevin McFarland is currently infiltrating the New York City new music scene as a recent transplant from his hometown of Lancaster, PA. As a freelance musician, he has recently appeared with ensembles such as Alarm Will Sound, Dal Niente, the International Contemporary Ensemble (ICE), Signal, and the Wordless Music Orchestra. He is also a member of the Tarab Cello Ensemble, a new music cello octet, with whom he has recorded for Bridge Records. Kevin holds a degree from the Eastman School of Music, where he studied composition with David Liptak, Robert Morris, and Ricardo Zohn Muldoon, and cello with Steven Doane. At Eastman he performed often with new music ensembles Ossia and Musica Nova and premiered over one hundred student compositions. He continues to compose both acoustic and electronic music and lives in Brooklyn.
Notes & Bios
Guillaume de MACHAUT
Three Machaut Pieces
The three works from Machaut's vast œuvres that I have chosen to transcribe and arrange for string quartet include a rondeau (Rose, Liz, Printemps, Verdure), a ballade (Dame, de qui toute ma joie vient), and a motet (Inviolata Genitrix). Throughout these transcriptions, I tried to subtly bring out different timbres and colors that are associated with contemporary string writing while still remaining faithful to the music. In Rose, Liz, Printemps, Verdure I moved the lines around between repetitions of the melody, allowing every instrument the opportunity to play each line at least once. This makes for some interesting colors as occasionally the cello plays higher than the other instruments. Throughout the other two pieces, in order to highlight certain lines and harmonies I added gradual timbral shifts from sul tasto (playing on the fingerboard) to sul ponticello (playing near the bridge) to ordinario. In creating these arrangements my goal was not to simply create modern transcriptions but to provide a contemporary perspective on Machaut's incredible musical language. - Ari Streisfeld
Guillaume de Machaut was one of the most famous composers and poets of the medieval period. He lived through most of the 14th century in the region around Rheims, France. His poetry influenced many poets well into the 15th century including Geoffrey Chaucer. In addition to writing what is considered to be the first setting of the Catholic Mass attributed to a single composer, Machaut was known for writing in many of the secular forms of the period, including the virelai, lai, rondeau, and ballade. He also was very influential in the development of the motet.
---
Elliot SHARP
The Boreal
Seldom are my titles illustrative or descriptive but allusive: references, keywords, metaphors - elements that play a role in the creation of the piece. Sometimes the title comes first and the composition follows. More often the music is first manifest and then awaits its proper naming, never a trivial process. Most of my formal compositions each have their own "operating system", a set of defining characteristics that may denote a unique soundworld or set of algorithms. In the case of The Boreal, I first defined the extent of the sonic materials: hocketed grooves, difference tones, and the usage of alternate bows made from ballchain and metal springs. The title itself refers to a variety of things: "Northern" deriving from Boreas, the Greek god of North Wind: the ecosystem of sub-arctic (& sub-antarctic) climates; the Boreal Period of our Holocene era (approximately 9000-8000 years before the Present Era); and to the Boreal Sea, a historical body of water comprising the north of the supercontinent Laurasia, one half (with Gondwanaland) of the supercontinent Pangaea. Elliott Sharp - NYC - November 2008
Elliott Sharp is a composer, multi-instrumentalist, and producer active in the avant-garde music scene in New York City for over thirty years. He leads the projects Carbon and Orchestra Carbon, Tectonics, and Terraplane and has pioneered ways of applying fractal geometry, chaos theory, and genetic metaphors to musical composition and interaction. His collaborators have included Ensemble Modern; Qawwali singer Nusrat Fateh Ali Khan; Radio-Symphony of Frankfurt; pop singer Debbie Harry; blues legends Hubert Sumlin and Pops Staples; jazz greats Jack deJohnette and Sonny Sharrock; turntable innovator Christian Marclay; and Bachir Attar of the Master Musicians Of Jahjouka. Sharp's work was featured at Ostrava Music Days 2009; New Music Stockholm 2008 with the premiere of "Sidebands" and at the Hessischer Rundfunk Klangbiennale in May 2007 with the premiere of his orchestral work "On Corlear's Hook", and at Donaueschingen Festival 2007 with the premiere of "Ripples From The Bang". The documentary film about Sharp by Bert Shapiro, "Doing The Don't", has just been released on DVD and screened at international film festivals. Visit his website.
---
Zack BROWNING
String Quartet
String Quartet (2008) was commissioned by the Jack Quartet. The composition uses harmonic and melodic gestures of pop, rap and jazz which are then transformed according to procedures derived from the 3x3 Lo Shu Magic Square as it appears in the Flying Star System of Feng Shui. The result is a combination of musical styles that come together within a dramatic structure.
Zack Browning (b. 1953) writes music that is "way-cool in attitude" and "speed-demon music" as described by The Atlanta Journal-Constitution. The Irish Times proclaims he is "bringing together the procedures of high musical art with the taste of popular culture". Browning's CD "Banjaxed" on Capstone Records contains eight of his original compositions for voice, instruments and computer-generated sounds and has been called "dramatic, exciting, rhythmic, high-energy music". Composition awards have included an Illinois Arts Council Composer Fellowship and a Chamber Music America Commission. Performances include the Bonk Festival of New Music (Tampa), the International Society for Contemporary Music Festival (Miami), International Computer Music Conference (New Orleans), Spark Festival (Minneapolis), Gaudeamus Music Week (Amsterdam), Composers Choice Festival (Dublin), Sonorities Festival (Belfast) , Skinneskatteberg Festival (Sweden) Asian Contemporary Music Festival (Seoul), National Chiang Kai Shek Cultural Center (Taipei) and Jilin University and Northeast Normal University (Changchun, China). Browning is an associate professor of music composition and theory at the University of Illinois.
---
Iannis XENAKIS
Tetras
I first encountered Xenakis' music rummaging through my teacher's CD collection. The liner notes described his works using words such as "mathematical," "calculus," and "scientific," which I found a bit off-putting. At the time, I had inherited my teacher's skepticism of the application of math to composition, even though I enjoyed math (especially calculus) often to the chagrin of my peers. The sounds I heard couldn't have been more contrary to my expectations. I would have described them as being brutal, primitive, and alien. I didn't quite know how to process what I was hearing at the time; I didn't know whether I liked it, hated it, or what.
I rediscovered Xenakis in college when reading Formalized Music, his treatise on composition. The book completely changed my approach to writing music. Influenced by the Ancient Greeks, he believed that music should be treated as a science as well as an art. For example, he demonstrated the application of stochastic processes (previously used to model chaotic systems such as the behavior of gas molecules) to "clouds" of string pizzicati or the density of woodwind attacks. These techniques very exciting to me as a composer; there existed an entire world of potential mathematical processes that seemed much more interesting than say, twelve-tone rows.
However, at the same time, I was listening to many recordings of Xenakis' music, and the paradox of process versus aesthetic became apparent again. This was not heady-sounding music at all, but rather visceral, primal, corporeal. The process of composition was not obvious on the surface of the music. Instead, one might imagine the wailings of a mourning woman, the thunder of a summer storm, or even sexual or religious ecstasy.
Perhaps no composition better embodies this contradiction than Tetras. Written relatively late in his career, Tetras is a work of starkly contrasting textures. The piece opens with a virtuosic glissando violin solo followed by the viola in double stops and then the whole quartet in quiet echo of the solos. From there the piece moves through a handful of sections, often with little or no transition in between. The feeling I get from this work is that Xenakis had already liberated string sounds from traditional roles and was then completely free to create in the wake of this revolution. It is a work of uncompromising vision, savage brutality, and startling beauty. - Kevin McFarland
Iannis Xenakis was born in Romania, but studied architecture in Greece, where he also participated in the Greek resistance during World War II. He worked for the French architect Le Corbusier, notably collaborating with Edgar Varèse on the Phillips Pavilion at the 1958 Brussels World Fair. He is well known for contributions regarding applications of cutting-edge mathematical theories to acoustic and electronic music composition, as well as an aesthetic that is influenced by his Grecian roots. He lived out the remainder of his life in France as a political exile and founded the Xenakis Institute in Paris. He died tragically of Alzheimer's disease in 2001.