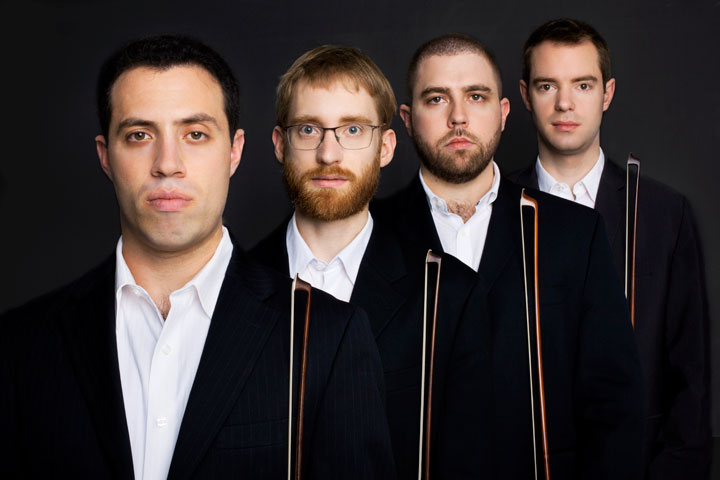 CONCERT IV
Friday, October 11, 2013, 7:30 p.m.
Riverside Recital Hall (map)
THE JACK QUARTET
performing new compositions by
University of Iowa composers
|| download program ||
Program
Cold Star
        I. Proto
       II. Equilibrium
      III. White Dwarf
 
Joshua MARQUEZ (b. 1990)
Betrayal (2013)
 
Justin COMER (b. 1990)
String Quartet No. 2 (first movement)
 
Leonid IOGANSEN (b. 1981)
Pisyressin (2010)
 
Alexandros SPYROU (b. 1989)
 
— Intermission —
 
String Quartet No. 4 (2013)
 
Nima HAMIDI (b. 1984)
none above me (2013)
 
Jason PALAMARA (b. 1977)
Vṛttāsu (2012)
 
Brian PENKROT (b. 1978)
Performers
The JACK Quartet electrifies audiences worldwide with "explosive virtuosity" (Boston Globe) and "viscerally exciting performances" (New York Times). David Patrick Stearns (Philadelphia Inquirer) proclaimed their performance as being "among the most stimulating new-music concerts of my experience." The Washington Post commented, "The string quartet may be a 250-year-old contraption, but young, brilliant groups like the JACK Quartet are keeping it thrillingly vital." Alex Ross (New Yorker) hailed their performance of Iannis Xenakis' complete string quartets as being "exceptional" and "beautifully harsh," and Mark Swed (Los Angeles Times) called their sold-out performances of Georg Friedrich Haas' String Quartet No. 3 In iij. Noct. "mind-blowingly good."
The recipient of New Music USA's 2013 Trailblazer Award, the quartet has performed to critical acclaim at Carnegie Hall (USA), Lincoln Center (USA), Wigmore Hall (United Kingdom), Suntory Hall (Japan), Salle Pleyel (France), Muziekgebouw aan 't IJ (Netherlands), La Biennale di Venezia (Italy), the Lucerne Festival (Switzerland), Bali Arts Festival (Indonesia), Reykjavik Arts Festival (Iceland), Festival Internacional Cervatino (Mexico), Kölner Philharmonie (Germany), Donaueschinger Musiktage (Germany), Wittener Tage für neue Kammermusik (Germany), and Darmstadt Internationale Ferienkurse für Neue Musik (Germany).
Comprising violinists Christopher Otto and Ari Streisfeld, violist John Pickford Richards, and cellist Kevin McFarland, JACK is focused on the commissioning and performance of new works, leading them to work closely with composers Derek Bermel, Chaya Czernowin, James Dillon, Brian Ferneyhough, Beat Furrer, Georg Friedrich Haas, Vijay Iyer, György Kurtág, Helmut Lachenmann, Steve Mackey, Matthias Pintscher, Steve Reich, Wolfgang Rihm, Salvatore Sciarrino, and John Zorn Upcoming and recent premieres include works by Wolfgang von Schweinitz, Toby Twining, Georg Friedrich Haas, Simon Holt, Kevin Ernste, and Simon Bainbridge.
JACK has led workshops with young performers and composers at Princeton University, Yale University, Harvard University, New York University, Columbia University, the Eastman School of Music, Oberlin Conservatory, Manhattan School of Music, June in Buffalo, New Music on the Point, and at the Darmstadt Internationale Ferienkurse für Neue Musik. In addition to working with composers and performers, JACK seeks to broaden and diversify the potential audience for new music through educational presentations designed for a variety of ages, backgrounds, and levels of musical experience.
The members of the quartet met while attending the Eastman School of Music and studied closely with the Arditti Quartet, Kronos Quartet, Muir String Quartet, and members of the Ensemble Intercontemporain.
Program Notes
Joshua MARQUEZ
Cold Star
I. Proto - The life of a star begins when gravity collects clumps of hydrogen gas and dust from a nebula cloud and forms the clumps into smaller clouds. These clouds begin hundreds of degrees below 0 degrees Fahrenheit. As gravity compresses the material the center heats up. Gravity then flattens the cloud out into a disc where the center heats up to 2 million degrees Fahrenheit, creating a Protostar.
II. Equilibrium - Once the core reaches 18 million degrees Fahrenheit, nuclear fusion occurs. This fusion counteracts the force of the gravity throughout the life of the star, creating equilibrium. At this point, the star becomes a Main Sequence Star.
III. White Dwarf - A White Dwarf Star is the final stage in the life cycle of most stars. At this stage in the life cycle, the star is very dense. Once the fuel, created by the fusion of hydrogen and then helium during the star's Main Sequence stage, runs out, the star begins compacting electrons (electron degeneracy pressure) to hold up against the force of gravity. The energy and light that shines from a White Dwarf Star comes from the accumulation of energy from the previous stages during the lifetime of the star.
Joshua Marquez (b. 1990) is a Filipino-American composer, currently pursuing a PhD in Music Composition at the University of Iowa. Joshua holds degrees from the University of North Carolina at Greensboro (MM in Composition '13), and Campbell University (BA in Composition '11 and BA in Classical Guitar '11). He has studied with David Gompper, Mark Engebretson, Alejandro Rutty, Ran Whitley, and Milen Parashkevov. Joshua has attended, presented, and participated in master classes with: Samuel Adler, Roshanne Etezady, David Biedenbender, Dmitry Sitkovetsky, Jakov Jakoulov, Douglas James, Pasquale Rucco, Francesco Soler, Elliot Frank, and Zae Munn.
---
Justin COMER
Betrayal
follows the basic overall structure of the traditional four-movement string quartet. The musical content is inspired by several literary and historical betrayals (for example: Caesar and Brutus, Jesus and Judas, the pigs in Animal Farm). Rather than focus on the initial act of betrayal, however, the music reflects the resulting emotions of the betrayed. The four sections of the piece are labeled Shock, Anger, Grief, and Resignation.
Justin Comer graduated in 2012 from Coe College with a B.M. in Composition and Saxophone Performance. He is currently pursuing his M.A. at the University of Iowa. His composition teachers have included Joseph Dangerfield and David Gompper.
---
Leonid IOGANSEN
String Quartet No. 2 (first movement)
Quickly paced sul ponticello passages in all four string parts, with frequent sforzzandos interrupting the flow of sound, aim to create an effect of spinning and swishing, as if caught in a turmoil of a storm. As the movement develops, the hissing of sul pont disappears and the sound becomes more normal clear, at the same time reaching the climax of the work. The special techniques bring out multiple layers of overtones, which interact and enhance each other.
Leonid Iogansen, born in St. Petersburg Russia in 1981, has received various commissions, most notably in 2006, from Shuang Yin International Music Festival, which has commissioned him a total of an hour of music for various ensembles.
Leonid holds a Summa cum laude Bachelors of Music in violin and composition from Boston University, where he was a Trustee Scholar in 2001-2003, and a Masters degree with the same majors from Peabody Conservatory. Leonid is currently pursuing PhD in Composition at the University of Iowa as a student of Prof. David Gompper.
---
Alexandros SPYROU
Pisyressin
      …to kindle one revel for immortals four, Phoebus and Zephyr and Cypris and Dionysus…
Pisyressin is an oblation to the tetrad. Based on a model of macroscopic permutations and swirls, it attempts to unify pitch and rhythmic material, articulation and structural design under common proportional principles. The ultimate aesthetic goal is to create an impulse towards an envisagement of the eternal tetrad.
Alexandros Spyrou (b. 1989) is a Greek composer who is interested in exploring aspects of space and time, order and chaos embracing traditional and innovative forms. He studied music theory and composition in Greece and the United Kingdom with Michael Finnissy, Evangelia Kikou, Georges Papoutsis and Athanasios Zervas. His music has been performed in Greece, the United Kindom, Holland and the United States. Alexandros holds artist diplomas in Harmony, Counterpoint and Fugue from the Conservatory of Ioannina (Greece), a BMus in Composition from the University of Macedonia (Greece) and an MMus from the University of Southampton (UK). He is presently a PhD student in composition at the University of Iowa supervised by David Gompper.
---
Nima HAMIDI
String Quartet No. 4
"Number Four" is composed based on some elements from Iranian traditional music and New Complexity techniques. The name comes from the usages of number four in composing the piece starting from instrumentation to harmonic language. The harmonic language is 4th circle of four voice quartal chords. This is derived from Iranian music structure which 4th and 2nd intervals play important rule in it. Dynamic also reflect both style of music including extreme changes really fast from ppp to fff.
Nima Hamidi lived as a composer in Tehran until 2011. Before studying composition in Iran he studied the Setar, an Iranian traditional instrument. Currently he is second year in the PhD program in composition at the University of Iowa. His music is an attempt to discover relation between Iranian traditional music and Western contemporary techniques in composition.
---
Jason PALAMARA
none above me
Almost everyone agrees that you should not put yourself first in life. This seems to be a universal rule. Yet, we often violently disagree on what we should lift high up and put on that pedestal. It also seems that much of the world's strife, misery and bloodshed can be tied directly to what some people put up on their pedestal. This piece reflects my attempt to push everything extraneous off of my compositional table and see what remains.
Jason Palamara is a third year PhD student in music composition at the University of Iowa. He is an active performer on the violin and laptop and was a founding member of the Bonecrusher Ensemble of Louisville, KY and the 24+24 Hour Composition Project in Iowa City, IA. Jason currently works as audio engineer and composer for the University Of Iowa Department Of Dance. Specializing in electroacoustic music, collaboration, improvisation and audience engagement, Jason composes music for many dance department projects.
---
Brian PENKROT
Vṛttāsu
A loose definition of the title is "in cycles" (the Sanskrit is the locative case of the adjective "rounded"). The piece emulates the respiratory cycle as a person breathes increasingly heavier. Paired complementary sections - inhale and exhale - expand in duration, revealing more detail of material with each pass. The level of activity, general range, and dynamic levels also track along the relative distance to and from the ends of each section. This piece is composed in strata, so that similar music occurs in roughly the same spots in each arc.
Brian Penkrot's music has been performed throughout the US, Asia, and Europe, including the La Pietra Forum and the SCI National Conference. Brian has attended numerous festivals and has had works performed by ensembles including ICE and ECCE. He is pursuing his PhD at the University of Iowa, where he studies with David Gompper. Brian is the SCI Iowa chapter president and teaches at the University of Iowa, Kirkwood Community College, and the Preucil School. He received his MM from UNLV and BM from Columbia College Chicago. Audio samples and a full list of works can be found at www.brianpenkrot.com.