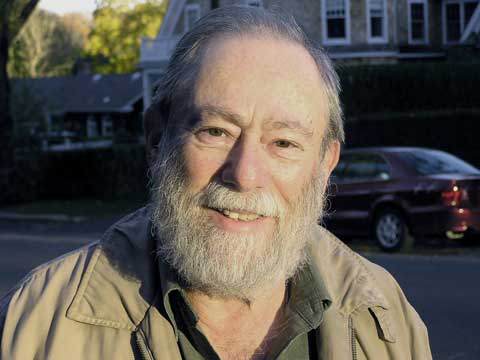 CONCERT XII
Sunday, February 19, 2012, 2:00 p.m.
Old Capitol Museum Senate Chamber (map)
Marvin Bell Celebration
with
Guest Tony Arnold, soprano (SUNY-Buffalo)
Katherine Eberle, mezzo, Timothy Stalter, tenor
John Muriello, baritone, Stephen Swanson, baritone
Volkan Orhon, double bass, Daniel Moore, percussion
David Gompper, piano
The UI Kantorei and the CNM ensemble
Timothy Stalter, chorus master
David Gompper, conductor
performed works by Marvin Bell and David Gompper
in a vocal and choral recital
|| download program ||
Program
 
 
The Poetry of Marvin Bell, set to music by David Gompper
Five Love Songs (for soprano and baritone) premiere (2011)
      (dedicated to Judith & Richard Hurtig)
        I. The Admission (soprano)
       II. To Dorothy (baritone)
      III. Being in Love (soprano)
      IV. Whatever We Were Going to Tell Each Other Won't Mean As Much (baritone)
       V. Five Oh's (duet)
 
 
 
Tony Arnold, soprano
John Muriello, baritone
David Gompper, piano
 
You're Not Dead Yet! for vocal quartet (1998)
 
 
 
Tony Arnold, soprano
Katherine Eberle, mezzo
John Muriello, baritone
Stephen Swanson, baritone
David Gompper, piano
 
 
— Brief Intermission —
 
Light Poem, for mezzo and piano (1997)
 
 
 
Katherine Eberle, mezzo
David Gompper, piano
 
Poetry for a Midsummer's Night (for tenor, double bass and piano) (2000)
        I. How the Lovers Found True Love After All
       II. Like Words, Like Music
 
 
 
Timothy Stalter, tenor
Volkan Orhon, double bass
David Gompper, piano
 
Selections from The Animals (2009)        
       I. Rooster Hubris
       II. American Buffalo
       IV. Charley Horse
       V. Polar Bear
       VII. Vulture
 
 
 
Stephen Swanson, baritone
David Gompper, piano
 
 
— Brief Intermission —
 
An Elm We Lost (for tenor, baritone, chorus and orchestra) (2002)
 
 
 
Timothy Stalter, tenor and John Muriello, baritone
University of Iowa Kantorei, Timothy Stalter, chorus master
David Gompper, conductor

Violin I
Megan Karls, William Gentzsch, Colleen Ferguson,
Therese Slatter, Catie Rinderknecht
Violin II
Andew Uhe, Andrew Naylor, Leonid Iogansen, Haley Leach, Katie Klocke
Viola
Christine Rutledge, Manuel Tabora Deras, Jessica Altfillisch, Megan Gray
Violoncello
JeeHyung Moon, Eunkyung Son, Brett Alkire
Double Bass
Volkan Orhon, Michael White
Timpani
Dan Moore
Percussion
Andrew Thierauf, Christine Augspurger
Harp
Pam Weest-Carrasco
Piano
Grethe Nothling
 
Performers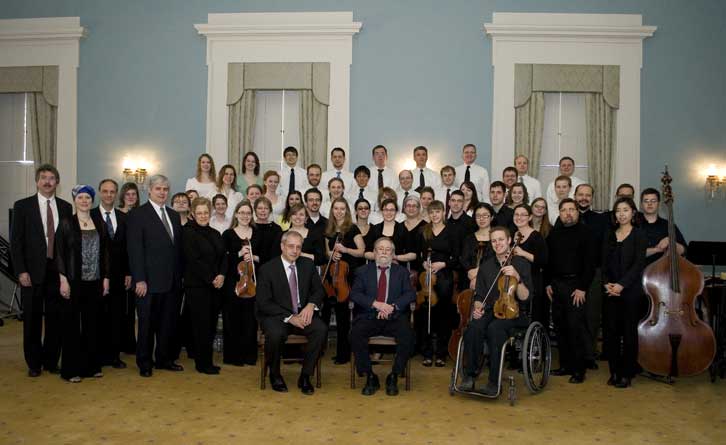 Biographies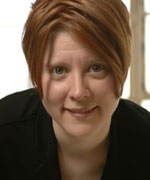 Tony Arnold
John von Rhein of the Chicago Tribune writes, "anything sung by soprano Tony Arnold is worth hearing." Hailed by the New York Times as "a bold and powerful interpreter," she has gained international acclaim for sparkling and insightful performances of the most daunting contemporary scores. In 2001, Ms. Arnold was thrust into the international spotlight when she became the only vocalist ever to be awarded first prize in the Gaudeamus International Interpreters Competition. On the heels of that triumph, she claimed first prize in the 15th Louise D. McMahon International Music Competition. Since that time, Ms. Arnold has established a reputation as a leading specialist in new vocal repertoire, receiving consistent critical accolades for her many recordings, as well as performances with groups such as the International Contemporary Ensemble (ICE), Chicago Symphony Orchestra's MusicNOW, Los Angeles Philharmonic New Music Group, New York New Music Ensemble, Ensemble 21, eighth blackbird, Contempo, Orchestra of St. Lukes, Boston Modern Orchestra Project, Fulcrum Point, and many others.
Ms. Arnold has been a frequent guest at international festivals in the USA, Mexico, Germany, Armenia, Finland, Switzerland, Italy, and Korea. She was a featured artist at the 2008 Darmstadt International Music Festival, the premier contemporary music venue of Europe. She tours regularly as a member of the George Crumb Ensemble. With violin virtuoso Movses Pogossian, she has taken György Kurtág's Kafka Fragments to more than 30 venues across the United States, Canada, Europe, and Asia. A DVD/CD set of their performance was released in 2009 on Bridge Records, to great critical acclaim.
In addition to Kafka Fragments, Ms. Arnold's many recordings include a 2006 Grammy Nominated performance of George Crumb's Ancient Voices of Children on Bridge Records. Released in 2009 was a DVD of the music of Crumb with the composer. She collaborated with conductor Robert Craft on a CD of vocal works by Anton Webern on the Naxos label. She has also recorded music of Carter, Babbitt, Wolpe and Tania León for Bridge; Berio's Sequenza III for Naxos; and Kaija Saariaho's Adjö on New Focus Records.
Ms. Arnold is an active participant in the creation and commissioning of new music. As the 2009 Howard Hanson Distinguished Professor of American Music at the Eastman School, Ms. Arnold shepherded the creation and premiere performances of new vocal music by 15 student composers. Recent premieres have included works by Philippe Manoury, Jason Eckardt, David Liptak, and Ricardo Zohn-Muldoon. During the summers, Ms. Arnold engages composers and singers in music written by the participants of the SoundSCAPE Festival in Maccagno, Italy. Since 2003 she has served on the faculty of the University at Buffalo, where she founded the extended vocal techniques ensemble, BABEL.
Ms. Arnold is a graduate of Oberlin College and Northwestern University. Among her many mentors, she is greatly indebted to her study with sopranos Carmen Mehta and Carol Webber, and conductors Robert Spano and Victor Yampolsky.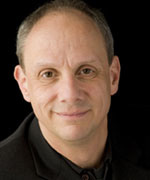 John Muriello
Associate Professor of Voice, has carried on a varied performing career in opera, operetta, musical theatre and concert work.
Stage credits include Tartuffe in Kirk Mechem's Tartuffe, the Lecturer in Argento's A Water Bird Talk, Ko-Ko in The Mikado, Marcello in La Bohème, Voltaire in Candide, Guglielmo in Così fan tutte, and Sir Toby Belch in Shakespeare's Twelfth Night. Muriello has concertized in London at The Wigmore Hall and in Moscow at the Moscow Conservatory, as well as throughout the lower forty-eight.
Concert and oratorio solo credits include Mendelssohn's Elijah, Vaughan William's Five Mystical Songs, Orff's Carmina Burana, and the Brahms Requiem. Muriello has performed with several contemporary music festivals, at the Union of Composers Autumn Festival in Moscow, the Banff Centre for the Arts in Canada, at the University of Michigan, the University of Iowa, and James Madison University. He has worked with the Skylight Opera Theatre, Opera Carolina, Lyric Opera Cleveland, L'Opera Français de New York, Ohio Light Opera, Seaside Music Theatre, Cedar Rapids Opera Theatre, and La Gran Scena Opera di New York (as Miss Sylvia Bills, America's most beloved retired diva).
Muriello's directing credits include H.M.S. Pinafore for Cedar Rapids Opera Theatre, and The Fantasticks, She Loves Me and A Little Night Music for the University of Iowa School of Music.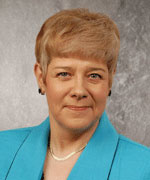 Katherine Eberle
Katherine Eberle is an active and versatile mezzo-soprano soloist. Her career includes a wide array of professional and collegiate engagements in both the United States and abroad. She specializes in oratorio, chamber music, art song, and opera.
In the past 10 years Eberle has performed in more than 45 professional engagements with orchestras, choral organizations, and chamber music groups. Concert credits include solo performances with the symphonies of Detroit, Lansing, and Saginaw (Michigan) and Atlanta, Macon, Rome, and Valdosta (Georgia). She has sung in master class recitals at the 'sHertogenbosch International Vocal competition in the Netherlands, the Carmel Bach Festival, Carmel, California, and the Mozarteum, Salzburg, Austria. In opera, she has performed the roles of Julia Child in Bon Appetit, Joan of Arc in Jehanne de Lorraine, Hansel in Hansel and Gretel, Mrs. Herring in Albert Herring, Dame Quickly in Falstaff, and the Mother in Amahl and the Night Visitors. Eberle has appeared at the Academy of the West Opera, Santa Barbara, California; the Aspen Festival Opera Theatre, Aspen, Colorado; and the Opera de Lille, France.
Eberle made her New York debut at Weill Recital Hall, Carnegie Hall in 1994. She has given over 50 solo recitals as a guest artist in 18 states and in Argentina, Brazil, Ecuador, Korea, Peru, St. John and St. Thomas, Virgin Islands, Trinidad, and Tobago. She served as an Artistic Ambassador for the United States State Department in 1994 and 1995.
Eberle's extensive performing schedule has not deterred her active work as a clinician and master class teacher. Since 1990 she has given 17 college-level master classes in 10 states as well as in Argentina, Korea, Peru, and most recently Brazil. Another 16 high school-level vocal workshops in Iowa have introduced young, aspiring artists to her pedagogical ideas. The past four summers she has given master classes at The University of Iowa All State Music Camp for singers. She also taught three summer sessions for the Evening and Weekend College at The University of Iowa where the focus was on methods of teaching vocal technique, style, diction, and repertoire to high school singers. In 2002 Eberle returned as guest lecturer at the Summer Vocology Institute at the National Center for Voice and Speech at the Denver Center for the Performing Arts.
Ms. Eberle's competitions and vocal awards include honors from the National Association of Teachers of Singing, the National Federation of Music Clubs, the Atlanta Pro-Mozart Society, and the University of Michigan. At The Universities of Georgia and Iowa she was awarded a Lilly Fellow Grant in 1989, and an Instruction Innovation Award in 2002 for her research on teaching with video camera. She was also awarded a Sarah Moss Grant in 1990 for her study of opera and art song at the Academy of the West in Santa Barbara, California.
She was the State President of the National Association of Teachers of Singing from 1998 to 2000, and has adjudicated for the past 20 years at various vocal competitions, including the Metropolitan Opera National Council Auditions.
Eberle has earned degrees from Baldwin-Wallace Conservatory (BME), The University of Cincinnati (MM), and The University of Michigan (DMA), where she studied under Beverly Rinaldi. Her academic expertise has led to invitations to serve as guest voice instructor at the Cleveland Institute of Music, Ohio (1977), and at Chennam University in Kwangju, Korea (1995). She is currently a Professor at The University of Iowa, where she chaired the School of Music Voice Area from 1998 to 2000. Previously she taught at The University of Georgia School of Music for five years, and the Interlochen Center for the Arts Summer Camp for seven years.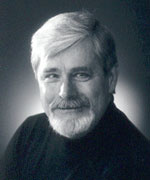 Stephen Swanson
Stephen Swanson is a concert and opera singer, a teacher of singing, and opera stage director. He earned degrees from North Park College and Northwestern University and served a two-year AGMA apprenticeship with the Wolf Trap Company. After an internship at the International Opera Studio of the Zurich Opera, Swanson sang in opera houses in Switzerland, Germany, Austria, and the Netherlands, amassing a repertoire of 91 roles in operas, operettas, and musicals. Since 1994, he has been Professor of Voice at The University of Iowa.
Swanson toured extensively in North America and Europe, singing the title role in Victor Ullmann's Der Kaiser von Atlantis. This historical reconstruction of the original orchestration and vocal score was documented on a compact disc recording produced by Studio Matous and ARBOS, Company for Music and Theater (Austria). He is currently touring with composer/pianist David Gompper presenting their recital Was my brother in the battle? Songs of War, which is available on compact disc from Albany Records.
An extremely versatile performer, Swanson sings works from the Baroque to the avant-garde as well as standard baritone repertoire, such as Brahms' Ein deutsches Requiem, Mendelssohn's Elijah, and his signature piece, Carl Orff's Carmina Burana.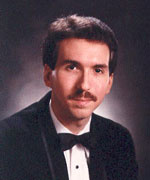 Timothy Stalter
Timothy Stalter is Director of Choral Activities at the University of Iowa where he conducts the premier choral ensemble, Kantorei, The University of Iowa University Choir, teaches graduate advanced conducting, and oversees the graduate program in choral conducting and pedagogy. Prior to coming to the University of Iowa, Dr. Stalter was assistant director of choral activities at the University of Wisconsin—Madison, director of choral activities at the University of Wisconsin—Stevens Point, and assistant professor of music at Goshen College (IN).
He received his doctorate from the University of Wisconsin—Madison in choral conducting under Robert Fountain, his masters from the University of Illinois—Urbana in choral music under Don Moses, and his undergraduate degree in voice performance from Goshen College.
Dr. Stalter is particularly interested in researching issues relating to the teaching of conducting to undergraduate and graduate students, contemporary British choral music, and historical musical performance. He is a frequent guest clinician in the United States and is an active member with the American Choral Directors Association.
In addition to conducting and teaching choral music, Dr. Stalter is active as a tenor soloist in the United States and abroad, specializing in music of the Renaissance, Baroque and Classical periods. He is widely known for his performances as the Evangelist in the Passions of J.S. Bach and Heinrich Schütz. Among his credits are appearances as tenor soloist with the Newfoundland Symphony Orchestra, the North Carolina Symphony, the Robert Shaw Festival Singers in France, the Robert Shaw Chamber Choir in Atlanta, the Classical Music Seminar and Festival in Eisenstadt, Austria, and the Shenandoah Valley Bach Festival. He has also served as the tenor soloist in Haydn's Creation for the International Cathedral Music Festival in Oxford and London, England and as the Evangelist in J.S. Bach's St. John Passion at St. Patrick's Cathedral in Dublin. Dr. Stalter has also recorded as soloist with Robert Shaw on two compact discs (Amazing Grace and Songs of Angels) released on the Telarc label and with Albany Records (Monsterology) as a conductor and soloist of contemporary music.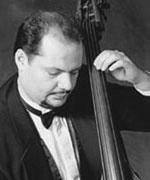 Volkan Orhon
Acclaimed for his musicality and virtuosity, Volkan Orhon has established himself as one of the top double bassists in the world today. He was a finalist and prizewinner in the Concert Artists Guild Solo Competition in New York City, and was the co-first place winner of the International Society of Bassists Solo Competition. Additionally, he distinguished himself as the first double bass player ever to win the grand prize overall and first prize for double bass at the American String Teacher's Association Solo Competition.
Mr. Orhon has performed with internationally recognized musicians including Gary Karr, Fazil Say, and the Emerson String Quartet, and has been a soloist with the Adana and Bursa State Symphony Orchestras (Turkey), the El Paso, Cedar Rapids, and Hartford Symphony Orchestras, The Connecticut Orchestra, Connecticut Virtuosi Chamber Orchestra, and New Britain Symphony. An avid chamber musician, Orhon has been a guest with the Roycroft Chamber Music Festival (NY), the Saint Vincent College Chamber Music Series (PA), and the Arizona Friends of Chamber Music. He has also performed at prestigious festivals including the Montreux, Saint Denis-Paris, Antibes, Montpellier, Istanbul, and Izmir jazz festivals. As an orchestra musician, performed with the Detroit Symphony, Hartford Symphony and Connecticut Opera Orchestras.
As a pedagogue, Mr. Orhon has been an invited clinician to workshops across the U.S. and abroad, including conferences for the Suzuki Association of the Americas and the International Society of Bassists. He has given recitals and master classes at institutions including the Bursa State Conservatory and Eskisehir Anatolian University (Turkey), Arizona State University, University of Michigan, Butler University, and Northwestern University. He has served on the faculties of the University of Connecticut, Central Connecticut State University, University of Massachusetts Amherst, The Hartt School Community Division of the University of Hartford, Kinhaven Music School (VT) and Summer Strings Music Festival in Pocatello, Idaho.
Born and raised in Turkey, Mr. Orhon began playing the double bass at the age of 12, and spent much of his youth touring Europe with the Mediterranean Youth Soloists. After receiving his bachelor's degree from the Ankara State Conservatory under the tutelage of Tahir Sumer, he became a member of the Ankara Presidential Symphony Orchestra. In 1991, Mr. Orhon came to the United States to continue his studies with Gary Karr at The Hartt School of Music, where he earned an Artist Diploma and Master of Music.
Mr. Orhon is currently associate professor of double bass at The University of Iowa and principal double bass in the Cedar Rapids Symphony Orchestra. He is a D'Addario Diamond Performing Artist.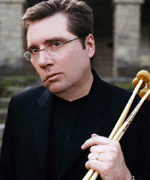 Dan Moore
Dan Moore is an internationally known musician, composer, and educator. He performs throughout the U.S. and in international venues such as the 2007 International Marimba Festival in Chiapas, Mexico; the International Percussion Festival in Patagonia, Argentina (2005, 2006); conservatories in The People's Republic of China (2002, 2006); and in Valletta, capital of the Mediterranean island nation Malta (2007).
Dr. Moore is professor of music and percussion area head at the University of Iowa. As Director of Iowa Percussion, he is responsible for the many elements of the percussion program, which encompasses everything from contemporary chamber music to steel band, from traditional Chinese drumming to other ethnic music, and from concert percussion to improvised and electronic music.
A native Texan, Dr. Moore is a Distinguished Alumnus of Texas A&M University – Commerce, where he studied with Robert Houston and was a student assistant to James Keene. He earned the master's of music education from Wichita State University, studying with J.C. Combs, and the doctor of musical arts degree from The University of Kentucky, studying with James B. Campbell and Ellington scholar Richard Domek.
Dr. Moore is a Yamaha national performing artist, a signature mallet artist for Innovative Percussion, an educational board member for the Latin Percussion Music Group (LP), an artist for Sabian cymbals and Grover tambourines and triangles, and a member of the Zendrum 21st Century Techno-Tribe. He serves on the Board of Directors for the Percussive Arts Society International Organization for Percussionists.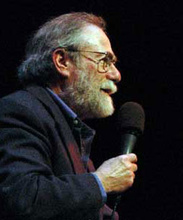 Marvin Bell
Marvin Bell (b. 1937) has been called "an insider who thinks like an outsider," and his writing has been called "ambitious without pretension." He was for many years the Flannery O'Connor Professor of Letters at the Iowa Writers' Workshop. He has taught also for Goddard College, the University of Hawaii, the University of Washington and Portland State University, and served two terms as the state of Iowa's first Poet Laureate. His literary honors include awards from the Academy of American Poets, the American Academy of Arts and Letters and the American Poetry Review, fellowships from the Guggenheim and NEA, and Senior Fulbright appointments to Yugoslavia and Australia. He has collaborated with composers, musicians, dancers and other writers, and is the originator of a form known as the "Dead Man" poem, for which he is both famous and infamous. His 23 books of poetry and essays include three released in 2011: Vertigo: The Living Dead Man Poems; Whiteout, a collaboration with the photographer Nathan Lyons; and a children's picture book with illustrations by Chris Raschka based on the poem, "A Primer about the Flag." He teaches now for the brief-residency MFA based in Oregon at Pacific University, and lives mainly in Iowa City, Iowa, and Port Townsend, Washington.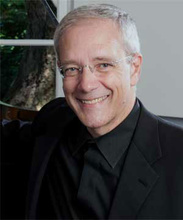 David Gompper
David Gompper (b. 1954) has lived and worked professionally as a pianist, a conductor, and a composer in New York, San Diego, London, Nigeria, Michigan, Texas and Iowa. He studied at the Royal College of Music in London with Jeremy Dale Roberts, Humphrey Searle and Phyllis Sellick. After teaching in Nigeria, he received his doctorate at the University of Michigan, taught at the University of Texas, Arlington, and since 1991 has been Professor of Composition and Director of the Center for New Music at the University of Iowa. In 2002 – 2003 Gompper was in Russia as a Fulbright Scholar, teaching, performing and conducting at the Moscow Conservatory. In 2009 he received an Academy Award from the American Academy of Arts and Letters in New York City.
Gompper's compositions have been performed in such venues as Carnegie and Merkin Halls (New York), Wigmore Hall (London), Konzerthaus (Vienna) and the Bolshoi Hall (Moscow). Wolfgang David and the Royal Philharmonic Orchestra recently recorded his Violin Concerto for a Naxos CD. His song cycle The Animals, based on the poetry of Marvin Bell, will be released on an Albany disc later this spring. Currently he is working on a Double Concerto for violin and cello, the first movement of which will be premiered next week by Wolfgang David, violin, Timothy Gill, cello, and William Jones conducting the UI Orchestra.