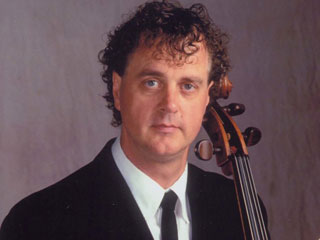 Concert X
Cellist Craig Hultgren
Saturday, February 20, 2016, 7:30 p.m.
Riverside Recital Hall (map)
Program
The Eye of Horus (2011)
Ted MOORE
for solo cello
Sonnet 5 (2002)
James ROMIG
for solo cello
Santa Fe Trail Echoes (Image Music VIII-A) (2001)
Greg A. STEINKE
for solo cello
        Prologue: Round Mound, New Mexico
        On the Trail: Iron Springs Stage Station, Colorado
        Epilogue: Cañoncito, New Mexico
photographs and commentary by Joan Myers
Bleached (2015)
Nima HAMIDI
for solo cello
The Wood Runner for cello & delay pedal (2014)
Jillian L. WHITAKER
for cello & delay pedal
photograph by Masha Sardari
Wondrous Love (2002)
Brooke JOYCE
for cello & tape
Vanishing Perspectives (2005)
Timothy KRAMER
for amplified cello
Improvisation (2016)
Craig HULTGREN
for ecello
Program Notes
The Iowa Composers Forum promotes the creation and performance of new concert music of all styles by composers of all ages. It was founded in March of 1987 in Des Moines by seven composers who wished to create an environment for the performance and dissemination of music composed by Iowans. Over the intervening years, the ICF has presented more than 100 concerts and tour recitals of works by member composers. These concerts have featured the performances of over 800 works of new music, including works by student composers from the elementary, middle, high school and collegiate level. The ICF has commissioned many new works, both unilaterally and in partnership with other organizations such as the Iowa Music Teachers Association and the Iowa Choral Directors Association. The ICF sponsors its own annual student composition competition, open to students studying at the collegiate level and earlier. 
Craig HULTGREN
For several decades, cellist Craig Hultgren has been a fixture on the scenes for new music, the newly creative arts, and the avant-garde. He is originally from Davenport and possesses degrees in cello from the University of Iowa and Indiana University. Hultgren recently left Birmingham after more than 30 years as a member of the Alabama Symphony and now resides outside of Decorah, Iowa as the farmer-cellist. A recipient of two Artist Fellowships from the Alabama State Council on the Arts, he was a member for many years of Thámyris, a contemporary chamber music ensemble in Atlanta. He is a founding member of Luna Nova, a new music ensemble with a large repertoire of performances available as podcast downloads on iTunes. Hultgren is featured in three solo CD recordings including The Electro-Acoustic Cello Book on Living Artist Recordings. For ten years, he produced the Hultgren Solo Cello Works Biennial, an international competition that highlighted the best new compositions for the instrument. He taught at the University of Alabama at Birmingham, the Alabama School of Fine Arts and Birmingham-Southern College where he directed the BSC New Music Ensemble. He is a founding member and former President of the Birmingham Art Music Alliance and was on the Board of Directors of the Metropolitan Youth Orchestras of Birmingham and their Scrollworks program. He is Vice President of the Board of Directors of the Oneota Valley Community Orchestra in Decorah. Hultgren recently performed a 15 Minutes of Fame concert titled Occupy Cello in New York for the Composer's Voice Concert Series. That program featured 15 one-minute solo compositions that challenge the traditional boundaries of the instrument. Last fall, he was the featured performer for the Electronic Music Midwest Festival held at Lewis University outside of Chicago. In March, he will be performing in Weill Hall in the Carnegie Hall Complex. 
Ted MOORE
The Eye of Horus
was conceived after the composer noticed a similarity between the Egyptian myth of Horus and the compositional attitude of postmodern composers. Postmodernists, like Horus, treat history not as something that must be confronted and overcome, but as a valuable way of understanding who we are. Once Horus avenges the murder of his father, Osiris, he descends into the underworld and brings his father back to help rule their domain. Horus gives Osiris his eye, and in so doing, creates dual governance that combines the wisdom of past traditions (Osiris) with a vision and adaptive capacity for the future (Horus). Although The Eye of Horus does not strictly follow this narrative or represent the characters, the non-bluesy motives were inspired by the imagery of the "All Seeing Eye of Horace" and other Egyptian icons. Also, this piece certainly undertakes a postmodern approach by trying to draw connections between different musical styles of different times.
Ted Moore is a composer, sound designer, and music educator living in Minneapolis. His work has been reviewed as "an impressive achievement both artistically and technically" (Jay Gabler, VitaMN), "wonderfully creepy" (Matthew Everett, TC Daily Planet), and "epic" (Rob Hubbard, Pioneer Press). Much of Ted's work focuses on live electronic processing with live performers using the digital signal processing programming language SuperCollider. Moore has also been featured as a sound installation artist by the St. Paul Public Library, TC Make, and notably at the 2014 Northern Spark Festival in Minneapolis. He is one half of Binary Canary, a woodwinds-laptop improvisation duo. As a sound designer, Ted has worked with many independent companies, notably on Savage Umbrella's original productions, Care Enough, Emma Woodhouse is Not a Bitch, Rain Follows the Plow, Leaves, and Rapture. He has taught music in a variety of capacities, including at McNally Smith College of Music (St. Paul), MacPhail Center for Music (Minneapolis), the Walden School's Young Musicians Program (Dublin, NH), and Slam Academy (Minneapolis). Ted is a member of Spitting Image Collective, a composer collective that enriches the contemporary music community of Minneapolis-St. Paul. 
James ROMIG
Sonnet 5
was commissioned by Craig Hultgren. The work combines material from two similar (but not identical) musical strands - one sparse (perceptually slow), and one dense (perceptually fast) - separated into multiple, interwoven segments of varying size. This "cross-cutting" technique results in associative repetitions of small-scale musical iterations. At the beginning of the composition, motives are introduced in the slow sections and imitated later by the fast sections. As the work progresses, and the faster segments of the strand gradually and systematically overtake the slower, the roles reverse: the fast segments now introduce new material, and this material is imitated by the slow.
James Romig endeavors to create music that reflects the intricate complexity of the natural world, where fundamental structures exert influence on both small-scale iteration and large-scale design, obscuring boundaries between form and content. Notable ensemble performers include the JACK Quartet, Talujon, Ensemble Chronophonie, Duo Contour, Helix, the Khasma Duo, New Muse Duo, the Zodiac Trio, Suono Mobile, and the Quad City Symphony Orchestra. Solo performances include recitals by pianists Ashlee Mack and Taka Kigawa, flutists John McMurtery and Harvey Sollberger, violinist Erik Carlson, and numerous others. His music for percussion is especially well known and has received hundreds of performances around the world. His guest-composer visits include Eastman, Buffalo, Cincinnati, Bowling Green, Northwestern, Illinois, and the American Academy in Rome. He has held residencies at Petrified Forest National Park, Grand Canyon National Park, and Copland House. He holds degrees from Rutgers University (PhD, studying with Charles Wuorinen and Milton Babbitt) and the University of Iowa (MM, BM). He has been on faculty at Western Illinois University since 2002. 
Greg A. STEINKE
Santa Fe Trail Echoes
was originally written for a composition recital at Ball State University. It resulted from a perusal of Joan Myer's photography book, Along The Santa Fe Trail. This composition was originally for solo viola and is a way of honoring Myer's photographic work. Violist Michelle La Course premiered the piece on February 22nd, 1992. This revised version for cello was completed in May of 2001.
Greg A Steinke is very active as a composer of chamber and symphonic music, as a speaker on interdisciplinary arts and as an oboe soloist specializing in contemporary music for oboe. He is former Chair of the Departments of Art and Music and former Associate Dean of Undergraduate Studies, at Marylhurst University in Marylhurst, Oregon. He is now retired. He also served as the Associate Director of the Ernest Bloch Music Festival from 1993 to 1997. Steinke holds a B.M. degree from Oberlin Conservatory, a M.M. degree from Michigan State University, a M.F.A. degree from the University of Iowa, and a Ph.D. from Michigan State University. He is the author of articles on new oboe literature and music composition. He currently serves as President of the National Association of Composers/USA. 
Nima HAMIDI
Bleached
According to Schwarzel Mulluer in Dynamic Memory Networks, people often think that memory operates like recording equipment; however, this is not the case. Memories can be constructed when they are encoded and/or recalled. Bleached illustrates the process of memorization. Two contrasting musical ideas refer to two psychological states, which are transformed over time. After a certain point, the concepts distort and dissolve into a neutralized consolidation. Technically, the piece contains unstable timbral qualities, which refer to some Eastern musical elements, aesthetically and aurally.
Nima Hamidi is an Iranian composer, currently pursuing the PhD in music composition at the University of Iowa where he is a teaching assistant in theory and composition. He studied Iranian traditional music, before studying composition. After living as a composer in Tehran until 2011, he moved to the US to discover new elements in composition to enrich his musical language. His music is an attempt to bridge common music ideas between Iranian traditional music and Western contemporary techniques. Nima holds a BS degree in Civil Engineering and a MA in composition. He has studied composition with David Gompper, Lawrence Fritts, Shaheen Farhat, Kambiz Roshanravan and Kiawasch Sahebnasagh. 
Jillian WHITAKER
The Wood Runner
was inspired by a photograph taken by the young photographer Masha Sardari. The image depicts a young girl running through the forest carrying an armful of wood. Her intent and emotions can be left up to the viewer's interpretation, but the photograph has an undeniably haunting quality to it. The delay effect used in this piece combined with the performer's voice and the deep rich sounds of the cello create an atmosphere that help to convey the haunting character of the image. The slow introduction moves suddenly into a more frantic and driving section of the piece as you can see a hurried and nervous look in the young girl's eyes. Finally, after reaching an agitated climax, the piece settles back into the haunting quality of the introduction. The Wood Runner is not meant to tell a specific story, but rather to convey the composer's interpretation of the emotions and thoughts of the young girl in the photograph. The hope is that the audience will draw their own story and image from the piece as they hear it.
Jillian Whitaker is a composer and saxophonist located in Los Angeles, California. She is a recent graduate of the University of Northern Iowa with a BM in Composition/Theory and is currently working alongside film composer Assaf Rinde. Recent world premieres include her work for solo alto saxophone titled like quicksand in Seattle, Washington and the piece Ewoé for solo marimba in Hódmezővásárhely, Hungary. As a film composer, Jillian has written original scores for a number of short films. Recent works include a Batman short released on YouTube, multiple student films, and a book trailer and corresponding documentary. As a saxophonist, she is a former member of the University of Northern Iowa's Wind Symphony as principal of the saxophone section. She co-founded the quartet UNISAX in 2010 and performed with and wrote for the group through 2013. 
Brooke JOYCE
Wondrous Love
The music heard on the tape part of Wondrous Love is taken form the collection Sacred Harp Singing, recorded at the Alabama Sacred Harp convention in 1942 by Alan Lomax and George Pullen Jackson, and released by the Archive of Folk Culture, Library of Congress (AFS L11). The tune "Wondrous Love" continues to be a popular hymn in many American Protestant denominations. The words are attributed to Alexander Means, and the music was arranged by William Walker, though the tune itself is a traditional ballad from the British Isles. This version of the hymn first appeared in The Southern Harmony and Musical Companion, published in 1835.
Brooke Joyce's music has been described as "vividly pictorial" (San Francisco Chronicle) and "exceptionally gripping" (Los Angeles Times) and has been performed by soloists and ensembles around the world, including the Indianapolis Symphony, the Cincinnati Symphony, the St. Petersburg Chamber Philharmonic, the Brentano Quartet, the Nouvel Ensemble Moderne, the Nash Ensemble, and James Gilchrist. In addition to his concert music, Brooke collaborated on several musical theater works with playwright Frederick Gaines, including Unbekannt, a musical based on the life of the famous Anastasia pretender Anna Anderson, and An Imaginary Line, based on the book Into the Wild by Jon Krakauer. A CD of his chamber music, Waves of Stone, was released on Innova Recordings in 2009. Brooke is the recipient of the Joseph Bearns Prize, the Wayne Peterson Prize, the Darius Milhaud Award, and many citations from the National Federation of Music Clubs and ASCAP. He earned degrees in composition from Princeton University, the Cleveland Institute of Music, and Lawrence University. He is the Composer-in-Residence at Luther College and a faculty member at the International Music Festival of the Adriatic. 
Timothy KRAMER
Vanishing Perspectives
was commissioned by Craig Hultgren in 2003 and premiered in 2005. After considering many of the new innovations and recent works written for solo cello, the composer wanted to readdress the cello's more traditional role as a robust and singing baritone instrument, a perspective that was vanishing in much of the new music – especially for an instrument that is tuned in fifths, often plays bass lines, and has such a strong tradition in tonal music. This work is also built on fragments from the composer's earlier piece, Cycles and Myths, and uses the idea of a half-step fall as a strong tonal force that shapes both small and large-scale motion. The amplification and reverberation help add a spatial dimension to the vanishing sounds and gestures.
Timothy Kramer's works have been performed widely throughout the United States and Canada – from Carnegie Hall to college campuses - and in Europe, South America, and Asia. He has received grants from the Guggenheim Foundation, the National Endowment for the Arts, the MacDowell Colony, Meet the Composer, Broadcast Music, Inc., ASCAP, the American Guild of Organists, and the American Music Center among many others. His degrees are from Pacific Lutheran University (B.M.) and the University of Michigan (D.M.A.), where he studied with William Albright, Leslie Bassett, William Bolcom, and George Wilson. He was also a Fulbright Scholar to Detmold, Germany, where he studied with Martin Redel. Originally from the state of Washington, he spent many years as a youth playing bass guitar in jazz and rock ensembles. Kramer often incorporates rhythmic elements of popular music in his works. After teaching at Trinity University in San Antonio for 19 years, he accepted a post in 2010 as Professor of Music and Chair of the Music Department at Illinois College in Jacksonville, Illinois.