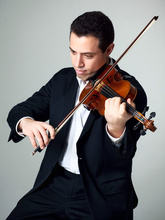 Concert XII 
 
Guest Ari Streisfeld
solo violin recital
Including a world premier work by composer Robert Morris
Saturday, December 10, 2016, 7:30 pm
The University of Iowa, School of Music Concert Hall
 
|| download program ||
Program
Sequenza VIII (1976)
Luciano Berio (1925-2003)
Variations with Aria (2016)
Robert Morris (b.1943)
— Intermission —
Nocturne (1994)
Kaija Saariaho (b. 1952)
Six Caprices (1976)
Salvatore Sciarrino (b. 1947)
Program Notes
This program highlights the incredible expression and immense sonic possibilities of the violin. Bookending the concert are two classics of the contemporary violin repertoire, Luciano Berio's Sequenza VIII and Salvatore Sciarrino's Six Caprices. Both composed in 1976, each of these works is inspired by a different work of the canon.
    Luciano Berio writes, "Sequenza VIII is built around two notes (A and B), which — as in a chaconne — act as a compass in the work's rather diversified and elaborate itinerary, where polyphony is no longer virtual but real, and where the soloist must make the listener constantly aware of the history behind each instrumental gesture. Sequenza VIII, therefore, becomes inevitably a tribute to that musical apex which is the Ciaccona from Johann Sebastian Bach's Partita in D minor, where — historically — past, present and future violin techniques coexist." In contrast, Sciarrino took his inspiration from arguably the greatest violinist ever to live, Niccolo Paganini, and his 24 solo caprices. Like those of Paganini, Sciarrino's caprices push violin technique to new heights and the brink of possibility. However, Sciarrino expands the sonic pallet of the violin with the use of new extended techniques creating a landscape rich in harmonics and virtuosity and presenting new challenges for the performer to master.
    A connection to Bach's Ciaconna also occurs in Robert Morris's Variations with Aria. In this work, Morris presents a set of nine variations with the ninth being an Aria that can be considered the theme for the whole set. In the composer's words, "How does my piece fit in this conception of variations? Well, it is cyclic, but it has the aria (read "theme") at the end, although the opening variation could be heard as a theme in the light of the double and triple stops of the Bach [Ciaconna]."
    Written in 1994 and dedicated to the memory of Polish composer Witold Lutoslawski (who had recently passed away), Kaija Saariaho's Nocturne also makes generous use of harmonics. Unlike Sciarrino's Six Caprices (and the rest of the program), Nocturne isn't overtly virtuosic. Saariaho's music is influenced by spectralism, in which composers explore the individual components of sound. One can hear this not only in her use of harmonics, but in her interest in hearing a single tone shift in timbre from pure to wispy, lush to scratchy. Saariaho uses these compositional techniques with a keen romantic sense. Lush melodies flow out of painful crushed tones, pure harmonies make way for delicate harmonics creating an intense sense of mourning for her friend Lutoslawski.
Violinist Ari Streisfeld has garnered critical acclaim worldwide for his performances of diverse repertoire and has established himself as one of the foremost interpreters of contemporary classical music. Praised for his " dazzling performance" by the New York Times and "scintillating playing" by New York Classical Review, Dr. Streisfeld is a founding member of the world renowned JACK Quartet. Recent season highlights include performances at Wigmore Hall (London), La Salle Pleyel (Paris), Teatro Colon (Argentina), Suntory Hall (Tokyo), Bali Arts Festival (Indonesia), Carriage Works (Sydney, Australia), Venice Biennale (Italy), Carnegie Hall, The Library of Congress, The Morgan Library (New York), the Lucerne Festival (Switzerland), and the Salzburg Festival (Austria). He has collaborated with many of today's most prominent composers including John Luther Adams, Caroline Shaw, Julia Wolfe, Helmut Lachenmann, Matthias Pintscher, Georg Friedrich Haas, Steve Reich, and Salvatore Sciarrino. He has recorded for Mode, Albany, Carrier, Innova, Canteloupe, New Focus, and New World Records.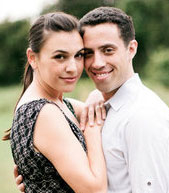 Together with his wife, mezzo-soprano Rachel Calloway, Dr. Streisfeld formed Duo Cortona, a contemporary music ensemble dedicated to the creation of new works for the unique instrumentation of mezzo-soprano and violin. Recent and upcoming performances include the Resonant Bodies Festival, SONiC Festival, The Stone (NY), Contemporary Undercurrents of Song Project (Princeton, NJ), New Music on the Point (VT), The Cortona Sessions for New Music (Italy), and the Baker & Baker Series at the Columbia Museum of Art (SC). He is also a member of Shir Ami, an ensemble dedicated to the performance and preservation of Jewish art music. Dr. Streisfeld frequently collaborates with some of today's leading ensembles, including Ensemble Signal, Worldless Music Orchestra, and Weekend of Chamber Music.
    Hailed as "imaginative" by the Los Angeles Times, Dr. Streisfeld's arrangements of madrigals and motets for string quartet by Machaut and Gesualdo have been performed to acclaim both at home and abroad. A recipient of the Morton Gould Young Composer Award, Dr. Streisfeld most recently premiered his Machaut arrangements for voice and violin at The Stone (New York).
    A passionate and committed music educator, Dr. Streisfeld is currently Assistant Professor of Violin and Violin Pedagogy at the University of South Carolina School of Music and serves on the faculty of the Cortona Sessions for New Music (Italy). He previously taught violin and chamber music at New York's Special Music School, Face the Music, and New Music on the Point.
    Dr. Streisfeld holds degrees from the Eastman School of Music (Bachelor of Music), Northwestern University (Master of Music), and Boston University (Doctor of Musical Arts). His teachers include Zvi Zeitlin, Almita Vamos, and Peter Zazofsky.