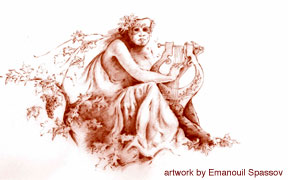 CONCERT I
Saturday, September 24, 2011, 7:30 p.m.
University Capitol Center Recital Hall (map)
Nickolai Kolarov with the Balkanicus Ensemble presents:
BALKANICUS
Contemporary Music from Bulgaria
|| download program ||
Program
"Fragments V" for Clarinet and Cello (1999)
 
Dragomir YOSSIFOV
(b.1966)
 
Patrick O'Keeffe, clarinet
Nickolai Kolarov, cello
 
Trio Sonata (2007)
  In Memory of Lazar Nikolov
        Lento. Allegro
        Adagio e rubato molto. Allegro marcato
        Adagio. Lento
 
Vassil KAZANDJIEV
(b.1934)
 
Patrick O'Keeffe, clarinet
Nickolai Kolarov, cello
Jill Dawe, piano
 
 
— Intermission —
 
Confrontation for Violin and Cello (1976)
        (Instrumental Theatre)
 
Ivan SPASSOV
(1934-1996)
 
Alastair Brown, violin
Nickolai Kolarov, cello
 
Song of the Dolphin for Cello and Vibraphone (2008)
 
Vassil KAZANDJIEV
(1934)
 
Nickolai Kolarov, cello
Fernando Meza, vibraphone
 
"FLU = Feeling Less Unhappy" (1999)
  Miniatures for Clarinet, Violin, Cello and Piano
        Cantando - Giocoso - Unissono
        Jazzy - Danzato - Scherzando
        Rotations - One Note - Evergreen
 
Lubomir DENEV
(b.1951)
 
Patrick O'Keeffe, clarinet
Alastair Brown, violin
Nickolai Kolarov, cello
Jill Dawe, piano
 
Guest Performers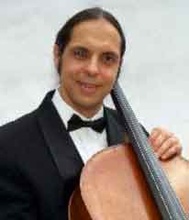 Nickolai Kolarov graduated from the Bulgarian State Academy of Music, Sofia and received his master degree from the University of Missouri, Kansas City. Kolarov earned his doctoral degree from the University of Minnesota where he studied with Tanya Remenikova, student of Mstislav Rostropovich. He also studied with Igor Gavrish from the Moscow Conservatory of Music.
Kolarov is a prizewinner in the Bulgarian National Competition at Provadia in 1988. Since his arrival in the United States he performs with distinguished musicians in both classical and contemporary repertoire in numerous places around the country. Currently based in the Twin Cities, he founded and is the artistic director since 2003 of Balkanicus, the concert series of Balkan contemporary chamber music. Music written especially for him by renowned Albanian composer Aleksander Peci was featured at Balkanicus. Vassil Kazandjiev and Roumen Baliozov are currently working on pieces for the Balkanicus series.
The Bulgarian National Radio, the Bulgarian National TV, 90.1 Kansas City Radio Station, KCTV Channel 9, TPT Channel 17, 99.5, NPR featured some of his performances.
Kolarov delivers lectures on Balkan music in colleges and schools throughout Minnesota and the United States. Recently he was invited and had a lecture-demonstration in the Juilliard School in New York on Bulgarian folk and contemporary art music.
Nickolai Kolarov's article: "The Music for Solo Cello of Simeon Pironkov in the Reflection of His Stylistic Features" was published in 2009. (In: Palieva, Anda, ed. Simeon Pironkov - Tvorcheski Prostranstva (Creative Spaces) Sofia: Mars, 2009) Kolarov is a contributor for the "Bulgarian Folk Music" section and listening tools of Alves, William. 2006. Music of the Peoples of the World. Australia: Thomson Schirmer. He hosts and produces the Balkan Jamboree http://www.kfai.org/balkanjamboree folk music show for KFAI, Fresh Air Radio in the Twin Cities.
Nickolai Kolarov was awarded Metropolitan Regional Arts Council grants for 2010 and 2011. He received the American Composers Forum Encore grant for 2004 and 2006 and Subito grant for 2006. Additionally in 2002 he received the Fine Arts and Humanities Grant from St Thomas University where he was faculty. He has appeared as a conductor and soloist in the Midwest.
Nickolai Kolarov was invited to perform and lecture on the conference of the National Association of Composers (NACUSA), Texas chapter held at Texas State University, San Marcos in February 2008. He also performed at the 2010 Composer Conference of the Aspen Institute.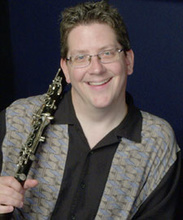 Pat O'Keefe is co-artistic director and woodwind player for the contemporary music ensemble ZEITGEIST, based in St. Paul, Minnesota. An active proponent of contemporary classical music, Pat has performed and recorded with noted new music groups around the country, including SONOR in San Diego, the California E.A.R. Unit, the Cleveland New Music Associates, and Ensemble Sospeso in New York, as well as the San Diego Symphony and the Augusta Symphony in Augusta, Georgia, where he was the principal clarinetist for five seasons.
Beyond his activities in Western classical music, Pat is actively involved in other musical endeavors as well. He is currently a member of the free improvisation group AntiGravity, and has appeared in concert with such notable improvisers as George Lewis, Anthony Davis, Wadada Leo Smith, J.D. Parran, and Fred Frith. He has also studied Turkish music with Turkish Rom clarinetist Selim Sesler, and Brazilian music with master drummer Jorge Alabe. Pat was a percussionist with the Brazilian ensemble Sol e Mar in San Diego, and appears regularly with the groups Brasamba, Batucada do Norte, and Music Mundial in the Twin Cities.
Pat holds a BM (with Performer's Certificate) from Indiana University, an MM (with Academic Honors and Distinction in Performance) from the New England Conservatory, and a DMA from the University of California, San Diego. He is currently the clarinet instructor at the University of Wisconsin-River Falls. He has taught previously at UCSD, Augusta State University, and Georgia College.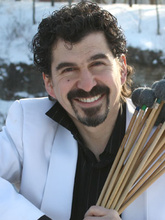 Fernando A. Meza is Chair of Percussion Studies at the University of Minnesota School of Music, a position he has held since 1993 when he was appointed as the first full-time percussion faculty member at the university.
A native of Costa Rica, Meza began musical studies in the Programa Juvenil of the National Symphony Orchestra under Stuart Marrs and later at Carnegie- Mellon University, Baylor University (B.M), and University of Michigan (M.M), where he studied with John Soroka, Larry Vanlandingham, and Michael Udow respectively. He has been a faculty member at The Ohio State University and the University of Costa Rica, and for the Youth Orchestra of the Americas in the summers since 2003.
Formerly principal percussionist/assistant timpanist of the Costa Rica National Symphony Orchestra, Meza maintains a busy performing schedule in the Twin Cities with the Saint Paul Chamber Orchestra and Minnesota Orchestra with whom he has performed in such esteemed venues as Carnegie Hall and Avery Fisher Hall (New York), Musikverein (Vienna), and Berliner Philharmonie (Germany). He has toured and recorded in Latin America, Europe, Japan, Lithuania and the USA with such renowned marimba artists as Keiko Abe and Nebojsa Zivkovic with whom he performs as part of the Jovan Perkussion Projekt. His own recording J.S. Bach: Suites for Unaccompanied Cello - Performed on Marimba by Fernando Meza is distributed through cdbaby.com, iTunes, and other digital music providers.
Meza was the organizer and artistic director/host of the Marimba 2010 International Festival and Conference, the most ambitious project centered around the marimba at an international level to date, bringing together the most recognized artists of this instrument in collaboration with the most prominent artistic performing organizations of the Twin Cities. He was one of the original percussionists for the Broadway production and original-cast recording of Disney's The Lion King and is a performing artist/clinician for Zildjian, Grover ProPercussion, and Yamaha Corporation.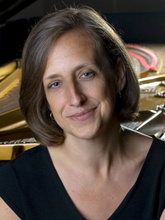 Jill Dawe is a native of Newfoundland, Canada and a graduate of Memorial University of Newfoundland and Eastman School of Music, Rochester, New York. She is currently an associate professor of music at Augsburg College in Minneapolis, Minnesota, and she has also taught on the faculties of Lenoir-Rhyne College in North Carolina; Oberlin Conservatory in Ohio; and at the Chautauqua Institution, Chautauqua, New York.
Combining a career of performing and teaching, Dr. Dawe plays a wide range of chamber, solo, and concerto repertoire. She has a particular affinity for new music and interdisciplinary projects. Upcoming activities include a guest artist residency at the University of Chile, Santiago Chile; a concerto performance with Minneapolis Civic Orchestra; the completion of a solo CD. Dr. Dawe has performed in Canada, the United States and Britain, and recently was a guest artist-in-residence at Escuela Moderna in Santiago, Chile.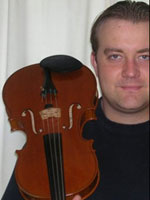 Alastair Brown is an active performer and teacher on both violin and viola, and has performed with the Minnesota Sinfonia for several years. He is a regular substitute with the Minnesota Orchestra, and has also performed with the Minnesota Opera, Saint Paul Chamber Orchestra, Duluth Symphony, the Chamber Orchestra of Philadelphia. He is the violinist for Zeitgeist New Music Ensemble, and is also an artist-in-residence at Muse Salon Concert Series.
As a teacher, he has been on the faculty of the Harbor Conservatory for the Performing Arts in New York, the Minnesota Valley Academy of Music and Arts at River Ridge. He currently serves on the violin/viola faculty of Minnesota Valley Conservatory in addition to teaching privately. Alastair is also apprentice of Master Violinmaker William Bartruff, and is currently making instruments and doing repair work.
Brown earned his Bachelor's and Master of music performance degree from the Brooklyn College Conservatory of Music under Masao Kawasaki and Itzhak Perlman. While in school, he was awarded the Dean Warren Schuyler award for most accomplished violinist. He also studied regularly with the late Dorothy DeLay. He also studies with Helen Foli, Mary West, Lee Keng Kok and Karen Dreyfus.
Program Notes
Dragomir YOSSIFOV
"Fragments V" for Clarinet and Cello
"I composed "Fragments V" during a winter week. I had decided to write from one to three pieces a day, each of them no longer then one score line. I can compare the composition to light clarinet-and-cello scratches on the surface of silence and emptiness. Earlier I was pleased with the briefness of the music. Now I see that I could be even more economical, that the silence and the emptiness could be present even more brilliantly."
Dragomir Yossifov (b.1966) graduated from the State Academy of Music majoring in Conducting under Professor Vasil Arnaudov and Dimitar Manolov. Yossifov's principal teachers in composition are Lazar Nikolov and Bozhidar Spassov. He has also studied with Theo Loevendi and Ton de Leuv (during international workshops) and Anatol Vieru (1995-1996). In 1997 he took part in the summer courses in Reinsberg, Germany where he worked with P. H. Dittrich and Fr. Goldmann. At present, Yossifov is the choirmaster of the Vassil Arnaudov Choir in Rousse, and also works with various orchestras as guest conductor. Yossifov is among the founders of the Bulgarian section of ISCM and curator of the festival "Musica Nova - Sofia". He founded the International Youth Festival Orchestra in Ruse (1996). A conductor, pianist and chorus master, Yossifov staged the world and national premieres of numerous 20th century works.
He composes mainly chamber-instrumental music, making use of vanguard techniques and aesthetics characteristic for the Musica Nova movement. His works have been performed in the USA, the Czech Republic, "Melos/Ethos" (Bratislava, Slovakia), Switzerland, "Musica Contemporanea" (Trieste, Italy), "UltraSchall" (Berlin, Germany), "Musikprotokoll" (Graz, Austria), "Wien modern", Rumania, "Moscow Autumn" (Russia). A piano composition, commissioned by the Berlin Biennale was premiered there in March 1997. Yossifov is the Grand Prix winner of the Third International Choir Competition in Pohlheim, Germany 1998. In the same year he won First Prize of International Composers Competition "Prof. Ivan Spassov".
---
Vassil KAZANDJIEV
Trio for Cello, Clarinet and Piano
"The trio is my tribute, reverence, respect and appreciation to Lazar Nikolov, a great friend and teacher of mine. The piece incorporates dramatic effects, lyricism, melancholy. The cello harmonics I have tried to make reminiscent of his voice - a high falsetto. The work follows the classical sonata form with its three movements, however the parts are joined in one."
Song of the Dolphin for Cello and Vibraphone
"I love the animals very much and always and with great interest have watched them and have admired them.
I was once on a tour with a chamber orchestra from Plovdiv (as a conductor) and we travelled by ship to Spain through the entire Mediterranean. We watched dolphins, which were jumping in ensembles of three or four. The flutist even started playing a melody from Daphnis et Chloe.
I have very often listened to recordings of the sound and communication among the dolphins, as they are the animal closest to the human mind. I decided to write a piece out of respect for that remarkable animal. The cello is the best fitting instrument with rich timbre capacity and great range and it is also the closest to the human voice instrument. The vibraphone creates the needed atmosphere and a background, which resembles the sea water and interacts in a very interesting way with the cello timbres."
Bulgarian Vassil Kazandjiev (b.1934) graduated from the State Academy of Music in 1957 majoring in Composition and Conducting. During the 1960s his compositional style placed him in the vanguard of Bulgarian music. From 1979 to 1993, he was chief conductor of the Bulgarian National Radio Symphony Orchestra. His outstanding conducting has boosted the creative work of many Bulgarian composers and his activities have contributed greatly to the propagation of contemporary music in Bulgaria and the performance of Bulgarian contemporary works abroad. He has composed four symphonies and other works for symphony orchestra, music for chamber ensembles, theatre and film scores, over 20 marches and military songs, transcriptions, and more. Some analysts of his work suggest there are two traits very characteristic of his music, which put him close to the European tendencies of the second part of the 20th century: inspiration coming from the traditional art (and presented by means of stylization, archaism or improvisation) and preoccupation with timbral and coloristic effects.
---
Ivan SPASSOV
Confrontation for Violin and Cello
is a work in which the theatrical and improvisational principles are predominant. The aleatory in the piece brings the freedom of improvisation.
The characteristic irregular rhythmic groups that can be found in the piece define the Bulgarian spirit of this work but it is inconspicuous. The two instruments interact and imitate each other and free aleatoric music meets also with the early polyphony such as retrograded canon.
Bulgarian composer Ivan Spassov (1934-1996) graduated from the State Academy of Music in Sofia in 1957 majoring in Composition under Pancho Vladigerov and Choral Conducting under Georgi Dimitrov. He specialized in composition with Kazimierz Sikorski and Stanislaw Wislocki at the Warsaw Conservatoire (1960-62).
From 1970 to 1991 he was Artistic Director of the Pazardzhik Symphony Orchestra, with which he toured and recorded in Bulgaria and abroad. Since 1989 to the end of his life he served as professor and Rector of the Academy of Music and Dance Art in Plovdiv, Bulgaria. He lectured in the U.S.A. (1982, 1989, 1990). In 1989 he conducted the Symphony Orchestra of Garden Grove (Los Angeles) in New York, where he performed his work 20th Century Mankind, dedicated to the United Nations. He premiered, as a conductor, a number of works by contemporary Bulgarian and foreign composers.
Spassov was a prolific composer with a mono opera and an (unfinished) opera; four symphonies; four concertos; cantatas; orchestral, instrumental, vocal music; choral and solo songs; and music scores to fifty theatre performances and three films. He was among the instigators and leading figures of the vanguard tendencies in modern Bulgarian music. In his works the traditional Bulgarian melody and its rich ornamentation and rhythmical diversity are subject to individual rethinking by means of vanguard techniques such as aleatory, improvisation, etc. His choral songs are well established in the repertoire of the most eminent Bulgarian choral ensembles and are internationally acclaimed. His vocal-orchestral works from 1980s and 1990s are marked by a deeply felt spirituality.
He also authored three books.
---
Lubomir DENEV
"FLU = Feeling Less Unhappy"
"The Miniatures 'FLU,' were composed in 1999 during my stay in a hospital for a hearing-loss treatment. Part of the music came into a dream as a reaction of my suffering, which was the reason to give a name to the work "FLU = Feeling Less Unhappy." Each of the 9 movements lasts less than 1 minute and represents a kind of a germ, consisting potentialities for a further development, like musical-atoms. The name of each part expresses the idea and the musical means: Cantando - a singing melody in the Clarinet; Giocoso - playful phrases; Unissono - all instruments in oneline; Jazzy - like a jazz-improvisation; Danzato - dance; Scherzand - a joke; Rotations - turnover on a chromatic group of notes; One Note - "G" sounds with varying coloring, range and dynamics; Evergreen - the performers sing a very short and simple song on verses, which came in the dream by night."
Lubomir Denev (b. 1951) graduated from the Bulgarian State Academy of Music where he studied Orchestral Conducting under Professor Konstantin Iliev (1979). He also attended the conducting courses of Fr. Ferrara in Sienna, Italy (1980) and Ed. Dawns in Hilversum (Holland) (1981), and also the composition classes of Professor Anatol Vieru in Ruse, Bulgaria (1995). From 1977 to 1986 he was conductor at the State Music Theatre "St. Makedonski," Sofia. Since 1986 he has been a freelance composer and conductor. As a jazz pianist he appeared at international festivals. He wrote five musical plays; works for ballet; symphony orchestra; chamber music; vocal works; theatre and film music; jazz pieces, etc. His music was performed in many European countries, Mexico, Turkey, Egypt, India, Russia, China and Japan and received numerous national and international awards. The musical play "The Law of the Jungle" was performed at the Saint-Denis University Centre in Paris in 1993.
With the performance of his opera "Love's Labors Won" the Chamber Opera of Blagoevgrad inaugurated the New Verdi Theatre in Cairo (1989). Lubomir Denev is member of the Union of Bulgarian Composers and the Society for New Music - Bulgarian section of ISCM. His complete works were registered at the Bulgarian National Radio and Television; some were issued on LPs, cassettes and CDs. In December 2000 the National Television made a film about Denev entitled "Music I Make" (2000).