The 24th annual meeting of the Midwest Graduate Music Consortium showcases original graduate scholarship and performances, seeking to interrogate "Music(s) at the Margins" of graduate study.
 
MGMC 2020 Concert
by The Center for New Music Ensemble
David Gompper, director
Friday, March 6, 2020 at 6:30p in the Concert Hall

View: Post Concert Group Photo      
Program
Quarrel (2019)                                                                                                                                                        YoungJun LEE 
for violin and cello
brunetto (2018)                                                                                                                                                     Baldwin GIANG 
for clarinet quintet
Ripples in Infinity (2017)                                                                                                                           Daniel WHITWORTH 
for chamber ensemble
Quiet Whirlpool (2019)                                                                                                                                       Zhengtong XU 
for 9 performers
Leidenfrost: More Than a Cold Shoulder  (2019)                                                                                  Matt MASON [BIO]
Alexis Letourneau
,
flute
Ana Maria Locke
,
clarinet
Irene Tang
,
horn
Ciarra Krist
,
trumpet
Tom Kelly,
trombone
David Mercedes,
tuba
Anthony Capparelli,
piano
Luciana Hontila
,
violin I
Joshua Palazzolo
,
violin II
Donghee Han
,
viola
Adrian Gomez,
violoncello
Garrett Hilliard,
double bass
Fernanda Lastra,
conductor
Program Notes
YoungJun Lee
Quarrel
Quarrel - When I was writing this piece, I was really interested in the patterns that I found during a quarrel. Between lovers or any two people, arguments or quarrels started with very small topics. When quarreling gets intense, people started yelling each other and becoming absurd. They brought many different topics from the past that are not even related to the topic of quarrel. The more they argue, the more they started not listening to each other. Most of the time, one of the person leaves the conversation because he or she found out that it doesn't make any sense to continue the conversation. This piece doesn't contain specific contents of conversation. Instead, it is more focused on the format or pattern of quarreling.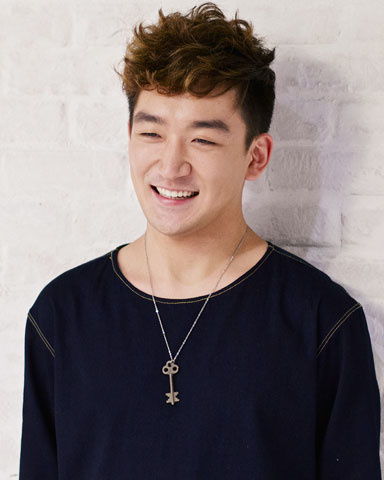 YoungJun Lee is a distinguished composer, pianist, conductor and businessman from South Korea. In 2019, he was awarded Vuk Kulenovic/Memorial Prize from Berklee Composition department for being one of the best composition students. He was also awarded to third prize in the second New Vision Composition Competition in instrumental category in New York. He is nominated as 'THE MOST DISTINGUISHED MUSICIAN' + SPECIAL MENTION in 2019 IBLA Grand Prize. He had an opportunity to participate in the masterclass or private instruction with George Lewis, Helmut Lachenmann, Irvine Arditti, Justin Dello Joio, Olivier Weber, Pierluigi Billone, Reinhard Fuchs, Philippe Leroux, Jan Jirasek, Ofer Ben-Amots, Alla Cohen, Marti Epstein, and Richard Carrick. His music has been premiered or read by renowned musicians such as Brasilia National Theater Orchestra, L'itinerarie (France), William Lang (Loadbang_US), Irvine Arditti (UK), JACK Quartet, PHACE ensemble (Austria) and the New Thread Saxophone Quartet (US). He co-wrote the concerto for electronic instrument for Suzanne Ciani with Richard Carrick. Moreover, he has collaborated with choreographers in Boston Conservatory at Berklee for the Burn- Project (Roaming). His music has been performed and premiered widely in US, as well as Israel, France, Austria, South Korea and Germany. He is currently studying at Berklee College of Music with Professor Andrew List for composition, Genevieve Leclair for conducting and Dennis Leclaire for musicology.
Baldwin Giang
brunetto
brunetto - The allegorical arc of Dante Aligheri's masterwork The Inferno is towards a complete rejection of sin, which Dante achieves by representing famous sinners in Hell from across his account of history, as well as his personal life. As Dante descends further into Hell, so does he show more open contempt for those he encounters. The most notable bend in this trajectory can be found in Canto XV, when Dante encounters the sodomites in the seventh circle. Gazing across a burning hot desert on which Dante's afflicted are punished to walk for eternity without stopping, Dante is approached by a familiar face—Ser Brunetto Latini, his former schoolmaster, mentor, and known homosexual in Florence. Dante bestows upon Latini the most respect given to anyone in Hell, calling him a radiance among men," and remarks on his profound gratitude for Latini's example as a poet, thanking him for teaching him "how man makes himself eternal." Scholars have argued that given his treatment of Latini, the relatively light punishment of sodomites compared to other groups of sinners in a similar depth of Hell, Dante held relatively progressive views toward homosexuality for his time.
     brunetto takes the complex emotional content of this exchange between Dante and Latini as its starting point. Dante shows remarkable tenderness towards his former mentor, yet ultimately still casts him down. Dante pays tribute to Latini and simultaneously immortalizes him in history as someone who deeply violated his religious code. The way Dante finds the familiar and ultimately love for the other in an encounter with a group of people who hold divergent ethical and religious views is a practice that reaches across history to find relevance in our current political situation. Rather than attempting a programmatic depiction of this scene from Dante, brunetto seeks to stage an encounter with the other with similarly nuanced emotional content for the contemporary concert hall.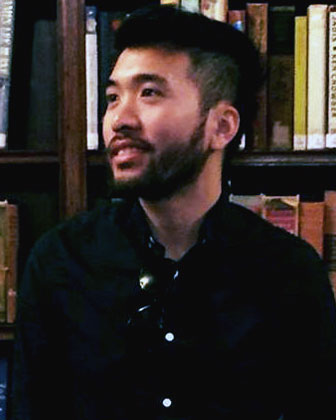 Baldwin Giang (b. 1992) is a Chicago-based composer whose music aims to empower communities of audiences and performers by creating concert experiences that are opportunities for collective wonder and judgment. Described as "taut and cohesive...challenging and rewarding" (Cacophony), Baldwin's music has been performed in venues such as Carnegie Hall, Symphony Center, and Chateau de Fontainebleau. Collaborators have included the Albany Symphony, New York Youth Symphony, Civic Orchestra of Chicago, International Contemporary Ensemble, Argento Ensemble, orkest de ereprijs, Playground Ensemble, Arditti Quartet, JACK quartet, Spektral Quartet, Curtis Symphony Orchestra, Yale Symphony Orchestra, University of Michigan Symphony Orchestra, Indiana University New Music Ensemble, Rage Thormbones, So Much Hot Air, and members of Ensemble Intercontemporain and Ensemble Dal Niente. Among the national and international festivals that have presented his work are: Yale in Norfolk, CULTIVATE at Copland House, June in Buffalo, New Music on the Point, North American Saxophone Association, National Student Electronic Music Event, NUNC!3, 24th Annual Young Composers' Meeting (NL), Valencia International Performance Academy (SP), highSCORE (IT), Festival Contrasti (IT), Ecole d'arts Americains de Fontainebleau (FR), and the Concours International de Piano d'Orléans (FR).
     Baldwin is a graduate of Yale University, earning a B.A. with Honors in both Music and Political Science, and the University of Michigan-Ann Arbor, earning a M.A. as a Regents Fellow. He has been awarded the Fondation Maurice Ravel's Prix Ravel, New York Youth Symphony's First Music Prize, Yale's Beekman Cannon Friends Prize, and the University of Pennsylvania's David Halstead Prize. Baldwin is currently a PhD student and fellow at the University of Chicago, where he is studying with Anthony Cheung and Sam Pluta. His previous teachers have included Bright Sheng, Evan Chambers, Kristin Kuster, Kathryn Alexander, Konrad Kaczmarek, Michael Klingbeil, and Stephen Gorbos.
Daniel Whitworth
Ripples in Infinity
Ripples in Infinity is inspired by the paintings of Lee Krasner, who was an innovative and influential abstract-expressionist painter. She was a brilliant artist, but her career was often compromised by her role as 'supportive wife' to Jackson Pollock, as well as by the male-dominated art world. During her lifetime, Krasner found herself being ignored and devalued despite her invaluable contributions to the abstract-expressionist movement. This piece is a celebration of Krasner and depicts one of her most iconic paintings, Shattered Color. This painting is striking to me because of its seemingly infinite layers – on the surface it's vibrant and colorful, but underneath, there are glimpses of something dark and stormy with an almost unyielding intensity. Contrastingly, the vivid pinks and yellows dancing across the foreground have a whimsical, playful character to them. Ripples in Infinity portrays the splattering of paint onto the canvas and the multitude of different characters that weave in and out of the painting's ostensibly endless texture. It also tells the story of a woman, who like so many others, had to struggle to build the timeless legacy that she deserved.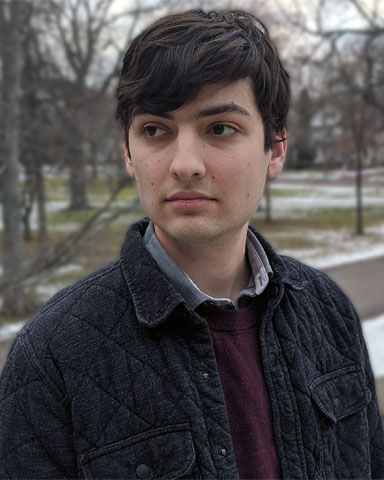 Daniel Whitworth (b. 1996) is an award-winning composer and saxophonist dedicated to expanding the relevance and accessibility of contemporary music. Frequently collaborating with dancers, visual artists, and actors, he aims to connect and engage with audiences in unique ways. One of his most recent projects, a recital entitled "Snapshots of America," explored themes of politics and social justice in contemporary music and reflected Daniel's passion for music with sociopolitical relevance.
     In the summer of 2019, Daniel served as the composer-in-residence at the Lake George Music Festival after his piece Ripples in Infinity won the Lake George Composition Competition. Other recent awards include being selected in the 2019 Verdant Vibes and 2019 What Is Noise Call for Scores and winning first prize in both the 2018 Frost International Composition Competition and the 2018 Wisconsin Alliance for Composers Composition Contest. Daniel's music has been recently performed by groups such as the NOW Ensemble, Verdant Vibes, What Is Noise, Ensemble Ibis, Else If Else, and the Lawrence University Wind Ensemble.
     Daniel is working towards a master's degree from the Jacobs School of Music at Indiana University with a major in both Composition and Scoring for Film and Multimedia.
Zhengtong Xu
Quiet Whirlpool
Quiet Whirlpool - People cannot forecast when a whirlpool will emerge on the surface of the sea. Before it arrives, we do not know how deep or how large the whirlpool will be, even if it looks still and quiet. In this piece, I use several tonal centers with their neighbors to describe the soft water ripples, and change the density of sounds and rhythms to describe how the ripples of water breathe. After some time, water ripples become stronger and stronger. At this point, the music becomes more rhythmic, continuous, and powerful to show the strong water ripples until the climactic arrival of the whirlpool.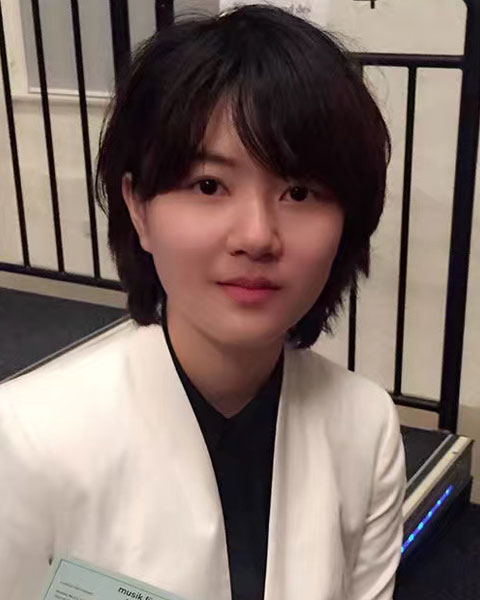 Zhengtong Xu is a Chinese composer. When she was 6 years old, she began to learn the Chinese instrument Pipa and attended Sichuan Conservatory at 12 years old. She changed her major from a performer to a composer in 2011. Now she studies composition in America. She won a number of professional composition prizes, such as the second position at International Composition Competition Lebniz' Harmonies, The 8th China ConTempo Composition Competition Central Conservatory of Music SMCC/ The 2nd. Position, The 10th New Vocal Composition Competition Excellent Prize, among others. Two of her works have been published in China, Sichuan Conservatory of Music. Her works have been performed in various countries, such as Orangerie Herrenhausen Herrenhäuser Straße 3 30149, Germany, Leibniz Tempel im Georgengarten Leibniz Tempel, Germany, the Central Conservatory of Music in Beijing, China, the German Cultural Center-Goethe-Institute in China, and Syracuse University.
Matt Mason
Leidenfrost: More Than a Cold Shoulder
The Leidenfrost Effect occurs when two objects of vastly opposing temperature (one usually molten hot and one a solid or liquid) meet. The moisture instantly evaporates creating a protective field that briefly protects the second object. Leidenfrost: More Than A Cold Shoulder is an imaginative expression of this occurrence, connecting it with the idea of human connection. Often, we present barriers when meeting new people that can often result in conflict (at the most volatile) or a brief period of "warming up" to someone (at the least volatile). This work mixes the scientific and the human through the integration of extended techniques and peculiar sounds into a more traditional pitch-centric landscape, where volatility and dissonance must temper into warmer, mellowed consonance. As well, the idea of warming up is shown through the progressive slowing of the piece through a large-scale proportional ritardando, achieved through meter and tempo.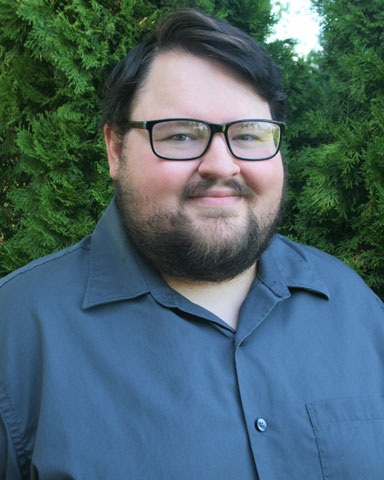 Matt Mason (b. 1994) is a composer and pianist from Illinois, currently pursuing a Ph.D in Composition and Theory at the University of Iowa. He holds a Master of Music in Piano Performance and Music Composition from Butler University. His compositions represent an intersection of poetry, theater, and music creating a psychogramm where melodic, harmonic, and intervallic elements are dictated by tense constellations and brooding undertones. These oft- serious elements sharply contrast Matt's often effervescent personality.
---