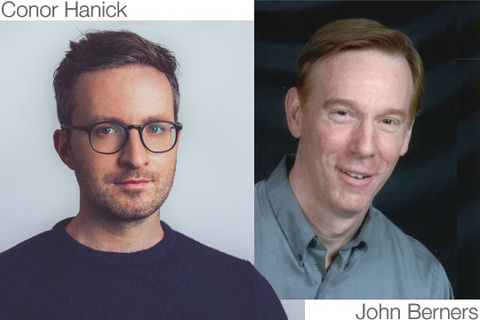 The Center for New Music hosts
Guests
Pianist, Conor Hanick
Composer, John Berners
Sunday, February 25, 2018 at 7:30 in the Concert Hall
Program
Nine Duos for two violins  [2016]
   1. Dalmatia
   2. Mosaic
   5. Invention
   6. Le Mans
   7. Song
   9. Danza

John BERNERS

(b. 1983)
Scott Conklin and Katie Wolfe, violins
14 Fragmente aus "Rückblick." Altes und Neues für vier Spieler
 Hommage à Stockhausen [1993]

György KURTÁG
John Kenneth Gorder, trumpet
Will Yager, double bass
Jessica Monnier and Trevor Magness, keyboards
Intermission
Piano Concerto    
 I. Vivace molto ritmico e preciso
 II. Lento e deserto
 III. Vivace cantabile
 IV. Allegro risoluto, molto ritmico
 V. Presto luminoso, fluido, constante, sempre molto ritmico

G. LIGETI
Conor Hanick, piano solo
Daniela Volkovinsky, flute
Matthew Goulding, oboe
Mauricio Silva, clarinet
Alex Widstrand, bassoon
Katelyn Halbert, horn
John Kenneth Gorder, trumpet
Robert Parker, trombone
Peter Naughton and Travis Newman, percussion
Yixue Zhang, violin I
Joshua Palazzolo, violin II
Therese Slatter, viola
Hui-Hsuan Su, violoncello
Rebeca Furtado, double bass
David Gompper, conductor
Performer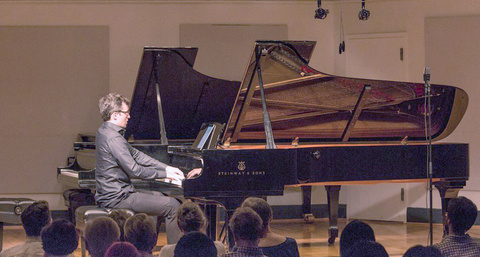 Conor Hanick performing at the International Keyboard Institute and Festival at Mannes College the New School for Music.

Conor Hanick is a pianist that "defies human description" for some (Concerto Net) and recalls "a young Peter Serkin" for others (The New York Times). He has performed to acclaim throughout the world with some of the leading ensembles, instrumentalists, and conductors, and worked with composers as diverse as Charles Wuorinen and Caroline Shaw. Hanick recently appeared with The Juilliard Orchestra in Milton Babbitt's Second Piano Concerto at Alice Tully Hall; the Alabama Symphony Orchestra in the premiere of Matthew Aucoin's Piano Concerto; and Alan Gilbert in György Ligeti's Piano Concerto for the New York Philharmonic Biennial. This season he performs concertos, recitals, and chamber music in New York, Boston, Sarasota, San Francisco, Portland, Albuquerque, Chicago and elsewhere; collaborates with cellist Jay Campbell, violinist Augustin Hadelich, and members of the San Francisco Symphony; and joins The Knights, the Boston Modern Orchestra Project, and the University of Iowa Center for New Music. A recent finalist for the Andrew Wolf Chamber Music Award, Mr. Hanick is a graduate of Northwestern University and The Juilliard School.
Program Notes
John Berners
Nine Duos for two violins
Compositions for two violins often take the form of a set of miniatures. Maybe that's because pairs of violinists seem to like a book of duos they can choose from, like the classic collections by Bartók and Berio. This eclectic set of nine ranges from Balkan-ish folk-like music to the whine of racing cars, as described below. These duos were commissioned by the Walla Walla Chamber Music Society, supported by John Jamison and Kathy Wildermuth, for its premiere in June 2016.
 
1. Dalmatia. A coastal region of Croatia and home of an unusual folk music, whose melodies feature very small intervals, intricately wound together. 2. Mosaic. Musical phrases interlock in changing patterns.
5. Invention. Bartók was inspired by Bach's inventions and I was inspired by Bartók's.
6. Le Mans. In which violins make racing car sounds.
7. Song. Two violins trade phrases over folksy strumming.
9. Dance. The same material is worked over and over, as the dance character transforms.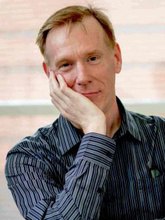 Called "vivid" and "cheeky" by the Indianapolis Star, and "near madness" by Indianapolis Nuvo Weekly, The music of John Berners has been performed by the Detroit Symphony, the Virginia Symphony, Kiev Philharmonic, Indianapolis Chamber Orchestra, Boston Symphony Brass, the Ronen Ensemble, Brave New Works, Ensemble SurPlus, Xanthos, and many university ensembles. His works have been featured at festivals like Tanglewood, June in Buffalo, Music X, Denison University Tutti, and the Missouri New Music Festival.
      Honors include the Gold Medal in Song in the 2014 Boston Metro Opera International Composers Competition, winning the Concerto Competition of the Symposium Franco-Européen de la Trompette, nomination by the American Academy of Arts and Letters for a Charles Ives Fellowship and a "Meet the Composer" grant. He has won ASCAP concert music awards annually and received a Rackham Predoctoral Fellowship and Humanities Fellowship from the University of Michigan.
      Recent commissions have come from the Walla Walla Chamber Music Festival, Indianapolis Chamber Orchestra, the Ronen Ensemble and the Indiana Music Teachers Association.
      After earning degrees in music and mathematics from Northwestern University, Berners studied composition privately with C. Curtis-Smith and went on to an M.M. and Ph.D. at Michigan studying under Evan Chambers, William Albright, Bright Sheng, Michael Daugherty and William Bolcom.
      An enthusiastic teacher, Berners is Professor of Music at the University of Indianapolis. He has served on the faculties of the University of Iowa, American University in Washington, DC, the Colburn School in Los Angeles, California State University at Fullerton, Kalamazoo College and Interlochen Arts Camp. Dr. Berners and his wife, flutist Tamara Thweatt, live in Greenwood, Indiana, with their two children, Carlynn and Benji.
György Kurtág
14 Fragmente aus "Rückblick." Altes und Neues für vier Spieler
II. Drei Pilinszky-Lieder:
      1. Alcohol
      2. In memoriam F. M. Dostojewski
      3. Hölderlin
VIII. Elf Fragmente aus: "Die Spüche des Péter Bornemisza"
      1. Sünde
      2. Der Geist ist freies Wildtier
      3. Der Teufel plagt dich…
      4. Breiig wird der Schnee…
      5. Wie im Troge die Stinte
      6. O Mensch, bewein dein Sünde groß
      7. Die Worte hämmern…
      8. Blumen die Menschen
      9. Es rafft dich der Tod
      10. Der Glaube
      11. Summa der Sprüche des P. B.
Rückblick (1993) "of old and new for four instrumentalists", with a tribute to Stockhausen, is a work that spans 1 hour and 17 mins. Tonight's performance, a 21-minute version edited by the publisher (Universal), is comprised of 14 fragments taken from two of the nine original sections. The two sections are based on previously written works: II. Drei Pilinszky-Lieder written in 1986 as op. 11a for baritone and piano, and VIII. Elf Fragmente from The Sayings of Peter Bornemisza, for soprano and piano, op. 7. János Pilinszky (1921-1981) was a Hungarian poet active throughout the cold war, and Peter Bornemisza (1535-1584) was a Hungarian Lutheran bishop whose brief texts from sermons serve up the imagery for each of the movements.
György Ligeti
Piano Concerto
Ligeti's Piano Concerto was composed in two stages: the first three movements were premiered in 1968 but Ligeti subsequently expanded the work to five movements, premiered in their entirety in 1988. The composer was working on the first two books of his famous Études pour piano around this time, and the superimposed African rhythms, shifting accents and changing tempos so characteristic of those pieces can be heard too in the concerto. The concerto also notably uses some unusual instruments, including a slide whistle and ocarina.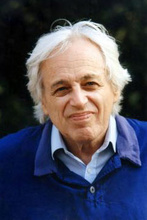 György Ligeti was one of the most important avant-garde composers in the latter half of the twentieth century. He stood with Boulez, Berio, Stockhausen, and Cage as one of the most innovative and influential among progressive figures of his time. His early works show the influence of Bartók and Kodály, and like them, he studied folk music and made transcriptions from folk material. In Apparitions (1958-1959) and Atmosphères (1961), he developed a style forged from chromatic cluster chords that are devoid of conventional melody, pitch and rhythm, but instead grow into timbres and textures that yield new sonic possibilities. The composer referred to this method as "micropolyphony." In Aventures (1962), Ligeti devised a vocal technique in which the singers are required to make a full range of vocalizations, cries and nonsense noises to fashion a kind of imaginary, non-specific drama, but with rather specifically expressed emotions. Ligeti was almost alone among progressive composers from the latter twentieth century who have written popular and widely performed music.
---