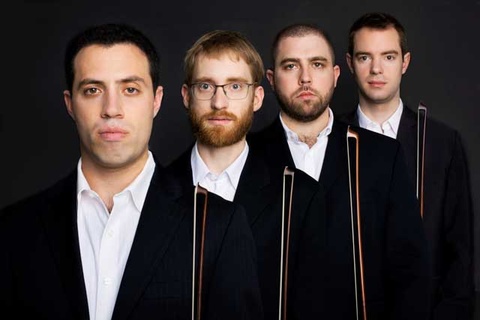 Concert VI
The JACK Quartet
performing works by guest composer and artist Caroline Shaw
with works by John Zorn and Elliott Sharp
 
Saturday, December 5, 2015, 7:30 p.m.
Riverside Recital Hall (map)
Program
Ritornello 2.sq.2.j (2014)
Caroline SHAW (b. 1982)
Ritornello is a long-term project, begun in 2008 with a minor obsession with the Prologue of Monteverdi's Orfeo and the baroque ritornello aria form. The first real iteration of Ritornello came about through a two-week residency with Opera Cabal in Chicago, in January 2012, during which I performed a 20-minute solo with film and a few theatrical accessories. For two performances in October 2013 I expanded the film to 30 minutes and wrote parallel scores, one for 8 voices (Roomful of Teeth) and one for string quartet (ACME). This performance is an abbreviated (15') version for quartet alone. Future iterations in different configurations are planned for 2015, with planned revisions to the film. It's hard to explain all of the little notions that fuel Ritornello. I suppose one could say it's my own exploration of the idea of the refrain. It is also about memory, simplicity, forgetting, functional harmony (as one friend said, "that piece is all like V-I-V-I-V"), the strangeness of familiarity, as well as Rip Van Winkle, Nietzsche, Terrence Malick, and a small pile of other things. It's also, as implied by the name, a musical project that I find myself returning to again and again. It's not a fixed piece, no one commissioned it, and nobody really knows what it is yet. I'm looking forward to living with some of this material for a very long time. Many thanks to the JACK Quartet for playing this ".j" version of Ritornello 2.sq.2.
—Caroline Shaw
Remedy of Fortune (2014)
John ZORN (b. 1953)
The Remedy of Fortune was composed for JACK Quartet to premiere at The Cloisters Museum of the Metropolitan Museum of Art on May 30, 2015.
Caroline Shaw
I wrote this set of songs to play with some very good friends of mine one spring. They're settings of lyrics from traditional gospel and bluegrass songs, but with a new melody (except for the occasional hint of the original) that follows conventions of both old time singing and medieval plainchant.
—Caroline Shaw
Tranzience (2014)
Elliott SHARP (b. 1951)
The transient, the short burst of harmonics and noise at the beginning of any sound, reveals much to the listener about the nature of what is being heard. Ephemeral and often below the threshhold of perception, it carries a disproportionate amount of information. A transient attack may be slowed down vastly so that a few milliseconds stretched out to 30 minutes reveals landscapes, textures, and rhythms unheard and unpredicted in the original sound. I first came upon this phenomenon in 1985 when exploring digital sampling in its early days and it became an important compositional tool for me. Rather than an actual sound slowed and transcribed, Tranzience is an imagined manifestation of this action. To create some of the sounds required, I fashioned "tube bows" from aluminum conduit with aperiodic grooves carved into one side and the other left smoothly polished. Tranzience also considers the evanescence of events once scale is adjusted much as the recalibration of duration may reveal a universe in the briefest of signals. Tranzience was composed in 2014 will be recorded by JACK for my upcoming eponymous album for New World Records.
—Elliott Sharp - Berlin - Nov. 2015
Performers
The JACK Quartet

Called "wholesome-looking" by the New York Times, violist
John Pickford Richards
has gained a reputation for performing new and unusual music. Before playing in JACK, he was a founding member of the ensemble Alarm Will Sound, allowing him to work closely with composers such as John Adams, Meredith Monk, and Steve Reich at venues such as Carnegie Hall, Lincoln Center, and the Holland Festival. John has appeared with bands such as the All-American Rejects, Silversun Pickups, and Grizzly Bear and has performed as soloist with the Pasadena Symphony, Armenian Philharmonic, Wordless Music Orchestra, Ossia New Music, and with the Lucerne Festival Academy Orchestra playing the solo part to Luciano Berio's Chemins II under the direction of Pierre Boulez. He holds degrees from the Interlochen Arts Academy and Eastman School of Music where his primary teachers were David Holland and John Graham.
Praised for his "dazzling performance" by the New York Times, violinist Ari Streisfeld has quickly established himself as a leader in contemporary classical music. In addition to his work with JACK, he frequently performs with today's leading contemporary music ensembles, including Ensemble Signal and Worldless Music Orchestra. Mr. Streisfeld is also a member of Shir Ami, an ensemble dedicated to the performance and preservation of Jewish art music. Hailed as "imaginative" by the Los Angeles Times, Mr. Streisfeld's arrangements of madrigals and motets for string quartet by Machaut and Gesualdo have been performed to acclaim both at home and abroad. A recipient of the Morton Gould Young Composer Award, Mr. Streisfeld most recently premiered his arrangements for voice and violin at The Stone (New York) and the Cortona Sessions for New Music (Italy) alongside critically acclaimed mezzo-soprano Rachel Calloway. A passionate and committed music educator, Mr. Streisfeld serves on the faculty of New York's Special Music School, Face the Music, and the Cortona Sessions for New Music (Italy). As a soloist, he has performed with the Kennett Symphony Orchestra and the Northwestern Philharmonia. Mr. Streisfeld performed the Berg Violin Concerto with the Boston University Symphony Orchestra as winner of the 2006 Boston University Concerto Competition. Mr. Streisfeld attended the Eastman School of Music (Bachelor of Music), Northwestern University (Master of Music), and Boston University (Doctor of Musical Arts). He has recorded for Mode, Albany, Carrier, Innova, Canteloupe, and New World Records.
Christopher Otto studied composition at the Eastman School of Music with Martin Bresnick, David Liptak, and Robert Morris. As a violinist, Christopher has premiered many compositions and worked with such composers as Harrison Birtwistle, Pierre Boulez, Helmut Lachenmann, and Steve Reich. Christopher has participated as composer and performer in such contemporary music festivals as the Lucerne Festival Academy, Internationale Musikinstitut Darmstadt, Karlheinz Stockhausen Courses, Institute and Festival for Contemporary Performance at the Mannes College of Music, June in Buffalo, and Festival Internacional de Música Contemporánea de Michoacán.
Kevin McFarland is a member of Ensemble Signal and has made guest appearances with Alarm Will Sound, the International Contemporary Ensemble, and the Wordless Music Orchestra. He also composes, with recent performances by mezzo-soprano Abby Fischer as part of her ABSYNTH project and by Hutchins Consort East with whom he also plays the tenor violin. He sometimes distributes electronic music under various monikers which are only quasi-secret. He is also active as a solo artist, both as interpreter of new works for solo cello as well as improviser. He made his solo cello and electronics debut at The Stone in 2014. Kevin holds a Bachelor's Degree from the Eastman School of Music, where he studied cello with Steven Doane and composition with David Liptak, Robert Morris, and Ricardo Zohn-Muldoon. His article "Second-Generation Interpretation of Xenakis' String Quartets" can be found in Performing Xenakis published by Pendragon Press. He currently calls three places home: Brooklyn, NY is his home base; Lancaster, PA is his hometown; and Denver, CO is his home away from home with his partner and two dogs.
Trained primarily as a violinist from an early age in North Carolina,
Caroline Shaw
is a Grammy-winning singer in Roomful of Teeth and in 2013 became the youngest ever winner of the Pulitzer Prize for Music, for her enigmatic composition Partita for 8 Voices (also nominated for a Grammy for Best Classical Composition). She will make her solo violin debut in 2015 with the Cincinnati Symphony. She is the inaugural musician in residence at Dumbarton Oaks in the fall of 2014, and she will be the Composer in Residence for two years with Vancouver's Music on Main. Caroline has also performed with ACME (American Contemporary Music Ensemble), the Trinity Wall Street Choir, Alarm Will Sound, the Mark Morris Dance Group Ensemble, the Knights, Victoire, the Yehudim, and many others.