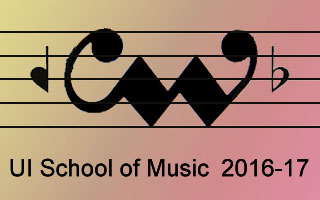 Concert XIII
Composers' Workshop II
Carlos Cotallo Solares, Research Asst.
The second concert in Season 51 of UI composers' recent works
Sunday, December 11, 2016, 7:30 p.m. at the Concert Hall
|| download program ||

Program
Lachlan Baita, electric guitar
Sasha Burdin, keyboard
Marco Cacho, bass guitar
Peter Stoltz, drum set
The piece is an exploration of changing patterns and ideas which rotate around a central theme.
1 like a storm on the horizon
2 like a playful summer evening
3 like a deep sea documentary
Dr. Benjamin Coelho, bassoon
Bluespace is a meditation on three separate scenes, all tinged the color blue.
LOUi (Laptop Orchestra University of Iowa):
Nima Hamidi, voice & granuLOUi
Jin Won Kim, piano & granuLOUi
Joseph Norman, electric guitar & timbralizer
Edward Pudlo, clarinet & laptop
Jonathan Wilson, electric music box & enchantment machine
LOUi (Laptop Orchestra University of Iowa):
Joseph Norman, electric guitar and laptop
Jonathan Wilson, alto saxophone and laptop
Jin Won Kim, piano and laptop
Edward Pudlo, laptop
Nima Hamidi, conductor
Insertion/Extraction is an exploration of the dichotomy between gesture and texture. These features, which are posed in oppositional relationships, also exhibit a surface contrast of frequency and noise. Those elements, further delineate the separation of the fundamental structural components that form this piece. Moreover, the acoustic sounds are simultaneously framed by live generated electronics sound that provides a monolithic universe in which their conflict can unfold and augmented through transformative live processing.
Zachery Meier, flute
Liz Fleissner, oboe
Christine Burke, bass clarinet
Keegan Hockett, bassoon
Bo Atlas, tuba
Alex Widstrand, piano
Carlos Cotallo Solares, electric guitar
Jenna Ferdon, violin
For 5+ Performers (2016) was written out of an interest to hear fused sounds without specifying instrumentation or sound type. The final line of the score reads, "The purpose of the piece is for the performers to create spaces that will allow others to enter."