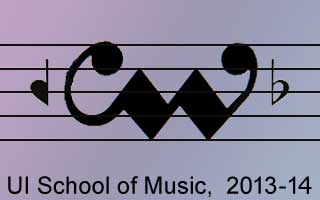 CONCERTS VIII–IX
Thursday, November 14, 2013, 7:30 p.m.
Riverside Recital Hall (map)
Composers Workshop
Saturday, November 16, University of Michigan
Composers on Tour
|| download program ||
Program
Wraith
 
Jonah ELROD
 
Michael Penick, baritone
Casey Rafn, piano
 
Contrast, for woodwind quintet
 
Justin COMER
 
Emily Duncan, flute
Allison Offerman, oboe
Thiago Ancelmo de Souza, clarinet
Fabio Benites, bassoon
Christopher Hunter, horn
 
Three Monologues about the Same Thing, for string quartet
 
Will HUFF
 
Andrew Gentzsch, violin
Rebecca Malina, violin
Manuel Tábora Deras, viola
Tom Maples, violoncello
 
iaetre, for oboe, clarinet and alto sax
 
Daniel FRANTZ
 
Allison Offerman, oboe
Lisa Wissenberg, clarinet
James Skretta, saxophone
 
String Quartet No. 2 (first movement)
 
Leonid IOGANSEN
 
Rebecca Malina, violin
Andrew Gentzsch, violin
Manuel Tábora Deras, viola
Tom Maples, violoncello
 
Uroboros, for solo clarinet
 
Brian PENKROT
 
Thiago Ancelmo de Souza, clarinet
 
Frozen Moments
 
Nima HAMIDI
 
Emily Duncan, flute
Lisa Wissenberg, clarinet
Andrew Gentzsch, violin
Tom Maples, cello
Casey Rafn, piano
 
not in vain, for solo viola
 
Jason PALAMARA
 
Manuel Tábora Deras, viola
 
Fingerprint Skin Graft
 
Joshua MARQUEZ
 
Emily Duncan, flute
Thiago Ancelmo de Souza, clarinet
Rebecca Malina, violin
Tom Maples, cello
Casey Rafn, piano
 
Program Notes
Jonah ELROD
Wraith
was composed for the 24 + 24 concert, a project organized at the University of Iowa where composers write a new work in 24 hours, and performers are given 24 hours to rehearse the new work before it is to be performed. The text comes from the poem, Wraith, written by Edna St. Vincent Millay.
Jonah Elrod is a composer and music educator originally from Phoenix, AZ. He is currently a graduate student at the University of Iowa, studying music composition under Dr. Lawrence Fritts. During the previous five years, he was a graduate student at the University of New Mexico, where he studied music composition with Christopher Shultis, Richard Hermann, Karola Obermüller, Peter Gilbert, and José-Luis Hurtado. In 2011 he participated as an arranger in the Hey, Mozart! concert festival in Albuquerque, and in 2012 he wrote the film score for a short student film, Contingency.
---
Justin COMER
Contrast, for wind quintet
as the title suggests, is all about levels of contrast. In the opening section, accented fortissimo notes pop out of the repeating quarter note texture. As the repeating quarter notes rise dynamically, the accented notes have less of a dynamic advantage and instead have to find contrast through harder articulation. The distinct sounds of the instruments in the ensemble also play a role; they can either blend together as a unit or exaggerate their unique timbres and stand out from one another.
Justin Comer graduated in 2012 from Coe College with a B.M. in Composition and Saxophone Performance. He is currently pursuing his M.A. at the University of Iowa. His composition teachers have included Joseph Dangerfield and David Gompper.
---
Will HUFF
Three Monologues about the Same Thing
A monologue gives a character a moment to speak his or her thoughts and feelings aloud to an audience. It struck me that writing music and its performance, in a general way, is similar to delivering monologues in theater. Here are three monologues delivered by the character of the string quartet. Like many monologues before these three, the character is addressing himself and the circumstance he finds himself in as much as he is the audience.
Will Huff's music draws from as divergent sources as American and European minimalism to gamelan to indie rock. Recent focus has been devoted to collaboration where he has enjoyed interdisciplinary work with choreographers and playwrights. He has participated in ensembles devoted to new music including the JCFA Composer's Orchestra, Ensemble 48, the Outside Orchestra based out of Indianapolis and Bricklayer's Foundation in Chicago. Will Huff is currently pursuing a doctorate at the University of Iowa where he holds a TA in Theory/Composition as well as associate director to the Electronic Music Studios directed by Lawrence Fritts. His composition teachers include Robert Mueller, Frank Felice, Michael Schelle, Lawrence Fritts, and David Gompper.
---
Daniel FRANTZ
iaetre, for oboe, clarinet and alto saxophone
The piece is in a simple entropic form. Localized motions from order to disorder are interrupted, each time with less and less sustaining power given to the renewed efforts at ordering. The conclusion is deliberately inconclusive. The raw material of the piece was created using several arithmetic and cyclic algorithms; the overarching compositional goal then was to confound, reorient, or synthesize the insular unity of each set of output.
Daniel Frantz received his BM in music composition and electronic music from the University of South Florida. There he studied with Paul Reller and Michael Timpson. He was awarded the Patrick Keim Memorial scholarship for composition in 2007, and received a talent grant for clarinet performance.
He is currently pursuing his MA in composition at the University of Iowa. His recent work explores the applications and implications of algorithms, and the use of computer software such as PureData in the realization of compositions.
---
Leonid IOGANSEN
String Quartet No. 2 (first movement)
Quickly paced sul ponticello passages in all four string parts, with frequent sforzzandos interrupting the flow of sound, aim to create an effect of spinning and swishing, as if caught in a turmoil of a storm. As the movement develops, the hissing of sul pont disappears and the sound becomes more normal clear, at the same time reaching the climax of the work. The special techniques bring out multiple layers of overtones, which interact and enhance each other.
Leonid Iogansen, born in St. Petersburg Russia in 1981, has received various commissions, most notably in 2006, from Shuang Yin International Music Festival, which has commissioned him a total of an hour of music for various ensembles. Leonid holds a Summa cum laude Bachelors of Music in violin and composition from Boston University, where he was a Trustee Scholar in 2001-2003, and a Masters degree with the same majors from Peabody Conservatory. Leonid is currently pursuing PhD in Composition at the University of Iowa as a student of Prof. David Gompper.
---
Brian PENKROT
Uroboros
is an ancient symbol, depicting a dragon eating its own tail – a fitting analogy of a clarinet player. To convey this particular image, each line roughly follows a contour that begins where it ended. At several points, the pitch becomes unhinged from the melodic stream. These dragon-like shrieks contrast the reflective character of the rest of the piece. Uroboros was written for Thiago de Souza in 2013.
Brian Penkrot's music has been performed throughout the US, Asia, and Europe, including the La Pietra Forum and the SCI National Conference. Brian has attended numerous festivals and has had works performed by ensembles including ICE and ECCE. He is pursuing his PhD at the University of Iowa, where he studies with David Gompper. Brian is the SCI Iowa chapter president and teaches at the University of Iowa, Kirkwood Community College, and the Preucil School. He received his MM from UNLV and BM from Columbia College Chicago. Audio samples and a full list of works can be found at www.brianpenkrot.com.
---
Nima HAMIDI
Frozen moments
As a composer the process of composing is the first decision I have to make. Frozen moments is the result of minutes or maybe hours of improvising and taking the most interesting or some time the least but the most unusual ones and using them as compositional elements in this piece. The name comes from the same idea. "Frozen moments" reflects the framed moments of the time that I was in process of composing the piece.
Nima Hamidi lived as a composer in Tehran until 2011. Before studying composition in Iran he studied the Setar, an Iranian traditional instrument. Currently he is second year in the PhD program in composition at the University of Iowa. His music is an attempt to discover relation between Iranian traditional music and Western contemporary techniques in composition. He has been studying composition with Lawrence Fritts and David Gompper during his studies in USA.
---
Jason PALAMARA
not in vain, for solo viola
Almost everyone agrees that there are some words that you should never say. This seems to be a universal rule. Yet, we often violently disagree on which words these are. It also seems that in any society, these words may change from day to day, from year to year, and most infuriatingly, from person to person. Thus there are many unthinkable, unsayable words. More than most other things, this tells us where our idols, our truest beliefs lie. Doubtless there is a word you can think of that enrages you whenever it is uttered in your presence. And yet, how many times a day do you imagine you actually say the words that enrage your neighbor? This piece reflects my desire to put on display not the word itself, but our reaction to it. not in vain was written for violist Manuel Tábora as part of the University of Iowa's 24+24 Hour Composition Project, where composers are given a specific performer or ensemble and must compose a piece for them in less than 24 hours. The performer then must perform the piece 24 hours later. Manuel's exuberant playing style and exacting virtuosity was a major influence on the writing of the piece.
Jason Palamara is a third year PhD student in music composition at the University of Iowa. He is an active performer on the violin and laptop and was a founding member of the Bonecrusher Ensemble of Louisville, KY and the 24+24 Hour Composition Project in Iowa City, IA. Jason currently works as audio engineer and composer for the University Of Iowa Department Of Dance. Specializing in electroacoustic music, collaboration, improvisation and audience engagement, Jason also composes music for many dance department projects.
---
Joshua MARQUEZ
Fingerprint Skin Graft, for flute, clarinet, violin, cello, piano
A skin graft is a type of surgery where skin is transplanted from one section of a patient to another section of the same patient (autologous), from a genetically identical individual to another (isogeneic), from the same species to the same species (allogeneic), from two different species (xenogeneic), or from replacing with synthetic material (prosthetic).
The same procedure occurs with the pitch material of Fingerprint Skin Graft, shifting from a diatonic set [024579E], to an increasingly more chromatic aggregate by means of the a slow introduction of the complement [1368T] until the original set is replaced by the chromatic aggregate. The visceral melody that sits on top is unique every time that it appears, but similar enough to appear analogous, like a fingerprint.
Joshua Marquez (b. 1990) is a Filipino-American composer, currently pursuing a PhD in Music Composition at the University of Iowa. Joshua holds degrees from the University of North Carolina at Greensboro (MM in Composition '13), and Campbell University (BA in Composition '11 and BA in Classical Guitar '11). He has studied with David Gompper, Mark Engebretson, Alejandro Rutty, Ran Whitley, and Milen Parashkevov. Joshua has attended, presented, and participated in master classes with: Samuel Adler, Roshanne Etezady, David Biedenbender, Dmitry Sitkovetsky, Jakov Jakoulov, Douglas James, Pasquale Rucco, Francesco Soler, Elliot Frank, and Zae Munn.