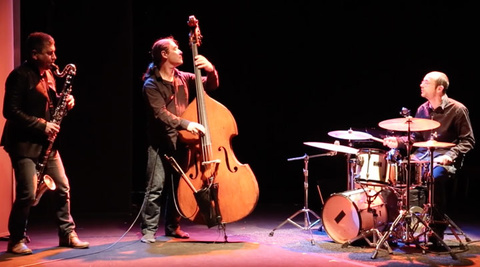 The Laptop Orchestra at UI (LOUI)
Jean-François Charles, director
 
invites The Carol Trio
and
Special guests Daniel Fine, live video and Jhe Russel, voice
Friday, May 4, 2018
at 7:30pm in the Stark Opera Studio
 Program
for electro-acoustic ensemble
Various logical components can combine to create a holistic machine, such as circuits in a computer. Yet within these circuits, the process becomes random when examined on an atomic level. Only when examined on a large scale does the reasoning become apparent. This piece examines the atomic level of randomness and expands it to a small scale to glimpse a process that still seems chaotic.
for double-bass, violin, trombone with live processing
Fracture/Morphosis examines the relationship of structurally controlled variation amongst a group of gestural identities with digitally induced transformation. Each instrument is provided a group of gestural models that are presented in unaltered form at the onset of the piece. The gestures are learned and then recognized by software. As the piece unfolds, the gestures are given a range of transformation on their constituent elements (e.g. pitch range, duration, timbre, etc...) wherein the cumulative effect provides structural generation. Simultaneously, each gesture identity is recognized and processed with chaotic algorithms that alter their sonic diffusion.
for at least 3 performers and laptops
With a title inspired by the great western film Tombstone, this piece presents to the performers an interactive score, which utilizes decision making algorithms to determine tempo, rhythmic patterns, and harmonic structures. The experience for the performer is analogous to playing the video game Guitar Hero on actual instruments. Musical elements such as register and articulation are improvised as a group – this requires careful listening and intuitive responsiveness, while focusing on performing the information provided by the score as accurately as possible. Meanwhile, an automated audio effects processing module supplements texture provides opposition to given harmonic structures.
for four voices, two violins, guitar, trombone, bass, and live electronics
Talking heads preach incomprehensible drivel as consciousness gradually deteriorates. The texts utilized are "Howl" by Allen Ginsberg, "The Soap Mandible" (an OULIPO rendition of Wallace Steven's "The Snow Man"), the cubic formula, and "If I Told Him" by Gertrude Stein.
Christophe Rocher, clarinets
Frédéric Bargeon-Briet, bass
Nicolas Pointard, drums
Music From Airports
Jean-François Charles
Homage to Brian Eno
  Guest Performers
The Carol Trio – Link to the Carol Trio english page
Founded by three musicians from the Nautilis Ensemble, the Carol Trio create a new kind of explosive and sensitive music. After years of musical collaborations, Christophe Rocher, Nicolas Pointard and Frédéric B.Briet share a common vision of a free music, always in evolution.
They played in United-States with Butch Morris, Rob Mazurek, Jeff Parker, Jeb Bishop, Steve Coleman or Nicole Mitchell (often with the complicity of Alexandre Pierrepont), and in France with Stephane Payen, Julien Deprez, Elise Caron, Mike Ladd, Benoit Delbecq, etc.
 LOUi musicians
LOUi - Laptop Orchestra at the University of Iowa
David Beyer (violin & electronics)
Joe Norman (guitar & electronics)
Andrew Novitskiy (cello & electronics)
Carlos Toro Tobon (analog synthesizer & electronics)
Andrew Willette (violin & electronics)
Will Yager (double bass & electronics)
Jean-François Charles, musical direction