Ancuza Aprodu, piano
Thierry Miroglio, percussion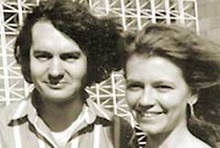 performing works by Maurice Ohana, Betsy Jolas, Jean-Luc Darbellay,
Georg Katzer, Ching-Wen Chao and Daniel Teruggi
Clapp Recital Hall
Tuesday, April 29, 8:00 pm
|| download program ||
Program
Etude d'Interprétation XII piano and percussion
    piano and percussion
 
Maurice OHANA
Music for Joan
    piano and percussion
 
Betsy JOLAS
Al Furioso
    piano and percussion
    American premiere
 
Jean-Luc DARBELLAY
 
Intermission
 
Dialog Imaginär
    solo piano and electronic
 
Georg KATZER
Soundstates
    solo percussion and electronic
 
Ching-Wen CHAO
Phonic Streams
    piano, percussion and electronic
 
Daniel TERUGGI
 
Ancuza Aprodu, piano
Thierry Miroglio percussion
 
Performers
THIERRY MIROGLIO
"Thierry Miroglio is one of the great contemporary percussionists" - Wolfgang Mastnak, Salzburger Volkszeitung
Thierry Miroglio pursued percussion studies with the eminent soloists Jean-Pierre Drouet and Sylvio Gualda, with whom he obtained a first Prize at the National Conservatory of Versailles.
He also pursued studies in musical acoustics at the Sorbonne with Iannis Xenakis. He studied harmony and counterpoint, and received First Prize for chamber music at the National Conservatory of Boulogne-Billancourt.
He took part in various musical research work with important ensembles in France and abroad before starting a solo career. He has been invited to perform in more than thirty five countries where he has given recitals and solo concerts in numerous venues and international Festivals such as Salzburg, Philharmonie Berlin, New York, Besancon, San Francisco, Munich, Schleswig Holstein Musik festival, Madrid, Rom, Bourges, Milan, Zagreb, Nice, Koeln, Paris, Hannover, Athen, Sao Paulo, Lisbon, Buenos-Aires, Geneve, Brugge concertgebouw, Bucarest, Peking, Amsterdam, Linz Bruchnerhaus,Rio, Darmstadt, Helsinki, Johannesburg, Mexico, Seoul, Boston, Shanghai ...
Thierry Miroglio is one of very few percussionists in the world to realize such a high level of solo activity, which includes a repertoire of more than 300 works (solo and concerti).
He has collaborated with many different studios of electroacoustic music research (IRCAM, GRM, Grame, etc.), and gives recitals which join music, visual and plastic arts, electronics and other artistic forms such as theater (S. Monfort) and dance (J. Cl. Gallotta).
Numerous international radio and television stations have recorded his concerts, or realized productions and recordings with his participation.
Professor of percussion at the Conservatory Darius Milhaud in Paris, vice president of french section ISCM committee, and director of the percussion collection at Jobert Editions (Paris), Thierry Miroglio gives masterclasses, lectures and seminars about contemporary percussion in many countries and has founded, as Artistic Director, the "International Meeting of Percussion".
For several years, he has worked in collaboration with such composers as Cage, Boucourechliev, Risset, Berio, Ohana, Taira, Saariaho, Denisov, Teruggi, Ager, Donatoni, Barriere, Giraud, Stroppa, Melchiorre, Fr. Miroglio, Grisey, Stahmer, Shimazu, Ferneyhough, Jolas, U. Chin, Stahnke, Dufourt... giving premiere performances of their pieces, many of which are dedicated to him.
He has recorded many CD's as a soloist for various international labels, including a CD devoted to solo works, published in the Collection "Musique Francaise d'Aujourd'hui", a coproduction of Radio France, Sacem and the French Ministry of Culture; and a CD devoted to dedicated works of Saariaho.
His recent activities have included the premiere of the last work by Iannis Xenakis for solo percussion and ensemble, the world premiere of the percussion concerti by Marlos Nobre in Rome, Regis Campo in France, and recitals tours in Europe, Asia, Africa, South America and the USA .
ANCUZA APRODU
"The young Ancuza Aprodu is already a international piano star" - B.C., La Stampa
The French Pianist Ancuza Aprodu was born in Tirgu-Jiu, Romania, and began piano studies at the age of four. One year later she won the Interpretation Competition of Suceava.
She continued piano studies in Bucarest with Smaranda Murgan before settling in Italy, where she has worked with the pianist Roberto Bollea and the composer Enrico Correggia.
She won the High Diploma in Piano at the National Conservatory of Torino, and is a laureate of many international competitions.
Since 1993 she has developed an international career as a soloist in Europe, Asia and America, performing repertoire from the baroque to contemporary music.
Ancuza Aprodu gives an important place to musical creativity, and has given numerous premieres by both established and emerging composers, including G. Ligeti, Fr. Donatoni, H. Dufourt, B. Jolas, H. Nakamura, E. Correggia, D. Acker, O. Lopez, Fr. Miroglio, M. Ohana, K. Ager, J-C. Risset, M. Nobre, D. Lemaitre, A. Solbiati, D. Teruggi...
In this connection she has taken part as a permanent member in the activities of the European Ensemble Antidogma of Turin, as well as giving solo concerts and concerti performances accompanied by ensembles and orchestras. She is also the director of contemporary piano collections at Jobert Editions (Paris).
Her recent activities include recitals and masterclasses in Europe (France, Italy, Germany, Austria, Rumania, Belgium), Asia (Phillipines, China, Thailand), the USA (Boston, Washington D.C., San Francisco, Baltimore), South Africa and South America (Argentina, Brazil, Bolivia and Mexico), including concerts in such important venues as the Schleswig Holstein Musik Festival, the Berliner Philharmonie, Knuth Hall in San Francisco, Festival Cervantino Mexico, Brucknerhaus Linz, and Teatro Colon Buenos Aires.
She has recently performed concerti by Mozart, Beethoven, Bach, Correggia, and Solbiati, accompanied by European orchestras (Craiova, Novara, Bucharest, Treviso... )
She recently premiered a new Piano Concerto written for her by Hugues Dufourt, in the framework of Festival Musica of Strasbourg, then in Radio France-Montpellier Festival. Other projects included recordings and performances of the complete sonatas for piano and violin of Mozart, numerous performances over the world like concerts accompanied by the Italian Radio Television Orchestra.
She also takes part in numerous international television and radio productions, broadcasts and CD's recordings for several labels.
Notes & Bios
MAURICE OHANA
Etude XII "Imitations-Dialogues"

Like Debussy, Ohana composed two books of Etudes for piano, the last for piano and percussion.

The roots of this lively Etude draws from Afro-Cuban rhythms, Negro-spiritualist melodic figures and the improvised breaks of the American jazz music. As the title indicates (Imitations-Dialogues) the instrumental connivance is many-sided: from the sometimes freely accompanied monologue, one could create an absolute dialogue for the deaf by using interchangeable instruments.

"Ohana takes advantage of the effect of mimetism and acoustic deceit caused by the approximate nature of aural memory, so as to make us forget at times that the piano is an instrument with tempered pitch, whereas at least some of the skinned percussions are not." writes the musicologist Harry Halbreich.
Born on June 21, 1914 in Casablanca, Maurice Ohana took almost all his musical courses in France while pursuing classical studies. For sometime, he studied architecture but stopped in order to devote himself entirely to music. As a child, he was a pianist and has maintained a predilection for this instrument, but he likewise contributed in enriching various fields of instruments, particularly percussion.
---
BETSY JOLAS
Music For Joan

This short piece was written in 1988 to honor my friend, the great painter Joan Mitchell, on the occasion of a national retrospective of her work, which started in Buffalo, N.Y. in 1988.
Born in Paris in 1926, Betsy Jolas is the daughter of translator Maria Jolas and poet and journalist Eugene Jolas, founder of the well known literary magazine "transition", in which the "Finnegans Wake" of James Joyce was published under the heading "work in progress". She came to the U.S. in 1940, completed her general schooling, then started studying composition with Paul Boepple, piano with Helen Schnabel and organ with Carl Weinrich.

After graduating from Bennington College, Betsy Jolas returned to Paris in 1946 to continue her studies with Darius Milhaud, Simone Plé-Caussade and Olivier Messiaen at the Conservatoire National Supérieur de Musique of Paris.

Prize winner of the International Conducting Competition of Besancon (1953), she has since won many awards, including Copley Foundation of Chicago (1954), ORTF (1961), American Academy of Arts (1973), Koussevitsky Fondation (1974), Grand Prix National de la Musique (1974), Grand Prix de la Ville de Paris (1981), Grand Prix de la SACEM (1982). Betsy Jolas became a member of the American Academy of Arts and Letters in 1983.

In 1985 she was promoted to Commandeur des Arts et des Lettres. In 1992 she received the Maurice Ravel Prix International and was named "Personality of the Year" for France. In 1994 she was awarded the Prix SACEM for the best premiere performance of the year for her work "Frauenleben". She was elected to The American Academy of Arts and Sciences in 1995 and made Chevalier de la Légion d'Honneur in 1997.From 1971 to 1974 Betsy Jolas replaced Olivier Messiaen at his course at the Conservatoire National Supérieur de Musique of Paris and was appointed to the faculty in 1975.

She has also taught at Tanglewood, Yale, Harvard, Mills College (Darius Milhaud chair), Berkeley, USC and UCSD, to name a few. Her works, written for a great variety of combinations, have been widely performed throughout the world by first-class artists such as Elisabeth Chojnacka, Kent Nagano, William Christie, Claude Helffer, Kim Kashkashian... and by leading groups: The Boston Symphony Chamber Players, the Concord Quartet, Domaine Musical, Percussions de Strasbourg, Lincoln Center Chamber Music Society, London Sinfonietta, Ensemble Intercontemporain, Philharmonia, etc. Twelve of her works have been recorded for EMI, Ades, CRI, Erato, Barclay, several of which have been the recipients of grand prize gramophone awards.
---
JEAN-LUC DARBELLAY
Al Furioso

Piano, and Percussion, an exciting Pair! Suppleness, dynamic possibilities, Virtuosity, sound colors richness, soft or percussive, all is present there. One Eldorado for one Composer!
Clarinet studies at Bern Conservatory , sound engineering from Theo Hrisbrunner, Composition studies from Cristóbal Halffter and Dimitri Terzakis, Conducting from Pierre Dervaux, Jean-Marie Auberson and Franco Ferrara. Masterclasses at the IMF Luzern with Klaus Huber, Heinz Holliger and assistant to Edison Denisov, also in Paris by Pierre Boulez. International concert activities as conductor and soloist, numerous performances over the world. Great number of works from solo and orchestral pieces to a chamber opera. Since 1995 he has been president of the Swiss Society of New Music and from 2003 has served on the board of the International Society for New Music. He lives in Bern, and is published by Tre Media Edition in Karlsruhe. www.jean-luc-darbellay.ch
---
GEORG KATZER
Dialog Imaginär
Professor Georg Katzer, born in 1935 in Habelschwerdt, Silesia, studied composition under the instruction of Rudolf Wagner-Regeny and Ruth Zechlin. In addtition to that he studied the piano in Berlin (East) and at the Academy of Musical Arts in Prague. After that he was a student in a master class of Hanns Eisler at the academy of arts of the GDR, a member of which he was elected in 1978. In connection with that masterclass he was appointed professor of composition.

In 1982 he founded the studio of electro-acoustic music. Since 1963 Georg Katzer has lived as a freelance composer in and around Berlin. He is a member of the academy of arts of Berlin-Brandenburg, the Freie Akademie Leipzig and the academy of electro-acoustic music in Bourges, France. In the spring of 1990 he was elected President of the Musical Council of the GDR. Since Germany's re-unification he has been a member of the committee of the German Musical Council. In 1992 he was a guest of honor in Villa Massimo in Rome. In addition to his work as a composer (chamber music, orchestral works, solo concerts, three operas, two ballets, puppet shows) Georg Katzer is also engaged in computer music, multimedia-projects and improvisation. On tours across Europe he played - among others - together with Johannes Bauer, Wolfgang Fuchs, Paul Lytten, Radu Malfatti, Phil Minton, Ernst-Ludwig Petrowski and Phil Wachsman. He was awarded several prizes for composing and other honors in the GDR, Switzerland, France, in the USA and repeatedly in the Federal Republic of Germany. Apart from music his main interests are art, literature and languages.
---
CHING-WEN CHAO (b. 1973)
Soundstates

SoundStates explores the three states of matter (gas, liquid and solid) and their transformations into one another. This flowing from one sound state to the other forms the basis of the structure of the piece, to reflect a similar process in the spontaneous changes in nature. The piece begins with solid, block-like sounds which gradually disintegrate; it ends with a succession of rising, more atmospheric sounds, with a return to elements of the original material. The source sounds were mostly drawn from the marimba and were digitally processed in the CLM (Common Lisp Music) environment.
Ching-Wen Chao is currently appointed Assistant Professor in the Music Department of the National Taiwan Normal University. She lectured at Stanford University in 2002-03. She received her DMA in composition at Stanford University, where she studied with Jonathan Harvey, Brian Ferneyhough and Chris Chafe. She was also committed to her research and composition of electronic music at the Center for Computer Research in Music and Acoustics (CCRMA).

Recent awards include the First Prize of the Young Composers Competition of the Asian Composers League, and the First Prize of the Music Taipei Composition Competition, 2005 Arts Award in Taiwan, the First Prize of the 2003 Fanfare Composition Competition held by the Taiwan National Symphony Orchestra, and the fellowship recipient of the Chiang Ching-Kuo Founation Fellowship in Humanities. Her works have been premiered in various music festivals such as the 60th Congress of the Institut fuer Neue Musik und Musikerziehung in Darmstadt, Dresdner Tage Fuer Zeitgenoessische Musik, Festival des 38Eeme Rugissants, Festival of the GMEM, Colon Electronico Festival, 2004 Contemporary Clarinet Music Festival, Seoul International Computer Music Festival, International Computer Music Conference(ICMC), Music99 Festival and Courses, etc. In recent years she has collaborated with world-renowned new-music ensembles such as the Arditti String Quartet, Klangforum Wien, Ensemble On_line Vienna, California EAR Unit, St. Lawrence String Quartet, VOXNOVA, EARPLAY, Taiwan National Symphony Orchestra, Taiwan Wind Ensemble, as well as performers as Pi-Hsien Chen, members of the Eighth Blackbird, of the CALARTS ensemble and of Ju Percussion Ensemble. Her works have been performed in various music festivals and electronic music centers in major cities of Canada, China, France, Germany, Indonesia, Korea, New Zealand, Taiwan and US.
---
DANIEL TERUGGI (b.1952)
Phonic Streams

commissioned by the French Government.

Streams of sound for our ears in the main idea of this work. Continuous streams, diverging, meeting, finding accidents that slow or speed up the flow.

Fluidity and flexibility is the second idea; for instruments that produce the sounds - drops of sound - they must be molded together to create a mass and allow them to develop. Recorded sounds - the magnetic tape of yesteryear - this is the bed of streams, the convector that orients the evolution and places the traps and turning points.

Fluid and flexible streams the way they are done by Ancuza Aprodu and Thierry Miroglio who take the journey through this work by exploring all its recesses.
Daniel Teruggi studied composition and piano in Argentina. In 1977 he came to France and studied at the Paris Conservatory in the Department of Electroacoustic Composition and Musical Research. In 1981, he became a member of the Ina-GRM (Groupe de Recherches Musicales) where he was in charge of the pedagogy of digital systems for composers, afterwards becoming Artistic Director of the Group.

Director of the Groupe de Recherches Musicales since 1997, he is actually Research Director in the INA.

His particular field of interest is the relation between composers, with their concerns regarding creation, and the research and development of new tools that will integrate new demands and enlarge the domain of concepts applied to electro-acoustic composition.

Teruggi composes music for fixed media (tape), small instrumental groups and tape, or real-time processing of instruments. His music has been recorded on European and American labels and he has written several articles on acousmatic music and on sound projection. In 1998 he obtained a PhD in Art and Technology at the Paris VIII University. He teaches Sound and Visual Arts at the Paris I Sorbonne University and directs a seminar on new technology at the Paris IV University.