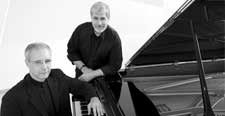 Sunday, October 18, 2009, 2:00 p.m.
at the Old Capitol Senate Chamber
Stephen Swanson, baritone
David Gompper, piano
Program
Histoires naturelles
        I. Le Paon
        II. Le Grillon
        III. Le Cygne
        IV. Le Martin-Pêcheur
        V. La Pintade
 
Maurice RAVEL
(1875 - 1937)
Selections from Schlichte Weisen, op. 76
        No. 48 Zwei Mäuschen
        No. 51 Die fünf Hühnerchen
        No. 55 Furchthäschen
        No. 56 Der Igel
        No. 57 Die Bienen
        No. 58 Mausefangen
 
Max REGER
(1873 - 1916)
Selections from The Bestiary of Flanders and Swann
        The Warthog
        The Sloth
        The Wild Boar
        The Spider
 
Donald SWANN
(1923 - 1994)
Michael FLANDERS
(1922 - 1975)
 
Intermission
 
The Animals
        Rooster Hubris
        American Buffalo
        Stork
        Charley Horse
        Polar Bear
        Camel
        Vulture
        Peacock
        Coda
 
David GOMPPER
(b. 1954)
 
Words by Marvin Bell (Iowa's Poet Laureate, 2000-2004)
World Premier
 
Performers
Stephen Swanson is a concert and opera singer, a teacher of singing, and a stage director for opera. He earned degrees from North Park College and Northwestern University and served a two-year AGMA apprenticeship with the Wolf Trap Company. After an internship at the International Opera Studio of the Zurich Opera, Swanson sang in opera houses in Switzerland, Germany, Austria, and the Netherlands, amassing a repertoire of 91 roles in operas, operettas, and musicals. Since 1994, he has been Professor of Voice at The University of Iowa.
Swanson toured extensively in North America and Europe, singing the title role in Victor Ullmann's Der Kaiser von Atlantis. This historical reconstruction of the original orchestration and vocal score was documented on a compact disc recording produced by Studio Matouš and ARBOS, Company for Music and Theater (Austria), MK022-2 631.
An extremely versatile performer, Swanson sings works from the Baroque to the avant-garde as well as standard baritone repertoire, such as Brahms' Ein deutsches Requiem, Mendelssohn's Elijah, and his signature piece, Carl Orff's Carmina Burana.
David Gompper works professionally as a pianist, a conductor, a composer, and a pedagogue. He studied at the Royal College of Music in London and at the University of Michigan, and has for the past 17 years been Professor of Composition and Director of the Center for New Music at the University of Iowa.
Gompper's compositions are performed widely, with several receiving their premiere in London's Wigmore Hall, others at the Moscow Conservatory and at the ZKM Institute for Music and Acoustics in Karlsruhe Germany. He recently completed several new compositions: Ikon for violin and piano; L'Icone St. Nicolas for the Manhattan Sinfonietta; and Ikon II for the Coe College Symphony. His Violin Concerto was premiered in Quito, Ecuador April 30, 2009, and will be one of four works recorded by the Royal Philharmonic Orchestra (London) in December 2009 for a release on Naxos in early 2011. Gompper is also recorded on the Capstone, the Centaur, and the Albany labels.
Notes & Bios
Maurice RAVEL
Histoires naturelles
Words by Jules Renard (1864 – 1910)
In 1895, French author Jules Renard published his seventy prose poems Histoires naturelles. They were illustrated by popular artists, most notably Henri de Toulouse-Lautrec (1899), and presented in public by famous actors. Renard wrote in his journal that he wished that his miniature stories "would make [the animals] smile." Maurice Ravel's interpretation of five of the poems made quite a stir in musical circles. In order to create a conversational effect in setting the stories to music, Ravel broke with the traditional style of French art song, observing that "the diction must lead the music." Ravel and soprano Jane Bathori premiered the song cycle at the Société Nationale de Musique in Paris on January 12, 1907.
---
Max REGER
Schlichte Weisen, op. 76
Words:
    No. 48 by Martin Boelitz (1874 – 1918);
    No. 51 by Victor Blüthgen (1844 – 1920);
    No. 57 by Ludwig Rafael, pseud. (1844 – 1919);
    Nos. 55, 56, and 58 by Ernst Ludwig Schellenberg (1883 - 1964);
German composer Max Reger was a self-described workaholic, who was either on concert tour or at home composing. After his wife arranged to adopt two orphan girls, Reger became a doting father. In order to keep the girls from playing in the street, he had a play set (rings, swing, and monkey bars) built in the back yard. Then he would stand at the window of his study and warn them to be careful. Reger's Opus 76, Schlichte Weisen (Simple Tunes) is comprised of 60 songs in six sets. Set 5 (nos. 44-51), completed in 1910, is called "From the World of Children" and is dedicated to the Reger children, Christa and Lotti. Set 6 (nos. 52-60), composed in 1912, opens with Reger's famous "Virgin's Slumber Song" from which he earned the highest royalties of all his compositions.
---
Donald SWANN & Michael FLANDERS
Selections from The Bestiary of Flanders and Swann
Words by Michael Flanders (1922 – 1975)
Classmates at Oxford, lyricist Michael Flanders and composer Donald Swann frequently entertained friends at parties with funny songs they made up. Their œuvre grew into the cabaret At the Drop of a Hat which played for over two years on London's West End. Their song about a hippopotamus was so popular that they created an entire bestiary. Flanders and Swann took At the Drop of a Hat and its sequel, At the Drop of Another Hat, on tours to the United States, Canada, Australia, New Zealand, Hong Kong and back to London from 1956 to 1967.
---
David GOMPPER
The Animals
Words by Marvin Bell
David Gompper is Professor of Composition and Director of the Center for New Music at The University of Iowa. He is active as a pianist, teacher, composer, and conductor throughout the U.S., Europe and Russia. Poet Marvin Bell retired in 2005 from The University of Iowa where he was Flannery O'Connor Professor of Letters at the Iowa Writers' Workshop. He was Iowa's first Poet Laureate (2000-2004). Gompper and Bell collaborated to create the cycle The Animals expressly for this concert.