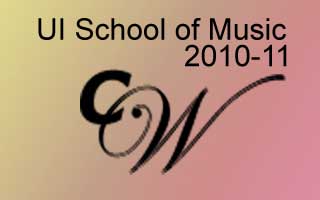 CONCERT XIX
Sunday, May 08, 2011, 7:30 p.m.
2010-11 Composers Workshop IV
Anthony Donofrio, concert organizer
Program
Apple Lemon-Lime Eternal Affiliation (2011)
        A Loss of Interest, Desire, and Direction
 
Dana TELSROW (1990)
 
Alea Erickson, flute
Matt Smart, piano
 
A Dragon in Genesis 6:7 (2011)
 
Andrew WAGNER (1989)
 
Scott Meyers, voice
Noah DeLong, piano
 
Identity Crisis I (2010)
 
Shane HOOSE (1985)
 
Nathan Bogert, soprano saxophone
Jonathan Tauscheck, piano
 
At Play (2011)
 
Brett KISSELL (1991)
 
Rebecca Neal, flute
Catherine Rinderknecht, violin
 
Hiking the Cascade Creek Trail (2011)
 
Zach ZUBOW (1984)
 
Meggie Aube, percussion
 
Rounded Angles (2010)
 
Zach ZUBOW (1984)
 
James Skretta, alto saxophone
Meggie Aube, percussion
 
 
— Intermission —
 
Bridge Suite (2010)
        1. Riff Away
        2. As an Echo
        3. Trance
        4. Little Music
 
Aaron PERRINE (1979)
 
Nathan Bogert, alto saxophone
Yoo-Jung Chang, violoncello
 
Buzz (2011)
 
Aaron PERRINE (1979)
 
Meggie Aube, percussion
 
Pan Thwarted (2011)
 
Stephanie PIECZYNSKI (1987)
 
Christina Guerrero, flute
Matt Potts, double seconds
 
IV (2011)
 
Anthony DONOFRIO (1981)
 
Nora Epping, flute
Casey Rafn, piano
Emily Rolka, violin
Yoo-Jung Chang, violoncello
 
Musings… (2011)
        II. …on the Spiritual
 
Stas OMELCHENKO (1982)
 
Rolando Hernandez Gaitan, flute/alto flute
Angela Lickiss, oboe/english horn
Jamie Keys, Liza Nazario, clarinets
Stephanie Patterson, bassoon
Evan Grulke, horn
Joshua Thompson, trumpet
Jessica Ducharme, trombone
Meghan Aube, Oliver Molina, percussion
Katherine Siochi, harp
Shu-Hao Hsu, piano
Megan Karls, Andrew Uhe, violins
Megan Gray, viola
Zoraida Oyola Rebaza, cello
Jacob Stanboro, double bass
Kira Horel, conductor
 
Program Notes
Dana TELSROW
Apple Lemon-Lime Eternal Affiliation
        A Loss of Interest, Desire, and Direction

is about slighty off-tasting soda and breaking up or depression or nothing.
Dana Telsrow is currently in his second year of undergraduate study at the University of Iowa. He is studying composition with Daniel Houglum.
---
Andrew WAGNER
A Dragon in Genesis 6:7
The music is informed by these words: "A lightning strike, and you count the miles and wait for sound. Your windows are open again and your roof is falling in. Soon, it's day time for a flash. As they try to relax, you're heading for the hills again and the water keeps on rising. Noah floats away. Hope the boats okay. No one tells you why Noah won't let you stay dry. A spark and your heart stops, warm from all the raindrops. You're above it all again, lying on the sea bed. A red sunrise and rainbows are technicolor gravestones. You're just nothing, again because everything ends."
Andrew Wagner, with little formal instruction until recently, has long enjoyed composing music and writing poetry. Previously only casually writing music for the layperson, he has been challenged for the past two semesters in studying composition at the instruction of Daniel Houglum. He will be graduating in August with a B.A. in Economics and a minor in Music.
---
Shane HOOSE
Identity Crisis I
was written for saxophonist Jim Fusik — with whom I regularly collaborate. It is the first in a series of pieces for the different saxophone instruments and represents my intent to explore the virtuosic side of these instruments.
Shane Hoose is a graduate of Bowling Green State University (MM) and Ball State University (BM) and is currently pursuing a doctorate in composition at the University of Iowa. Recently, he was a finalist in the Music Teacher's National Association (MTNA) Composition Competition. He composes in both the acoustic and electroacoustic media. His mentors in composition include Lawrence Fritts, David Gompper, and Elainie Lillios.
---
Brett KISSELL
At Play
was composed with the image of two young children playing in mind. While things are always pleasant in the beginning, all it takes is one small act of childish tomfoolery to turn giggles into fierce territorial yelping. It can only be one person's toy, after all. That being said, once in awhile, a peaceful agreement to share can arise. It's a nice scene, but hopefully there is a slightly more complex exchange going on between instruments in this piece. Loosely in sonata form, the flute dominates the melody in the exposition and excludes the violin from participating. The development begins gradually as the violin begins to overpower the flute, and the violin's theme is introduced in full. After a rhythmic and motivic argument, we arrive at the recapitulation to find a much healthier relationship being shared between the two instruments.
Brett Kissell, born in Edina, MN, is a first year composition student at the University of Iowa studying with Daniel Houglum. He has had several original pieces performed at U of Iowa recitals. He thanks all of his fellow composers for their warmth and for welcoming him to the world of new music with such class.
---
Zach ZUBOW
Hiking the Cascade Creek Trail
The Cascade Creek hiking trail in the Tongass National Forest, Alaska sports a luscious array of natural environments that include water front beaches, forest, waterfalls, cliffs, and mountains in just four miles of hiking trails. One of the highlights of the trail are the high, dense trees that form a canyon-like atmosphere around the trail as well as the beautiful views of cliffs and waterfalls that can be seen from the trailhead at Swan Lake. Hiking the Cascade Creek Trail was inspired by this magnificent trail and represents the change in environment that is all connected by a common element. The piece calls for found, non-resonant percussion instruments to symbolize the isolation of the trail among these changing environments, while the music maintains a common theme that is developed throughout the piece.

Rounded Angles
was written during the first year of Zach's graduate work at the University of Iowa while studying with Professor Lawrence Fritts. Originally intended for solo clarinet, the piece was to feature the acrobatic nature and agility of the instrument and performer, but during the composition process, the switch to alto saxophone and percussion provided the perfect means for Zach's ideas. Moving from one performer to two performers introduced a new symbiotic element to the piece, which can be heard throughout. The title reflects the angular and round, duple and triple melodic gestures, which further enhances the symbiotic relationship between the two players.
Zachariah Zubow (b. 1984) started his music education at Luther College in Decorah, Iowa and in 2008 graduated with a Masters in Music Composition from Illinois State University in Normal, IL. This spring, Zach's music will be featured on five College Music Society Regional Conferences, Midwest Graduate Music Consortium, and an exchange festival between the University of Iowa, University of Missouri-Kansas City, and the University of Colorado-Boulder. Zach's music will also be featured on the New Music Festival at the University of Central Missouri/Society of Composers Region VI where he was also accepted to present his research on Ligeti's Étude No. 4, Fanfares, from Ligeti's first book of études. Zach's composition teachers include David Gompper, Lawrence Fritts, David Feurzeig, Brooke Joyce, and Martha Horst. Zach is now pursuing a Ph.D. in music composition at The University of Iowa. For more information or to contact Zach, please visit www.zachzubow.com.
---
Aaron PERRINE
Buzz
When I think of the marimba, the first thing that comes to mind is its warm, resonate tone. Unfortunately, when I continue to think of the marimba, the next thing that comes to mind is its warm, resonant tone. While I definitely knew I wanted to utilize this rich sound, I also knew I wanted to provide a contrasting element, which, in this case, ended up being cymbals. The title, Buzz, refers to the link that helps connect these opposing sonorities.
Bridge Suite
was commissioned by saxophonist, Joel Vanderheyden. While discussing ideas for the piece, it quickly became apparent that we were both interested in a composition that was influenced not only by the classical world, but also the world of jazz and rock. Bridge Suite is the result of the search for this "middle ground."
Born in McGregor, Minnesota, Aaron Perrine has received degrees from the University of Minnesota, Morris, the University of Minnesota, and is currently pursuing his Ph.D. in composition from The University of Iowa, studying with David Gompper and Lawrence Fritts. April, one of his compositions for band, was a finalist in the first Frank Ticheli Composition Contest. This piece was also a JW Pepper "Editors' Choice" and was a featured composition in Teaching Music Through Performance in Band, Volume 7. His compositions for band can be found at C. Alan Publications. For more information, please visit his website at www.aaronperrine.com.
---
Stephanie PIECZYNSKI
Pan Thwarted

is a semi-Greek mythology inspired comedic dialogue between the flute and the steel pan written for Christina Guerrero and Matt Potts. The flute is a nymph, and the pan is the god Pan (pun definitely intended). He sneaks up to capture her and eventually succeeds. Pan is victorious and the nymph decides to lure him into a false sense of security and rejoices with him. They play quickly in unison and as things calm down, the nymph begins to sneak off. Pan realizes too late what is happening and tries to recapture her, but she has gained too much momentum and flies off. Pan, hurt and confused, looks for her and ends up grumbling away.
Stephanie Pieczynski, from Channahon, IL, and received her Bachelor's degree in composition at Northern Illinois University where she studied composition under Ted Hatmaker, Robert Fleisher and David Maki, as well as oboe under Ricardo Castaneda. Pieczynski has been commissioned by peers to compose music for recitals and benefit concerts and has had pieces performed by the Chicago Miniaturist Ensemble, the 2008 Fusion Arts Exchange Ensemble, and the NIU wind ensemble. Pieczynski was involved in the NIU Wind Symphony, Wind Ensemble, Philharmonic, Steel Band, Early Music Ensemble, and New Music Ensemble as well as several chamber groups. Stephanie is currently pursuing her MFA in composition at the University of Iowa studying with Lawrence Fritts and David Gompper. For more information visit her website at www.stephaniepieczynski.com.
---
Anthony DONOFRIO
IV
Having always written music that lies in the realm of loud, intense, and lengthy, IV is an attempt at the opposite.
Anthony Donofrio received his undergraduate and graduate degrees from Kent State University. He is currently completeing the doctoral degree in Composition from the University of Iowa. His teachers have been David Gompper, Frank Wiley, Paul Schoenfield, John Eaton, and Thomas Janson. For more information, please visit www.donofrio-music.com.
---
Stas OMELCHENKO
…on the Spiritual

is the second movement of my chamber symphony, Musings…, which explores the three pillars of our being – the physical, the spiritual, and the intellectual. As far back as ancient Greece, these concepts were subject to debate as to their meaning, prompting artists, philosophers, composers, architects and others to offer their interpretation of them. In my symphony, I try to give such interpretations through three sound experiences. By means of association, I explore each concept through one musical parameter that takes a central role in a movement. Thus, the first movement, …on the Physical, explores the concept through texture, while the third, …on the Intellectual, through rhythm.

The second movement explores the concept of spirituality primarily through timbre and its organization in space. Closely tied to its harmonic/pitch counterpart (a simple, yet greatly dilated, i – V progression), the timbre undergoes a gradual transformation from a horizontal conception to a vertical one. (The concept of timbre here is restricted to that of the instruments of the ensemble and their various combinations.) This was achieved by dividing the total pitch space into multiple note-groups, assigning particular timbres to them and manipulating them through various rhythmic and textural processes. The movement features a prominent structural shape – <  > – which permeates the form, all micro/macro structures, as well as all other parameters of the movement.
Stas Omelchenko (b. 1982) has studied composition with Lawrence Fritts, David Gompper, Stacy Garrop, Kyong Mee Choi, Don Malone, Gyula Fekete, and John Eaton. Additional studies and master classes were with Marta Ptaszynska, Bernard Rands, and Mark-Anthony Turnage. He received his Bachelor of Music degree at the Chicago College of Performing Arts at Roosevelt University and Master of Arts degree at the University of Iowa. He is currently pursuing a Doctor of Philosophy degree at the University of Iowa where he serves as a teaching assistant in music theory.