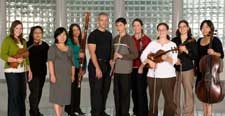 Sunday, February 14, 2010, 7:30 p.m.
at the Riverside Recital Hall
The CNM Ensemble
|| download program ||
Program
Dialogues (2004)
    for two pianos
 
Irina DUBKOVA
(b. 1957)
 
Irina Dubkova and David Gompper, piano
 
Cinnabar (1991)
    for viola and piano
 
David WARD-STEINMAN
(b. 1934)
 
Christine Rutledge, viola
David Gompper, piano
 
Kaleidoscope (1999)
    for violin, contrabassoon, piano
 
Elliott SCHWARTZ
(b. 1936)
 
Anna Draper, violin
Sarah Wildey, contrabassoon
Seong-sil Kim, piano
 
 
— Intermission —
 
In the Soft Moonlight (2003)
    for small ensemble
 
Irina DUBKOVA
(b. 1957)
 
Rolando Hernandez Gaitan, flute
Jamie Cox, clarinet
Emily Rolka, violin
Yoo-Jung Chang, violoncello
Sunghee Hinners, piano
 
Composition No. 1: "Dona nobis pacem" (1971)
    for piccolo, piano and tuba
 
Galina USTVOLSKAYA
(1919-2006)
 
Jennifer Cunningham, piccolo
John Manning, tuba
Minji Kwon, piano
 
Notes & Bios
David WARD-STEINMAN
Cinnabar for viola and piano
was commissioned by the violist Karen Elaine Bakunin with a grant from the National Association of Negro Musicians, along with Cinnabar Concerto for viola, piano, percussion, and strings. Both pieces have been recorded by her for Fleur de Son Classics (on the albums "Borobudur--Prisms and Reflections" and "Three Concertos by David Ward-Steinman" respectively). Cinnabar, the ore of mercury, is a crystallized reddish-brown mineral with flashes of quicksilver that suggested musical images. Cinnabar the composition was later expanded and rescored as the first movement of Cinnabar Concerto for viola solo, piano, celeste, percussion, and strings.
David Ward-Steinman, Adjunct Visiting Professor of Music at Indiana University-Bloomington, is also Distinguished Professor emeritus, and former Composer-in-Residence, at San Diego State University. He has received many awards for his compositions and teaching, including the Outstanding Professor Award from the Trustees of the Calif. State Universities and Colleges, and has been a White House reception honoree.

Commissions include those from the Chicago Symphony Orchestra, Joffrey Ballet, San Diego Ballet, California Ballet, MTNA, National Association of College Wind & Percussion Instructors, American Harp Society (San Diego chapter), and the San Diego Symphony, which commissioned works for both the 2000-2001 and 2001-2002 seasons that were premiered under the baton of Jung-Ho Pak. Other orchestral works have been performed by the Japan Philharmonic, New Orleans Philharmonic, San Diego Symphony, San Diego Chamber Orchestra, Orchestra USA, Seattle Symphony, City of London Sinfonia, Moravian Philharmonic Orchestra, Brevard Festival Orchestra, Idyllwild Festival Orchestra, etc. Gregory Peck and Vincent Price have appeared as Narrator in different performances of Ward-Steinman's oratorio The Song of Moses.

CD recordings appear on Harmonia Mundi, Fleur de Son Classics (2), Helicon Records/Kleos Classics (2), Marquis Orion Master Recordings, MOVE Records (Australia), ABC Classics (Australia), and Camarada labels.
---
Elliott SCHWARTZ
Kaleidoscope for violin, contrabassoon, and piano
The composition of Kaleidoscope took place during the first six months of 1999, and on three continents (most of it was composed in England, but large sections of it in Japan, and at my home in Maine as well). It was first performed in October 1999 as part of an all-Schwartz concert at the University of Miami, Florida, and is dedicated to contrabassoonist Henry Skolnick, who mounted the premiere performance. Mr. Skolnick also worked with me on technical matters during the work's creation, and I am greatly indebted to him.
I've tried to let the nature of Kaleidoscope's three instruments (violin, contrabassoon and piano) influence many of my compositional choices. There are obvious disparities, seeming mis-matches and violent contrasts among these instruments, and it seemed only natural to highlight and exploit these. At other times, though, the music explores a number of "common ground" areas that, in turn, dictate a very different kind of discourse. In deciding to explore ALL of these timbral/textural possibilities - literally, a kaleidoscope of colors - I needed to compensate by unifying the total structure. Accordingly, I have built my formal design around a recurring series of easily recognizable motives, and reference to a single twelve-tone row. (The latter translates, for the listening ear, into three triads, each of which has a discordant kick attached.)
A performance of Kaleidoscope can be heard on the all-Schwartz CD entitled "Hall of Mirrors" (Innova Recordings 681).
Elliott Schwartz is the Robert K. Beckwith Professor Emeritus of music at Bowdoin College, where he taught from 1964 to 2007. He has also held extended visiting residencies at the University of California (Santa Barbara and San Diego), Ohio State University, Harvard University, the Hong Kong Institute of Education, the London College of Music, Cambridge University (UK) and Trinity College of Music (UK).

Schwartz has served as national chair of the Society of Composers, Inc., president of the College Music Society, and vice-president of the American Music Center. His appearances as guest composer have included New York, Los Angeles, Amsterdam, Weimar, Mannheim, Berkeley, Boston, London, Tokyo, Copenhagen, Paris, Reykjavik, a residence with (and premiere by) the Harvard Band, and a week-long residency at Oxford University. During 2006, his 70th birthday was celebrated with performances and residencies at the University of Minnesota, Butler University, Concordia College, Oxford, Cambridge, the Library of Congress (Washington, DC), and the Royal Academy of Music (London).

CD Recordings of his music can be heard on the New World, CRI, Capstone, Albany, BMOP-SOUND and Innova labels.
---
Irina DUBKOVA
Dialogues
a composition for two pianos, is written in such a way that the material constantly that crosses and overlaps between each instrument becomes united as one instrument, one line. The main idea is having a dialogue with God, looking up for answers with questions from below. It is dedicated to my dear friend David Gompper.
In the Soft Moonlight
This composition is the first of three movements with the same title. Time is usually divided between day and night. As people we are energetic during the day, and so the day is a period of action. During the night one remains alone with oneself, complete in ones own thoughts in consideration of life. The music of the night is a reflection, a looking inward, and a profound contemplation without external interference. During this time ideas are born, events comprehended, and problems solved. In the "time of the soft light of the moon" one considers everything that during the day was imperceptible. The music of this work reflects such attention and meditation.
The work was written for Studio New Music of the Moscow Conservatory, Vladamir Tarnopolsky, director.
Born in Russia, Irina Dubkova (b. 1957) began composing at the age of five. After completing her formal training as a pianist, she graduated from the Moscow Conservatory in 1982 in composition and continued with post-graduate studies in composition with Professor Roman Ledeniov and theory with Yuri Kholopov.

From 1982 to 1985, Dubkova was musical editor in the USSR State Radio and TV Company. Irina Dubkova has taught in the Composition Department at the Moscow State P.I. Tchaikovsky Conservatory since 1995.

Irina Dubkova has participated in many competitions and festivals. She was a winner in the Moscow International Young Composer's Competition, in 1980 with Four Romances on texts of Sergei Yesenin for baritone and piano; in 1982 with her Symphony No. 1; in 1985 with a vocal cycle for children; in 1987 with Allegro for symphony orchestra. Her compositions have been performed regularly at the annual festivals Moscow Autumn, Universe of Sound, Nippon Kokoro, Earino Spring Festival, International Organ Gedike's Festival, and Meeting of the Friends. Performances of Dubkova's symphonic, chamber, vocal and choral music have been heard across the Russia and in many regions of the world.
---
Galina USTVOLSKAYA
Composition No. 1: "Dona nobis pacem"
is part of a triptych of works written between 1970 and 1975; the others are No. 2, Dies irae, and No. 3, Benedictus qui venit. All were composed for very unusual instrumentations: piccolo, tuba and piano; eight double-basses, piano and wooden box; four flutes, four bassoons, and piano. The functions for each instrument are extremely defined and limited. The piano plays little more than single notes and clusters in a mechanical, detached fashion, so much so that the quiet dyads that appear in the final section of Composition No. 1 provide a welcome relief from the obsessive and brutal repetition that comes before. We hear equally unaffected and jarring rhythmic figures in the piccolo and tuba, sometimes in dialogue with the piano, or otherwise opposing it or filling in its uncomfortable silences.
Finally, one should keep in mind that tonight's performance is an ideal setting for this music, in that Ustvolskaya preferred a sacred space for the performance of these pieces (in as much as this recital hall was once the sanctuary of St. Thomas More Catholic Church). As one who rejected technical analysis of her own work, she explained, "My works are not actually religious in a literal sense, but are filled with a religious spirit, and - as I see it - they are best heard in a church, without academic introductions and analyses. In the concert hall, that is, in a secular setting, they sound different."
Though she remained largely outside the public eye during her lifetime, Galina Ustvolskaya came to be recognized as one of the key Russian modernist composers of the late 20th century. And though she studied with Shostakovich in the early 1940s, earning her teacher's immense praise, she carved out a wholly different path from his: a private and reclusive world of stark landscapes filled with extreme and abstract gestures, without the comfort of familiar ideas about structural narrative and tonality. - Anthony Cheung