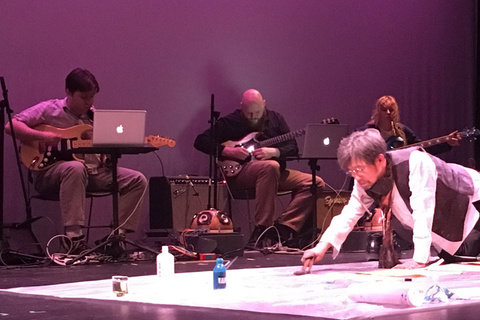 The Laptop Orchestra at UI
 
LOUi Concert I
Jean-François Charles, director
Day Beyer, violin & electronics
Hongwei Cai, piano & electronics
Tyler Lubke, double bass, cello & electronics
Manuel Menchaca, flute & electronics
Joseph Norman, electric guitar & electronics
Alexander Spenceri, euphonium, trombone & electronics
Carlos Toro Tobon, analog & digital electronics
Will Yager, double bass & electronics
Monday, December 3, 2018 at 7:30p in the Stark Opera Studio
for flute, euphonium, electric guitar, violin, 2 double basses, piano, live electronics
Fracture / Morphosis (2018)
for trombone, violin, double bass, live electronics
Fracture/Morphosis examines the relationship of structurally controlled variation amongst a group of gestural identities with digitally induced transformation. Each instrument is provided a group of gestural models that are presented in unaltered form at the onset of the piece. The gestures are learned and then recognized by software. As the piece unfolds, the gestures are given a range of transformation on their constituent elements (e.g. pitch range, duration, timbre, etc...) wherein the cumulative effect provides structural generation. Simultaneously, each gesture identity is recognized and processed with chaotic algorithms that alter their sonic diffusion.
Voyager (2018)
Tyler LUBKE 
for ensemble and electronics
This piece was directly inspired by NASA's Voyager 1 and Voyager 2 spacecrafts.
Since their launch in the '70s, they've led to countless new discoveries through a mountain of images, and data. Today these two travelers are the furthest reaching man-made vessels and are still transmitting to use from other 13 billion miles away. They carry with them a golden record, filled with images, sounds, and music of earth, and special instructions on to decode them.
This piece makes use of not only the items on the golden record, but also sounds and and images collected by the spacecrafts themselves (some of which were made here at the University of Iowa). It is a musical interpretation of these voyagers journey.
La Petite Divagations (2018)
for live electronics
La Petite Divagation explores tripartite developmental trajectories that are diffused across linearly interpolating sections which occur in a sequential order (e.g. a, b, c, a', b', c', etc...). These sections are unified through their shared primordial pitch material. The A section(s) comprise fixed electronic sounds that disseminate the pitch material used in the subsequent instrumental sections as a sound mass, the B section(s) use an expanding subset of pitches in a restricted register with constantly permuted rhythmic cells, and the C section(s) use a subset with fixed cardinality that gradually morphs into its complement while simultaneously shifting in register. The instrumental material of the B and C sections is processed and spatialized according to analogous linear structural procedures.
Composition No. 228 (1997)
Anthony BRAXTON 
for ensemble
The Ghost Trance Music series have been Braxton's main compositional output since 1995. Like the other works in the series, Composition No. 228 consists of primary material (a long series of eighth notes), secondary material (composed polyphonic duets or trios), and language music (a practice of instantaneous collective creation using 12 playing modes). Will Yager transmitted the performance practice to the ensemble.
Nattie's Air 
Jean-François CHARLES 
for mezzo-soprano, bass clarinet, 2 violins, cello, live electronics
special guests:
Anika Kildegaard,
soprano
Mauricio Silva
,
bass clarinet
Tyler Katz,
violin
Nattie's Air is excerpt from the opera "Grant Wood in Paris", which will be premièred in April 2019 by the Cedar Rapids Opera Theatre. Nattie incarnates both Grant's mother Hattie and sister Nan, while Grant Wood expresses himself through the bass clarinet's voice. This air is sung when Grant Wood comes back to Iowa after his Parisian adventures.