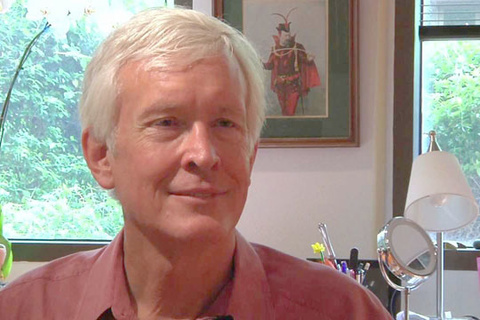 Concert IX
The CNM Ensemble
performing works by guest composer Dan Welcher
and featuring guest hornist Anne-Marie Cherry
with SOM faculty Benjamin Coelho and Courtney Miller
+
Bruno Maderna's Oboe Concerto No. 1
Zack Stanton's Horn Concerto.
Sunday, February 14, 2016
Riverside Recital Hall (map)
Program
The Wind Won't Listen (2002)
Dan WELCHER
Fantasy for bassoon and string quartet
        I. Romanza "Everyone I Know Is Crying"
        II. Recitative and Variations "Life Makes Itself Without Us"
Oboe Concerto No. 1 (1962/1963)
Bruno MADERNA
— Intermission —
Horn Concerto (2011)
Zachary STANTON
Dante Dances (1995)
Dan WELCHER
for clarinet and ensemble
        Prologue: The Gates of Hell
        Tango (for Charon) - Charleston (for Cerberus) - Polka (for The Furies)
        Gymnopedie (for Paolo and Francesca) - Schottische (for Ulysses)
        Tarantella (for Gianni Schicchi)
Performers
Benjamin Coelho
, Professor of Bassoon, has been at The University of Iowa since 1998. He has appeared as soloist, chamber musician, orchestral musician, teacher and clinician in several countries including the United States, Brazil, Argentina, Bolivia, Panama, Portugal, France, Romania, Australia, Canada and Czech Republic.
    An avid chamber musician, he has performed with the Gramado Woodwind Quintet (Brazil), the Alaria Chamber Ensemble (New York) and the Contemporary Music Group of Minas Gerais (Brazil). As a founding member of the Manhattan Wind Quintet, Mr. Coelho performed numerous recitals and concert tours throughout the United States. The group won various chamber music competitions including Artists International, Coleman, and Monterey Peninsula Chamber Music Competition. In January of 1987 the quintet played a sold-out concert at Carnegie Recital Hall in New York.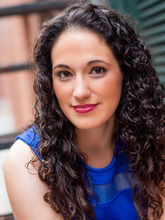 Since her solo debut with the Jacksonville Symphony Orchestra at age 17,
Dr. Courtney Miller
has been a devoted performer traveling throughout the United States and abroad as a solo, chamber, and orchestral musician. She has performed in many prestigious halls, such as Boston's Symphony Hall and Cleveland's Severance Hall, as well as numerous smaller venues, which allow for more audience interaction. Professor Miller ardently believes music has the power to reach and influence people and that it must be accessible to everyone. She regularly engages artists and dancers in interdisciplinary outreach projects to bring classical music to new audiences.
    Before her post at University of Iowa, Dr. Miller taught oboe at Boston College and served on the faculty at New England Conservatory. Dr. Courtney Miller recently released her album
Modern Fairy Tales
on Centaur Records.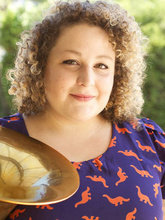 Anne-Marie Cherry
is an active free-lance horn player and music educator based in Los Angeles. Currently she performs with the ProMusica Chamber Orchestra, and is a faculty member of Pasadena City College. Anne-Marie is an active performer in the new music community; collaborating frequently with composers to commission original works for horn.
    As a soloist, Anne-Marie has appeared with the Bainbridge Symphony, the University of Texas Jazz Orchestra, and the University of Texas New Music Ensemble. Working with students of all ages, she has been a guest artist at the New Mexico School for the Arts, and Oklahoma State University, and teaches regularly for Esperanza Azteca Youth Orchestra in LA.
    In 2007, Ms. Cherry received third prize at the International Horn Competition of America, and first prize in the Mid-South Horn Workshop Solo Competition in 2005. As a member of Vista Brass Quintet she was a 2013 Coleman Chamber Competition finalist, and received the 2009 American Prize in Orchestral Performance with the Texas Chamber Group.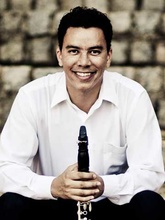 Born in Brazil, Thiago Ancelmo de Souza obtained his Master's degree at the Hochschule für Musik der Stadt Basel, where he graduated with distinction under the guidance of the renowned educator François Benda. During his studies in Switzerland he had the chance to work with important musicians and composers such as Sergio Azzolini, Felix Renglli, Heinz Holliger, Helmut Lachenmann and others. In Switzerland he received a scholarship by Ruth und Hans Rapp Stiftung.
    He was awarded and finalist in many competitions including Jovens Interpretes do Centro Cultural de São Paulo (2003), Jovens Solistas da Orquestra Experimental de Repertório (2005 and 2006), Jovens Talentos Brasileiros (2007), International Clarinet Competition in Krsko (Slovenia,2008), Zurich Opera House Orchestra Academy (2009), and All Star Competition (2012).
Program Notes
Dan WELCHER
THE WIND WON'T LISTEN
This work for bassoon and string quartet is an outgrowth of my song, "Everyone is Crying", based on a poem called "Split" by Beth Gylys. The first movement is labeled "Romanza", and has a loose formal arch structure of A-B-C-B-A, with B and C being fast sections framed by the lamenting "A" music.
    The second movement follows, without a real pause---the pizzicato final chords of the first movement becoming the increasingly aggressive opening chords of the second. The recitative is actually a foreshadowing of the basic theme that will be varied, again to the words of the song: "Life makes itself without us. Don't let me tell you how it is. Go out. Look."
Dante Dances
This is the second incarnation of a work I wrote as a "clarinet showpiece" on commission from Bradley Wong in 1995. The clarinet is not the most diabolical of instruments: traditions dating from the Renaissance give that distinction to the trombone. But composers have known for a long time that the clarinet is the strongest solo instrument in the orchestral wind section, and perhaps for that reason there is a long history of serious virtuoso writing for it. In terms of range (both pitch range and dynamic range), flexibility, and color, the clarinet can't be equaled by any other wind instrument. And, like Paganini with his violin, a good clarinetist can seem somehow possessed by unearthly spirits.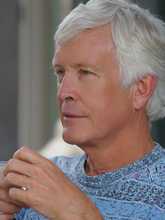 Dan Welcher
is now one of the most-played composers of his generation. He has won numerous awards and prizes from institutions such as the American Academy of Arts and Letters, The Guggenheim Foundation, The National Endowment for the Arts, The Reader's Digest/Lila Wallace foundation, The Rockefeller Foundation, Meet The Composer, The MacDowell Colony, The Camargo Foundation, The Corporation at Yaddo, The Atlantic Center for the Arts, the American Music Center, and ASCAP. Dan Welcher holds the Lee Hage Jamail Regents Professorship in Fine Arts at the Butler School of Music, where he directs the New Music Ensemble. His orchestral music has been performed by more than fifty orchestras, including the Chicago Symphony, the St. Louis Symphony, and the Atlanta Symphony. He lives in Bastrop, Texas, and travels widely to conduct and to teach.
Bruno MADERNA
Oboe Concerto No. 1
There is always a duality with Maderna's music. As a composer directly involved with classes at Darmstadt for an extended period (1954-67) his serialist credentials are a central feature of his work. While his music is archetypically modernist there are always the threads which bound him to the neo-baroque conservatism of his teacher Malipiero, and the warm expressiveness which he inherited from his native Italy. Modern yes: ugly or ungraceful; no. The Concerto for Oboe and Chamber Ensemble No.1 has the most serial feel – notes being weighed with Webernesque significance, growing out of silence, the colour of instrumental timbre developing from solo lines weaving through the ensemble into a subtle tapestry of multi-layered sound.
    There is a significant percussion section, but as with all of the other instruments, these sounds are introduced as detail – points or splashes of colour which can be as gentle as a stellar curtain or have the impact of a gibbous moon rising with disturbing suddenness over the desert. Shifting and restless, the music demands concentrated attention, but as previously mentioned, the solo oboe often lifts the ear beyond the semantic complications in the orchestra into more lyrical realms. At one point the soloist joins what almost sounds like a choir of oboes, and the orchestra – understanding the oboist's message, adopts and develops his soulful melodic lines.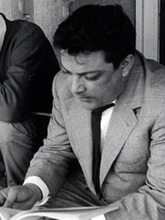 Bruno Maderna
(born April 21, 1920, died Nov. 13, 1973) Italian composer of avant-garde and electronic music and a noted conductor.     Maderna studied with well-known teachers, including the Italian composer Gian Francesco Malipiero and the German conductor Hermann Scherchen. In 1941 he received his degree in composition at Rome from the Conservatorio di Musica Santa Cecilia. He expanded his musical activities after World War II, becoming known through his association with the Internationale Ferienkurse für Neue Musik (International Vacation Course for New Music) at Darmstadt, a centre of avant-garde musical teaching and composition. With his friend the composer Luciano Berio, Maderna founded the Studio di Fonologia Musicale at Milan Radio in Italy in 1954; the studio became a major laboratory for electronic music in Europe. With Berio he also founded a review devoted to electronic and avant-garde music, Incontri Musicali ("Musical Encounters"). Maderna later taught composition in Milan, at the Dartington Summer School of Music, Devon, Eng., and elsewhere.
    Maderna's music showed him to be an expressive lyric composer as well as an experimenter. His Serenata (1954) is a colourful orchestral work noteworthy for its subtle sonorities and polyrhythms. The Notturno for tape (1956) and Sintaxis for four different, unspecified electronic timbres (tone colours) display his interest in new sonorities. His oboe concerto (1962) reveals a more conventional viewpoint, although even in this he made use of small-scale aleatory (chance and improvisatory) operations.
    Maderna conducted widely and recorded extensively, including many works of his contemporaries.
Zachary STANTON
Concerto for Horn and Chamber Ensemble
was commissioned by my good friend AnneMarie Cherry, and is written to her strengths as a player. I wanted to highlight her beautiful tone in long, undulating lines, as well as her ability to maneuver virtuosic passages that cover a large part of the horn's range. The piece is in three short movements: a slow, lyrical and melancholy opening movement, followed by an extremely difficult solo cadenza that leads right into the final movement, which is a tour de force for the soloist.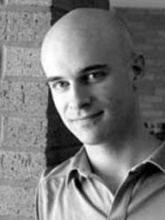 Zachary Stanton is a composer and conductor from Conway, Arkansas. He has written for orchestra, wind ensemble, choir, and chamber ensembles of various sizes, and his work has been performed throughout the United States, as well as Ireland and South Korea.
    Recent commissions have come from the University of Georgia Midfest Band Festival and the Millikin University Percussion Ensemble. In the fall of 2015 pianist Paul Barnes released a recording that includes Zack's piano solo work, Scenic Route. During the 2011-2012 season, the Austin Symphony Orchestra premiered the orchestral version of Triple Venti Latté under music director Peter Bay. In 2012 his Concerto for Piano and Wind Ensemble received Honorable Mention in the ASCAP/CBDNA Frederick Fennell Competition.
    Zack received his Doctor of Musical Arts in composition from the University of Texas at Austin. Prior to his appointment at the University of Iowa, Zack taught at Belmont University and the University of Texas at Austin.