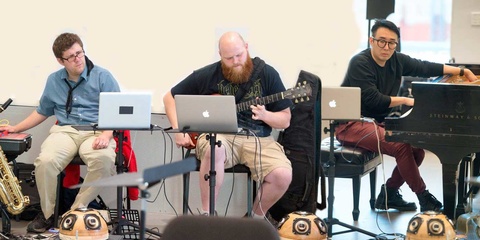 ​

The Laptop Orchestra at UI (LOUI)
Jean-François Charles, director
 
with Guest Professor Andrew Bentley
Friday, December 1, 2017
at 7:30pm in the Recital Hall
 Program
Metal Choir
collective installation
Electroclarinet 4
Jean-François Charles
Synths-in-Bottles
collective creation
Songs of Tomorrow
Mauricio Da Silva
Terra String Quartet:
Yixue Snow Zhang (violin), Can Balcik Moratti (violin)
Therese Slatter (viola), Hui-Hsuan Sun (cello)
with
Rayne Dias (keyboard), Nicole Peter (piano), Fabio Augustines (drums)
Impressions
Alexander Toth
Lineation-Transmutation
Joseph Norman
Tape Piece
Andrew Bentley
New Instruments Medley
collective creation
featuring:
nuages, pills, a Seachord, stompboxes,
a decomposition video, and an upcycled guitar pickup
 Program Notes
Guest Andrew Bentley is Artistic Professor of Music Technology at the Sibelius Academy, University of the Arts Helsinki. He has elevated electro-acoustic music expertise in Finland to an international level since the 1980s, first at the Finnish Broadcasting Company YLE and the University of Helsinki, then later at the Sibelius Academy, where he has worked since the 1990s. He was one of the founders of the Music Technology study program at the Sibelius Academy in 1998, and acted as its first Head. Bentley has made long-term efforts to develop electro-acoustic music teaching and its educational tools, increasing their levels significantly. Over the past few years he has been actively involved in the development of SAMA – Sound Art & Sonic Arts, the inter-academy study program at the University of the Arts Helsinki.
LOUi director Jean-François Charles is a composer, clarinetist, and live electronics designer. After obtaining a MSc in Electrical Engineering at the National Institute for Applied Sciences in Lyon, he studied in Strasbourg with the Italian composer Ivan Fedele. As a clarinetist, he worked with Karlheinz Stockhausen for the world première and recording of Rechter Augenbrauentanz. He earned his Ph.D. in music/composition at Harvard, where he studied with Hans Tutschku, Chaya Czernowin, Julian Anderson, Helmut Lachenmann, Gunther Schuller, and others.
He has collaborated with musicians for creations in the U.S.A., Canada, Europe, and China. Since the summer of 2016, he has been responsible for the live electronic music program at the Composit music festival in Rieti, Italy. After serving as deputy director at the Brest Conservatory (Bretagne, France), he joined in 2016 the School of Music at the University of Iowa as Assistant Professor in Composition and Digital Arts.
LOUi, more than a laptop orchestra
David Beyer (violin & electronics)
Joe Norman (guitar & electronics)
Andrew Novitskiy (cello & electronics)
Jake Simmons (guitar & electronics)
Carlos Toro Tobon (analog synthesizer & electronics)
Andrew Willette (violin & electronics)
Will Yager (double bass & electronics)
New Musical Instruments designed, built, and programmed by:
Noah Andrys
David Beyer
Carlos Cotallo Solares
Mauricio Da Silva
Kenken Gorder
Carlos Toro Tobon
Alexander Toth
Andrew Willette