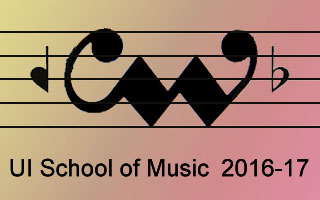 Concert XXI
Composers' Workshop IV
The fourth Season 51 concert of UI composers' recent works
 
Sunday, April 30, 2017, 7:30 p.m. at the Concert Hall
 
Program
for clarinet and live electronics
Jean-Francois Charles, clarinet
 
for violin and double bass
Maryanne Kirsh, violin
Haviland Gilbert, double bass
for oboe, viola, cello & percussion
Elizabeth Fleissner, oboe
Joanna Held, viola
Rachel Gibbons, cello
Paul Downing, percussion
Reflections
Carlos I. TORO-TOBÓN 
[BIO]
for oboe and percussion
Matt Goulding, oboe
Christopher Sande, percussion
— Intermission —
The implication of what is missing
for soprano and fixed media
Kelly Simmons, soprano
 
Of the Monsters in the Deep
for horn and double bass
Amanda Stout, horn
Jessie Lu, double bass
for string quartet
Leo Iogansen and Andrew Gentzsch, violins
Dana Mietus, viola
Christina Gentzsch, cello
for flute, bass clarinet and voice
Anya Egense flute
Joseph Valenti bass clarinet
Benjamin Wolfe, countertenor
for double trio
Thiago Ancelmo de Souza, clarinet
Kenken Gorder, trumpet
Carlos Cotallo Solares, guitar + eBow
—
Therese Slatter, violin
Jenna Ferdon, viola
Haviland Gilbert, bass
Program Notes
Joseph Norman
In Transition
involves the process of spectral transformation through non-linear distortions.
Joseph Norman is in his third year of the PhD program for music composition at the University of Iowa and is Research Assistant/Composer/Sound Technician for the University of Iowa Department of Dance. Mr. Norman is currently studying composition with Dr. Joshua Levine. Previously, Mr. Norman studied with Dr. Nomi Epstein and Dr. Lawrence Fritts and has participated in master classes with Dimitri Papageorgio, Erin Gee, Ketty Nez, Elanie Lillios, David Lang, Augusta Read Thomas, and Louis Karchin.
---
Luke Kottemann
Westminster
is a piece written for my close friends Haviland Gilbert and Maryanne Kirsh. The work is inspired by the day/night cycle and is titled after the melody that is chimed by most clocks.
Luke Kottemann is a composer and violinist who is currently pursuing a BM in Music Composition and a BSE in Electrical Engineering at the University of Iowa. Luke's music has been performed throughout the Midwest by ensembles such as CNM. He is currently studying composition with Jean-François Charles and has studied with Nomi Epstein, Josh Levine, David Gompper, Lawrence Fritts, Joshua Marquez, and Nima Hamidi.
---
Chelsea Higgins
The Accident
The Accident is meant to be a theatrical piece following the events of a car accident. The oboe is separated from the strings as if they are in two different cars. As the piece unfolds, you hear the cars speed toward each other on the musical highway, crash together, and all the events and loss that follow.
Chelsea Higgins (b.1998) is a freshman at the University of Iowa, studying Oboe Performance and Human Physiology. She was born in Sterling, IL and is pursuing composition under Christine Burke. She studies Oboe Performance under Dr. Courtney Miller.
---
Carlos I. Toro-Tobón
Reflections
The contrast of the melodic quality of the oboe, and the unpitched nature of the cymbal and the snare drum sets an important barrier to think in traditional imitation between these parts. Then reflections becomes a more adequate and suggestive word to me. The cymbal and the snare drum, working as a unit, try to reflect the ideas from the oboe, and vice versa. These reflections can occur simultaneously, in a canonic manner, or after a long period of time.
Carlos I. Toro-Tobón, a composer born and raised in Colombia, received his MA degree in composition from the Universidad EAFIT in 2011. Since 2005, he has been a professor of music theory and composition at the Universidad de Antioquia, Colombia, where also coordinated the music education program. In 2014 Carlos Toro-Tobón was granted a Fulbright scholarship to study in the U.S., and is currently pursuing a Ph.D. in music composition at the University of Iowa.
---
Jacob Simmons
The implication of what is missing
is a song about miscommunication and misunderstanding. The text, written by the composer, is a cut up poem of a poetic reflection on this topic:
     I             slightly away
on the past each
ephemeral
      stole a what you needed
downward and the other
    communication countertop
        looking, look at of what
  missing ephemeral unobserved
is but you were – didn't a story
        implication eyes glancing
     looking   I know you
ephemeral
                  I
        you                         didn't
                            I
The electronic component of this piece is derived from the shapes of the most prominent formants in the female voice (based on a recorded C4). By building microtonal clusters, beginning with the approximated peak frequency and moving outward, the shapes of these clusters reflect the range and relative amplitude of the frequencies surrounding these peaks, which are transposed into an audible range. Each formant based cluster is given a distinct texture and varied transformations of the recorded voice. While the formant is literally the unheard frequencies that allow the ear to distinguish the timbre of a voice, metaphorically it represents the part of one's voice that is overlooked or unheard.
Jacob P. Simmons (b. 1987) is currently pursuing his Ph.D. in music composition at the University of Iowa. He holds Masters and Bachelor degrees in composition from Belmont University and Cornerstone University respectively. Jacob's music has been performed by the JACK Quartet, and has been featured at the Midwest Composers Symposium and the Exchange of Midwest Collegiate Composers. Jacob is presently studying composition with David Gompper, and has previously studied with Josh Levine, Nomi Epstein, Lawrence Fritts, Bill Pursell, Mark Volker, and David Culross. Additionally, he has participated in masterclasses or received individual lessons with Louis Karchin, Michael Fiday, Elainie Lillios, Ofer Ben-Amots, Caroline Shaw, and David Lang.
---
Andrew Novitskiy
Of the Monsters in the Deep
The depths of the ocean have not been fully explored. The unknown can instill a sense of horror and reverence among people.
Andrew Novitskiy is a student in his 3rd year studying composition with Nima Hamidi. He is a major in both Computer Science and Music. His pieces have been performed by the JACK quartet and at previous Composer's Workshops.
---
Kris Peysen
Annealed in Fire
Annealing is a process in metallurgy whereby a substance is heated to a specific temperature and then slowly cooled. This allows for several worthwhile processes to occur, including the removing of impurities, strengthening of the material, and relieving of internal stresses. This piece, containing as it does such a high degree of aggression and relentless momentum, seems to go through a similar type of transformation. As for what I might be "purifying" or changing within the piece, I leave to the audience to ponder. But there are definitely several processes that occur throughout.
Another element that helped form this piece was my exposure at a relatively young age to heavy metal. It is something that has affected all my works in some form or another, but in this piece it is...more apparent, I think. In particular, the band Tool has had a tremendous impact on my aesthetics and various elements of my writing—and in this piece, the influence goes further, as various musical ideas in the piece actually owe their origins, at least in part, to ideas that have appeared in some of their songs. It is thus with respect and gratitude that I dedicate this piece to Tool.
Kris Peysen is a composer currently pursuing a Ph.D. in Music Composition at the University of Iowa. He holds a Bachelor of Music degree from the University of North Texas and a Master of Music degree from the University of Louisville, both specializing in composition. He has written for a wide variety of instruments, ranging from solo to chamber ensemble to full orchestra.
His music is typically rhythmically active, formally inventive, orchestrationally vivid, and harmonically a mix of tonal and non-tonal elements. Influences range from classical composers such as Stravinsky, Beethoven, Shostakovich, and numerous others to progressive rock bands such as Tool, Anglagard, and The Mars Volta. His music often strives for a synthesis of these disparate elements.
Notable awards include the 9th Annual Russell Horn Young Composer's Award for his piece Pagan Dance and the WMSA Scholarship to attend Wintergreen Summer Music Festival. For more information, visit his website at www.krispeysen.com.
---
Benjamin Wolfe
Who has seen the wind?
The text is taken from the Christina Rossetti poem with the same title:
Who has seen the wind?
Neither I nor you:
But when the leaves hang trembling,
The wind is passing through.
 
Who has seen the wind?
Neither you nor I:
But when the trees bow down their heads,
The wind is passing by.
Benjamin Wolfe is a junior studying vocal performance with Rachel Joselson. A musician with a wide range of interests, he also studies composition with Jean-François Charles and has completed his Associate of Arts degree in Music at Iowa Western Community College, where he studied flute.
---
Christine Burke
from the signal
One is asserted over the other.
This work, from the signal, was written for the Chicago Civic Orchestra's Composers Project and will be premiered on May 28th, 2017.
Christine Burke is a composer from Iowa City, IA whose music has recently been recognized by the Earle Browne Music Foundation's International Summer Academy, the Chicago Civic Orchestra Composers Project, Núcleo Música Nova, the John Donald Robb Composer's Symposium, and in additional collaborations with the JACK Quartet, NOW Ensemble, Cola Guitar Quartet, Kamraton Ensemble, and the Eclectic Laboratory Chamber Orchestra.
 
She is currently pursuing a Master's degree at the University of Iowa, where she studies with Josh Levine.