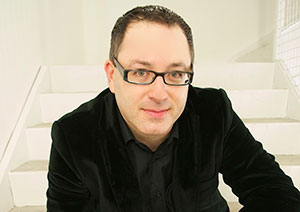 Concert VII
Michael Norsworthy, clarinet
with
David Gompper, piano
Saturday, November 08, 2014, 2:00pm
Old Capitol Museum Senate Chamber (map)
|| download program ||
Program
 SchiZm (1993-4)
    I. Field of Stars
    II. Puppet State
 

Derek BERMEL (b. 1967)
It Goes without Saying (2005)
     for clarinet and pre-recorded CD
 
Nico MUHLY (b. 1981)
Traceur (2014)
     for clarinet and piano
 
David GOMPPER (b. 1954)
Black Anemones (1980)
 
Joseph SCHWANTNER (b. 1943)
Souvenirs (2001-02)
   I. Happy Face
   II. Lily Monroe
   III. Y2K
   IV. Spain
   V. Cindy Redux
   VI. Ground 0
 
Robert BEASER (b. 1954)
Performers
Michael Norsworthy
Michael Norsworthy's virtuosity, versatility and musicianship has garnered critical acclaim around the globe. As soloist with numerous orchestras around the USA and abroad, as a captivating recitalist and chamber music performer and as one of the most celebrated champions of the modern repertoire having premiered over 100 new works at such venues as Carnegie Hall, Vienna's Musikverein, Moscow's Tchaikovsky Hall, The Casals Festival and the Aspen Festival, Norsworthy has defied categorization, dazzling critics and audiences alike. He has recorded for Mode, Gasparo, Albany, New World, BMOP/sound, Nonesuch, Canteloupe and Cauchemar records. He is principal clarinet with the Boston Modern Orchestra Project, on the artist faculty at The Boston Conservatory, a Selmer Paris Artist and Artistic Advisor and an artist/clinician for Rico Reeds International. For more info, please visit Michael Norsworthy's website.
Notes
Derek BERMEL
SchiZm
Field of Stars is a short musical puzzle in which the meetings of three separate metric cycles (clarinet, piano L.H., piano R.H.) dictate the harmonic and melodic structure of the movement. Puppet State similarly weaves connections between different meters; however, this time the material juxtaposed is a patchwork of fragments in hybrid styles, including a salsa and a klezmer-tango. The music should flow freely and continuously between sections. SchiZm was premiered by Harry Sargous, oboe, and Anton Nel, piano, in Ann Arbor, MI, May 1994, and in the clarinet version by the composer with Christopher Taylor at the piano at Alma College, MI 1995.
Grammy-nominated composer and clarinetist Derek Bermel has been widely hailed for his creativity, theatricality, and virtuosity, and his engagement with other musical cultures has become part of the fabric and force of his compositional language. Recently appointed Artistic Director of the American Composers Orchestra at Carnegie Hall, he is also Director of Copland House's Cultivate, Composer-in-Residence at Mannes College of Music, and just finished a four-year term as Artist-in-Residence at Princeton's Institute for Advanced Study. Bermel has become recognized as a dynamic and unconventional curator of concert series that spotlight the composer as performer and has received commissions from the Pittsburgh, National, Saint Louis, New Jersey and Pacific Symphonies, Los Angeles Philharmonic, Chamber Music Society of Lincoln Center, WNYC Radio, eighth blackbird, the Guarneri and JACK String Quartets, Music from Copland House and Music from China, De Ereprijs (Netherlands), violinist Midori, ASKO/Schoenberg Ensemble and Veenfabriek (Netherlands),among others. His many honors include the Alpert Award in the Arts, Rome Prize, Guggenheim and Fulbright Fellowships, American Music Center's Trailblazer Award, and Academy Award from the American Academy of Arts and Letters; commissions from the Koussevitzky and Fromm Foundations, Meet the Composer, and Cary Trust; and residencies at Yaddo, Tanglewood, Aspen, Banff, Bellagio, Copland House, Sacatar, and Civitella Ranieri.
---
Nico MUHLY
It Goes Without Saying
For a piece with such a strong electronic component, It Goes Without Saying is surprisingly organic. While the electronics include chillier, metallic noises samples ranging from a kitchen whisk to a unique set of tiny bells most prominent are the warm, woody sounds of a harmonium and of clicking clarinet-keys, sounds that share a certain sonic DNA with the live components of the performance.

The piece also develops according to organic principles. Over the initial drone of the harmonium, the rhythm track and the clarinets build the material of the piece up from small, replicating cells into a lively and elaborate texture. The minutely wrought surface is stretched over the simplest possible formal contour, the drone undergirding the piece progressing from C to F and back again. When the slowly building dissonance of the underlying harmonium chord finally reaches its tipping point, the resolution corresponds to a dramatic timbral shock: a shocking burst of industrial noise, dominating rather than complementing its acoustic surroundings. Finally, the machine noises die away and the harmonies return home, the texture warms once again, now leavened by the gentle sound of the celesta.
Nico Muhly has composed a wide scope of work for ensembles, soloists and organizations including the American Symphony Orchestra, Boston Pops, Carnegie Hall, Chicago Symphony, countertenor Iestyn Davies, violinist Hilary Hahn, choreographer Benjamin Millepied, New York City Ballet, New York Philharmonic, Paris Opéra Ballet, soprano Jessica Rivera, and designer/illustrator Maira Kalman.

Among Muhly's most frequent collaborators are his colleagues at Bedroom Community, an artist-run label headed by Icelandic musician Valgeir Sigurðsson. Bedroom Community was inaugurated in 2007 with the release of Muhly's first album, Speaks Volumes. In spring 2012, Bedroom Community released Muhly's three-part Drones & Music, in collaboration with pianist Bruce Brubaker, violinist Pekka Kuusisto, and violist Nadia Sirota.

Born in Vermont in 1981 and raised in Providence, Rhode Island, Muhly graduated from Columbia University with a degree in English Literature. In 2004, he received a Masters in Music from the Juilliard School, where he studied under Christopher Rouse and John Corigliano.

His writings and full schedule can be found at www.nicomuhly.com.
---
David GOMPPER
Traceur, for clarinet and piano
This work is based on a series of sketches that were generated at the MacDowell Artist Colony in New Hampshire in December and January of 2013-2014, ideas generated from a sequence of fractions that create a symmetrical set of ratios (the Farey sequence) over time. While this trench work served as a somewhat obtuse structural foundation, the surface and expression of the music is very much related to the experience—mostly imagined—of the art of Parkour, and the person known as a traceur, who as a skilled runner and jumper often performs acrobatic feats of flight. The work is about the idea of being chased, trying to run as fast as possible into (but not around) rails and obstacles without wasting movement and without slowing down.

This work was completed November 3, 2014 in Iowa City, and premiered on a recital of contemporary American works November 8 on the University of Iowa campus, with Michael Norsworthy performing and the composer at the piano.
David Gompper has lived and worked professionally as a pianist, a conductor, and a composer in New York, California, London and Nigeria. Since 1991, he has been a Professor of Composition and Director of the Center for New Music at the University of Iowa. Gompper taught at the Moscow Conservatory as a Fulbright Scholar (2002). He received an Academy Award from the American Academy of Arts and Letters (2009) and a Fromm Commission from Harvard University (2013). Gompper has been an active accompanist for many singers and instrumentalists for the past 15 years, including violinist Wolfgang David (Vienna), clarinetist Michael Norsworthy (Boston) and baritone Stephen Swanson (Iowa City). Gompper's compositions have been performed in such venues as Carnegie and Lincoln Center (New York), Wigmore Hall (London), Konzerthaus (Vienna) and the Bolshoi Hall (Moscow). His Violin Concerto can be heard on a Naxos recording with the Royal Philharmonic Orchestra (London), and he is composing two more concerti, for clarinet and cello.
---
Joseph SCHWANTNER
Black Anemones
Black Anemones by Agueda Pizzaro
"Mother, you watch me sleep / and your life / is a large tapestry / of all the colors..."
"...weaving through eyes / the dew of flames / on the web."


Two Poems of Agueda Pizzaro, composed between July and August 1980, is the third of five works I have written for soprano, Lucy Shelton. The other works include: Wild Angels of the Open Hills (1977), commissioned by the Naumburg Foundation for the Jubal Trio, Sparrows (1979), premiered by the Twentieth Century Consort, Dreamcaller (1984), commissioned by the Saint Paul Chamber Orchestra and Magabunda (Witchnomad), "four poems of Agueda Pizarro," (1983), for soprano and orchestra, commissioned, by the Saint Louis Symphony Orchestra. Two Poems of Agueda Pizzaro was premiered by Lucy Shelton and pianist Margot Garrett on Nov. 25, 1980, in Alice Tully Hall, at Lincoln Center, in New York City. The texts are drawn from a bilingual collection of poems entitled, Sombraventadora/Shadowwinner by the American poet, Agueda Pizarro. While the poems were originally conceived and written in Spanish, this setting employs the English version translated by the poet's friend, Barbara Stoler Miller. The surrealistic images and the magical poetic landscape the poems evoke, mirror the vocal qualities I find most enchanting in Ms. Shelton's singing and my response was to attempt to unite these two compelling worlds. This work has been transcribed for flute or violin with piano and is presented here in Michael Norsworthy's recent transcription for clarinet.
Joseph Schwantner is an independent composer known for his dramatic and unique style and as a gifted orchestral colorist is one of the most prominent American composers today. He received his musical and academic training at the Chicago Conservatory and Northwestern University and previously served on the Juilliard, Eastman and Yale faculties.

Schwantner's compositional career has been marked by many awards, grants, and fellowships, including the Pulitzer Prize in 1979 for his orchestral composition Aftertones of Infinity and several Grammy nominations. Among his many commissions is his Percussion Concerto, which was commissioned for the 150th anniversary season of the New York Philharmonic and is one of the most performed concert works of the past several decades. Christopher Lamb, soloist in the new Naxos recording of Schwantner's music by the Nashville Symphony Orchestra received a 2012 Grammy Award for "Best Classical Instrumental Solo" with Schwantner's Percussion Concerto.

Schwantner is a member of the American Academy of Arts and Letters.
---
Robert BEASER
Souvenirs
was originally commissioned by the National Flute Association, for piccolo and piano. I collected the ideas for Souvenirs' six movements over the course of the late 1990's and finally got to work on the piece in earnest during the summer and fall of 2001. From the outset, I understood that I wanted to write a work that continued in the path of my Mountain Songs for flute and guitar (1985)—one which explored folk elements reformatted in one way or another. In Mountain Songs work I explicitly took extant and sometimes well-known Appalachian tunes and processed them through reinvented harmonies, materials and architectures. Souvenirs comes from more disparate sources (including Mountain Songs itself — Cindy Redux being a piano version of Cindy). Three of the six songs are completely original, two are based on folk tunes, and one is an invented Trope on a Lorca transcription of a Spanish folk song (The Four Mules) --discovered, lost and re-remembered.

The opening Happy Face uses only the white keys of the piano. It was one of the last pieces composed in the cycle (I wrote it upon returning from Rome in July 2002), and is as light as zabaglione. Lily Monroe is based on the eponymous folk song and is treated in a Mountain Song-like fashion: strophic, alternating between light and shadow, with an implied arch form, becoming increasingly schizophrenic and finally collapsing under the weight of its own hubris. I found the tune in the extraordinary Alan Lomax collection "Folk Songs of North America"—one of my bibles. Despite its title, Y2K has nothing to do with the Millennium. It is an original vocalise-- a song without words, dedicated to a friend. I sketched it a few years back, but couldn't find a context for it. When I finally understood how it fit in Souvenirs I was able to finish it. Spain comes from the Federico Garcia Lorca fragment based on a Spanish song "Los Cuatro Muleros". The guitarist Eliot Fisk had given me a copy of it; it sat in my studio for a while and eventually disappeared. I kept trying to remember it, but, as any composer does, I kept re-imagining it instead, until it morphed. The process of re-inventing allowed me to turn it into something rich and strange---and it became the longest of the six movements and the centerpiece of the work. Spain is followed jarringly without warning by Cindy Redux — which is about as far removed from it as Granada is from Apalachicola. I had long wanted to make a transcription of Cindy and had worked on one sporadically over the years between other projects. It fits remarkably well into this collection, even though its serves a completely different structural function. Ground O (the letter O, not zero) was composed in October of 2001. It was simply impossible for anyone living in New York not to have been profoundly affected by the events of the prior month. As we all hobbled around trying to make sense of it all, many of us resorted to the only thing we knew how to do: compose. For the longest time I was uncomfortable referring to it literally, and left the song hanging with temporary working titles. Yet as time worked its magic, I began to more readily accept things for what they were. And so sometime later I accepted the present title, albeit slightly skewed, for what it was as well.

The clarinet and piano version of Souvenirs was premiered by Joaquin Valdepeñas and Anton Nel at the Aspen Music Festival in 2005. Ground O was orchestrated in 2011 for full orchestra with violin obbligato and premiered by Gerard Schwarz and the Seattle Symphony close to the tenth anniversary of 9/11.
Robert Beaser has become one of the most accomplished creative musicians of his generation. Born in 1954 in Boston, Massachusetts, and educated at Yale, where he studied literature and political philosophy, Beaser has firmly established his own voice as a synthesis of Western tradition and American vernacular, receiving major commissions from organizations such as the New York Philharmonic, the Chicago Symphony, the Baltimore Symphony, Glimmerglass, New York City Opera, PBS Great Performances and the Beijing Modern Music Festival. Cited as an important figure in the "New Tonalists", Beaser has won many awards and honors in including Grammy and EMMY nominations, as well as Guggenheim, Fulbright and Rome Prize Fellowships. His music has been recorded for such labels as ARGO, New World, Albany,EMI Electrola, Innova, Naxos and is published by Schott Music Corporation. He was elected to membership in the American Academy of Arts and Letters in 2005.

Beaser is currently on the faculty of the Juilliard School, where he is Chairman of the Composition Department, and has served as the Artistic Director of the American Composers Orchestra at Carnegie Hall from 2001-2013. His recent article available online in Opinionator section of the New York Times entitled "Reconstructing Rome" chronicles his own personal journey as a composer, with links to samples of his wide ranging musical output. He is currently at work composing a large work for Baritone, Soprano and Wind Ensemble, commissioned by a consortium of 25 Bands across the United States, which will receive its world premier in 2014.