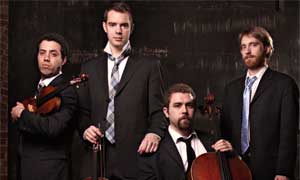 CONCERT III
Thursday, October 25, 2012, 7:30 p.m.
Riverside Recital Hall (map)
JACK Quartet
John Pickford Richards, viola
Ari Streisfeld, violin
Christopher Otto, violin
Kevin McFarland, violoncello
|| download program ||
Program
String Quartet No. 5 (2007)
 
Georg Friedrich HAAS (b. 1953)
not forgotten (2007-2010)
        Giverny
        Elliott*
        Toru*
        Ryoanji*
        Iannis*
        Now
* = the second through fifth movements will not necessarily be performed in the order listed
 
Roger REYNOLDS (b. 1934)
 
— Intermission —
 
Four (1989)
        Section B
 
John CAGE (1912 - 1992)
String Quartet No. 3 "Grido" (2001)
 
Helmut LACHENMANN (b. 1935)
Performers

Called "wholesome-looking" by the New York Times, violist John Pickford Richards has gained a reputation for performing new and unusual music throughout North America and Europe. He is a founding member of the ensemble Alarm Will Sound, allowing him to work closely with composers such as John Adams, Meredith Monk, and Steve Reich at venues such as Carnegie Hall, Lincoln Center, and the Holland Festival. In addition to his work with Alarm Will Sound, John is the founding violist of the JACK Quartet, which has worked closely with composers Helmut Lachenmann, György Kurtág, Matthias Pintscher, Wolfgang Rihm, and Elliott Sharp with appearances at the Library of Congress, Venice Biennale, and Donaueschingen Festival. John has appeared with bands such as the All-American Rejects, Silversun Pickups, and Grizzly Bear and has performed as soloist with the Pasadena Symphony, Armenian Philharmonic, Wordless Music Orchestra, Ossia New Music, and with the Lucerne Festival Academy Orchestra playing the solo part to Luciano Berio's Chemins II under the direction of Pierre Boulez. He holds degrees from the Interlochen Arts Academy and Eastman School of Music where his primary teachers were David Holland and John Graham.

 Ari Streisfeld has quickly established himself as an avid interpreter of contemporary classical music through performances with Ensemble Dal Niente (Chicago), Juventas Ensemble (Boston), Signal Ensemble (New York), and as a founding member of the critically acclaimed JACK Quartet (New York). Ari has worked closely with composers such as Helmut Lachenmann, Wolfgang Rihm, Matthias Pintscher, Steve Mackey, Toshio Hosokawa, Georg Friedrich Haas, and Aaron Cassidy and has performed at venues including Carnegie Hall, the Library of Congress, Le Poisson Rouge, the Venice Biennale, and Wigmore Hall. He has attended the Music Academy of the West, New York String Orchestra Seminar, Kent/Blossom Music Festival, Atlantic Music Festival, and the Lucerne Festival Academy. He has soloed with the Kennett Symphony Orchestra and the Northwestern Philharmonia. As a winner of the 2008 Boston University Concerto Competition, Ari performed the Berg Violin Concerto with the Boston University Symphony Orchestra. As a composer Ari was a recipient of the 2000 ASCAP Morton Gould Young Composers Awards. The Los Angeles Times said his arrangements of music by Machaut and Gesualdo were "imaginatively arranged for string quartet." He received his BM at the Eastman School of Music, MM at Northwestern University, and is an ABD Doctoral Candidate at Boston University. His teachers have included Zvi Zeitlin, Almita Vamos, and Peter Zazofsky. Ari has recorded for Mode, Albany, and Cantaloupe Records. He currently resides in New York City.

Christopher Otto studied composition at the Eastman School of Music with Martin Bresnick, David Liptak, and Robert Morris. As a violinist, Christopher has premiered many compositions and worked with such composers as Harrison Birtwistle, Pierre Boulez, Helmut Lachenmann, and Steve Reich. Christopher has participated as composer and performer in such contemporary music festivals as the Lucerne Festival Academy, Internationale Musikinstitut Darmstadt, Karlheinz Stockhausen Courses, Institute and Festival for Contemporary Performance at the Mannes College of Music, June in Buffalo, and Festival Internacional de Música Contemporánea de Michoacán.

Kevin McFarland is currently infiltrating the New York City new music scene as a recent transplant from his hometown of Lancaster, PA. As a freelance musician, he has recently appeared with ensembles such as Alarm Will Sound, Dal Niente, the International Contemporary Ensemble (ICE), Signal, and the Wordless Music Orchestra. He is also a member of the Tarab Cello Ensemble, a new music cello octet, with whom he has recorded for Bridge Records. Kevin holds a degree from the Eastman School of Music, where he studied composition with David Liptak, Robert Morris, and Ricardo Zohn Muldoon, and cello with Steven Doane. At Eastman he performed often with new music ensembles Ossia and Musica Nova and premiered over one hundred student compositions. He continues to compose both acoustic and electronic music and lives in Brooklyn.
Program Notes
Georg Friedrich HAAS
String Quartet No. 5
The starting point for the composition of my String Quartet No. 5 was the attempt to combine individual events with one another so densely that they blended into a unified totality, in which the individual contribution of each single instrument was dissolved. But very soon during the process of composition I began to develop a desire to take this homogenous sound apart again, by separating the instruments spatially. (I had already tried out this separation in my String Quartet No. 3, although in this case for reasons of musical communication - as the entire piece is played in total darkness.)
Similar material can be heard from different spatial positions.
The listeners find themselves inside the sound: inside overtone chords, which in some cases are created merely by the position of the bow on open strings; inside intentionally composed beat phenomena, of vibrating resonances and virtuoso passage work.
Notes by Georg Friedrich Haas
Born in Graz in 1953, Georg Friedrich Haas pursued his studies both in his home town with Gösta Neuwirth and Ivan Eröd, and later in Vienna with Friedrich Cerha. Already as a student, he investigated different concepts of microtonal systems, consulting the oeuvre of composers like Wyschnegradsky, Hába, Tenney, Nono and Grisey.
Microtonality thus became an important denominator in his work early on, as in his chamber opera Nacht which was premiered with great success at the Bregenz Festival in 1996. After initial experiments with quarter tones he began to explore sound as a set of iridescent intermediate values in the mid-eighties. In pieces such as his first string quartet (1997) he worked intensively with overtone constellations - a process that culminated in his ensemble piece in vain (2000).
Before long, Georg Friedrich Haas' works were being performed at the most prominent contemporary music festivals. He garnered much attention at the Salzburg Festival 1999 as the featured Next Generation composer. The Bregenz Festival commissioned another chamber opera (Die schöne Wunde) which was premiered in 2003 by Klangforum Wien. In the same year, the SWR Radio Symphony Orchestra performed his work Natures mortes in Donaueschingen, where in 2006 Hyperion. Concerto for light and orchestra also met with great acclaim.
Many renowned symphony orchestras have performed works by Georg Friedrich Haas, including the Bavarian Radio Symphony Orchestra and Vienna Philharmonic (Cello Concerto, 2004), Mozarteum Orchestra Salzburg (Sieben Klangräume, 2005), Cleveland Orchestra (Poème, 2006), Munich Philharmonic (Bruchstück, 2007), Vienna Radio Symphony Orchestra (Piano Concerto, 2007), WDR Radio Symphony Orchestra Cologne (BariSaxophone Concerto, 2008) and the Gewandhausorchester Leipzig (Traum in des Sommers Nacht, 2009). His opera Melancholia has been performed in various opera houses since its successful premiere at the Opéra National de Paris in 2008.
Last season, Georg Friedrich Haas' music was once again featured in Donaueschingen with the performance of his work for six pianos and orchestra. In January 2011, the world premiere of a new piece commissioned by Mozartwoche Salzburg, Wigmore Hall London and the Philharmonie Cologne in honor of the 30th anniversary of the Hagen Quartett was given. Great anticipation surrounds Georg Friedrich Haas' new chamber opera Bluthaus. Featuring a libretto by Händl Klaus, the opera's world premiere took place in April 2011 at the Schwetzinger Festspiele. A joint commission from the Munich Chamber Orchestra and the Los Angeles Philharmonic Orchestra rounded out the season's Haas premieres this coming summer. Georg Friedrich Haas started off the 2011/2012 season as composer-in-residence at the Lucerne Festival, where some of his most important works were performed as well as the world premiere of his String Quartet No. 7 with electronics, written for the Arditti Quartet. In 2012, Haas' latest work, Duchcov for choir a cappella, will be premiered by the Bavarian Radio Choir in Munich. This summer, his work for ensemble entitled "ich suchte, aber ich fand ihn nicht" will have its world premiere in Munich performed by the ensemble musikFabrik Köln. Georg Friedrich Haas has received numerous composition awards and was honoured with the Grand Austrian State Prize in 2007. He has been a member of the Austrian Kunstsenat since May 2011.
---
Roger REYNOLDS
not forgotten
not forgotten (2007-2010) is an assemblage of individuals, music, and places that came into my mind and have not left. As memories often enter as barely noticed traces, flowering engrossingly, then displace, replaced by others, four of the six movements of this work are introduced by solos that gradually evolve into movements for the full quartet.
Giverny always begins a performance. The culminating Now, always ends it. It is my intention that the other four movements (Elliott, Toru, Ryoanji, and Iannis) will occur in differing order at each performance, lending a touch of the unexpected even when the content of the materials themselves is fully mastered. Why should music not be, as life is, not entirely predictable?
Giverny - this is a malleable chorale, responding to a memorable sketch Monet used to suggest his aims for one of the miraculous water lily paintings. The harmonic content is formed from a succession of superimposed diads. There is a wrinkle, however. The left hand is set so as to produce a particular interval in a particular register, and that fixed "hand set" wanders higher or lower on the same strings, so that the heard interval continuously changes, shrinking as the hand moves towards the bridge, and widening as the hand moves up the fingerboard. The performer fixes the hand so as to produce the required interval, and then uses this unchanging hand set, guided by the curving glissando indications. The "target interval" for each phrase sounds normally at a central moment in each phrase-gesture, but its effects wanders variably before and after this moment of stability.
There are occasional trilled chords—more stable and unanimous—that bloom briefly on the surface of the overall, aquatic surface.
Iannis is built around a moment in Xenakis' elemental Tetras. A memorable moment in Huddersfield in the early 80s introduced me both to the Arditti Quartet and to what was then Xenakis' entire output of chamber music for strings. Alternating between tremulous unanimity and assertive independence, my music converges upon and then emerges out of his specifics. Another element—The Aegean—frames this movement, recalling the periodic variabilities of ones experience with the glittering wave patterning of the waters that surround Greece.
Ryoanji—This movement responds to the raked sand and surrounded rocks of the fifteenth century Zen garden in Kyoto. It is almost devoid of pitch. Utilizing a repertoire of nine noise sources, temporal patters, echoing repetitions, and occasional moments of more forceful cohesiveness, it evokes a parched landscape of sounds with only the faintest touch of the lyric.
Toru—Takemitsu was almost as enamored of film as he was of sounds and their music. His scores include one for Teshigahara's haunting Woman in the Dunes. Takemitsu converted this music into a chamber work for strings, Dorian Horizon. A central, expressive quote from this piece forms a core to my Toru movement, towards which, again, my music converges and then departs. There are some startling interruptions in the form of auditory wasabi.
Elliott—This movement was adapted from a short string quartet written on commission from the Cite de la musique as a tribute to Elliott Carter. His riotous Third String Quartet includes a passage during which the cello rises in a powerfully expressive challenge to successions of acerbic, block-like chords. I have followed a similar process again here, arriving at and departing from the (almost) literal essence of the seminal Carter passage.
Roger Reynolds, Washington DC, January 2010
Roger Reynolds was born on July 18, 1934 in Detroit, Michigan. He was educated in music and science at the University of Michigan. Reynolds refuses categorization, responding to the variety of the contemporary world with a uniquely diversified output, music that ranges from the purely instrumental and vocal to engagements with computers, video, dance, and theater. His music is nourished by the Western tradition, also by those of Asia (where he lived in Japan for extended periods of time, supported by the Institute of Current World Affairs, an organization dedicated to the growth of international understanding), and by literature and the visual arts as well. Particularly identified with the writing of Beckett, Borges, Ashbery, and Kundera, Reynolds has sometimes responded with songs, as in the cycle last things, I think, to think about (1994), written collaboratively with poet John Ashbery. But there have also been instrumental glosses, including Focus a beam, emptied of thinking, outward... (1989) for solo cello, and a distinctive series of multichannel electroacoustic compositions collectively entitled VOICESPACE. About the fourth of the Voicespace series, Nicholas Kenyon wrote in The New Yorker that "The Palace is a powerfully atmospheric piece whose form is perfectly suited to the extraordinary visionary quality of Borges' poetry..." Visual art has provoked works as diverse as the 1991-92 Symphony[The Stages of Life] (inspired by self-portraits of Rembrandt and Picasso), Visions for string quartet, which responds to the startling range of Bruegel's imagination, and, more recently, another quartet, Ariadne's Thread, which is concerned with the character of line itself, both drawn and sounding. The Strad of London wrote that, "An incessant, insistent darkness throbs through the heart of [this quartet] capturing the neurotic and sublimated sexuality of the Ariadne myth in a strikingly original way. The result was a truly astonishing musical voyage."
Myth has emerged as central to another major undertaking, The Red Act Arias, premièred at the 1997 Proms Festival. Here, a text drawn from Aeschylus probes the deadly conflict between Agamemnon and Clytemnestra, using a narrator, choir, and orchestra augmented by a uniquely conceived 8-channel computer spatialization concept. Writing in The Sunday Times, Paul Driver called it "a kind of anthropological brooding; a secular oratorio in which the theme is the dark forces at the foundation of civilised society." Work on the planned opera, The Red Act, is proceeding now in the form of JUSTICE, for soprano, actress, percussionist, and computer spatialization, staged for the 1999 Theatre Olympics in Japan by Tadashi Suzuki.
While still at the University of Michigan, in the early 60s, Reynolds was a co-founder of the ONCE Festivals. Late in the same decade, he began to incorporate electronic elements into some of his works. Then, in the late 70s, his engagement with computers at Stanford Universitys CCRMA facility began. He completed The Palace there in 1978-80. Technology continues to represent for him a natural means of augmenting formal and coloristic resources (as in two major works written in Paris for Ircam: Archipelago (1982-83) for chamber orchestra and computer processed sound and Odyssey (1989-93), an opera in the mind on a bilingual text by Beckett). A signature feature of the composer's involvement with technology has been the gradual fulfilment of an early desire to confer an expressive reach upon the spatial aspects of musical sound (perhaps even one day to discover the roots of the empathic exclamation "I was moved"). Beginning with the notorious theater piece The Emperor of Ice Cream (1961-62), he introduced spatialization through antiphonies of live musicians, whereas, more recently, his work has involved the simulation of auditory illusions with computers, as in Two Voices -- an allegory (1996), commissioned by the Philadelphia Orchestra. WATERSHED, a pathbreaking exploration of the new DVD medium featuring his music, was released by Mode Records in January of 1999. Writing, in part, about the spatial dimensionality of the 1984 Transfigured Wind II, Andrew Porter observed that "Reynolds is at once an explorer and a visionary composer, whose works can lead listeners to follow him into new regions of emotion and imagination."
Reynolds's aesthetic outlook was jointly shaped by the American Experimental tradition (Ives, Varèse and Cage) and -- through his teachers Ross Lee Finney and Roberto Gerhard -- also by the Second Viennese School. His multicontinental career, in Europe, South America, Asia, and the Nordic countries, as well as in the United States, centers on composing, but includes writing, lecturing, organizing musical events, and teaching. In addition to writing articles for periodicals including Perspectives of New Music, the Contemporary Music Review, Polyphone, Inharmoniques, and The Musical Quarterly, Reynolds has published four books; Mind Models: New Forms of Musical Experience (1975) is the earliest, while the most recent, About Form and Method: The Rothschild Essays, is a detailed treatment of his compositional approach to be published by Harwood Academic Publishers.
Reynolds is Professor of Music at the University of California, San Diego, where, in 1972, he became founding director of the Center for Music Experiment (now the Center for Research in Computing and the Arts). He has also been Visiting Professor at the University of Illinois, Yale, Amherst, and the City University of New York. Master classes in settings such as Buenos Aires, Thessaloniki, Porto Alegre, Ircam, Warsaw, and the Sibelius Academy in Helsinki complement numerous American residencies. Reynolds has also been featured composer at such international festivals as Music Today and the Suntory International Program in Japan, the Edinburgh and Proms festivals, the Helsinki and Zagreb biennales, the Darmstadt Courses, New Music Concerts (Toronto), Warsaw Autumn, various ISCM festivals, and the New York Philharmonic's Horizons '84. He was the recipient, in 1989, of the prestigious Pulitzer Prize (which he won for the string orchestra composition Whispers Out of Time). Reynolds has also been honored by the National Institute of Arts and Letters and the National Endowment for the Arts. He has received commissions from, among others, Lincoln Center, The Library of Congress, the Koussevitzky, Fromm, Ford, and Suntory Hall foundations, the BBC, the Los Angeles and Philadelphia orchestras, the British Arts Council, Radio France, and Ircam (3). His works are recorded on New World, Neuma, Mode, Gramavision, Wergo, Lovely, CRI, GM, and Bridge compact discs. Reynolds is represented by Broadcast Music, Incorporated, and his compositions are published in printed editions exclusively by C. F. Peters Corporation
---
John CAGE
Four
Composed for the Arditti Quartet, the world premiere of Four was given on November 24, 1989 at the Contemporary Music Festival in Huddersfield, England. There is no overall score, but 4 parts, each of which can be performed by any of the players. Every part consists of three five-minute sections (A, B and C), each with flexible time brackets and one fixed time bracket. In a performance, parts have to be exchanged and repeated by another player after finishing one or more sections.
---
Helmut LACHENMANN
String Quartet No. 3 "Grido"
String Quartet No. 3 "Grido" is the raison d'être of the JACK Quartet's existence. We formed in 2003 to perform the work at a festival in Mexico, where we first worked with Lachenmann. The title "Grido" is derived from the first names of the then members of the Arditti Quartet, for whom it was written. (Graham, Rohan, Irvine, and Dov.) We joked at the time that, had the piece been written for us, it would have been titled "Jack."
Lachenmann is well known for his use of extended techniques; so much so that this fame (infamy?) could falsely detract from the essential beauty of his works. Gran Torso, his first quartet, employs almost no "normal" tone-production methods whatsoever. The title is evocative of a dismembered Greek or Roman sculptural bust, representing the husk of a classical form, or perhaps the death of classical music itself. Since then, Lachenmann's musical aesthetic has greatly expanded in terms of the dimensions he deals with. I've heard several lectures in which he talked about scales, or continua, in all elements of music. "Grido" establishes a relationship between noise and pitch that is not only congruous, but establishes a solid conceptual continuity. Sometimes, they are embedded within one another. The grinding of the bow at specific points on the string produces specific pitches. Extremely quiet circular bowing produces major triads veiled beneath a blanket of breathy sibilance. There is a surprising amount of "normal" tone production as well, although microtones or slow glissandi may lend more traditional harmonies a (perhaps unintentional) spectral quality. In short, the purpose of these extended techniques is not to be contrary to tradition but rather to what playing an instrument means.
The JACK Quartet has had the good fortune of working with Lachenmann on three separate occasions, the last of which we spent in tandem with the Arditti Quartet. Lachenmann has very specific sound concepts in mind for each technique, all of which he can demonstrate. Though not a string player, he holds his violin inverted like a cello and can produce every sound with exacting precision. When demonstrating a pitched rattling sound produced using extra pressure above the fingerboard, he would joke that each click of the bow hair should be articulated and countable. In addition these techniques are not only precise, but are meant to be beautiful.
One of Lachenmann's formal influences is the Baroque dance suite, and in "Grido" the dance elements are embedded within a larger structure. It is a single continuous movement with many sections and recurring motifs, but toward the end are two clear examples of dance movements that were pointed out to us by Lachenmann. The first is a waltz, but the triple time is masked by a duple subdivision, while dense chords are offset by saltando riffs and harmonics. The other device is a jig at the very end. A running sextuplet backdrop is sliced by brash noisy interruptions. Listen (and watch) for the "scream." You'll know it when you see it.
Notes by Kevin McFarland
Helmut Lachenmann (born 27 November 1935 in Stuttgart) is a German composer associated with musique concrète instrumentale. Musique concrète instrumentale implies a musical language that embraces the entire sound-world made accessible through unconventional playing techniques. According to the composer, this is music: "in which the sound events are chosen and organized so that the manner in which they are generated is at least as important as the resultant acoustic qualities themselves. Consequently those qualities, such as timbre, volume, etc., do not produce sounds for their own sake, but describe or denote the concrete situation: listening, you hear the conditions under which a sound- or noise-action is carried out, you hear what materials and energies are involved and what resistance is encountered."
His music is therefore primarily derived from the most basic of sounds, which through processes of amplification serve as the basis for extended works. His scores place enormous demands on performers, due to the plethora of techniques that he has invented for wind, brass and string instruments.
His more important works include his opera Das Mädchen mit den Schwefelhölzern (1990-96, after Hans Christian Andersen, Leonardo da Vinci and Gudrun Ensslin), the orchestral pieces Schwankungen am Rand (1974-75, for eight brass, two electric guitars, two pianos, four thunder sheets, and 34 strings), Accanto (1975-76, for clarinet, large orchestra and tape) and NUN (1997-99, for flute, trombone, male chorus, and large orchestra), the ensemble works Mouvement (- vor der Erstarrung) (1982-84, for three ad hoc players and 14 players) and "...zwei Gefühle...", Musik mit Leonardo (1992, (later incorporated in opera Das Mädchen mit den Schwefelh&0uml;lzern), after Leonardo da Vinci, for two speakers and 22 players) and three string quartets (Gran Torso, 1971, revised 1976, 1988; Reigen seliger Geister, 1989; Grido, 2001), as well as other orchestral, ensemble and chamber works and six piano pieces.
He has regularly lectured at Darmstadt since 1978. From 1976 to 1981 he taught composition at the Musikhochschule Hannover, and from 1981 to 1999 he taught at the Musikhochschule Stuttgart.
In spring 2008 he was appointed Fromm Visiting Professor at the Music department at Harvard University. He was also a composer-in-residence at Oberlin College during the same time.