Made possible by funding from the Iowa Arts Council and the National Endowment for the Arts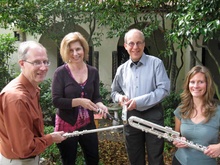 Concert XVIII
The IWO Flute Quartet
Sydney Carlson, Leonard Garrison, Jennifer Rhyne, Paul Taub
Flute Music of Harvey Sollberger, 1958-2015
Friday, March 24, 7:30 pm at the University of Iowa Recital Hall
|| download program ||
Program
Grand Quartet for Flutes (1962)
Harvey SOLLBERGER (b. 1938)
Aurelian Echoes for flute and alto flute (1989)
Leonard Garrison, flute; Paul Taub, alto flute
Two Pieces for Two Flutes (1958, rev. 1962)
I. Largo; Andante
II. Largo; Andante; Allegro quasi Hindemith
Sydney Carlson and Jennifer Rhyne, flute
Hara for solo alto flute (1978)
Leonard Garrison, alto flute
Second Grand Quartet for Sixteen Flutes (2015)
Performers
The IWO Flute Quartet, named after the members' home states of Idaho, Washington, and Oregon, was formed in 2011 by four leading Pacific Northwest Flutists. Its purpose is to provide excellent performances of the best repertoire for four flutes with special emphasis on new music. The group has performed throughout the northwest and at two National Flute Association Conventions.
    Sydney Carlson is Professor of Flute at Portland State University, a member of the Portland Opera Orchestra, and a frequent performer with the Oregon Symphony and Oregon Ballet Theater Orchestra. Ms. Carlson has performed in Mexico, Europe and China. She holds degrees from the Eastman School of Music, East Carolina University and the University of Houston. She has recorded on the Mark, Delos, Albany, CIEM, and Urtext Digital labels.
    Leonard Garrison is Associate Professor of Flute and Associate Director of the Lionel Hampton School of Music at the University of Idaho and former President of the National Flute Association. He performs in the Northwest Wind Quintet, the Walla Walla Symphony, and The Scott/Garrison Duo and teaches at the Red Lodge Music Festival in Montana and Blue Lake Fine Arts Camp in Michigan.
    Jennifer Rhyne serves as Assistant Professor at Pacific Lutheran University where she teaches flute, directs the Sølvvinden Flute Ensemble, and performs with the Camas Woodwind Quintet. She is also a member of the Tacoma Symphony. Rhyne previously taught at Fort Hays State University in Kansas. She holds degrees from the Oberlin Conservatory, the University of Michigan, and Stony Brook University.
    Paul Taub is Professor of Music at Cornish College of the Arts in Seattle and flutist and Executive Director of the Seattle Chamber Players. Secretary of the National Flute Association, he has also served on the Board of Chamber Music America. He has toured extensively in Eastern Europe with SCP, and has recorded on Periplum, New Albion, New World, Mode and CRI. His CD, Edge: Flute Music from the Periphery of Europe was  released in 2011.
Program Notes
Harvey Sollberger
Grand Quartet for Flutes
was written while I was a graduate student at Columbia University. It was inspired after an evening in New York City spent reading flute ensemble music with Betty Bang (no Mather at that time), Samuel Baron and my soon-to-be-wife, Sophie Schultz. High on our list of favorites was the early 19th century composer Friederich Kuhlau's "Grand Quartet" for flutes. (Kuhlau is now a mostly-forgotten composer, but is well-known to flutists; he was admired by Beethoven who dedicated a canon, "Kuhl Nicht Lau" to him.) My goal, perhaps offbeat at the time but kind of amusing now, was to channel Kuhlau into the Twentieth Century. Accordingly, the piece is dedicated to him, although behind the scenes and pulling some of the strings – influence/stealing, see "Two Pieces for Two Flutes" notes - is a more recent composer with the initials E.C.C. — Harvey Sollberger
 
Aurelian Echoes
for flute and alto flute (1989) dates from the time of my landing in Italy as Resident Composer at the American Academy in Rome. My studio was in the chapel of the ancient Villa Aurelia, hence the title. If the piece seems chirpy and exuberant, that's how I felt in those days. So "rooted" is the music in its time and place that listeners will hear at its close the tune I would hear intoned every hour on the hour by the bells of a nearby church. Another less ancient Roman recollection also slips in at the end. "AE" is dedicated to my former student, Lauren Weiss, with whom I first performed it in the Villa Aurelia on November 3, 1989. — Harvey Sollberger
 
Two Pieces for Two Flutes
was written while I was a student at the University of Iowa, and is dedicated to my teacher (then and still), Betty Bang Mather. We first performed it on one of Betty's recitals at the university. Like many an early piece, it fairly shamelessly displays its influences (perhaps what we call a composer's "maturity" is, in fact, merely his/her ever greater skill at concealing what he's/she's stolen from others). I won't tip my hand too much, but the fast section of the second piece is marked "Allegro quasi Hindemith." At least I knew who I was stealing from. — Harvey Sollberger
 
Hara for solo alto flute
is another piece dedicated to my teacher, Betty Bang Mather (on average I try to slip in a dedication to Betty every decade or so). Very much influenced by the music and playing techniques of the Japanese shakuhachi, "Hara" translates many of them into alto flute language, along with some of the fruits of the then-current European and American exploration of extended techniques. According to books I read at the time, "hara" was a very basic traditional Japanese concept rooted in the belly and signifying strength, fortitude, "guts." When I played it in Japan in 1986 none of the Japanese composers and musicians I encountered were familiar with the concept and, in fact, found it bewildering. Was it just SO Japanese that they didn't want to discuss it with a foreigner, or were my Western sources misled? An open question. Betty performed "Hara" in 1992 at the National Flute Association Convention in Los Angeles, and most recently, her student Laura Konig performed it at the 2012 NFA Convention in Las Vegas. — Harvey Sollberger
 
Second Grand Quartet for Sixteen Flutes
was composed for the IWO Flute Quartet who premiered it at the 2015 National Flute Association Convention in Washington, D.C.  At the request of the members of the Quartet, I wrote it so that each player performs not just on flute but on piccolo, alto flute and bass flute, as well; the piece, in fact – and you won't notice this, nor need you – employs every possible combination of the four different types of flute used. Beyond this "SGQfSF" is similar to several of the Variable Form pieces I've written since 2011 in that it is composed as a kind of circle which can be entered and left (started and finished) at any of a number of fixed points. The Variable Form idea, itself, grows out of my desire to find or create a kind of musical continuity that "forgets itself as it goes along;" a kind of amnesiac music that floats and unfolds cloud-like within a perpetual present moment. I 'll admit I've fallen off the wagon a few times in this piece – in the immortal words of the great Pewee Herman, "I meant to do that" – in creating several cross-references across the music's broad span. Old habits die hard. All this means (I think) is that you shouldn't listen here for some sort of teleological unfolding leading to a resolution that ties everything together, or that adds-up-up like a master accountant's balance sheet. I like music that's a little off-balance, even a little "off." That's what I'm reaching for, I think. — Harvey Sollberger
 
 
Harvey Sollberger
was born in Cedar Rapids, Iowa in 1938 and is a 1960 graduate of the University of Iowa, where he studied flute with Betty Bang Mather. Over the years he has worked as a composer, flutist, and conductor. From 1992 to 2008 Sollberger taught at the University of California, San Diego, where he led the contemporary music ensemble SONOR and was Music Director of the La Jolla Symphony Orchestra and Chorus. In 2012 he donated his papers to the Library of Congress, and in 2015 the National Flute Association granted him its Distinguished Achievement Award. On February 27, 2017 Sollberger appeared with the Orchestre de Flutes Francais (Paris) in a portrait concert of his music, including the premiere of his 2016 composition, "a meme rive" for 24 flutes of varying sizes and the European premiere of his "Sonate Charlie Hebdo." Coming up, he'll be Visiting Composer at the University of North Texas in April, 2017. Also current is his 2017 grant from the Iowa Department of Cultural Affairs in support of a recording by the IWO Flute Quartet of music written by him between 1958 and 2015.