Contemporary Music from Israel
A festival of music by living Israeli composers
back to Provost Global Forum page
back to CNM Festival page
Concert 3
Friday, April 21, 2023 at 7:30p, Concert Hall

Johnson County Landmark
Damani Phillips, director
featuring
Arnon Palty, guest director and bassist
Program
I Hear a Rhapsody

George Fragos (1919-2001) and Jack Baker
arr. A. Palty
| | |
| --- | --- |
| Copernicus by Sunlight | A. Palty |
Eten Bamidbar Neta Erez (Israeli Folk Song)

Dov (Dubi) Seltzer (1932-)
arr. A. Palty
Tomorrow's Expectations

Dave Leibman (1946-)
arr. A. Palty
G.I.G.

Dave Leibman
arr. A. Palty
Morrocan Medley

Abdul Wahab (1902-1991)
arr. A. Palty
| | |
| --- | --- |
| Basie Straight Ahead | Sammy Nestico (1924-2021) |
Trio Selections with Arnon Palty, bass
| | |
| --- | --- |
| Night and Day | Cole Porter (1891-1964) |
| | |
| --- | --- |
| Watch What Happens | Michel Legrand (1932-2019) |
Johnson Country Landmark
Marvin Truong, alto sax 1
Alex Kelsh, alto sax 2
Matt White, tenor sax 1
Charlotte Leung, tenor sax 2
Lucas Wymore, baritone sax
Emma Cryer. trumpet 1
Jada Spooner, trumpet 2
Mason O'Brien, trumpet 3
Anna Kelly, trumpet 4
Kolbe Schnoebelen, trombone 1
Michael May, trombone 2
Jake Greenlee, trombone 3
Ryan Carter, bass trombone
Askar Khaetov, double bass
Jerome Gillespie, drums
---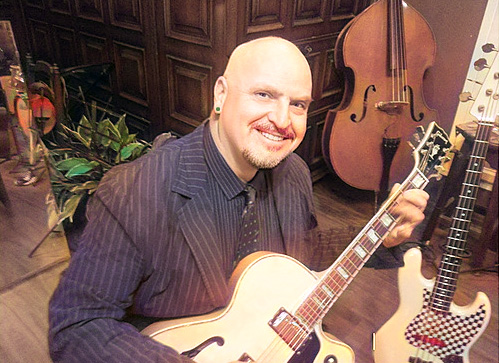 Composer, arranger, bassist, pedagogue, illustrator and lyricist Arnon Palty holds a bachelor's degree in arranging and composition from Berklee College of Music in Boston, a master's degree in jazz arranging and composition from the Manhattan School of Music in New York, and a doctorate with highest distinction from Bar Ilan University for his research work on jazz harmony. In addition, Arnon holds a master's degree in literature (poetry and prose writing) from the Haifa University and a diploma in animation from Morley College in London.
     Arnon Palty is a professor at the Academy of Music and Dance in Jerusalem where he serves as dean of the multidisciplinary faculty, and also serves as a guest lecturer at many colleges and universities around the world, such as the Netherlands, Poland, Moldova, England, Ireland, France, Norway, Belgium, Taiwan, Germany, and Mongolia. In the USA, Arnon serves as a guest lecturer at Berklee, Boston, New York University, Queens College, Texas, Northeastern University, Florida, Michigan, Iowa, Pennsylvania, and more.
     Arnon has played and recorded with many international jazz artists, including Dave Liebman, Lee Konitz, Phil Woods, Benny Golson, Terry Lynn Carrington, Zakir Hussein, Dan Adler, Ben Monder, Tony Williams, Skip Wilkins, Donald Vega, Cyrus Chestnut, Airto Moreira, Adam Nussbaum, Tim Hagans, Uri Kane, Ivonic Prene, Louis Porter, Marcello Pellitteri, and many more. His discography includes ten albums, including a quintet album with works written by him performed by Dave Liebman, Adam Nussbaum, Tim Hagans ,Dave Samuels and Uri Kane called Treasure Map, and an album dedicated to his arrangements called Tomorrow's Expectations, which was released by Dave Liebman and his big band in 2016 .
     Arnon is one of the most veteran bass players in Israel. He played and recorded with the Mel Keller Quartet, Amikam Kimmelman Quartet, Danny Gottfried's All-Stars Quintet, Johanna Shtrüfnlflafn Trio and the Crystal Sweets, Roman Kuntzman Quartet, Peter Wertheimer Quartet, Albert Piamante Quartet, Eric Einstein, Yoni Rechter, Yudit Ravitz, Gidi Gov, Gary Eckstein, Shlomo Yidov, Yossi Banai, Shimon Israeli, Shlomo Artzi, "The Sixteenth Lamb", the progressive rock band "Duvdevan", and his big band "Plutonium" (for which he wrote the libretto, music and orchestration for the jazz opera "Zerach the Alien").
     Arnon is the creator and artistic director of the "Dorot" (Generations) annual jazz festival, which takes place at "Beth Hayotzer" in Tel Aviv port. The festival is dedicated to female empowerment and intergenerational integration. Another annual production that Arnon produces and artistically directs at Beth Hayotzer is the modern music marathon "Elephants and Mists".
     Arnon Palty's compositions and arrangements are published by the prestigious music publishers J. W. Pepper and Walrus Publications. His book "Connecting points in jazz dialects; the metamorphic process" was published in 2018 by Or-Tav Publishing and the Ono Academic College. His books "Advanced Jazz Reharmonization Techniques and "Models and Lines" were published by Jazzbooks, New York in 2019 , as well and numerous published articles in a variety of professional magazines.
     Arnon has won the America-Israel Foundation awards five times in a row as a jazz composer and player, the first prize in the competition for writing arrangements for jazz orchestras in Mannheim, Germany, and in the composition competition of Laila Lavan, Tel Aviv for his string quartet "Opus 500". In 2021, Arnon won the Prime Minister's Award for jazz composers - Israel's most prestigious award in music.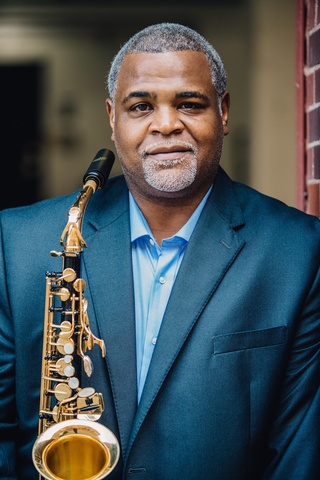 Damani Philips is a native of Pontiac, MI, and currently serves as Jazz Studies area head and Associate Professor of African American Studies at the University of Iowa. Phillips has earned Bachelor and Master of Music degrees from DePaul University and The University of Kentucky in classical saxophone, a second Master of Music degree in Jazz Studies from Wayne State University and the Doctor of Musical Arts degree in Jazz Studies at the University of Colorado at Boulder; becoming the first African American in the country to do so. An active performer, pedagogue and lecturer, Phillips has performed, taught and lectured throughout the world. He has previously served on the faculty of Grinnell College and Oakland University, and is actively sought as a guest artist, clinician, presenter and adjudicator throughout the nation. He has performed with artists/groups such as Lewis Nash, Christian McBride, Wycliffe Gordon, Bobby McFerrin, Marcus Belgrave, Terrell Stafford, Hank Jones, Red Holloway and Pat Bianchi among many others. Phillips has released 5 albums as a bandleader and published his first book "What Is This Thing Called Soul: Conversations on Black Culture and Jazz Education" in 2017.