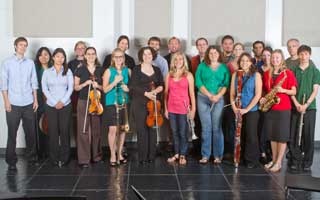 CONCERT VIII
Sunday, February 13, 2011, 7:30 p.m.
Riverside Recital Hall (map)
CNM Ensemble
performed works by
Irina Dubkova, Christopher Gainey, Paul Lansky &,
from Italy, guest composer Francesco Filidei
|| download program ||
Program
Danza Macabra (1996)
 
Francesco FILIDEI (b. 1973)
 
Gregory Riley, organ
 
Iago (2005)
 
Christopher GAINEY (b. 1981)
 
Nancy Gaub, violin
 
Sound Spaces (2010)
 
Irina DUBKOVA (b. 1957)
 
Jeffrey Chiou, flute
Marjorie Shearer, clarinet
Caly Crouch and Christine Augspurger, percussion
Emily Rolka, violin
Yoo-Jung Chang, violoncello
Younjung Cha, piano
 
 
— Intermission —
 
Corde vuote (2010)
 
Francesco FILIDEI (b. 1973)
 
Megan Karls, violin
Yoo-Jung Chang, violoncello
Younjung Cha, piano
 
Threads (2005)
        Prelude (Aria I)
        Chorus I
        Recitative II
        Chorus II
        Recitative III
        Chorale Prelude
 
Paul LANSKY (b. 1944)
 
Iowa City Percussion Group
Jonathan Werth, Mike Glaze, Oliver Molina, Aaron Ziegler
 
Finito ogni gesto (2010)
 
Francesco FILIDEI (b. 1973)
 
Rolando Jose Hernandez Gaitan, flute
Marjorie Shearer, clarinet
Nick Waymire, horn
Meghan Aube, percussion
Emily Rolka, violin
Yoo-Jung Chang, violoncello
 
Guest Performers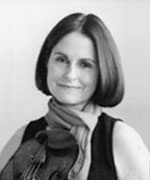 Violinist Nancy McFarland Gaub is a Lecturer in Music at Grinnell College, where she performs as a recitalist and chamber player, teaches violin, and directs the Chamber Ensembles. With her husband, pianist Eugene Gaub, Ms. McFarland Gaub founded and is co-Artistic Director of the acclaimed Roycroft Chamber Music Festival.
Ms. McFarland Gaub's continuing interest in contemporary music has led to many collaborations with composers, including this year a collaboration with Red Cedar Chamber Music on a new piece by Harvey Sollberger and performances of Christopher Gainey's "Iago".
From 1983-1995, she was a member of the first violin section of the Buffalo Philharmonic Orchestra. She was a frequent soloist with that and other orchestras, including a live radio broadcast with the BPO under conductor Aije Oue.
Ms. McFarland Gaub has been the recipient of numerous prizes, including the Society of American Musicians' Young Artist Award. She has performed at the Aspen, Spoleto(Italy), Chautauqua, Stowe(VT), Adirondack, Grant Park Symphony, Grand Teton and Eastern Music Festivals, the Festival de Invierno in San Miguel de Allende, Mexico, and in Europe and Africa. She has also performed as soloist and recitalist on radio and television broadcasts.
Originally from the Chicago area, Ms. McFarland Gaub received degrees from the Chicago College of Performing Arts and the Juilliard School, where she was a scholarship student of Dorothy DeLay. Her violin was made by Giovanni Grancino in 1695.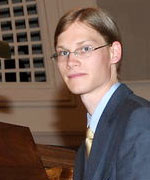 Organist Gregory Riley is a candidate for the Doctor of Musical Arts program in Organ Performance at the University of Iowa. He earned a Master of Music in Organ Performance from Eastern Michigan University and received the Bachelor of Arts in Music from Principia College. While at Eastern in 2009, he was awarded the Mason/Rigsby Organ Scholarship and made a recipient of the Erich Goldschmidt Endowment Fund.
Program Notes
Francesco FILIDEI
Danza Macabra
When Franz Liszt first visited the famous Camposanto cemetery in Pisa, during his stay in Tuscany, he was so deeply moved at the sight of The Triumph of Death (previously attributed to Orcagna), that some years later, still in the wake of that first impression, he was inspired to write his Totentanz for piano and orchestra on the theme of the Gregorian Dies Irae, which is still one of his most well-known works to this day.
Following extensive damage during the war, the fresco was restored and the sinopias (a reddish-brown ochre-like earth color pigment used in traditional oil painting and used for the cartoon or underpainting for a fresco) housed in the overlooking museum.
I wrote this work in the hope of evoking Liszt's visit to the Camposanto, referring not so much to the fresco itself, as to its sinopias, touching on numerous reference points therein. Both works are like skeletons with no flesh: one is without sound, the other without color. The original designs of the sinopias, the often-unwanted mechanical noises now both have their time of triumph. Both show images that emerge from the empty space like distant memories, be it through a sound like that of a clock ticking, or on the blank white wall.
And at the end, from the third state of body decomposition, as depicted in the sinopias, a new breath of life seems to emerge..."
Corde vuote
a short movement constructed on the open strings of the violin and the cello, was written for Next Mushrooms promotion and is dedicated to Tomoko Fukui.
Finito ogni gesto
"When every gesture of love has ended," a wonderful verse taken from Novissimum Testamentum by Edoardo Sanguineti, perfectly compares love to its dead. From this I began to work on the idea of a concerto for cello and orchestra: "Every gesture of love," a slow descent to hell based on the chromatic scale with a glimmer of light at the end. Sanguineti suddenly died from an aneurism on 18 May 2010, a few days after the first performance of the piece. His passing left an empty inconsolable void in the badly damaged cultural life of Italy. After fruitless attempts to escape from the track that "Every gesture of love" had burrowed in me, I decided to follow a similar way, constructing the form and a melody on the same descending chromatic scale. As I approached a crossroad, for the first time, I became bogged down and instead followed another direction.
Francesco Filidei, born in Pisa, Italy, completed his musical studies at the Conservatory in Florence and at the Conservatoire National Supérieur de Paris. He was a teaching assistant at the Ecole Normale Supérieure in Pisa, and an organist at the Pisa Cathedral (1993-1995). He also served as an assistant organist of Jean Guillou in St Eustache, Paris from 2001, and has given organ master classes in Spain and Italy.
As a composer, his works are published by Rai Trade and Ars Publica. In 2006 he received the Musikpreis Sazburg Förderpreis and the Commande of the Reading Panel from IRCAM. In 2006 he was composer-in-residence at the Academy Schloss Solitude in Stuttgart. In 2007 he won the Japanese Takefu International Prix and became member-in-residence of the Casa de Velazquez in Madrid for two years. In 2009 he obtained the Siemens Förderpreis, and since 2010 he has been Professor of Composition for Voix Nouvelles in Royaumont, France.
---
Christopher GAINEY
Iago
for violin solo, takes its title from a Shakespeare villain I love to hate. While reading Othello, I found that my preoccupation with the inner workings of Iago's devious plotting eclipsed my concern for the welfare of the other characters in the play. As the violinist fights against the limitations of his or her instrument, the music reflects (in an abstract way) Iago's constant attempts to overstep the boundaries of both his social position and underdeveloped conscience. Rather than attempting to reproduce a strict narrative, this music provides an emotionally unstable glimpse into the whirlwind personality of a complex villain.
Christopher Gainey (b. 1981) did his undergraduate and Master's level work at the Peabody Conservatory earning degrees in composition, guitar performance and music theory pedagogy before receiving a Ph. D. in composition from the University of Iowa. His music has been performed throughout the United States and abroad by groups such as the University of Iowa Center for New Music, The Ligetisplit Ensemble, The Affinity Chamber Players, Duo Transatlantique, and The San Francisco Guitar Quartet. His music is published by Vogt&Fritz and the SCI Journal of Music Scores, and his music is included on recordings from SCI, ERM Media, and the San Francisco Guitar Quartet. He is currently a lecturer in composition at Grinnell College and a Visiting Assistant Professor of Music Theory at the University of Iowa. For more information please visit his website.
---
Irina DUBKOVA
Sound Spaces

is written in memory and dedication to my dearly departed husband, Valery.
Born in Russia, Irina Dubkova (b. 1957) began composing at the age of five. After completing her formal training as a pianist, she graduated from the Moscow Conservatory in 1982 in composition and continued with post-graduate studies with Professor Roman Ledeniov and theory with Yuri Kholopov.
From 1982 to 1985, Dubkova was musical editor at the State Radio and TV Company. Irina Dubkova has taught in the Composition Department at the Moscow State P.I. Tchaikovsky Conservatory from 1995 to the present. And the same time she has served on the new member committee at the Union of All Russian Composers.
Irina Dubkova has participated in many competitions and festivals. She was a winner in the Moscow International Young Composer's Competition, in 1980 with Four Romances on texts of Sergei Yesenin for baritone and piano; in 1982 with her Symphony No. 1; in 1985 with a vocal cycle for children; in 1987 with Allegro for symphony orchestra. Her compositions have been performed regularly at the annual festivals Moscow Autumn, Universe of Sound, Nippon Kokoro, Earino Spring Festival, International Organ Gedike's Festival, All Russia Harp Festival and Meeting of the Friends. Performances of Dubkova's symphonic, chamber, vocal and choral music have been heard across the Russia and in many regions of the world.
---
Paul LANSKY
Threads
"written for Sõ Percussion in 2005, is a half-hour long "cantata" for percussion quartet in ten short movements. There are three "threads" that are interwoven in the piece: Arias and Preludes that focus on the metallic pitched sounds of vibraphones, glockenspiel and pipes; Choruses in which drumming predominates; and Recitatives made largely from Cage-like noise instruments, bottles, flower pots, crotales, etc. The aim of the different threads is to highlight the wide range of qualities that percussion instruments are capable of, from lyrical and tender to forceful and aggressive, and weave them into one continuous texture."
The movements are performed without interruption. Threads was premiered by Sõ Percussion on April 4, 2005 at Princeton University. Sõ Percussion has recorded all of Threads for an EP on the Cantaloupe Music label to be released on January 25, 2011.
Paul Lansky is one of the founding electronic music and computer music composers in America. Lansky studied with George Perle and Hugo Weisgall at Queens College, CUNY, and with Milton Babbitt, Edward Cone and Earl Kim at Princeton University. Lansky joined the faculty at Princeton in 1969 where he currently teaches courses in composition, computer music and 20th century music. In 2002, Lansky was honored with a lifetime achievement award by the Society for Electroacoustic Music in the United States. Currently, Lansky is taking a hiatus from his computer music to explore the possibilities of the acoustic side of music.