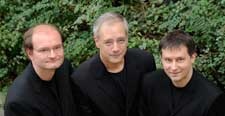 Sunday, February 21, 2010, 2:00 p.m.
at the Old Capitol Senate Chamber
Wolfgang David, violin
Wolfgang Panhofer, 'cello
David Gompper, piano
J.S. Bach, Schoenberg, Wolfram Wagner and Gompper
|| download program ||
Program
Trio (2010)
 
David GOMPPER
Sonata No. 3 in C major, BWV 1005 (1720)
        1. Adagio
        2. Fuga
        3. Largo
        4. Allegro assai
 
Johann Sebastian BACH
 
— Intermission —
 
Sonata for Violoncello solo (1990)
 
Wolfram WAGNER
Verklaerte Nacht [Transfigured night], op. 4 (1899)
        (arr. Edward Steuermann, 1932, for piano trio)
 
Arnold SCHÖNBERG
Performers
In the space of a few short years, Wolfgang David has ensconced himself on the international stage, both as a recitalist, and as a guest soloist with many leading orchestras such as the Royal Philharmonic Orchestra, Vienna Radio Symphony Orchestra, Johannesburg Philharmonic Orchestra, Berne Symphony Orchestra, New York Virtuosi etc.
He has been well received by the press -- the Washington Post wrote that he "scaled the heights of musicmaking" and The Strad described his playing "as emotionally wide-ranging as one could hope for".
Admitted to the University for Music in Vienna at the age of eight, David studied there for many years with Rainer Küchl, the concertmaster of the Vienna Philharmonic Orchestra. Later he continued his studies at the Musikhochschule in Cologne with Igor Ozim and with Yfrah Neaman at the Guildhall School of Music in London.
The winner of many competitions and prizes, David has performed in major halls such as Konzerthaus and Musikverein Hall in Vienna, Carnegie Hall in New York, Cerritos Center in Los Angeles, the Wigmore Hall in London, Victoria Hall in Geneva, and Philharmonie in Cologne.
Highlights of his career included concerts at the Great Assembly Hall of the United Nations in New York in the presence of Secretary General Kofi Annan, and a concert in Bangkok, given for the Queen of Thailand.
Wolfgang David performs on a violin built in 1715 by Carlo Bergonzi, Cremona, on exclusive loan to him from the Austrian National Bank.
Wolfgang David has recorded a CD with the Royal Philharmonic Orchestra under the baton of Emmanuel Siffert and two albums with the American pianist David Gompper. In December 09 he has recorded another CD with the Royal Philharmonic Orchestra which will be released on the NAXOS label in the beginning of 2011.
Born in Vienna, Wolfgang Panhofer studied at the Vienna Academy and at the Royal Northern College of Music with Ralph Kirshbaum. He has had masterclasses with Paul Tortelier, William Pleeth, Boris Pergamenschikow, and Steven Isserlis, and studied chamber Music with Andras Schiff and Peter Schidloff of the Amadeus Quartet. At the age of 17 he was one of the youngest members to play with the Vienna Philharmonic Orchestra.
He has performed concerts throughout Europe, Asia, the Middle East, Africa and the USA where he gave his debut at the Carnegie Hall in 2000. Numerous Radio and Television Broadcast performances include Eurovision under Franz Welser-Moest, a live broadcast shown in 8 countries within Europe; with Paul Tortelier for the BBC; with the Katowice Philharmonic Orchestra for Polish Television; and a special report on Slovenian TV. He has performed concerts under Lord Yehudi Menuhin, Franz Welser Moest, Martin Sieghart, Cornelius Meister, Jerzy Maksymiuk, Hans Zender and many others.
For the 150th Birthday Anniversary Concert of Antonin Dvorak at the Vienna Concerthaus he was invited to play with Josef Suk, Dvorak's greatgrandson.
Wolfgang has given concerts with world-renowned orchestras (Vienna Symphony, Niederösterreichische Tonkünstler Orchestra, Vienna Chamber Orchestra, the chamber music ensemble of the BBC Symphony Orchestra, the Philharmonics of Graz, Lodz, Poznan, Katowice, Kosice, the Baltic Philharmonic, the Slovenian Soloists Orchestra, the Adriatic Philharmonic Ancona, Arthur Rubinstein Philharmonic, Opera Orchestra Ljubljana etc.) and is a sought guest of international festivals.
He just recorded all Beethoven Sonatas for the American label MMO. He is juror of many international competitions and teaches master classes all over the world.
David Gompper has lived and worked professionally as a pianist, a conductor, and a composer in New York, San Diego, London, Nigeria, Michigan, Texas and Iowa. He studied at the Royal College of Music in London with Jeremy Dale Roberts, Humphrey Searle and Phyllis Sellick. After teaching in Nigeria, he received his doctorate at the University of Michigan, taught at the University of Texas, Arlington, and since 1991 has been Professor of Composition and Director of the Center for New Music at the University of Iowa. In 2002 - 2003 Gompper was in Russia as a Fulbright Scholar, teaching, performing and conducting at the Moscow Conservatory. In 2009 he received an Academy Award from the American Academy of Arts and Letters in New York City.
Gompper's compositions are heard throughout the United States and Europe. In 1999 his Transitus (for wind ensemble) premiered at Carnegie Hall, and a number of his works have premiered in London's Wigmore Hall, including: Homage a W. A. (William Albright) for piano; and Shades of Love, a song cycle on the poetry of Constantin Cavafy. Subsequent returns to Moscow have included premieres and performances of Crossed, Music in the Glen, Six Love Poems, Star of the County Down, Butterfly Dance, Spirals and Ikon. His latest work for violin and piano, Ikon, was taken on a 14-concert tour throughout the US and Europe last fall with Wolfgang David, a violinist from Vienna with whom Gompper actively collaborates as a pianist and composer. They have recorded three CDs on the Albany and VDE-Gallo labels.
He recently completed several new compositions including a 28 minute song cycle called The Animals on poetry of Marvin Bell written for Stephen Swanson, and an organ work for Konstantin Volostnov. His Violin Concerto and other orchestral works were recorded by the Royal Philharmonic Orchestra (London) in December 2009 for a release on Naxos in early 2011.
Notes & Bios
David GOMPPER
Trio
is a new work written for Wolfgang David, violinist and Wolfgang Panhofer, cellist (together with the composer at the piano) for a series of trio recitals during the spring of 2010. For the moment, Trio is a single-movement work that will eventually expand into a multi-movement composition.
---
Johann Sebastian BACH
Sonata No. 3 in C major, BWV 1005
The six solo-violin pieces are one of these comprehensive collections that Bach intended for performance and edification. They are divided into two sets of three pieces: three "sonatas" and three "partias". The three sonatas exemplify the sonata da camera (chamber-sonata) genre, each having a slow movement, a fugue, another slow movement, and a fast finale. All three partitas exemplify the sonata da chiesa (church-sonata) genre, each containing a series of dance movements. But no two partitas or sonatas are quite the same. Bach completed his sonatas and partitas for solo violin no later than 1720, the date on his manuscript of all six pieces.
Many preludes, reflecting their origin as introductory music, imitate an improvisation. This is especially true when a prelude simply animates a series of harmonies by repeating one pattern over and over. The C-major Prelude that opens Bach's Well-Tempered Clavier is the epitome of such "pattern-preludes." The arpeggiation pattern recurs twice for each harmony until close to the very end. The Adagio of the C-major solo-violin sonata is yet another pattern prelude. Using a very simple pattern -- dotted-rhythm neighbor notes -- it activates one or two notes of each harmony in what would otherwise have been a block-chord texture.
The Fuga is quite different, with its considerably longer subject, overall length, and design. The beginning of the chorale melody "An Wasserflüssen Babylon" is close to Bach's fugue subject, a melody which is often associated with the chorale "Komm heiliger Geist, Herre Gott," which is identical with the melody to "An Wasserflüssen Babylon" for the first seven notes. Yet like the A-minor Fuga, it works with the subject and its inversion (whose first appearance Bach marks with the words al riverso) and a chromatic-scale countersubject that also appears inverted only when the inversion of the subject enters. The C-major Fuga concludes by bringing back its first 66 measures in da capo fashion -- a fugal procedure absent from the other violin fugues. It is quite possible that the C-major Fuga is related to a now-lost organ fugue that Bach performed when he applied for a job in Hamburg in December of 1720, the year in which he wrote the autograph score of the solo-violin works. - Joel Lester
Johann Sebastian Bach (1685 - 1750) was one of the greatest contrapuntalists and most prolific composers of the 18th century. He brought the Baroque era to the point of greatest maturity and assimilated the utmost variety of rhythms and textures from all over Europe. Bach was able to manipulate motive on both small and large scales, and his compositions exhibit a highly evolved sense of harmonic function and control.
---
Wolfram WAGNER
Sonata op. 31
The Sonata for violoncello solo was written for Wolfgang Panhofer, who not only premiered it in 1990, but also recorded it for Austrian radio and performed it on many tours around the world. The sonata requires a great deal of virtuosity with its artificial harmonics and double stops but also inner depth in its lyrical parts.
Wolfram Wagner (born 1962, Vienna) studied composition at the Universitaet fuer Musik in Vienna, at the Guildhall School of Music and Drama in London and at the Musikhochschule in Frankfurt. He has won several awards and distinctions (the international Anton Bruckner Prize, Linz in 1997, and the Publicity Prize from AKM Austria, among others). In 1992 he was the Composer in Residence of the Academy of St. Martin in the Fields, London, and is currently a professor in composition, harmony and counterpoint at the Universitaet fuer Musik in Vienna. His works include 3 operas, 1 ballet, 2 oratorios, several orchestral works, chamber music, and works for choir and songs). They have been written for or commissioned by the Wiener Musikverein, Wiener Konzerthausgesellschaft, Academy of St. Martin in the Fields, Neue Oper Wien, Carinthischer Sommer, and performed by such ensembles as the Radio Symphony Orchestra Vienna, the Residence Orchestra Den Haag, as well as by famous chamber groups and soloists.
---
Arnold SCHÖNBERG
Verklärte Nacht op. 4
Arnold Schönberg composed his op. 4 in just three weeks in September 1899, while vacationing in Payerbach at Semmering with Alexander von Zemlinsky and Zemlinsky's sister Mathilde - who would become Schönberg's first wife. The final version of the manuscript is dated 1 December 1899. The subject of this programme music, which "restricts itself to sketching nature and expressing human emotions" (Schönberg), is Richard Dehmel's poem "Verklärte Nacht," from the collection "Woman and World" ("Weib und Welt") published in 1896.
Dehmel was one of Germany's most highly regarded lyric poets just prior to WWI. His principal work, "Two Figures: A Novel in Romances" ("Zwei Menschen: Roman in Romanzen," 1903), essayed eroticism and sexuality within the context of stylistic conceptions of art nouveau (Jugendstil). The first main piece of the "Novel" is "Verklärte Nacht." The five verses of the poem sketch in sections of clearly contrasting content: a forest scene with two figures (Nos. 1, 3, 5); the words of a woman who loves one man but is expecting a child from another, and who thus reproaches herself (No. 2); the words of the man, who comforts the woman and accepts the child as his own (No. 4).
As a one-movement form, Verklärte Nacht represents a conjunction of two developmental trends in the music of the late 19th century: the inclination towards the one-movement sonata (Franz Liszt's Sonata in B-minor stands as historical model) and the one-movement symphonic poem. The formal arrangement in Schönberg's op. 4 by and large adheres to the literary model, whereby the narrative sections (the woods scenes) and internal episodes (direct discourse) find their parallel in rondo form.
In 1932 the composer gave permission for his one-time (pre-WWI) pupil, the pianist and composer Eduard Steuermann (1892-1964), to make a new arrangement of the score. - Therese Muxeneder © Arnold Schönberg Center
Verklärte Nacht (Transfigured Night) - poem by Richard Dehmel

Two People walk together through the bare, cold wood alone;
the moon is with them. They gaze at the sky. As the moon orbits
above the high oak trees, no cloud obscures the heavenly light
towards which the topmost black branches reach.

A woman's voice speaks:
'I am carrying a child, which is not yours;
I walk in sin alongside you.
I have offended against myself deeply.
I no longer believed in happiness
and yet I still yearned for a purpose in life, for happiness and the duties of motherhood.
So I dared and, trembling, allowed my body to be
embraced by a strange man,
and have become pregnant by him.
Life takes its revenge now that I have met you.'

She walks awkwardly:
She looks up - the moon is with them still.
Her dark glance is suffused with light.

A man's voice speaks:
'The child you have conceived
will never burden your soul.
See, how brightly the universe shines!
Everything is radiant
as you drift with me on the cold sea.
Yet a unique warmth vibrates
from you to me, from me to you.
This will transfigure the other man's child;
you will carry it for me, as if it were mine;
you have brought such radiance to me,
you have made me as a child myself.'

He holds her firm hips.
Their breathing is joined in the air as they kiss.
Two people walk together through the high, clear night.
Translation: Adam Shaw
Arnold Schönberg (1874 - 1951) is in equal measure celebrated and criticized as the inventor of atonality and twelve-tone music. But to his own way of thinking, Schönberg was at pains to position himself as one who continued--rather than rejected--the traditions of his German forebears reaching back at least as far as Beethoven. An intense and deep-thinking individual, iconoclastic even, Schönberg was a philosopher, a pedagogue, and an accomplished painter. His connection with the Blaue Reiter group in the years leading up to World War I had lasting implications. Musically, it resulted in his life-long commitment to concision and hyper expressiveness that, sadly, is all too often regarded in disparaging terms. Today, some fifty plus years after his death, but a handful of Schönberg's compositions (and at that, relatively early works such as Erwartung (1909), and Pierrot lunaire (1912)) receive the recognition that is their due.