FLUTE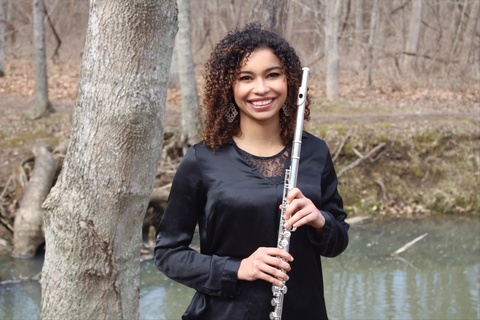 Tâmila Freitas is a flutist, singer, music educator and composer from Brazil, completing her DMA in Flute Performance at University of Iowa with Professor Nicole Esposito. She did a double master's degree in Flute and Voice performance at the University of Missouri. She majored in music at Amazon State University in the city of Manaus, Brazil. She performed at Manaus Symphonic Orchestra, Amazon Philharmonic Orchestra, University of São Paulo Woodwinds Orchestra, Symphonic Band of Tatui Music Conservatory, Missouri Symphony Orchestra, and last recently at Mizzou New Music Ensemble, where she performed and recorded many projects during the pandemic, including a soundtrack for Pedro Zamora Documentary. She won the Tatuí Conservatory Chamber Music Contest in 2013. She specialized in Brazilian Jazz Music at the University of São Paulo. In 2018, she soloed the Quantz's Concerto in G major with the Manaus Symphony Orchestra. In 2019, she won the MMTA flute competition in the Grad Student category and the Ki Pappa Lamba Award, for best academic performance at the Graduate woodwinds area. She won the American Protegè International Woodwinds and Brass Competition in 2019.
OBOE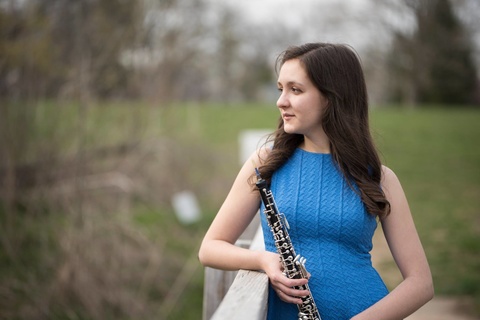 Lisa Lutgen is pursuing her Doctor of Musical Arts degree at the University of Iowa where she serves as the Oboe Teaching Assistant. Lisa also serves as the Artist Instructor of Oboe at Cornell College in Mount Vernon, Iowa and teaches with the Quad City Symphony Orchestra's Private Lesson Program.  While pursuing her master's degree in North Carolina, Lisa performed with the Roanoke and Fayetteville Symphony Orchestras. Her oboe playing is featured on the logo soundtrack for Davidson College's WDAV Radio Station (89.9FM) in Davidson, North Carolina. During the fall of 2016, Lisa studied at the Institute for the International Education of Students Study Abroad Program in Vienna, Austria where she studied with Thomas Höniger, principal oboe of the Vienna Radio Symphony. As a supporter of community engagement and outreach, Lisa organized and performed a benefit concert in 2018 supporting the nonprofit, Educate Haiti Inc., an organization that provides basic necessities and education to Haitian teachers and students. Lisa holds a Bachelors of Music in Oboe Performance from Indiana University and a Masters of Music from the University of North Carolina School of the Arts. Lisa's primary teachers include Dr. Courtney Miller, Jaren Atherholt, Roger Roe and Linda Strommen.
CLARINET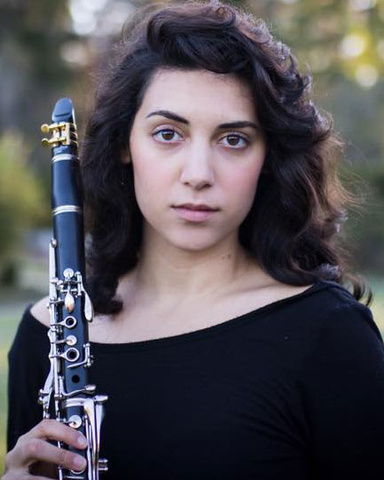 Ana Maria Locke is currently a doctoral candidate at the University of Iowa and studying clarinet under Professor Jorge Montilla. Locke studied with Dr. Espina-Ruiz while at The University of North Carolina School of the Arts earning her Master of Music degree in clarinet performance. While she was there she performed as a member of the UNCSA Wind Quintet, and Asombro Reed Quintet. Locke had the privilege of performing as a soloist with the contemporary dance program while studying at UNCSA, under the leadership of "America's Quintessential American Ballerina", Susan Jaffe. Locke served as an ArtistCorps member for two years in Winston-Salem North Carolina serving high-need students. Locke received her Bachelor of Music Education degree from Troy University where she studied with Dr. Timothy Phillips.
BASSOON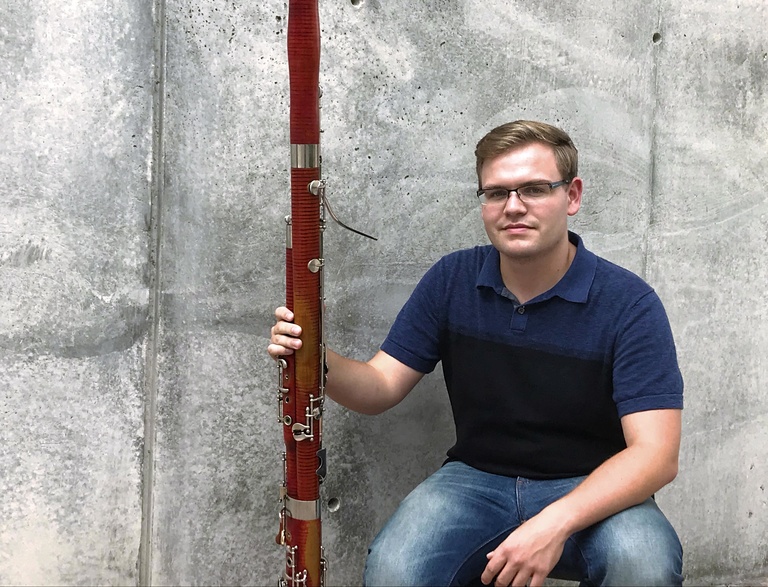 Keegan Hockett is currently pursuing his DMA in Bassoon Performance and Pedagogy at the University of Iowa while working as a research assistant for the Office of Outreach and Engagement's Arts Share program. He previously attended the University of Miami's Frost School of Music where he earned his MM as a Henry Mancini Fellow. Keegan has also performed at the National Orchestral Institute, Kent Blossom Music Festival, PRISMA, and with various regional orchestras in both Iowa and South Florida. Keegan is grateful to his primary mentors Benjamin Coelho and Gabriel Beavers for their continued guidance in life, music, and reed-making.
HORN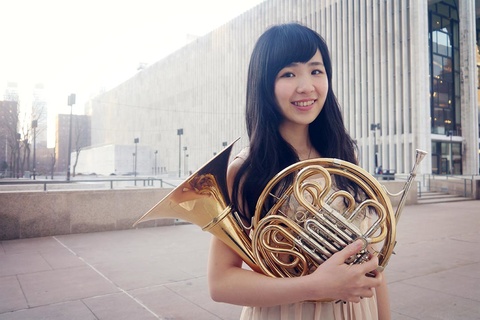 Yi-Hsun Tang is a Taiwanese horn player who is currently pursuing her DMA degree in Horn Performance at the University of Iowa, studying with Dr. Katy Ambrose. She received her Masters degree at the Manhattan School of Music and studied with David Jolley. During her time at the Manhattan School of Music, she got accepted into the exchange program at Amsterdam van Conservatorium to study with Herman Jurrissen. She was a horn freelancer based in Shenzhen for two years and was a regular member of the Shenzhen Grand Theater Orchestra. Also, she received an opportunity to play with the Macao Symphony Orchestra multiple times as a substitute horn. She has also attended many masterclasses, studying with Richard Dean, Javier Gandara, Jeff Lang, Radovan Vilakovic, and Laurens Woudenberg.
TRUMPET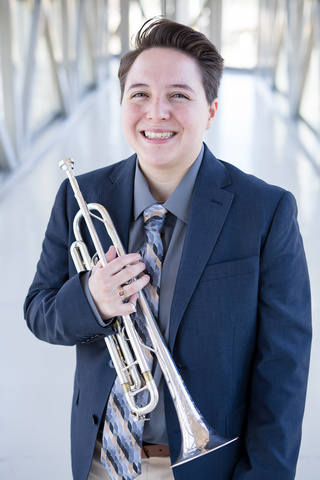 Meaghan Reinschmidt is currently pursuing her Master of Arts degree at the University of Iowa where she serves as the Trumpet Studio Research Assistant. Meaghan plays alongside the brass professors in the Iowa Faculty Brass Quintet and works in the School of Music instrument room. Meaghan previously attended Concordia College-Moorhead where she earned her Bachelors of Music degree in Trumpet Performance. She is grateful for the opportunities that music has given her and she looks forward to continuing her studies at Iowa for the next two years.
TROMBONE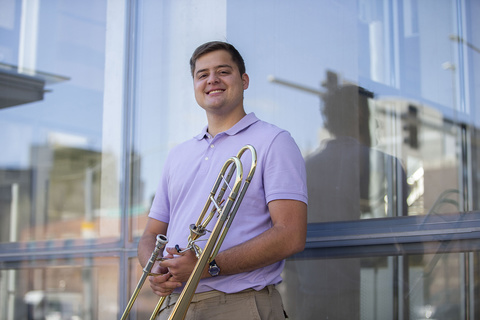 Benjamin Hahn is currently pursuing his Master of Arts degree at the University of Iowa and currently serves as the Trombone Studio Teaching Assistant. A graduate of Western Michigan University with degrees in Trombone Performance and Electrical Engineering, Ben has placed as either an alternate or a finalist in the prestigious Larry Wiehe Tenor Trombone Competition for the last four years.  Beyond that, Ben has also played in the Ottumwa Symphony Orchestra, the Durward Ensemble, and the Kalamazoo Civic Pit Orchestra. 
PERCUSSION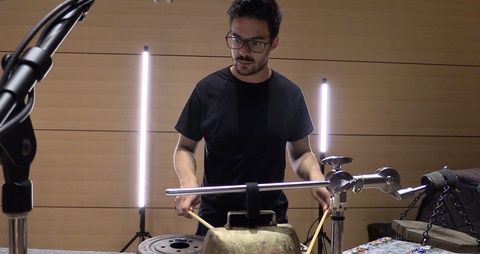 Peter Grubisich is a flexible and engaging musician with a wide variety of experiences and interests. Originally from the Chicago area, his earliest foray into music came as a member of the Veselo Selo Tamburitza Orchestra, a Serbian-American youth ensemble which performed the traditional Tamburitza string music of the Balkans at venues across the Midwest. While a graduate student studying percussion at the University of South Carolina, he performed professionally with the Rock Hill Symphony Orchestra and the South Carolina Philharmonic and served as director of USC's Palmetto Pans steel pan ensemble. During this time Peter also performed with the Green Vibes Project, an arts organization and performance collective with the goal of promoting sustainable practices in new music composition. He has worked extensively as a teacher in the marching arts and has also served as a teaching assistant at the Birch Creek Music Performance Center in Door County, WI. 
Peter is a DMA candidate in percussion performance at the University of Iowa as well as adjunct instructor of music at Cornell College, where he directs their steel pan ensembles. He performs regularly with the Pandelirium steel pan group and with Two Petes and a Pan, a musical venture with fellow percussionist Peter Naughton exploring the intersection of art music and popular styles.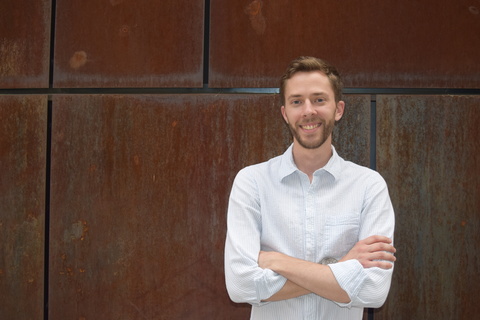 Jordan McFarland is currently pursuing his DMA in percussion performance at the University of Iowa where he works as a percussion teaching assistant. From 2016-2019, Jordan was as a freelance percussion specialist in Denver, Colorado where he worked with several successful music programs including Rock Canyon High School, Ponderosa High School, and Cherry Creek High School. Jordan received his master's degree in Percussion Performance from the University of Tennessee under the instruction of Andrew Bliss and Keith Brown, and his bachelor's degree in Music Education from Morehead State University studying with Brian Mason and Frank Oddis. As a performer, he has played venues such as the Percussive Arts Society's International Convention, the McCormick Marimba Festival, and has presented clinics at various schools across the country.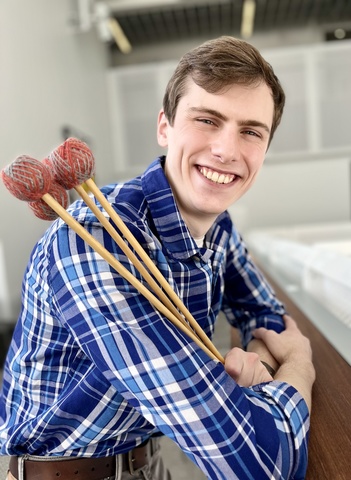 Ben Stone is an undergraduate student at the University of Iowa pursuing his Bachelor of Music degree in Percussion Performance, as well as a Bachelor of Science degree in Computer Science. In his time at the University, Ben has had the opportunity to perform with various ensembles such as the Symphony Band, Center for New Music, Percussion Chamber Ensemble, and Steel Band, as well as ensemble competitions at the Percussive Arts Society International Convention in 2017 and 2021. Ben has also had several of his steel band arrangements performed by the University of Iowa Steel Bands. In the coming years, Ben plans to combine his passion for music and skills with technology to explore new avenues of musical creativity.
PIANO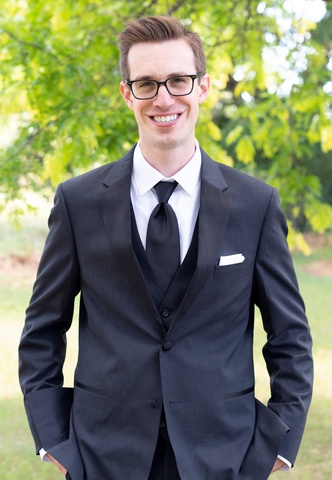 Neil Krzeski is a DMA student at the University of Iowa where he studies piano with Ksenia Nosikova. Neil has appeared as a soloist with the Lawrence Symphony Orchestra and Concord Chamber Orchestra and has had success in several competitions including first place in the National Federation of Music Clubs Student/Collegiate Biennial Competition, second place and Glenn Gould Memorial Award in the "Bach With a View" International Young Artists Competition, and first place in the Wisconsin Music Teachers Association Badger Collegiate Performance Competition. Neil has played in masterclasses for such pianists as Jeremy Denk, Ursula Oppens, John Perry, Awadagin Pratt, and David Kaplan. Recent festival appearances include the Bowdoin International Music Festival and Gijón International Piano Festival. Neil received his master's from Northwestern University studying with José Ramón Mendez, and he graduated from Lawrence University magna cum laude under the tutelage of Michael Mizrahi.
VIOLIN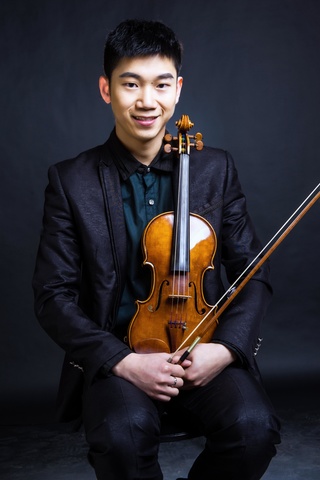 Junhong Zhou, born in China, received his first violin lesson at the age four. Junhong received professional training at the Sichuan Conservatory of Music Middle School when he was fifteen. In 2009, he enrolled at the Shanghai Conservatory of Music under Professor Jiamin Yuan, and received his M. M. degree in Violin Performance from the University of Central Oklahoma in 2020. Currently, Junhong is the fellowship recipient at the University of Iowa, and is pursuing the Doctor of Musical Arts degree under the guidance of Dr. Scott Conklin.
     In 2016 he attended the Hong Kong International String Competition, where he won the Excellent Performer Award. Two years later, he was invited to provide a recital at CollabFest at the University of North Texas. He was assigned as one of the three concertmasters of the Sewanee Summer Music Festival in 2019 and had masterclasses with Lin He, Gregory Lee, Eva Cappelletti Chao, and Mari-Liis Calloway. With a strong recommendation from the school of music, he received an Iowa performance fellowship to pursue the Doctor of Musical Arts degree at the University of Iowa in Fall 2020. Moreover, Junhong was selected as the concertmaster of the University of Iowa Symphony Orchestra.
     As a musician, he performed in China - Beijing, Hongkong, Shanghai, Guiyang; in the United States - Oklahoma, Tennessee, Texas, Iowa; in South Korea - Gumi. He served as a violin player in the Guiyang Symphony Orchestra from Jan. 2013 to Nov. 2017, where he gained experience and developed his career with a number of eminent conductors, such as Ricco Saccani, Matthew Kasper, Zuohuang Chen, and Joshua Tan.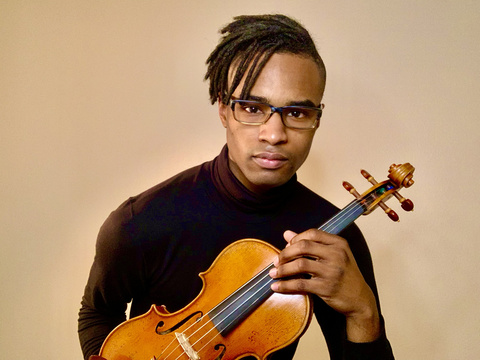 Ramel Price, now a second-year doctoral student at the University of Iowa, has a deep passion for playing violin. From the age of nine, Ramel picked up the violin and, after some basic instruction, taught himself to play until the age of eighteen where he began taking regular weekly lessons. Ramel studied under Dr. Leonid Yanovski for six years earning his Associate of Arts degree at Pensacola State College, followed by his Bachelor of Music degree at the University of West Florida. During this time, he served as concertmaster of the Runge Strings Orchestra regularly playing solo pieces with orchestra. Ramel then went on to study at Western Illinois University under Julieta Mihai for two years during which time he served as concert master of the Western Illinois Symphony Orchestra. He now studies violin in the studio of Katherine Wolfe at the University of Iowa determined to have a substantial career as a concert violinist.
     Through overcoming many physical, mental, and circumstantial hurdles he has proven that it is possible to do extraordinary things through determination and perseverance. In addition to playing violin Ramel loves to travel and study different languages. He can speak Japanese and has traveled to various parts of the world including Swizterland, Romania, Italy, and Japan.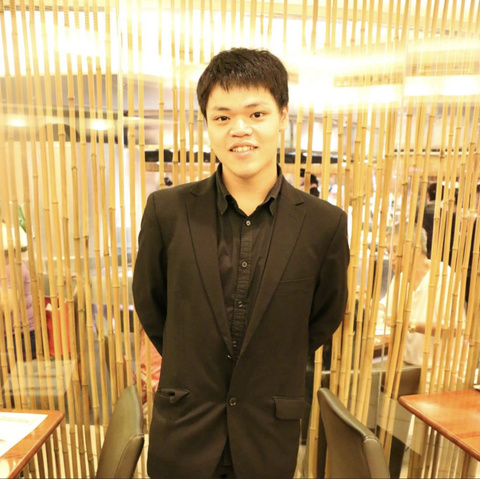 Sheng-Ho Wang has been a graduate assistant at University of South Dakota since January 2018 and has served as concertmaster of the USD Symphony since August 2016. He has also served as assistant concertmaster and principal second for the USD Chamber Orchestra, and he taught violin and viola lessons for the upper strings studio, as needed, since January 2018. His teaching experience includes a five-student private studio in Vermillion since 2016 and leading sectionals for both USD Symphony and the USD Chamber Orchestra. He has been the concertmaster for the last two opera productions at USD, Die Fledermaus and The Consul. In April 2018, Wang was featured as a soloist with the USD Symphony with the Pyotr Ilyich Tchaikovsky Violin Concerto as one of the winners of the USD Concerto Competition.
     Wang graduated in 2015 from the National Taiwan University with a degree in Music. He studied with Professor Ouyang Huigang. During his time at the university, Wang participated in many concerts including performances in the Zhongshan Hall, the National Concert Hall, and the New Taipei City Cultural Center. Wang's future plans include participation in American music camps, a tour in California, and continuing his education by earning a Doctor of Musical Arts in violin performance.
VIOLA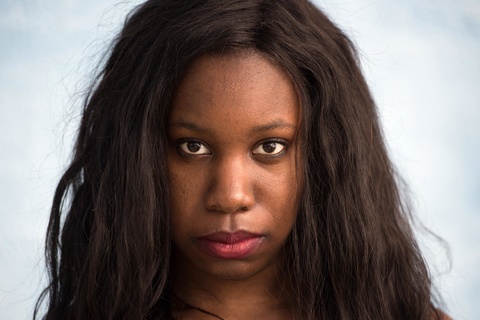 Oregon native Fatima Gassama has performed in master classes with renowned violists such as Marcus Thompson, John Madison, and Elias Goldstein. She is currently pursuing a Doctor of Musical Arts degree in Viola Performance under the tutelage of Professor Christine Rutledge. Her past instructors include Peter Slowik, Michelle LaCourse, Daniel Doña, and Jennifer Arnold.
     Gassama received her Bachelor of Music and Master of Music degrees from the Oberlin Conservatory of Music and Boston University, respectively. She toured with the Oberlin Conservatory for their Oberlin in New York 2013 Illumination Tour as both a member of the Contemporary Music Ensemble and the Oberlin Orchestra, performing at the DiMenna Center and Carnegie Hall.Gassama has served as assistant principal violist for the Oberlin Orchestra as well as principal violist for the Boston University orchestras and the Ohio State University Symphony.
     Also a dancer, Gassama has a passion for interdisciplinary collaboration, having previously worked with dance artistic directors to create and choreograph various productions. 
CELLO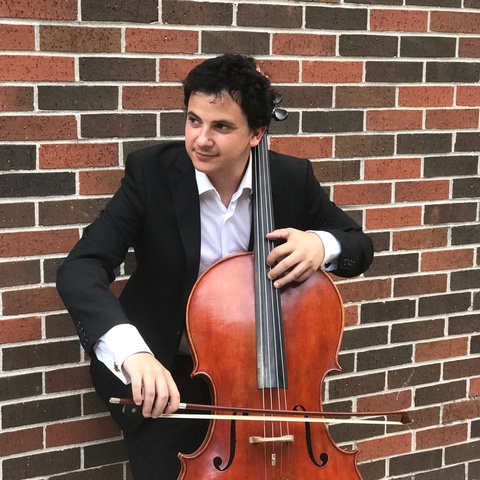 Adrián Gómez Hernández is a DMA in cello performance candidate at the University of Iowa, where he holds a Research Assistantship for the Center for New Music. Adrián also teaches cello lessons at the Preucil School of Music, and plays with orchestras in Iowa and Missouri, including the Missouri Symphony.
     Born in Spain, Adrián has played in a great variety of settings, including operas, CD and studio recordings, pedagogical orchestras, and soundtrack orchestras. Prior to coming to the States, Adrián played with the Film Symphony Orchestra in Spain, an orchestra specialized in Film music; this orchestra toured around all the major auditoriums in Spain, selling out every single concert.
     Adrián is an advocate of New Music and, besides working with the Center for New Music, has collaborated and premiered works by many composers. He is schedule to play Ramin Roshandel's "Three Sketches" for cello solo at the La Crosse New Music Festival this November.
DOUBLE BASS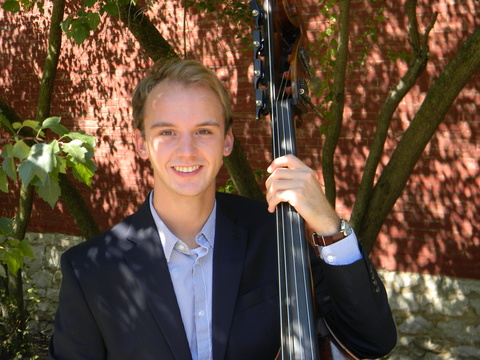 Alex Waters is currently pursuing a Masters of Arts degree from The University of Iowa. Originally from Quincy, IL, Alex completed his Bachelors of Arts degree at Southern Illinois University Edwardsville. Alex serves as the teaching assistant for the University of Iowa double bass studio. While performing with various ensembles through the University, Alex has also served as a section member with the Ottumwa Symphony.