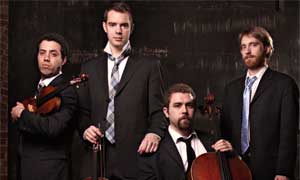 CONCERT VI
Sunday, October 30, 2011, 7:30 p.m.
Riverside Recital Hall (map)
The Jack Quartet
"The Avant Garde"
Program
String Quartet No. 2 (1911-13)
 
Charles IVES (1874-1954)
Subject (2011)
    Iowa/Midwest Premiere
 
Jason ECKARDT (1971)
 
— Intermission —
 
"before the universe was born"
      (Fifth String Quartet)
 
Horatiu RADULESCU (1942-2008)
Performers

Called "wholesome-looking" by the New York Times, violist John Pickford Richards has gained a reputation for performing new and unusual music throughout North America and Europe. He is a founding member of the ensemble Alarm Will Sound, allowing him to work closely with composers such as John Adams, Meredith Monk, and Steve Reich at venues such as Carnegie Hall, Lincoln Center, and the Holland Festival. In addition to his work with Alarm Will Sound, John is the founding violist of the JACK Quartet, which has worked closely with composers Helmut Lachenmann, György Kurtág, Matthias Pintscher, Wolfgang Rihm, and Elliott Sharp with appearances at the Library of Congress, Venice Biennale, and Donaueschingen Festival. John has appeared with bands such as the All-American Rejects, Silversun Pickups, and Grizzly Bear and has performed as soloist with the Pasadena Symphony, Armenian Philharmonic, Wordless Music Orchestra, Ossia New Music, and with the Lucerne Festival Academy Orchestra playing the solo part to Luciano Berio's Chemins II under the direction of Pierre Boulez. He holds degrees from the Interlochen Arts Academy and Eastman School of Music where his primary teachers were David Holland and John Graham.

Ari Streisfeld has quickly established himself as an avid interpreter of contemporary classical music through performances with Ensemble Dal Niente (Chicago), Juventas Ensemble (Boston), Signal Ensemble (New York), and as a founding member of the critically acclaimed JACK Quartet (New York). Ari has worked closely with composers such as Helmut Lachenmann, Wolfgang Rihm, Matthias Pintscher, Steve Mackey, Toshio Hosokawa, Georg Friedrich Haas, and Aaron Cassidy and has performed at venues including Carnegie Hall, the Library of Congress, Le Poisson Rouge, the Venice Biennale, and Wigmore Hall. He has attended the Music Academy of the West, New York String Orchestra Seminar, Kent/Blossom Music Festival, Atlantic Music Festival, and the Lucerne Festival Academy. He has soloed with the Kennett Symphony Orchestra and the Northwestern Philharmonia. As a winner of the 2008 Boston University Concerto Competition, Ari performed the Berg Violin Concerto with the Boston University Symphony Orchestra. As a composer Ari was a recipient of the 2000 ASCAP Morton Gould Young Composers Awards. The Los Angeles Times said his arrangements of music by Machaut and Gesualdo were "imaginatively arranged for string quartet." He received his BM at the Eastman School of Music, MM at Northwestern University, and is an ABD Doctoral Candidate at Boston University. His teachers have included Zvi Zeitlin, Almita Vamos, and Peter Zazofsky. Ari has recorded for Mode, Albany, and Cantaloupe Records. He currently resides in New York City.

Christopher Otto studied composition at the Eastman School of Music with Martin Bresnick, David Liptak, and Robert Morris. As a violinist, Christopher has premiered many compositions and worked with such composers as Harrison Birtwistle, Pierre Boulez, Helmut Lachenmann, and Steve Reich. Christopher has participated as composer and performer in such contemporary music festivals as the Lucerne Festival Academy, Internationale Musikinstitut Darmstadt, Karlheinz Stockhausen Courses, Institute and Festival for Contemporary Performance at the Mannes College of Music, June in Buffalo, and Festival Internacional de Música Contemporánea de Michoacán.

Kevin McFarland is currently infiltrating the New York City new music scene as a recent transplant from his hometown of Lancaster, PA. As a freelance musician, he has recently appeared with ensembles such as Alarm Will Sound, Dal Niente, the International Contemporary Ensemble (ICE), Signal, and the Wordless Music Orchestra. He is also a member of the Tarab Cello Ensemble, a new music cello octet, with whom he has recorded for Bridge Records. Kevin holds a degree from the Eastman School of Music, where he studied composition with David Liptak, Robert Morris, and Ricardo Zohn Muldoon, and cello with Steven Doane. At Eastman he performed often with new music ensembles Ossia and Musica Nova and premiered over one hundred student compositions. He continues to compose both acoustic and electronic music and lives in Brooklyn.
Program Notes
Charles IVES
String Quartet No. 2
Charles Ives, a New Englander by birth and character, began composing at the age of eleven, although after deciding that he would never make a living with his music he pursued a successful career in insurance. He was trained by his father George, a bandleader, who encouraged him to experiment with the unconventional techniques that were to become his signature, such as polytonality, microtones and spatial performance. Ives's two string quartets are as unalike in origin as they are in content.
The highly complex Second String Quartet was born of a typical Ives rage against what he perceived as the effeminacy of standard string quartet performances.
Ives' String Quartet No. 2 consists of the following three movements:
i. Discussions (Adante moderato-Andante con spirito-Adagio molto)
ii. Arguments (Allegro con spirito)
iii. The Call of the Mountains (Adagio-Andante-Adagio)
Ives wrote the following words below the title of the score:
S[tring] Q[uartet] for 4 men--who converse, discuss, argue (in re: 'Politick', fight, shake hands, shut up--then walk up the mountain side to view the firmament!
Ives considered the Second String Quartet to be "one of the best things I have, but the old ladies (male and female) don't like it anywhere at all. It makes them mad..." (Memos 73-74). As he jokingly implies, this is one of Ives' most thorny, challenging works. In the Memos, he went on to explain the origins of the quartet:
...It used to come over me--especially after coming from some of those nice Kneisel Quartet concerts--that music had been, and still was, too much an emasculated art. Too much of what was easy and usual to play and to hear what was called beautiful, etc.--the same old even-vibration, Sybaritic apron-strings, keeping music too much tied to the old ladies. The string quartet music got more and more trite, weak, and effeminate. After one of those Kneisel Quartet concerts in the old Mendelssohn Hall, I started a string quartet score, half mad, half in fun, and half to try out, practise, and have some fun making those men fiddlers get up and do something like men (74).
It's clear that on one level this work represents Ives lashing out at the conservative musical establishment that rejected him and wanted nothing to do with his music. So, on one level, this is some of the most confrontational music that Ives would ever write. But, on another level, this is another example of Ives' romantic transcendentalism. The work's conflict resolves itself with the a shaking of hands and a "walk up the mountain side to view the firmament!" In my view, the closing passage of this work is as grand as anything Ives ever composed. It really is magnificent.
Ives composed / assembled the String Quartet No. 2 from 1911-13. (Portions of the second movement appear to have been composed as early as 1907.)
Borrowed tunes include:
In the first movement: "Columbia, Gem of the Ocean"; "Dixie's Land"; "Marching Through Georgia"; "Turkey in the Straw" In the second movement: "Columbia, Gem of the Ocean"; "Marching Through Georgia"; "Massa in De Cold Ground"; Beethoven, Sym. No. 9/iv; Brahms, Sym. No. 2/i; Tchaikovsky Sym. No. 6/iii In the third movement: "Bethany"; "Nettleton"; "Westminster Chimes"
The first performance of the String Quartet No. 2 was in NYC on May 11, 1946. The work was performed by a Juilliard School student ensemble. (The same concert also featured the premiere performances of "The Unanswered Question" and "Central Park in the Dark.")
The Walden String Quartet issued the first recording of this work in 1946.
---
Jason ECKARDT
Subject
Beginning in the 1950s, the CIA became very interested in psychological research being conducted on the effects of sensory deprivation on humans. The research, that suggested rapid regression in those tested, provided a framework for sections of what would later be known as the KUBARK manual, the first a series of US-government documents that provided techniques for interrogating detainees. These methods involved radically altering a detainee's sense of time and environment.
Among these techniques, some developed independently of the manuals by interrogators, were the manipulation of light and sound. In order to weaken the resolve of a detainee and prolong "capture shock," complete sensory deprivation followed by blasts of light or noise, or very loud music, proved effective. So much so that variations and combinations of these techniques were widely used by the United States as well as both its allies and enemies in Vietnam, Latin America, Northern Ireland, and the Middle East.
Though the idea of sound as a weapon is at least as old as the account of Joshua's siege of Jericho, it was only recently deemed "inhuman and degrading" for the purposes of interrogation by the European Court of Human Rights in the 1978 case "Ireland v. the United Kingdom."
Subject was commissioned by the Chamber Music America Classical Commissioning Program with generous funding provided by The Andrew W. Mellon Foundation and the Chamber Music America Endowment Fund. It is dedicated to the members of JACK. — Jason Eckardt
This performance of this work is also made possible in part through the generous support of Meet the Composer's Cary New Music Performance Fund.
---
Horatiu RADULESCU
"before the universe was born" (Fifth String Quartet)
Like everything else on tonight's program, this piece, which plays continuously for half an hour, is partly about finding a new way for the quartet to sound and to be. In this case, we are drawn into a strange, often misty yet often also glistening world of microtonal tunings, abraded sonorities, and high harmonics, a world that is always slowly but seethingly in movement, and yet a world in which change is also stability.
Radulescu began the composition in 1990 and returned to it in 1995, in preparation for the première, which was given in Paris that year. Because the work's newness depends on new and challenging techniques, performances have remained rare.
Of the quartet's sixteen strings, only four – the bottom two of the cello (C–G) and the upper two of the viola (D–A) – are tuned as normal; the rest are set to other pitches in those harmonic series which include the four unchanged notes, such other pitches being more or less displaced from equal-tempered normality. Radulescu's purpose here is not so much to make possible microtonal melody as to create complex spectra that, across a vast range of possibilities, will have an essential unity.
The cello's lowest note is the core or foundation of the whole piece. All the players generally use their left hands not, as usual, to stop the strings and so have other notes sound, but rather to bring forward harmonics – sometimes extremely high harmonics – on the open strings: notes that emanate from and are contained in the cello's C.
Also possible, and adding to the effect of nebulous unity, is the arrival at unisons, or quasi-unisons, produced by different harmonics on different strings. A notable instance comes about three-quarters of the way through, where a middle-register F♯ bulges forward, with contributions from every member of the ensemble.
All this imagery of unity and differentiation, of the whole and the wisp, of restlessness and stasis, of the individuated and the unshapen, the precise and the chaotic, and of all these things folding into one another, relates very directly to the teaching of the Tao Te Ching, from which, in Stephen Mitchell's version, Radulescu took not just his title ("There was something formless and perfect before the universe was born") but also phrases he placed at the top of each of the score's twenty-nine pages, proceeding through the text from the first chapter ("The unnameable is the eternally real…. Darkness within darkness. The gateway to all understanding.") to the twenty-ninth ("The world is sacred. It can't be improved.")
According to Bob Gilmore, the leading Radulescu authority and creator of an informative website devoted to the composer, these phrases were meant to influence the musicians' thinking and possibly also their rhythmic articulation, though this was not worked out in detail, either in the score or in the few performances the composer helped rehearse. We as listeners maybe should let the words fade and hear the music as its own Tao.  —Paul Griffiths