CONCERT XVII
Sunday, March 31, 2013, 2:00 p.m.
Old Capitol Museum Senate Chamber
Guest violinist Wolfgang David (Vienna)
Guest 'cellist Timothy Gill (London)
with SOM faculty
Christine Rutledge, viola • Volkan Orhon, double bass
Uriel Tsachor • David Gompper, piano
|| download program ||
Program
Partita No. 3 in E major, BWV 1006
        I. Preludio
       II. Loure
      III. Gavotte en Rondeau
      IV. Menuets (I and II)
       V. Bourrée
      VI. Giga
 
J. S. BACH
 
Wolfgang David, violin
 
Nuance
        for violin solo (2012)
 
David GOMPPER
 
Wolfgang David, violin
 
Cello Sonata (1915)
        I. Prologue: Lent, sostenuto e molto risoluto
       II. Sérénade: Modérément animé
      III. Finale: Animé, léger et nerveux
 
Claude DEBUSSY
 
Timothy Gill, violoncello
David Gompper, piano
 
 
— Intermission —
 
Piano quintet in A major, "Trout", D. 667
        I. Allegro vivace
       II. Andante
      III. Scherzo: Presto
      IV. Andantino – Allegretto
       V. Allegro guisto
 
Franz SCHUBERT
 
Wolfgang David, violin
Christine Rutledge, viola
Timothy Gill, violoncello
Volkan Orhon, double bass
Uriel Tsachor, piano
 
Performers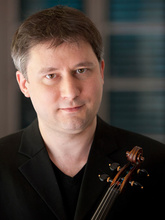 Wolfgang David played as a soloist with the Royal Philharmonic Orchestra, Vienna Radio Symphony Orchestra, Johannesburg Symphony Orchestra, New York Virtuosi etc. He has been well received by the press - the Washington Post wrote that he "scaled the heights of musicmaking" and The Strad described his playing "as emotionally wide-ranging as one could hope for".
The winner of many competitions and prizes, Wolfgang David has performed in major halls such as Konzerthaus and Musikverein Hall in Vienna, Carnegie Hall in New York, Cerritos Center in Los Angeles, Victoria Hall Geneva, UNESCO Hall Paris, Wigmore Hall in London, and Philharmonie in Cologne. Recently a CD with the Royal Philharmonic Orchestra was released on the Naxos label. He performs on a violin built by Carlo Bergonzi, Cremona after 1724, on exclusive loan to him from the Austrian National Bank.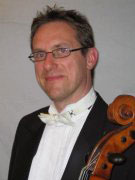 Timothy Gill began to play the cello at the age of eight, subsequently studying with Dimitry Markevitch in Paris, Christopher Bunting at Cambridge and David Strange at the Royal Academy. In 1989-90 Tim was resident artist at the Banff Centre, Canada, where, as a result of winning the Banff concerto competition, he was invited to play the Elgar concerto with the Calgary Philharmonic and later to tour Canada as a recitalist. His Purcell Room debut in 1990 was met with critical acclaim and resulted in an invitation from the Park Lane Group to give the Priaulx Rainier recital the following year. Tim has since given recitals and played concertos throughout the UK, Europe and India. In 1995 he recorded Beethoven's complete works for cello and piano for Dutch radio with Marietta Petkova, and in 1996 he gave his Wigmore Hall debut and released two CDs on the Guild label with pianist Fali Pavri.
Tim is currently principal cellist with the Royal Philharmonic Orchestra and the London Sinfonietta. He is also much in demand as a soloist and chamber musician. Timothy Gill and Fali Pavri elicit a searing lyricism bringing tremendous sense of direction to the melodic invention which can so easily meander in lesser hands'. Classic CD. Tim Gill became principal cellist of the London Sinfonietta in June 2005.
David Gompper (b. 1954) has lived and worked professionally as a pianist, a conductor, and a composer in New York, San Diego, London, Nigeria, Michigan, Texas and Iowa. He studied at the Royal College of Music in London with Jeremy Dale Roberts, Humphrey Searle and Phyllis Sellick. After teaching in Nigeria, he received his doctorate at the University of Michigan, taught at the University of Texas, Arlington, and since 1991 has been Professor of Composition and Director of the Center for New Music at the University of Iowa. In 2002-2003 Gompper was in Russia as a Fulbright Scholar, teaching, performing and conducting at the Moscow Conservatory. In 2009 he received an Academy Award from the American Academy of Arts and Letters in New York City.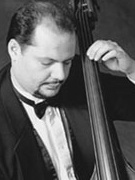 Volkan Orhon was a prizewinner in the Concert Artists Guild, co-first prize at the International Society of Bassists Competitions, and was the first bassist ever to win the grand prize at the American String Teacher's Association Solo Competition. He has performed solo with orchestras around the world and was one of the premiere soloists for the International consortium of John Harbison's Concerto for Bass Viol and Orchestra. Orhon has performed with internationally recognized musicians including Gary Karr, Fazil Say, and Emerson & Tokyo String Quartets. He has performed at festivals throughout the world. Volkan Orhon is an associate professor of double bass and the head of the string area at The University of Iowa. He serves as principal bass at Orchestra Iowa.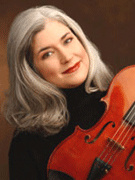 Violist Christine Rutledge is a musician and educator of eclectic interests and talents. She is equally at home with the most cutting-edge new music, to performances on baroque viola. Her performances and recordings have been praised in The New York Times, Strad and Strings magazines, and Fanfare.
In an effort to provide violists with a larger and historically accurate body of baroque repertoire, Rutledge founded Linnet Press Editions. Her technique book, The Violist's Handbook, has sold hundreds of copies throughout the world.
Recent performances and master classes on both modern and baroque viola include those in Germany, Sweden, South Africa, and across the United States.
Rutledge currently holds the position of Professor of Viola at the University of Iowa. She is a graduate of the Curtis Institute of Music, the University of Iowa, and the Interlochen Arts Academy.
Rutledge lives in Iowa City with her husband, Mark Russell, and their son Jake. She plays a 17-inch viola made by David Burgess in 1978 and a baroque viola made by Paul Hart in 1979, and bows by David Samuels, Ralph Ashmead, and Christopher English.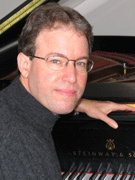 An active concert pianist, piano professor at the University of Iowa School of Music, Uriel Tsachor has appeared in recitals in major venues In Europe, Asia and the US.
He was invited by Zubin Mehta to perform with the Israel Philharmonic Orchestra and played over twenty-five different concerti with major orchestras in Europe, Israel and the US. Winner of the Queen Elisabeth and Busoni competitions, Tsachor is a graduate of the Juilliard School where he earned his doctorate. Tsachor's discography encompasses twenty-three releases for the EMI, DISCOVER, and DIVOX labels. He has presented masterclasses in the US, Europe, Hong Kong and Taiwan. Uriel Tsachor is "Steinway Artist."