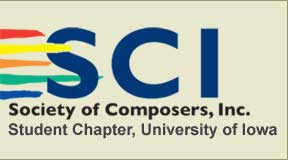 CONCERT XI
Saturday, March 26, 2011, 7:30 p.m.
Riverside Recital Hall (map)
The Society of Composers, Inc.
Student Chapter at The University of Iowa
Daniel Houglum, president
Aaron Perrine, treasurer
Anthony Donofrio, vice-president
Zach Zubow, secretary
presents a concert featuring Guest Composer
Tomas I. Gueglio-Saccone
Program
Interfacial Colloid (2010)
 
Brian PENKROT
(b.1978)
 
Rolando Hernandez Gaitan, flute
Marjorie Shearer, clarinet
Emily Rolka, violin
JeeHyung Moon, violoncello
Younjung Cha, piano
Daniel Houglum, conductor
 
et si sensus deficit… (2011)
 
Daniel HOUGLUM
(b.1983)
 
Emily Rolka, violin
 
My Fairy King (2011)
 
Zachariah ZUBOW
(b.1984)
 
Angela Lickiss, english horn
Andrew Hanson-Dvoracek, guitar
 
Focus/Unfocus (2010)
 
Anthony DONOFRIO
(b.1981)
 
Yoo-Jung Chang, violoncello
 
Bi / diletantes druidas, miles (2010)
 
Tomas I. GUEGLIO-SACCONE
(b.1980)
 
Nora Epping, flute
Marjorie Shearer, clarinet
Stephanie Patterson, bassoon
Chris Reichmeier, percussion
Megan Karls, violin
Yoo-Jung Chang, violoncello
Christine Gebbler, double bass
Grethe Nothling, piano
Kira Horel, conductor
 
Program Notes
The Society of Composers, Inc. Student Chapter at The University of Iowa is dedicated to the promotion of composition, performance, understanding and dissemination of new and contemporary music. Following a national Call for Scores, student composers at The University of Iowa selected one work to be performed alongside music composed by UI students. Our objective is to bring new music to Iowa City as well as foster musical growth through interactions with new composers.
---
Brian PENKROT
Interfacial Colloid
is a roughly imagined object pertaining to interfacial colloidal physics. My intent was to make a colloid of short and sustained tones in silence, after which I wanted to interface with each other. This approach allowed each aspect of the colloid to retain its discrete characteristics and affect the piece as a whole. My inspiration was drinking milk, a colloid of butterfat and water that was interfacing with me. Interfacial was written in 2010 at the University of Nevada Las Vegas for the Da Capo Chamber Players.
Brian Penkrot (b. 1978) is an American composer of concert, stage, and film music. Originally from Chicago, Brian studied violin, guitar, drums, theater, and dance before beginning his studies in composition. Brian's music has been performed at institutions and festivals in the US and Europe. Recent performances include Song of Liberty at the Nevada Encounters of New Music Festival, Chaparral Bridge at the soundSCAPE Festival in Pavia, Italy, and Rites of the Little Hours for fixed audio and percussion trio at the Society of Composers Inc 2010 National Conference in South Carolina. Upcoming concerts include the Midwest Graduate Music Conference in Madison, Wisconsin, and the Second Annual Melos Music concert in San Francisco, California. Brian received his Master's for the University of Nevada Las Vegas and Bachelor's of Music from Columbia College Chicago. Brian is currently pursuing his PhD at the University of Iowa.
---
Daniel HOUGLUM
et si sensus deficit…
was composed for violinist Emily Rolka. Structural, harmonic, and melodic characteristics of et si sensus deficit… are based on the Pange Lingua chant by St. Thomas Aquinas. The chant is comprised of six phrases and each phrase outlines the interval of a fourth (or fifth) slightly different ways. The most striking example occurs on the surface at the end of the fourth phrase — a falling D-G. Other aspects of the chant that I found interesting included the use of repeated notes, neighbor tones, and half-step placement and approach. Some of the phrases move the chant forward, while others prolong a given pitch — or, perhaps these phrases are interruptions? Violin works bearing influence on et si sensus deficit… include Bach's Sonata No. 2 in A minor, Ysaye's Sonata No. 3, and Subito by Lutoslawski.
Daniel Houglum, from Soldotna, Alaska, is a doctoral candidate in the Ph.D. in Music Composition program at the University of Iowa. He received his B.A. degree from Gonzaga University in Spokane, Washington and his M.Mus. degree from Northern Illinois University. Houglum has served as an instructor for Kishwaukee College in Malta, Illinois. His composition teachers include Kevin Waters, S.J., Robert Fleisher, David Maki, John Eaton and David Gompper. Houglum is the UI Center for New Music RA and he teaches at the Preucil School of Music as theory instructor for the Certificate Program. Recent composition projects include collaborations with musicians Stephen Page, Mabel Kwan, Christopher Sande, Emily Rolka, and poet Patrick Haas. Please visit www.houglum-music.com for more information.
---
Zachariah ZUBOW
My Fairy King
Farrokh Bulsara, or more commonly known as Freddie Mercury, was the lead singer of the rock group, Queen and on their self-titled album, Queen, Mercury was responsible for composing five of the ten tracks including the song "My Fairy King". This song takes place in the fantasy world Rhye, a common theme among Queen's songs, but most interesting about this song are the lyrics "Mother Mercury, look what they've done to me", which is said to have been the inspiration for Farrokh Bulsara to change his name to Freddie Mercury. My Fairy King is based on this theme of transformation. Freddie Mercury did not change into an entire new being at this time, but he did transform his character by adapting Mercury as his new persona. The theme of My Fairy King is to explore a transformation of one element of sound and its many characteristics that can be explored within it.
Zachariah Zubow (b. 1984) started his music education at Luther College in Decorah, Iowa and in 2008 graduated with a Masters in Music Composition from Illinois State University in Normal, IL. Zach's music has been chosen to be included on the Society of Composers National Conference, Society of Composers Regional Conference, Electronic Music Midwest, Midwest Composers Symposium, and Iowa Composers Forum Conference this past fall. This coming spring (2011), Zach's Answers from Nature will be featured at the South-Central and Great Lakes College Music Society Regional Conferences as well as his piece for solo piano, Prevailing Wind, at the Mid-Atlantic and Southern College Music Society Regional Conferences. Zach's electro-acoustic and live instrument pieces, Nebulae and Fugitive Yellow Shirt, will also be featured on two conferences this spring in Kansas City and Warrensburg, MO. His music has also been performed at new music conferences in Europe as well as the United States in recent years. Zach's composition teachers include David Gompper, Lawrence Fritts, David Feurzeig, Brooke Joyce, and Martha Horst. Zach is now pursuing a Ph.D. in music composition at The University of Iowa and is a member of Society of Composers, ASCAP, College Music Society, SEAMUS, Electronic Music Midwest, and the Iowa Composers Forum. For more information or to contact Zach, please visit www.zachzubow.com.
---
Anthony DONOFRIO
Focus/Unfocus
was composed for Parker Stanley in March of 2010. The piece is built on the shift of contrasting materials, each coming in and out of "focus" for the listener and performer. A second layer of focus/unfocus is created as the materials are set inside changing tempi, giving them a different character altogether.
Originally from Cleveland, Ohio, Anthony Donofrio received his Bachelors and Masters degrees from Kent State University, and is currently completing the Ph.D. in Music Composition at the University of Iowa. His principal teachers have been David Gompper, Frank Wiley, and Paul Schoenfield, with additional studies John Eaton and Thomas Janson.
---
Tomas I. GUEGLIO-SACCONE
Bi / diletantes druidas, miles
(Bi / dilettante druids, thousands) was commissioned in 2010 by the Centro Nacional de la Musica in Argentina as part of the celebrations for the 200th anniversary of the Argentine independence. It was premiered in Buenos Aires in November of last year and is having today its second performance and US debut. The piece is completely based on C. Ives The Unanswered Question. Ives' work was described by his biographer Jan Swafford as "a kind of collage in three distinct layers, Ives himself described the work as a "cosmic landscape" in which the strings represent "the Silences of the Druids." [...] The trumpet then asks "The Perennial Question of Existence" and the woodwinds seek "The Invisible Answer". Bi / diletantes druidas, miles is an imaginary previous state to Ives' work in which the three characters still haven't found their own identity, a state in which the existential hierarchy between the layers is not established yet, a state in which everyone asks, seeks or is silent.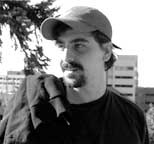 Tomas I. Gueglio-Saccone was born in Buenos Aires, Argentina in 1980. His education includes a BMus. from the Facultad de Artes y Ciencias Musicales de la Universidad Católica Argentina, a MMus. from the Setnor School of Music at Syracuse University and private studies with maestro Gerardo Gandini. He was commissioned in his country by important organizations such us the Centro Nacional de la Musica and the Universidad de Buenos Aires and in the US by the Society for New Music. He is now a first year PhD candidate at the University of Chicago where he is studying with Shulamit Ran.