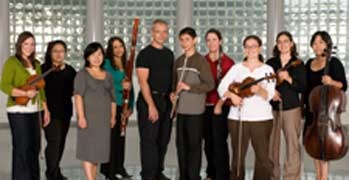 Friday, October 9, 2009, 7:30 p.m.
SCI Conference & ICF Festival,
Clarke College, Jansen Music Hall
The CNM Ensemble
|| download program ||
Program
Trio D'Anches (2003)
    for oboe, clarinet and bassoon
 
Alan SCHMITZ
 
Angela Lickiss, oboe
Jamie Cox, clarinet
Jacqueline Wilson, bassoon
 
Point of No Return (2003)
    for flute, clarinet, violin, violoncello, piano and percussion
 
Michael ECKERT
 
Rolando Hernandez Gaitan, flute
Jamie Cox, clarinet
Emily Rolka, violin
Yoojung Chang, violoncello
Sunghee Lee, piano
Meghan Aube, percussion
 
Concertino Mediterraneo (1994)
    for flute, clarinet, violin, violoncello and piano
        I. Italiano
        II. Espagñol
        III. Français
 
Linda Robbins COLEMAN
 
Rolando Hernandez Gaitan, flute
Jamie Cox, clarinet
Anna Draper, violin
Yoojung Chang, violoncello
Sunghee Lee, piano
 
 
Intermission
 
So it goes... (2009)    
 
Christopher GAINEY
 
Angela Lickiss, oboe
Jacqueline Wilson, bassoon
Anna Draper, violin
Jessica Altfillisch, viola
Sunghee Lee, piano
Jonathan Werth, marimba
 
Fricas, Fracas, Frucas (2005)
    for flute, percussion and violoncello
 
Ralph S. KENDRICK
 
Rolando Hernandez Gaitan, flute
Meghan Aube, percussion
Yoojung Chang, violoncello
 
Six Degrees of Separation (2000)
    for flute, clarinet, violin, violoncello, percussion and piano
 
Brooke JOYCE
 
Rolando Hernandez Gaitan, flute
Jamie Cox, clarinet
Emily Rolka, violin
Yoojung Chang, violoncello
Jonathan Werth, percussion
Sunghee Lee, piano
 
Notes & Bios
Alan SCHMITZ
Trio D'Anches
was written during the summer and fall of 2003 at the request of David Rachor, bassoon professor at the University of Northern Iowa. Its structure is essentially built around tempo and mood changes that unfold as follows: fast beginning in 3/4, a calm section in 6/8 followed by a lyrical section in 3/4, then a moving (and faster) repeating section in 6/8, closing with the fast beginning tempo, but in 4/4.
Though the piece is serial (12-tone), and consists of manipulations of only one row, it has tonal aspects because of its emphasis on the pitch G and frequent "triadic" harmonies.
Alan Schmitz (b. 1950) is Professor of Theory and Composition and is one of the Associate Directors of the School of Music, University of Northern Iowa. He received bachelor and master of music degrees from the University of New Mexico and the PhD in music theory and composition from Rutgers University. Schmitz's music is widely performed in the US and has also been presented in Western Europe, Romania and Russia. He has received awards, commissions, and grants for compositions from agencies such as the Alaska Council of the Arts, the Iowa Arts Council and the Lila Wallace/Readers Digest Foundation. Capstone Records has released two CDs of music by Alan Schmitz: 90s Timeflow (chamber works) and Lyric images that include guitar music performed by Todd Seeley.
---
Michael ECKERT
Point of No Return
is a single movement lasting a little over nine minutes, scored for flute, clarinet, violin, violoncello, piano, and percussion (vibraphone and marimba). The title alludes to the absence of literal repetition in the music, and indirectly to the psychological effects of the events of September 11, 2001, and February 1, 2003 (the crash of the space shuttle Columbia). The piece was written between November 2002 and February 2003 in fulfillment of a project funded by a University of Iowa Arts & Humanities Initiative. The first performance was given by the CNM under the direction of Amelia Kaplan in April 2003.
Michael Eckert (b. 1950) has taught at the University of Iowa since 1985. His awards for composition include the Bearns Prize, a Charles E. Ives Scholarship from the National Institute of Arts and Letters, an NEA fellowship, and the Music Teachers National Association Distinguished Composer of the Year Award. He has been a fellow at the Charles Ives Center for American Music, and the Composers Conference at Wellesley College. Eckert's Vamp for string orchestra was a first-round selection in the 2006 International blitz-competition for composers "Homage to Mozart" in Moscow, and his Echo's Song won second prize in the 2006 New York Virtuoso Singers Choral Composition Competition. Echo's Song and Point of No Return (2003) are recorded on Albany Records TROY900; Eckert's Wind Quintet, composed in 2006 for the centennial of the UI School of Music, is on Albany TROY956.
---
Linda Robbins COLEMAN
Concertino Mediterraneo
was commissioned by the Iowa Music Teachers Association and premiered at its annual state convention in June 1994. After spending many summers in Europe, Coleman wanted to convey in this music some of the experiences, sights, people and sounds she encountered and enjoyed over the years. The work is in three movements and each is intended to recognize other cultures and great artists Coleman has studied and admired. Italiano is an homage to Respighi, Fellini and Rota; Espagnol honors Lalo and de Falla; and Francais reflects Coleman's passion for the great composers Poulenc, Saint-Saens, Debussy and Ravel.
Linda Robbins Coleman served as Composer-in-Residence with the Cedar Rapids Symphony Orchestra for the 1994-96 and 2001-02 seasons and with Drake Theatre from 1977-97. She has been recipient of more than 60 commissions for compositions ranging from chamber to symphonic music, and from jazz to theatre and film. Her music is widely performed and broadcast throughout North America and Europe. She is a Des Moines native, a graduate of Drake University, and has studied with the Greek National Theatre. In 2008 Drake University awarded her the Distinguished Alumni Achievement Award. A jazz and classical pianist and accompanist, she spent fifteen years on the Iowa Arts Council artist and education rosters. Coleman is co-founder and served as the first chief administrator of the Iowa Composers Forum for ten years. For more information please visit her web site.
---
Christopher GAINEY
So it goes...
was composed as a musical homage to Kurt Vonnegut, whose death is a sad loss to our collective conscience. His inimitable way of weaving together seemingly disparate elements of social commentary into unified satirical statements bridges the gap between the zany and the profound as a way of calibrating our moral compass. This piece ties together five short sections into a continuous dramatic statement, attempting to evoke the fractured timelines that are often a feature of Mr. Vonnegut's work. So it goes... is dedicated to David Gompper and the University of Iowa Center for New Music.
Christopher Gainey (b. 1981) did his undergraduate and Master's level work at the Peabody Conservatory earning degrees in composition, guitar performance and music theory pedagogy before receiving a Ph. D. in composition from the University of Iowa under the instruction of David Gompper. His music has been performed throughout the United States and abroad by ensembles such as the University of Iowa Center for New Music, the Affinity Chamber Players, and The San Francisco Guitar Quartet. His music is included on recordings from SCI, Beauport Classical, ERM Media, and the San Francisco Guitar Quartet. He is currently an instructor of guitar and composition at Coe College, and a lecturer in composition at Grinnell College. For more information please visit his website.
---
Ralph S. KENDRICK
Fricas, Fracas, Frucas
It's truly an exciting time to be a composer. We have access to recordings from virtually any culture and time period. As a curious listener, I tend to seek out music that is unfamiliar, and this interest serves to create a melting pot of styles and varieties from which I can develop musical materials. While the effect of transitioning from one style to another within the same work can be unsettling, such quick jumps hint at a more compressed musical form by developing ideas that are fused together in order to maintain focus of attention. This work, which moves from the high-art of modernism to cool jazz, from a waltz to a latin groove that seems on a whim, reflects a kind of collective attention deficit disorder that seems to be a part of today's society.
Ralph S. Kendrick (b 1972) has had his works performed throughout the United States and in Germany, Switzerland, Italy, and the Czech Republic by groups such as the South Dakota Symphony Wind Quintet, the Indiana University Contemporary Chorale, the Quodlibet Quintet, Chorale Midwest, the College Street String Quartet, the Iowa City Symphonic Orchestra, the Loras College Bella Voce Choir, and the University of Minnesota Brass Choir. Kendrick has received commissions from several organizations - including the Iowa Composers Forum, the Iowa Music Teachers Association, Northwestern College, the Iowa Arts Council, the Marilynn Etzel Commission Fund, and the Iowa City Community Orchestra. He has completed over 40 compositions in a variety of genres, including works for orchestra, choir, chamber groups, and solo musicians. For more information, visit http://www.ralphkendrick.com .
---
Brooke JOYCE
Six Degrees of Separation
was written for the new music ensemble Non Sequitur in 2000, and was premiered by them at The Walden School in New Hampshire. Because I knew that this piece would initially be heard by an audience of young composers, I decided to include many of my favorite compositional devices, borrowed from sources such as Steve Reich, Igor Stravinsky, Magnus Lindberg, and Joan Tower. Six Degrees is dedicated to the students and faculty, past, present, and future, of The Walden School.
Born and raised in East Lansing, Michigan, Brooke Joyce (b. 1973) holds degrees in theory/composition from Princeton University, the Cleveland Institute of Music, and Lawrence University. His music has been performed by such ensembles as the Indianapolis Symphony, the Cincinnati Symphony, the Brentano Quartet, the Nouvel Ensemble Moderne, and the Nash Ensemble. Brooke is the recipient of the Joseph Bearns Prize, the Wayne Peterson Prize, the Darius Milhaud Award, and many citations from the National Federation of Music Clubs and ASCAP. Brooke teaches theory, history and composition at Luther College in Decorah, Iowa, and is a faculty member at The Walden School, a summer music festival for young composers in New Hampshire.
Performers

(from left to right)
Ann Draper, violin
Ju Hye Kim, CNM Research Assistant
Sunghee Lee, piano
Jacqueline Wilson, bassoon
David Gompper, director
Rolando Hernandez Gaitan, flute
Jamie Cox, clarinet
Jessica Altfillisch, viola
Emily Rolka, violin
Yoojung Chang, violoncello
Meghan Aube, percussion (not shown)