In cooperation with the UI String Quartet Residency Program, CNM presents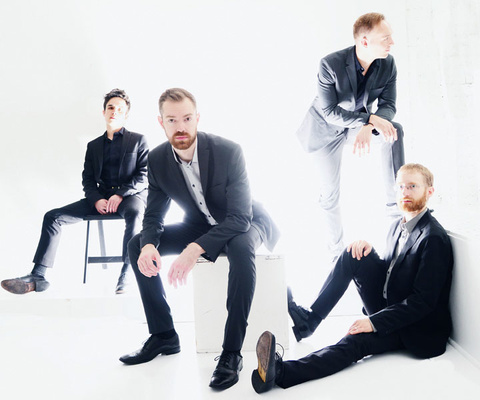 The JACK Quartet
Violinists Christopher Otto and Austin Wulliman
Violist John Pickford Richards, and Cellist Jay Campbell
Performing works by
Composers Zosha di Castri, Andreia Pinto Correia,
Elliott Carter and Györgi Ligeti
Friday, December 7, 2018, at 7:30pm
in the Voxman Concert Hall
 
Program
String Quartet No. 1 [2016]
Zosha di CASTRI [b. 1985]
String Quartet No. 2 [1968]
Györgi LIGETI [1923-2006]
  I. Allegro nervoso
 II. Sostenuto, molto calmo
III. Come un meccanismo di precisione
IV. Presto furioso, brutale, tumultuoso
 V. Allegro con delicatezza
— Intermission —
String Quartet No. 1 "Unvanquished Space" [2017]
Andreia Pinto CORREIA [b. 1971]
  I. A Labyrinth Submersed – to Jay
 II. The Gleaming Cantos of Unvanquished Space – to John
III. Peripheries of Light – to Austin
IV. Into Silence – to Christopher
String Quartet No. 4 [1986]
Elliott CARTER [1908-2013]
Appassionato
Scherzando
Lento
Presto
Performers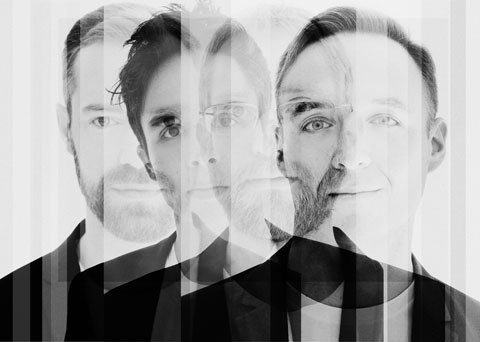 Deemed "superheroes of the new music world" (Boston Globe), the
JACK Quartet
is "the go-to quartet for contemporary music, tying impeccable musicianship to intellectual ferocity and a take-no-prisoners sense of commitment." (Washington Post) "They are a musical vehicle of choice to the next great composers who walk among us." (Toronto Star)
    The recipient of Lincoln Center's Martin E. Segal Award, New Music USA's Trailblazer Award, and the CMA/ASCAP Award for Adventurous Programming, JACK has performed to critical acclaim at Carnegie Hall (USA), Lincoln Center (USA), Miller Theatre (USA), Wigmore Hall (United Kingdom), Muziekgebouw aan 't IJ (Netherlands), IRCAM (France), Kölner Philharmonie (Germany), the Lucerne Festival (Switzerland), La Biennale di Venezia (Italy), Suntory Hall (Japan), Bali Arts Festival (Indonesia), Festival Internacional Cervatino (Mexico), and Teatro Colón (Argentina).
    Comprising violinists Christopher Otto and Austin Wulliman, violist John Pickford Richards, and cellist Jay Campbell, JACK is focused on new work, leading them to collaborate with composers John Luther Adams, Chaya Czernowin, Simon Steen-Andersen, Caroline Shaw, Helmut Lachenmann, Steve Reich, Matthias Pintscher, and John Zorn. Upcoming and recent premieres include works by Derek Bermel, Cenk Ergün, Roger Reynolds, Toby Twining, and Georg Friedrich Haas.
    JACK operates as a nonprofit organization dedicated to the performance, commissioning, and spread of new string quartet music. Dedicated to education, the quartet spends two weeks each summer teaching at New Music on the Point, a contemporary chamber music festival in Vermont for young performers and composers. JACK has a long-standing relationships with the University of Iowa String Quartet Residency Program, where they teach and collaborate with students each fall, and the Boston University Center for New Music, where they visit each semester. Additionally, the quartet makes regular visits to schools including Columbia University, Harvard University, New York University, Princeton University, Stanford University, and the University of Washington.
Zosha di Castri
String Quartet No. 1
Co-commissioned by the Banff Centre for Arts and Creativity, in partnership with The Canadian Broadcasting Corporation and Americas Society. Premiered September 2nd, 2016, by the 10 finalist groups at the Banff International String Quartet Competition
Both purely abstract and sonically concrete, this quartet explores virtuosic shifts between quickly contrasting modes of expression, while demanding a physical internalization of a dense thicket of activity. Escaping the agitation and frenzy are moments of melodic beauty, microtonal introspection, and a delicate fabric of time-suspending harmonics. - Zosha di Castri  
Györgi Ligeti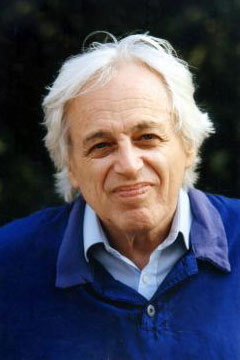 String Quartet No. 2
The five movements differ widely from each other in their types of motion. In the first, the structure is largely broken up, as in Aventures. In the second, everything is reduced to very slow motion, and the music seems to be coming from a distance, with great lyricism. The pizzicato third movement is another of Ligeti's machine-like studies, hard and mechanical, whereby the parts playing repeated notes creates a "granulated" continuum. In the fourth, which is fast and threatening, everything that happened before is crammed together. Lastly, in strong contrast, the fifth movement spreads itself out. In each movement, the same basic configurations return, but each time their coloring or viewpoint is different, so that the overall form only really emerges when one listens to all five movements in context.  
Andreia Pinto Correia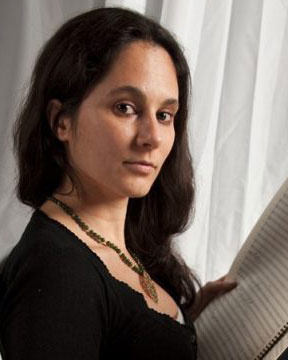 String Quartet No. 1, " Unvanquished Space"
The work takes as its point of departure the epic poem "The Bridge" (1926-30) by American poet Hart Crane (1899-1932). Published in 1930, just two years before his suicide, this work is often described as a unification of mythology and modernism. It is characterized by numerous interweaving references and metaphors related to the American experience and also by a complex, labyrinthine web of allusions. Crane uses the myriad cables of the Brooklyn Bridge – one of the most important architectural feats of his age – as structural pillars of the text. The poem is a journey across the American continent, starting and ending in New York Harbor, with the Brooklyn Bridge as a central focal point. It reflects utopian ideals that are continually shattered by the violence and agony of the modern world.
The compositional structure of String Quartet No.1 is inspired by Crane's section IV, Cape Hatteras, which is a portion of the North Carolina coast notorious for its extreme meteorological conditions. At the peak of the chapter, Crane makes allusion to "the gleaming cantos of unvanquished space", a crucial turning point in the text referring to man's aspirations to conquer the air. The work, dedicated in friendship and with admiration to the JACK Quartet consists of four movements, each dedicated to a specific player in the ensemble. Special thanks to Risto Nieminen, director of Gulbenkian Música. — Andreia Pinto Correia
This work was commissioned by the Gulbenkian Foundation and premiered on January 27, 2018 at the Gulbenkian by JACK Quartet.
Elliott Carter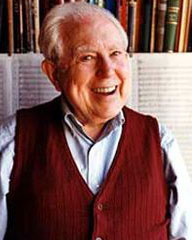 String Quartet No. 4
A preoccupation with giving each member of the performing group its own musical identity characterizes my String Quartet No. 4; thus mirroring the democratic attitude in which each member of a society maintains his or her own identity while cooperating in a common effort – a concept that dominates all my recent work. In this quartet, more than in others of my scores, a spirit of cooperation prevails. Each player's part has its own musical materials and expressive character, and each participates in its own way in the four-part ensemble. While there are many changes of mood and speed and frequent pauses, the work is in one long, constantly changing movement. In the background, however, there is a suggestion of the traditional four-movement plan of the classical string quartet – Appassionato, Scherzando, Lendo, Presto.
String Quartet No. 4 is dedicated to the Composers String Quartet, who commissioned the score as one of a consortium made up of two others – the Sequoia and Thouvenel Quartets – that was financed in part by the National Endowment for the Arts. The score was composed during part of 1985-86 in New York City, Waccabuc, and at the American Academy in Rome. The Composers Quartet gave its premiere at Festival Miami on September 17, 1986. ‐ Elliott Carter