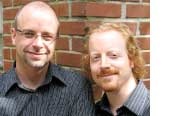 Tuesday, January 26, 2010, 7:30 p.m.
at the UCC Recital Hall
CNM guest artists
The Strike Duo
Jeffery Meyer & Paul Vaillancourt
works by Koontz, Joyce, Chen Yi and Mellits
|| download program ||
Program
China West Suite (2007) for marimba and piano
        I. Introduction
        II. Meng Songs
        III. Zang Songs
        IV. Miao Dances
 
Chen YI
Sacred Trees (2007)
        I. Aspen grove
        II. Hackberry
        III. Chinquapin Oak
        IV. Red Oak
        V. Blue Beech
        VI. Elm
 
Brooke JOYCE
 
— Intermission —
 
Soft Stillness and the Night (2007)
        In 5 movements
 
Daniel KOONTZ
Tight Sweater (Remix) (2009)
        I. Exposed Zipper
        II. Trans Fatty Acid's Rein
        III. Mechanically Separated Chicken Parts
 
Marc MELLITS
Performers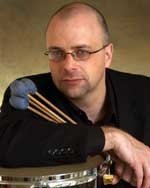 Paul Vaillancourt is director of percussion and contemporary ensemble activities at Columbus State University in Columbus, Georgia. He has been a featured soloist at the Aspen Summer Music Festival, Sound Symposium Music Festival, with the National Arts Center and Ottawa Symphony Orchestras, with the St. Petersburg Chamber Orchestra and the CSU Wind Ensemble. He has had numerous solo and ensemble performances recorded and broadcast by CBC Radio, Radio Canada, and National Public Radio. Vaillancourt has taught Percussion Education at both McGill University and Ottawa University. He completed his DMA at the State University of New York, Stony Brook in 2002, under Raymond DesRoches. While in New York, Vaillancourt performed regularly with some of the top percussion ensembles in the country including Pulse and the New Jersey Percussion Ensemble. He is the principal timpanist for the LaGrange Symphony Orchestra and performs regularly with the Columbus Symphony Orchestra. He has performed all over the world with many contemporary music ensembles including Furious Band, The Fountain City Ensemble and the piano/percussion duo, STRIKE with pianist Jeff Meyer.
Born in Chicago, Jeffery Meyer began his musical studies as a pianist, and shortly thereafter continued on to study composition and conducting. He is presently the Director of Orchestras at Ithaca College School of Music, as well as the founder and Artistic Director of the St. Petersburg Chamber Philharmonic in St. Petersburg, Russia. In the 2008-09 season, he assumed the position of Artistic Director of the Water City Chamber Orchestra, which has quickly become Wisconsin's most exciting and innovative professional chamber orchestra.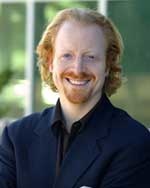 Called "one of the most interesting and creatively productive conductors working in St. Petersburg" by Sergei Slonimsky, in recent concert seasons, he has been seen conducting, performing as piano soloist and chamber musician, as well as conducting from the keyboard in the United States, Canada, Russia, and throughout Europe and Asia. He has appeared with ensembles such as the Milwaukee Symphony, Syracuse Symphony, Philippine Philharmonic, Cayuga Chamber Orchestra and the Orchestra Sinfonico "Haydn" di Bolzano e Trento. As a pianist, he performs frequently as part of the piano-percussion duo Strike. He has been broadcast on CBC Newfoundland, has recorded and performed with the Philadelphia Virtuosi (Naxos), and has been heard as a soloist at the Aspen Festival. During the 2001-2002 academic year he lived and studied in Berlin and Leipzig as the recipient of a DAAD grant in music. He has been distinguished in several international competitions (2008 Cadaqués Conducting Competition, 2003 Vakhtang Jordania International Conducting Competition, 2003 Beethoven Sonata International Piano Competition) and was most recently a prize winner in the X. International Conducting Competition "Antonio Pedrotti."
Notes & Bios
Chen YI
China West Suite
Originally commissioned and dedicated to the Klavier-Festival Ruhr, Germany (Director Franz Xaver Ohnesorg) for Dennis Russell Davies and Maki Namekawa to premiere on June 4, 2007, my work China West Suite was originally written in four movements for two pianos. The authentic folk music from China West has amazed and inspired me to write this piece, which has the folk music elements drawn from the ofolk songs Gadameilin and Pastoral of the Meng People (Mongolian); Ashima (of the Yi People); Du Mu and Amaliehuo (of the Dou Duo and Jusheng ensemble music of the Miao People). I have adapted the piece for marimba and piano after the premiere, under the request from Prof. Jeffery Meyer of Ithaca College, who is the pianist of the piano-percussion duo "Strike" (with percussionist Paul Vaillancourt) for a recording project on Luminescence Records in Chicago, and their performances in 2008. (C.Y.)
Chen Yi: University of Kansas City Missouri: fellowships from the Guggenheim Foundation, American Academy of Arts and Letters, Fromm Foundation at Harvard University, Koussevitzky Music Foundation, National Endowment for the Arts in the United States; first prize from the Chinese National Composition Competition, the Lili Boulanger Award.
---
Brooke JOYCE
Sacred Trees
was inspired by several trips to the Effigy Mounds National Monument in Iowa, a park that contains the remnants of several large Native American burial mounds, some of which are shaped like birds and animals. My experiences there led me to reflect on my own sense of ritual, memory and spirituality. As I was composing this music, I decided to focus my reflections not on the mounds or the people who built them but rather on the various and ancient trees that grow in the area. Trees are thought to be sacred in many faith traditions, and to me, they are a kind of silent witness to the passage of time and the people who come and go under their gaze. (B.J.)
Brooke Joyce: Luther College: Joseph Beams Prize, Wayne Peterson Prize, Darius Mihaud Prize, ASCAP.
---
Daniel KOONTZ
Soft Stillness and the Night

I excerpted the title of my piece from Shakespeare. The longer quote is:
How sweet the moonlight sleeps along the bank!
Here we will sit, and let the sounds of music
Creep in our ears: soft stillness and the night
Become the touches of sweet harmony.
The piece is subtle and delicate, arising from sonic fantasies of night and dawn. It was commissioned by Strike and is dedicated to Jeff Meyer and Paul Vaillancourt. (D.K.)
Daniel Koontz: Southampton College: Guggenheim Fellowship, ASCAP, the American Music Center, the Society of Composers.
---
Marc MELLITS
Tight Sweater (Remix)
Tight Sweater Remix is a Piano & Marimba version of Tight Sweater arranged for the Strike duo, which was originally scored for Cello, Piano, and Marimba and commissioned by 'Real Quiet' and the Muzik 3 Foundation. Of the six original movements, three seemed to work quite well for Piano/Marimba duo. This is music that is tightly composed, with rapidly shifting patterns of notes and rhythms. The two instruments combine, mix, and 'remix' in ways that present each one as half of a combined larger instrument. Linear melodic lines are formed from vertical sounding harmonies; funky bass lines can dictate harmonic textures while chordal sounds can inspire melodic writing occurring between the two instruments.
Marc Mellits: 2004 Foundation for Contemporary Arts Award. Commission by Kronos String Quartet, Orpheus Chamber Orchestra, Sergio and Odair Assad, Bang On A Can All-Stars, Eliot Fisk, Andrew Russo, Canadian Brass, Nexus Percussion, Real Quiet, the Society for New Music, Syracuse Symphony Orchestra, and the Albany Symphony's Dog's Of Desire.