Guest Pianist, Shannon Wettstein
Performing works by
Giacinto Scelsi, Adam Greene, Michael Finnissy & David Evan Thomas
at Harper Hall
The University of Iowa
Monday, April 10, 2006, 8:00 p.m.
Guest Performer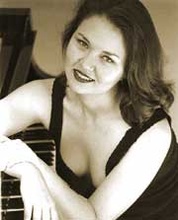 Shannon Wettstein, pianist, has premiered countless new works throughout the United States and internationally, including performances in New York's Lincoln Center, Boston's Isabella Stewart Gardner Museum, the New Zealand Embassy in Washington D.C., and the Japan America Theater in Los Angeles.
Awards include the 2003 American Composers Forum Commissioning Grant, the Merle Montgomery Grant given by Mu Phi Epsilon Foundation, and grants from the Minnesota Arts Council. Her solo CD is on the Centaur label; other recordings are available on the Tzadik and Innova labels. A new CD of music by Xenakis will soon be released by Mode.
She holds a DMA from the University of California, San Diego, a BM (highest distinction) from the University of Kansas, and a MM (honors) from New England Conservatory. Her teachers have included Aleck Karis, Stephen Drury, Sequiera Costa, Richard Angeletti and Claude Frank.
A member of the Twin Cities based Zeitgeist, Wettstein is on the faculty of Augsburg College and New England Conservatory's Summer Institute for Contemporary Piano Performance.
Program
Quattro Illustrazioni (1953)
 
Giacinto SCELSI (1905-1988)
  I. Shesha
        II. Varaha
        III. Rama
        IV. Krishna
 
 
for nothing (2005)
 
Adam GREENE (b. 1970)
 
Intermission
 
Strauss Waltzes (1960-1968)
 
Michael FINNISSY (b. 1946)
    I. Wo die Zitronen bluehn (Where the lemons trees bloom)
    II. O, schoener Mai (Oh, Beautiful May)
    III. Geschmichten aus dem Wienerwald (Tales from the Vienna Woods)
 
 
Triad (1997)
 
David Evan THOMAS (b. 1958)
Notes & Bios
GIACINTO SCELSI
Quattro Illustrazioni

Quattro Illustrazioni are four reflections on incarnations of the Hindu deity Vishnu. The first, Shesha, is a multi-headed snake who supports the weight of the world on its heads. Varaha is a bull who travels to the depths of the oceans to battle demons who threaten the earth. Rama represents all that is heroic and chivalrous. Krishna is the epitome of virtue and serenity.
Giacinto Scelsi was born on January 8th, 1905 to an aristocratic Italian family living on an old estate in the country surrounding Naples. Though largely self-taught, he is now recognized as one of the most creative composers of our century.

Scelsi's mature music is marked by a supreme concentration on single notes, as well as the influence of Indian mythology and culture. Scelsi's early music is based on traditional forms, such as variations, sonata form, etc. He studied with a pupil of Alban Berg Vienna, as well as with a follower of Scriabin in Switzerland. The majority of his early music was written for the piano: an instrument on which Scelsi was a virtuoso performer.

During World War II, Scelsi's wife left him and he later underwent some sort of psychological breakdown. His therapy eventually consisted of playing a single note on a piano over and over again, and this was to lead the way to his new style. When Scelsi began composing again in 1952, he turned immediately to his own instrument: the piano, and produced a quick succession of suites and other sets of pieces. There is now an emphasis on the repetition of notes, leading to ostinato formations and incorporating clusters, resonance effects, subtle harmony and toccata structures. Several passages have resemblance to the late piano style of Scriabin, but in addition there is a far-flung, almost encyclopedic range of references to other musics both western and beyond. Here the allusions can be quite subtle and difficult to place - in fact, considering that these piano suites most likely were notated from Scelsi's improvisations, it is likely that these references emerge entirely subconsciously. There is an increasing preoccupation with formal symmetries, especially those based on the golden mean and during the most violent harmonic passages, there is an underlying feeling of peace - something which makes this music sound quite different from that of Bartok, regardless of the similarity in language used to describe it - culminating in the Peace Suite, No. 9 (1953), and serving as a foundation for Scelsi's further exploration of sound in the Quattro Illustrazioni of the same year. This piano music accomplishes the beginning of a revolution in Scelsi's music in which extreme power and tension can be drawn from a single note. Already the context can be quite dramatic as in the thrashing of Varaha, and resonance plays a large role. Scelsi's most profound realization may very well be that a single sound is not merely a musical point in any real sense, it is a dynamic entity shaped by a variety of influences, and it is to Scelsi's credit that he not only realized this fact but set it to music in a way that no one else has ever done.

For more information, see Todd Michel McComb, Giacinto Scelsi.
---
ADAM GREENE
for nothing

The title of this work is drawn, with admiration, from Samuel Beckett's Texts for Nothing, a series of short prose pieces where the narrator expresses a dizzying range of bewildering thoughts in a tragicomical stream of consciousness.

My piece inhabits a world of rapidly shifting thoughts that span expressive extremes. Behaviors are briefly established and then left without transition, moving in and out in a sort of slipstream approach. The tendency for distinct categories of material to acquire expressive allies as the work progresses is, perhaps, evidence of an awakening consciousness able to contextualize dramatically combative sensibilities into a meaningful equipoise.

for nothing is dedicated to my friend Shannon Wettstein, whose remarkable dedication to performing challenging modern works has been both inspiring and heartwarming.
Adam Greene studied at Connecticut College, graduating with Distinction in Music, and earned his Master's in Composition with Honors from the New England Conservatory of Music. In 1994-5 he studied theory and composition at La Civica Scuola di Musica, in Milan, Italy. In 2003 he received the Ph.D. in Music from the University of California, San Diego, where he worked extensively with Roger Reynolds. His other teachers in composition were Brian Ferneyhough, Franco Donatoni, and Arthur Berger.

Adam Greene's works have been performed in Europe and the United States, most notably by Ensemble Resonanz, Speculum Musicae, SONOR, flutist John Fonville, pianists Aleck Karis and Christopher Oldfather, and violinists Janos Negyesy and Paivikki Nykter. He has received fellowships to festivals at Darmstadt, Long Beach, and the Composers Conference at Wellesley, and he won the NACUSA Young Composer's Competition. He is a recipient of a commission from the Fromm Music Foundation at Harvard, which will support work on a new dramatic piece. His music can be found on Aucourant Records.

Adam Greene is currently a Lecturer in the School of Music at the University of Minnesota, Twin Cities, teaching courses in Composition and Theory. He has taught previously at UCSD and the New England Conservatory.
---
MICHAEL FINNISSY
Strauss Waltzes

The three Strauss Waltzes (Where the Lemon-trees Bloom; O Beautiful May; Tales from the Vienna Woods) were originally part of a longer set of '23 Poems/Fantasies' written, for the most part, between 1960 and 1968. At that time I was accompanying ballet-classes, to pay my way through sixth-form and college, and these pieces reflect (to a certain extent) 'balletic' idioms - and (more specifically) my enthusiasm for the virtuosic transcriptions of Strauss by Tausig and Godowsky. However, these are not straightforward 'transcriptions', the original sequences have been chopped-up into tiny fragments, and then re-ordered - rather in the manner of the re-ordered angles and perspectives of cubist and futuristic painting...harmonic and melodic patterns recognisable from Strauss' original, appear out-of-sequence and with no fear of the consequent tonal instability. The intention is to evoke the spirit and sensual elevation of a Strauss waltz, and clearly not to try and reproduce (or fake) one.

The waltzes have subsequently been re-copied, and re-dedicated to Jonathan Powell, Nic Hodges and Ben Morison, who gave them their respective first performances.
Michael Finnissy was born in Tulse Hill, London in 1946. He was a Foundation Scholar at the Royal College of Music, London, where he studied composition with Bernard Stevens and Humphrey Searle, and piano with Edwin Benbow and Ian Lake. Afterwards, he studied in Italy with Roman Vlad. Today he is one of the most significant pianist-composers in the sphere of contemporary art music.

Finnissy created the music department of the London School of Contemporary Dance, and has been associated as composer with many British dance companies including London Contemporary Dance Theatre, Ballet Rambert, Strider, and Second Stride. He has taught at Dartington Summer School, Winchester College, the junior department of the Royal College of Music, Chelsea College of Art, and is guest lecturer at many colleges and universities. He has also been musician in residence to the Victorian College of the Arts, the City of Caulfield in Australia, and the East London Late Starters Orchestra. In 1999 he was made Professor of Composition at the University of Southampton.

Finnissy has been featured composer at the Bath, Huddersfield, and Almeida festivals, and his works are widely performed and broadcast worldwide. In February 1999 a festival at Harvard University, Boston, was devoted to his music, and several world premieres took place at the 1999 Music Factory Festival in Bergen, Norway. As a pianist he is particularly associated with the commissioning and performing of new British work; composers who have written pieces specially for him include Elizabeth Lutyens, Judith Weir, James Dillon, Oliver Knussen, Nigel Osborne, Chris Newman, Howard Skempton, and Andrew Toovey.

In 1990 Finnissy was appointed President of the International Society of Contemporary Music. He was re-elected in 1993, and in 1998 was made an honorary member of the ISCM. In 1999 he was been appointed Senior Fellow of the KBC-chair in New Music at the Catholic University of Leuven in Belgium for two years. The appointment included the commission for a work for the Beethoven Academie, Onbevooroordeeld Leven. 1996, Finnissy's fiftieth birthday year, saw recitals of the complete piano music by Ian Pace, recordings of orchestral and chamber works on NMC and the publication by Ashgate of Unknown Ground - a detailed book about Finnissy's music. A cycle of CDs on the Metier label which includes Folklore, Gershwin Arrangements, works for string quartet, Seven Sacred Motets, and most recently Kulamen Dilan has been released to great critical acclaim and further discs are planned.

Finnissy's epic piano cycle, The History of Photography in Sound, the product of several years' work and lasting over five hours, received its complete premiere in January 2001 at the hands of Ian Pace. History's fame has been increasing ever since with numerous performances, both of the complete cycle or individual movements, in many countries and by pianists including Nicolas Hodges, Marilyn Nonken, Mark Knoop, and Philip Howard.
---
DAVID EVAN THOMAS
Triad

David Evan Thomas' Triad is a work in three parts, in which a toccata and chaconne elaborate ideas which are united in a concluding fugue--as countersubject and episode material, respectively. For this reason, the individual movements are inseparable from the whole; thus, a triptych, or triad, is formed. Tonally the movements progess from E through A to C, outlining a triad of another sort.
David Evan Thomas is the recipient of a McKight Fellowship, an Award in Music from the American Academy and Institute of Arts and Letters, and the Moeller-A.G.O. Award in Choral Composition. His music is published by E.C. Schirmer and McGinnis & Marx, and can be heard on a C.R.I. label CD. Born in Rochester, NY in 1958, Thomas began his training as a trumpeter, graduating with Honors from the Preparatory Department of the Eastman School of Music. He received degrees from Northwestern University, Eastman, and the University of Minnesota.