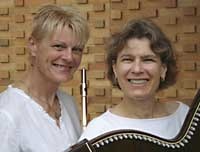 From Prairie to Stars:
Music in Iowa and Beyond
Claudia Anderson, flute
Jeanmarie Kern Chenette, harp
featuring traditional music literature for harp and flute together with works composed by living Iowa composers.
Clapp Recital Hall
Sunday, September 30, 2007, 8:00 pm
Program
The Song of the Lark (1989)
    Song to the Waking Sun
    Flight
    Into Darkness
 
Charles Rochester YOUNG
(b. 1965)
4 ways of looking at the moon (1996, rev. 2006)
    Waxing Gibbous
    Mare Imbrium (Sea of Rains)
    Breccia
    Syzgy
 
Brooke JOYCE *
(b. 1973)
Dances and Variations (1996)
    Entrata
 
Katherine HOOVER
(b. 1937)
Songs Without Words (1997)
    Night Watch (after Vikram Seth)
    ...mists of brightness... (after Edna St. Vincent Millay)
    Irresistible Death (after Pablo Neruda)
 
Jeremy BECK *
(b. 1960)
Serenade No. 10
    Larghetto
    Allegro comodo
    Andante grazioso
    Andante cantabile
    Allegretto
    Scherzando
    Adagietto
    Vivo
 
Vincent PERSICHETTI
(1915-1987)
Nocturne, Lullaby, and Canticle (2006)
 
Jerry OWEN *
(b. 1944)
Danse lente (1918)
 
Joseph JONGEN
(1873-1953)
Histoire du Tango
    Bordel 1900
 
Astor PIAZZOLLA
(1921-1992)
arr. K. Vehmanen
 
* Iowa Composers
 
Performers
Claudia Anderson's brilliance and originality as a solo performer ("Flute playing of the highest echelon" - New York Concert Artists Guild; "Vast range of sonorities" - Giornale di Sicilia) have graced audiences throughout the U.S., Europe and Brazil. A Fulbright scholar to Italy, Ms. Anderson was subsequently Principal Flute of the Orchestra del Teatro Massimo in Palermo. After returning to the U.S., she was solo piccolo for ten years with the Cedar Rapids Symphony and is presently Principal Flute with the Waterloo/Cedar Falls Symphony.
Receiving degrees from the Universities of Michigan, Massachusetts and Iowa, Dr. Anderson is a guest artist and clinician at many colleges and music series around the country; she is exclusively a Miyazawa artist and also performs with flutist Jill Felber in the innovative duo ZAWA! (www.zawa.org; and www.miyazawa.com). Equally at home in both the standard and contemporary repertoire, Dr. Anderson has commissioned and arranged works for solo and duo format.
Faculty positions include Grinnell College (currently), Universities of Iowa and Northern Iowa, Ithaca College and the University of California at Santa Barbara. Her recorded solo and duo performances can be found on the Centaur, Neuma and CRI labels.
Jeanmarie Kern Chenette has ventured beyond the realm of traditional classical harp literature through her collaborations with contemporary composers and her studies of Celtic, West African, and Latin American harp traditions. As an advocate for expansion of the harp repertoire, she has worked to bring new music and world musical sources to her concert audiences and harp students.
Ms. Chenette received her M.M. in Harp Performance from New England Conservatory of Music. She served twelve years as principal harpist with the Cedar Rapids (Iowa) Symphony and currently performs with the Des Moines Symphony. She presents solo concerts and workshops under the auspices of the American Harp Society, Great Lakes Harpers, and the Iowa Arts Council. In addition to her work on classical harp, Ms. Chenette owns and performs Celtic, Paraguayan, and West African harps. Her research in the British Isles has culminated in the publication of three harp books and a series of pieces for harp ensemble. Her arrangements and book of original works for harp are available through Prairie Harp Music Publishing, www.prairieharp.com.
Ms. Chenette is instructor of harp and lecturer in music at Grinnell College and has served on the faculty of Iowa State University.
Notes & Bios
CHARLES ROCHESTER YOUNG
The Song of the Lark (1989)

was inspired after a painting of the same title by Jules Breton, portraying a woman working in a field who is distracted by the song of a lark seen in the distance. The simplicity and sincerity of the painting's mood is reflected in this work, which integrates sounds of nature - wind and bird calls - with both lyrical and percussive qualities of the two instruments. The second movement, depicting the lark's swooping and gliding as it ascends into the sky, has the harpist insert paper between the strings to produce a kind of snare drum effect. The flutist produces wind sounds and occasional pitch bends.
---
BROOKE JOYCE
4 ways of looking at the moon (1996, rev. 2006)

offers various soundscapes of characteristic phenomena associated with the moon. Waxing Gibbous is a term used to describe the period between the first quarter and full moon in the lunar cycle. Mare Imbrium is the largest crater on the moon and was so called by early astronomers who speculated that the dark surface areas were seas. Breccia is lunar rock composed of smaller components melded together by heat and/or pressure. Syzygy is the phenomenon in which three astronomical objects appear to form a straight line, such as in a lunar or solar eclipse. Extended techniques include, flutter tongue, percussive air and tonguing, knocks on the sound board, and a xylophone effect with dampened harp strings.
---
KATHERINE HOOVER
Dances and Variations (1996)

"The flute and harp are both ancient and beautiful instruments, and their sounds complement each other in unique ways. In this piece I have explored some of these combinations. The first movement, "Entrata", is a light piece with shifting rhythms in both instruments; it quotes some children's tunes now and again." (Katherine Hoover) The rhythmic structure of this movement places the flute and harp on their own independent paths most of the time, with periodic coming together at brief fermatas throughout the piece. The predominant 5/8 and 7/8 meters create ever-shifting pulses of 2 + 3/3 + 2.
---
JEREMY BECK
Songs Without Words (1997)

"is in three movements, each of which reflects the tone and structural content of an individual poem. . . While there is no direct or literal connection between these poems or the music which reflects them, they are linked by common images, and a story of sorts may be seen to emerge through the progression of these shared images." (Jeremy Beck) Night Watch is a 1987 poem by Vikram Seth; mists of brightness is a phrase from Edna St. Vincent Millay's Sonnet XVIII in Second April; Irresistible Death comes from Neruda's The Heights of Macchu Picchu and is a meditation on life and death with rapid sequences of images and emotions.
---
VINCENT PERSICHETTI
Serenade No. 10

presents eight short, sharply characterized movements which take advantage of the sound worlds flute and harp can create, both separately and together. A sparse. lonely atmosphere dominates the first movement, with an angular flute melody and thin plucks from the harp. The second movement recalls the Renaissance in the flute's cool, jaunty melody and drumlike, toneless strums on the harp. After the third movement's beautifully flowing, intimate canon, the quietly passionate fourth-movement aria for flute forms the emotional center of the work. Unpredictable rhythms in the melody spice the otherwise straightforward fifth movement, while the sixth features an athletic melody and the type of top-to-bottom runs on the harp which are normally used to provide orchestral color. The Adagietto begins with a pointillistic line that eases into sinuous chromatics. All energy is dissipated at this point, but the final Vivo surges into high gear with rapid articulated scales in the flute and sharp, percussive strums in the harp.
---
JERRY OWEN
Nocturne, Lullaby, and Canticle (2006)

is a lyrical and joyful work composed on the birth of Owen's first grandchild. Nocturne mixes simple with more florid lines between flute and harp, while Lullaby is more elegiac and features each instrument in separate soliloquies. Canticle is fast-moving and fully scored, moving through both rhythmic and delicately melodic sections and winding down to a serene close.
---
JOSEPH JONGEN
Danse lente (1918)

was written at the end of the World War I, when Jongen was exiled in London. Though he was performing actively in a distinguished piano quartet and very welcomed in England, this little work has a sadness and haunting quality that reflects Jongen's longing for his home. A balance of simplicity, nobility, and natural lyricism makes Danse lente a miniature jewel in the flute and harp repertoire of the early 20th century.
---
ASTOR PIAZZOLLA
Histoire du Tango

chronicles the history of tango in approximately 30-year intervals, ending with the 1990s. The origins of Argentine tango are found in a series of exotic dance steps that emerged from South America and the Caribbean at the end of the 19th century. The innate power and sensuality of the dance quickly took hold of Europe and North America and have never let go. Tango grew up in the working class of Buenos Aires and around the city's port; as the music of an oppressed lower class, it was associated from the start with drugs, crime and prostitution in unsavory bars and bordellos. The original flute and guitar scoring is remarkably well adapted to harp, perhaps because the first instruments to play tango in the streets of Argentina were flute, violin, and harp.